The World's Most Sustainable Shopping Centre Is Set to Open in Melbourne Next Month
Burwood Brickworks boasts its own 2000-square-metre urban rooftop farm and paddock-to-plate eatery.
These days, it's hard to be wowed, or even mildly surprised by a shopping centre. But Melbourne's newest suburban retail precinct is a whole different story. Set to officially open its doors on Friday, December 6, Burwood Brickworks doesn't just have a strong sustainability focus — it's on track to being the most sustainable shopping centre on the planet.
Sitting on Middleborough Road in Burwood East, it's been built with the aim of scoring certification under the Living Building Challenge, an international program for sustainable buildings. It requires the building to have a net zero carbon footprint, produce more electricity than it consumes and use non-toxic and recycled materials in its construction, among other things. If successful, Burwood Brickworks will be one of only 25 structures worldwide to stake this claim, and the first-ever retail building to do so.
Clocking a total of 13,000 square metres, the precinct boasts a Reading Cinema complex, a new-concept Woolworths store, a large Dan Murphy's and a curation of smaller independent retailers, all within an airy, light-filled space. The crowning glory, however, is the sprawling rooftop space, sporting its own paddock-to-plate restaurant and 2000-square-metre urban farm designed and run by consulting firm Tully Heard. They're the same crew who operate Sydney's farm-to-table Acre Eatery, here joining forces with local eco-warrior Joost Bakker (Greenhouse by Joost, Brothl) in the role of the centre's Creative Consultant.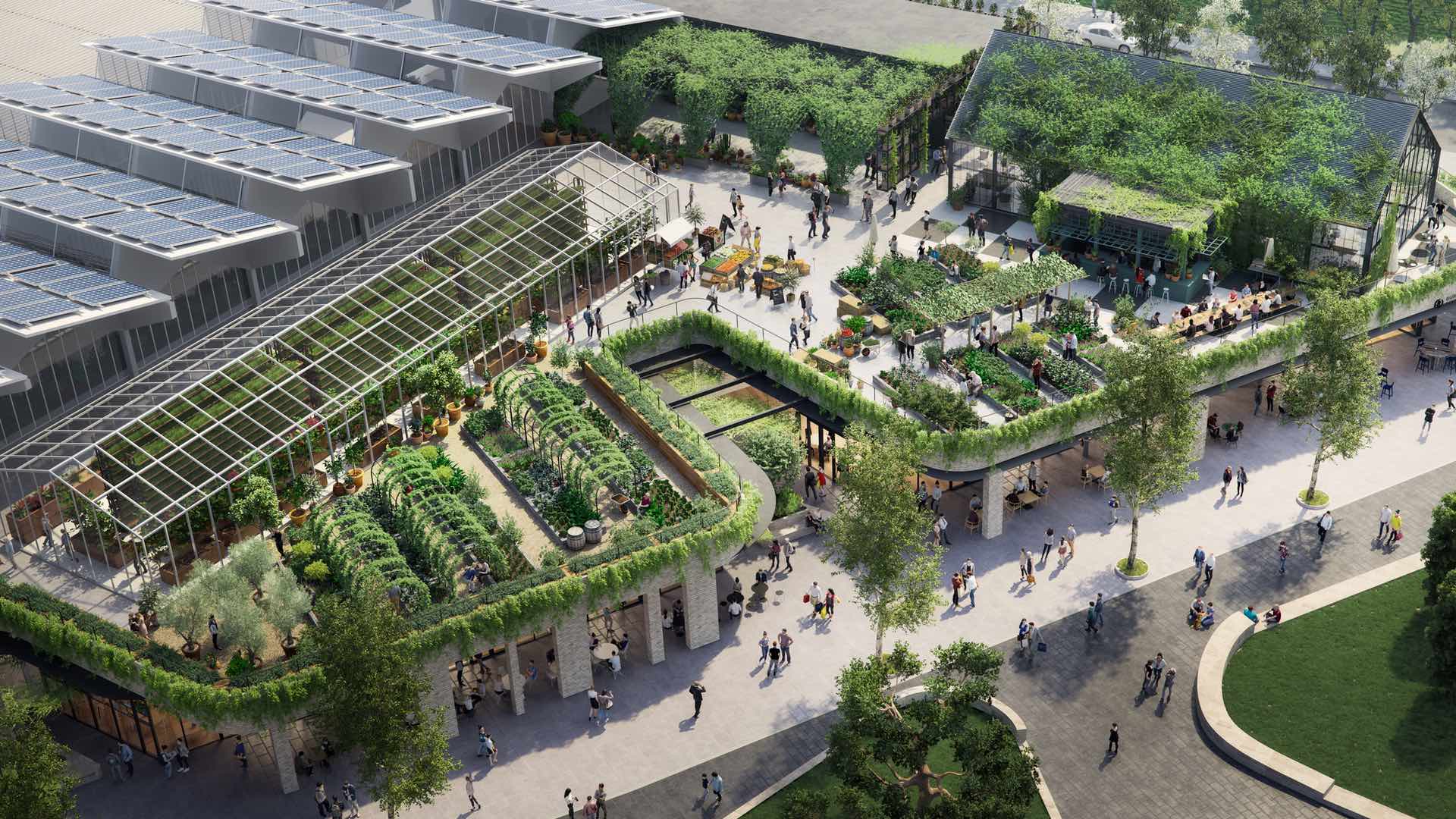 Along with a rooftop greenhouse, the huge variety of fruit, herb and veggie patches will be used in the restaurant, with excess sold to the public. There's even a coop of quails laying eggs for the kitchen. Visitors will be able to wander through the gardens and attend workshops, talks and more hands-on green-thumb experiences to come.
The rooftop farm's not big enough to handle all of the kitchen's food supply, though, so Head Chef Brad Simpson (Lamaros, The Smith) has been busy sourcing any remaining ingredients from a crop of top Victorian suppliers. Think Mt Zero for olive oil and grains, and Flinders & Co, Sher Wagyu and Western Plains Pork for meat. In total, 20 percent of the Burwood Brickworks site will be used for growing food, with fruiting trees even planted between each aisle of the centre's car park.
But while these urban farm practices might be the obvious, big-ticket sustainability drivers – along with the rooftop solar panel system generating a hefty one megawatt of power – it's the finer details that really set this centre apart. PVC has been scrapped from the build entirely in favour of less toxic alternatives, a swag of reclaimed hardwood has been incorporated throughout the precinct, and the products used by each retailer have had to meet super strict standards.
Natural light and air quality are also huge factors here, so expect an abundance of greenery, windows aplenty and in the central space, a soaring, ventilated sawtooth roof decked out with huge skylights. A far cry from most of those other shopping centres we've frequented in our time.
Burwood Brickworks is set to open on Friday, December 6, at 78 Middleborough Road, Burwood East.
Introducing Concrete Playground Trips
Book unique getaways and adventures dreamed up by our editors