DESIGN & STYLE
Coles' New Moonee Ponds Store Has Shampoo Refill Stations and a Pick-and-Mix Pet Treat Bar
It also boasts an in-store pizzeria and fishmongers, cheese from That's Amore, and a fruit and vegetable bar.
Next time you do your grocery shopping, you could cut down your reliance upon single-use plastics, treat your four-legged friend and pick up a fresh-cooked pizza — all at Coles. The supermarket chain has just launched a revamped store in Moonee Ponds, and it comes with a big focus on sustainability and quite a few upgrades. Also included: a fishmongers, cheese from That's Amore, and a fruit and vegetable bar.
It certainly hasn't been a normal 12 months for supermarkets, with toilet paper battles and limits on everyday items hitting the front page more than once. But now the pandemic palaver has settled down somewhat, Coles hopes to make your everyday grocery shop (dare we say) exciting with the launch of its fancy new store — which is part of the company's mission to reduce waste.
The newly renovated and reinvented store joins Chatswood in Sydney in boasting a range of forward-thinking elements. You can stop buying shampoo, conditioner, body wash, hand wash and laundry liquids in throwaway containers thanks to packaging-free in-store refill stations — and some fresh foods will be misted and stored on cold plates to reduce the need for packaging there, too. Herbs are being sold without plastic packaging as well, and you can also head to the fruit and vegetable bar to get your fresh produce of choice sliced, diced or made into juice while you wait.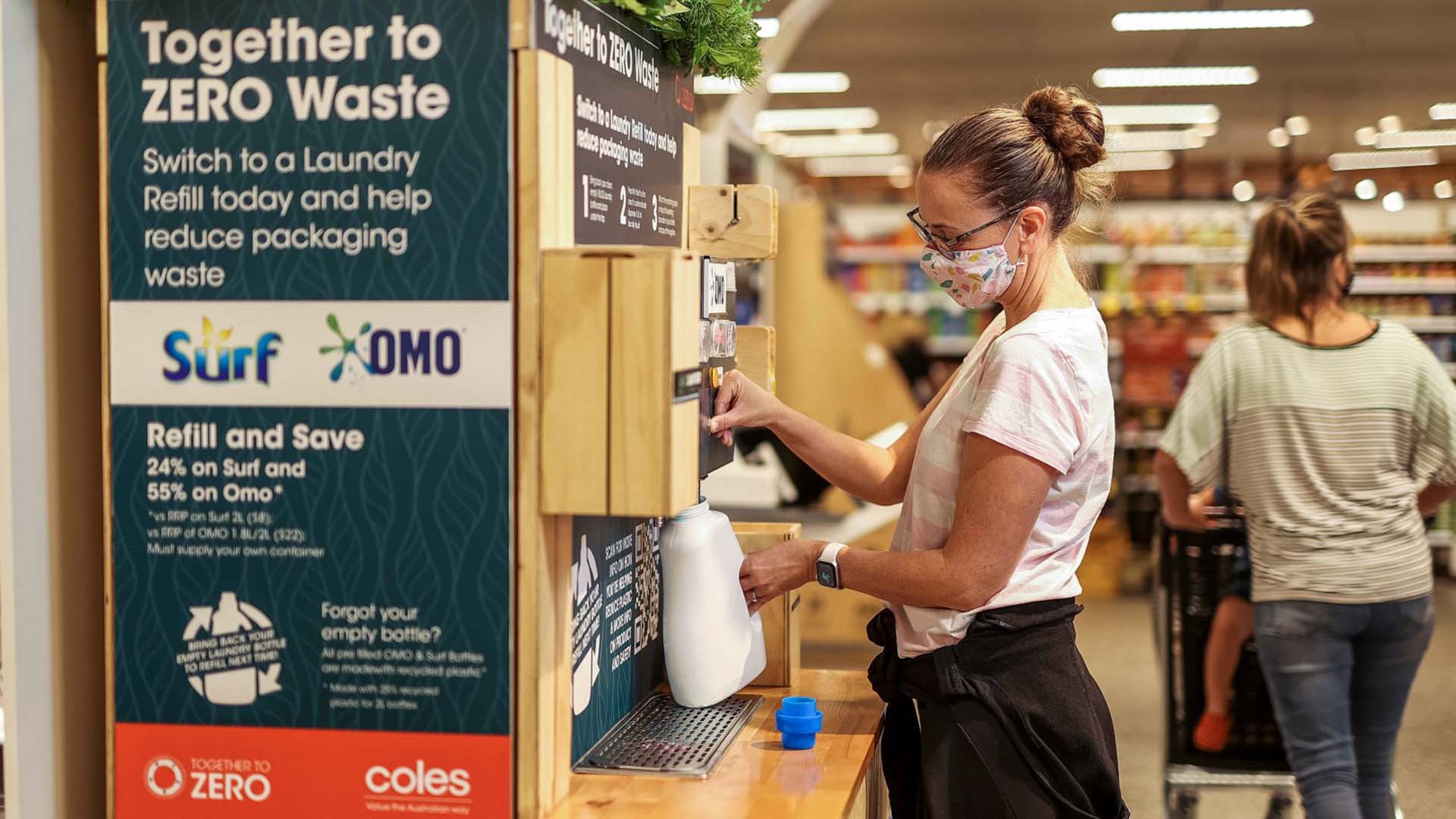 On the eco-friendly front, the Moonee Ponds site also has a coffee cup recycling station, as well as a soft-plastic recycling service — with the latter turning your discarded waste into benches, furniture, playground equipment, roads and Coles car parks. And, it's using trolley baskets made from recycled milk bottles and other recycled plastics, and also capturing waste heat from the refrigeration system to warm up the store.
Overall, Coles has pledged to deliver net zero greenhouse gas emissions by 2050, and to power the entire Coles Group via 100-percent renewable electricity by the end of the 2025 financial year — with the Moonee Ponds store operating as a sustainability concept store. Last month, the company also announced that it would stop selling single-use plastic tableware from July 1.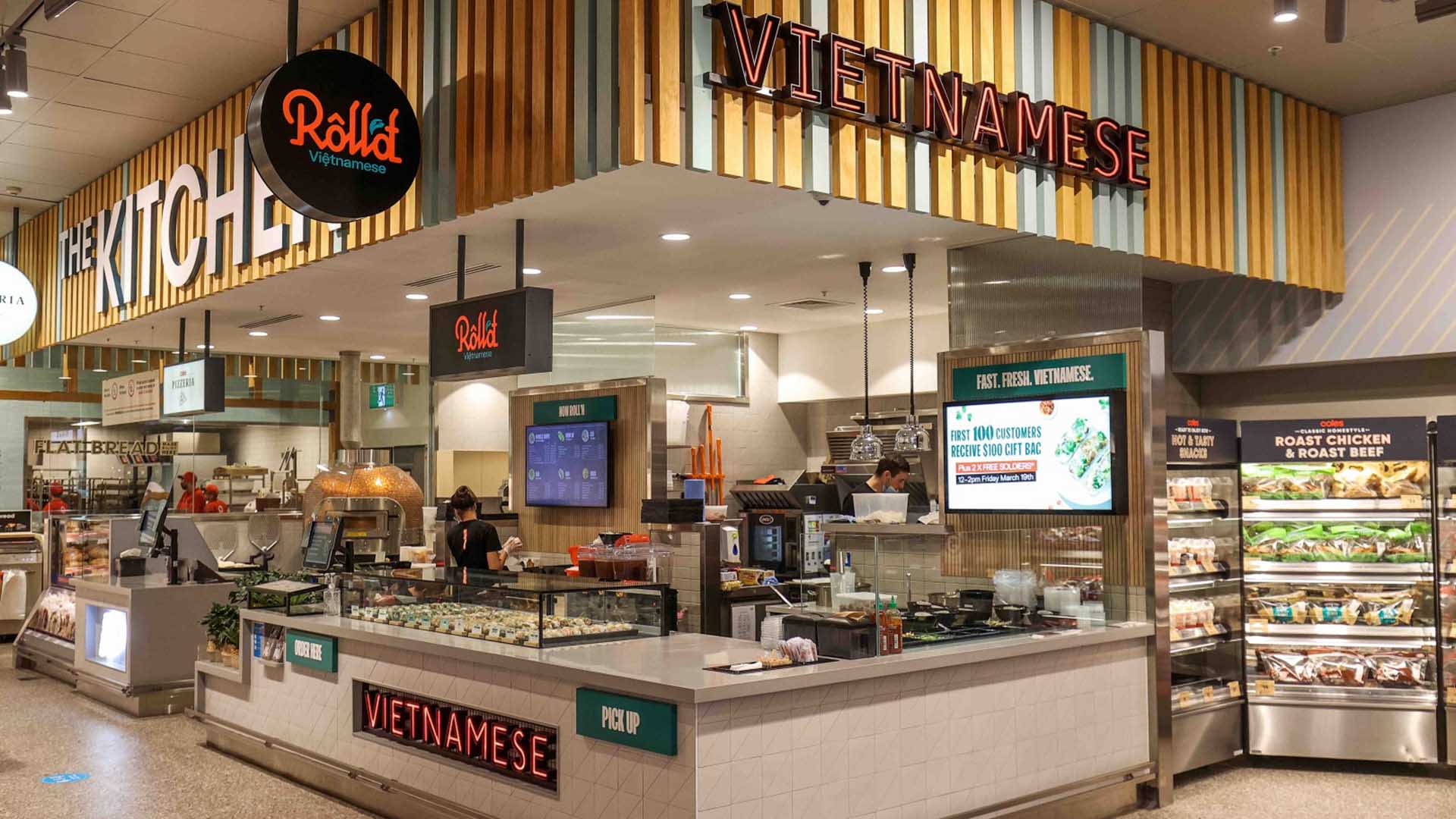 As well as ticking a heap of eco-conscious boxes, Coles Moonee Ponds now features locally caught seafood available at The Fishery, which is run by industry expert John Sussman and features food by Sam Cheetham (ex-Cumulus Inc). Pizzeria Tremila is whipping up the Italian favourite in 90 seconds in its in-store oven, and selling pizzas whole or by the slice. Roll'd also has a space onsite, serving its Vietnamese dishes; That's Amore is suppling 13 lines of cheese as part of an artisan dairy nook; Vegan Dairy is providing handmade products from the Mornington Peninsula; and Liquorland is heroing 140 local beer, wine and spirits brands.
Plus, Coles hasn't forgotten about the most important member of your family: your pets. You can pick them up a few goodies thanks to the new in-store pet treat pick-and-mix bar — so your pooch can have an after-dinner snack while you enjoy your Tim Tams.
Coles Moonee Ponds is located in Moonee Ponds Central Shopping Centre, Homer Street, Moonee Ponds — operating from 7am–11pm daily.
Images: Coles.
Published on March 20, 2021 by Sarah Ward