DESIGN & STYLE
One Less Bottle Is the Refill Station for Household Cleaning Products That's Helping Nix Plastic Waste
BYO container to fill up with dishwashing soap, surface spray and laundry detergent.
It seems there's nothing like a pandemic to chuck most daily routines and good habits out the window. But, hey, at least your planet-friendly endeavours can continue on strong, because there are still plenty of easy ways to keep living that green life.
If you're aiming to put a dent in your plastic waste, you'll now find another helping hand in Melbourne-born initiative One Less Bottle. Specifically, the group's vending machine-style refill station, which dispenses liquid household and personal care products by the millilitre. Simply bring along your reusable containers to fill with the likes of dishwashing soap, surface spray and laundry detergent, stocking up on essentials while nixing that pesky single-use packaging.
One Less Bottle's original station is located at Brunswick's Barkly Square shopping centre, where you'll find it hanging out next to the ATM machines. Since debuting there in March, it's saved an estimated 650 single-use plastic containers from heading to landfill.
In fact, the concept has been so popular, the company is gearing up to launch more locations across Melbourne in the next few weeks. Plus, new products, with hand and body wash, shampoo and conditioner set to be available in the near future.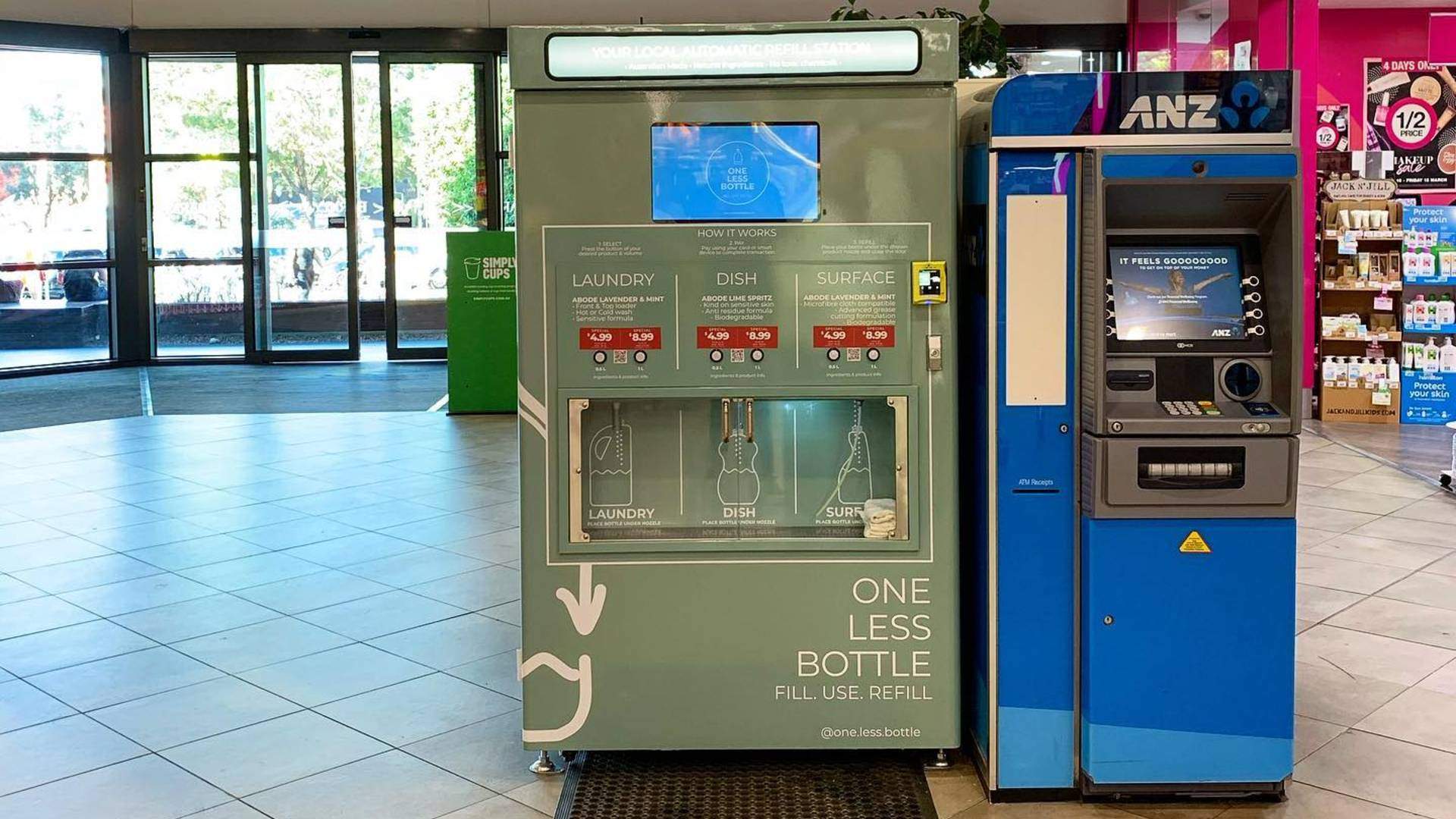 All of the refill products are vegan and eco-friendly, clocking in at just $4.99 for 500 millilitres, or $8.99 for a one-litre pour. And, as an extra win for right now, you'll score an extra 20 percent off that price while Melbourne's current lockdown is in effect.
An automated dispense system makes for speedy, accurate filling, with minimal mess — just line up the nozzle with your container, press a button and you're good to go. What's more, the station can be accessed 24/7, with fast payment via smart phone, debit or credit card. Just don't forget about Melbourne's 8pm to 5am curfew, or the five-kilometre travel bubble in place during stage four lockdown.
Founded by Melbourne local Dale Marchetti, One Less Bottle is determined to change everyday behaviours, not just through its low-waste products, but also via an oddly therapeutic Tik Tok account. Over at @one.less.bottle you'll find videos of the refill station in action, oozing dishwashing liquid neatly into containers. One's already racked up over 87,200 views.
Find the One Less Bottle refill station at Barkly Square Shopping Centre, 1/90–106 Sydney Rd, Brunswick. You can find out more about the company and get a heads up on new locations over on the website.
Published on August 25, 2020 by Libby Curran