DESIGN & STYLE
Uber Is Launching Its Dockless E-Bike Service Jump in Melbourne This Week
A fleet of electric bikes will be rolled out across three city councils for the service's Australian launch.
Melbourne's seen its fair share of dockless bike share systems rolled out (and often axed) over the years. But things are shifting up a gear this year when the city's first ever long-term dockless share scheme for electric bikes launches this week. The City of Melbourne, the City of Yarra and the City of Port Phillip have announced they're starting a one-year trial with Uber's much-hyped e-bike service, Jump.
Jump has already been embraced by cities across the US and Europe, and is en route to our neighbours in Auckland, but this will be its Australian launch. When they lands in Melbourne tomorrow at 6am, Wednesday, 4, the bright red pedal-assisted bikes will be available to hire through your regular Uber app. You'll just need to switch to bike mode, where you'll be able to see available bikes and use the app to unlock one and ride away.
For now, 400 bikes will located in the CBD, with more bikes set to roll out across the City of Yarra and City of Port Phillip over the coming months. They'll be available to use in the three council areas, only, which cover the CBD and Docklands, West Melbourne (and over to Flemington), the inner north (Carlton, North Melbourne, Fitzroy and Richmond) and down to the bay (Port Melbourne, South Melbourne, Albert Park, St Kilda and Elwood). If you ride a Jump bike outside of these areas, you may receive a penalty charge to your Uber account.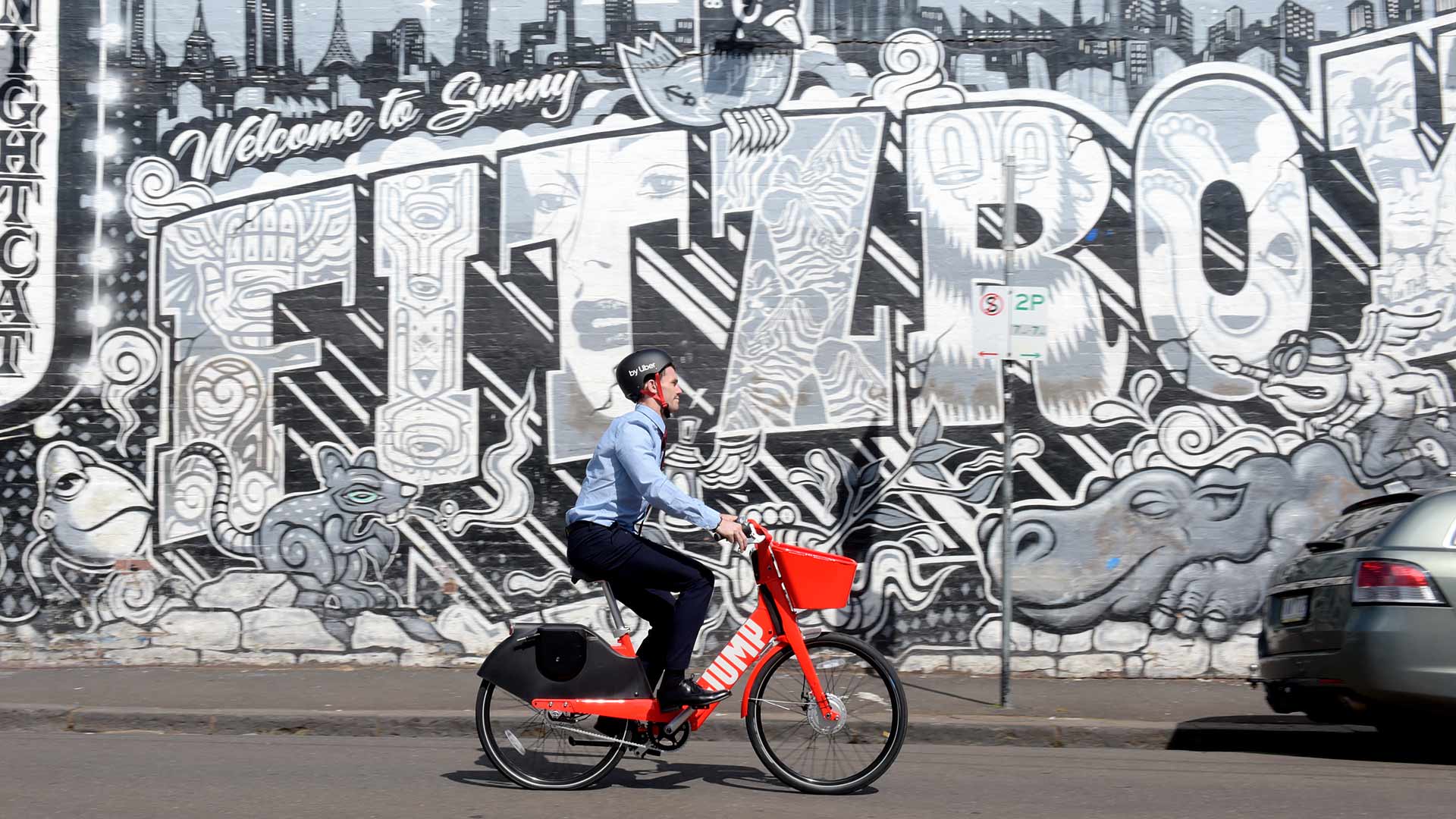 In another effort to avoid the woes of past bike share networks, the councils have signed a Memorandum of Understanding outlining the rules and regulations Jump will need to stick to in order to keep operating in Melbourne past the 12-month trial. The company using geo-fencing technologies and remote monitoring to keep track of its fleet. Hopefully that'll help curb the number of bikes ditched in trees, creeks and other questionable spots around the city, as was mostly the downfall of previous players like oBike.
As well as laying down requirements for parking and maintenance, it stipulates firm resolution timeframes for damaged or discarded e-bikes. Taking care of service and maintenance will be the crew from Good Cycles, a Melbourne-based social enterprise that trains and employees disadvantaged youth.
Riders will, of course, have to don a helmet and play by the usual road rules when cruising around on a Jump bike, with the bikes costing $1 to unlock and 30 cents a minute to ride. When you've finished using the bike, you'll also need to park and lock the bike in one of the e-bike zones shown on the app's map.
Uber hasn't announced any plans to launch Jump in any other Australian cities yet, but if the trial goes well, we'd expect that it will in the near future.
The Jump bike option will be available in your Uber app from Wednesday, March 4. You can find more info on the Jump bikes here. 
Published on March 03, 2020 by Libby Curran