TRAVEL & LEISURE
Toowoomba Carnival of Flowers 2021
This splash of spring florals is returning for a whole month — and its night garden, food trail, sideshow alley and ferris wheel are all coming back, too.
Every year, when spring hits Toowoomba, the regional city becomes the brightest place in southeast Queensland. Blooms blossom, greenery sprouts and flora reaches towards the sun — that's right, it's Carnival of Flowers time.
Usually, the carnival only runs for ten days. In 2021, however, it's sticking around for an entire month. Accordingly, mark all of September in your diary — from Wednesday, September 1–Thursday, September 30 — and start planning a weekend trip west for the event's 72nd year.
As always, the Carnival of Flowers will bloom at a variety of Toowoomba locations — including Laurel Bank Park and the Botanic Gardens of Queens Park — showcasing all of the gorgeous florets, growths and gardens around town. Each year, more than 170,000 blossoming bulbs and seedlings are planted, so this huge (and free) carnival won't be short on natural splendour.
Attendees can also expect everything from park tours to kaleidoscopic arrays of tulips, petunias and poppies. Food trucks slinging bites to eat, a food trail showcasing local eateries and a ferris wheel with a blooming great view are also on the bill, as are a series of talks in local pubs, a dog-friendly program so that your pooch can get in on the action, both guided and non-guided walking tours, a big food and wine festival, a cinema under the stars and a floral parade. And, yes, the illuminated night garden will return as well.
If you're keen to check out live tunes in flower-filled parks, the lineup for this year's ticketed Festival of Food and Wine within the broader carnival includes Sarah Blasko, Ash Grunwald, The Beautiful Girls, Grace Knight, Wendy Matthews, Richard Clapton and GANGgajang. They'll be hitting the stage between Friday, September 10–Sunday, September 11.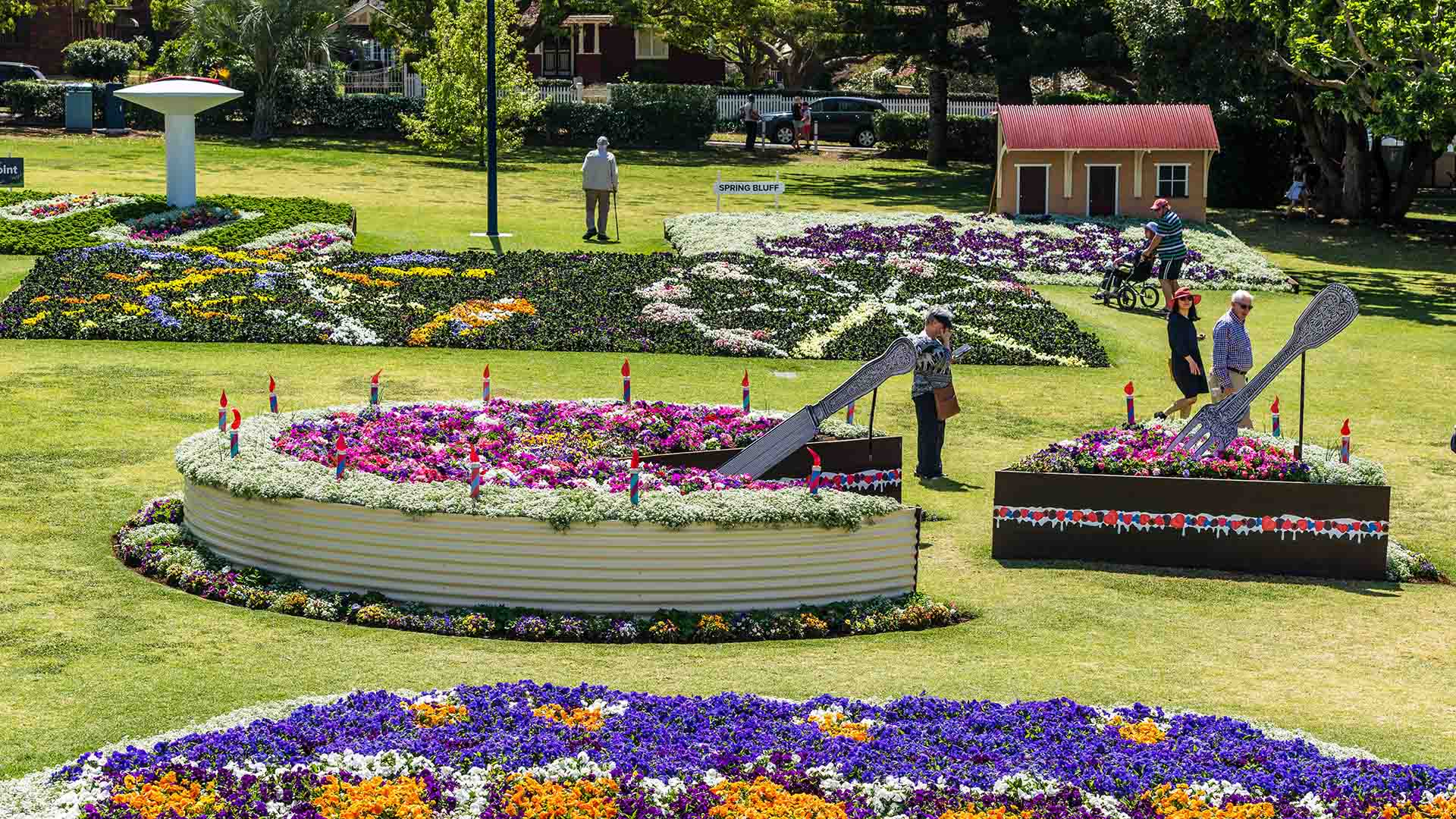 Basically, there's no bad time to visit — and you might want to make the trek more than once. Indeed, when it comes to scenic spring sights, there's no prettier place to be. And, given it takes less than two hours to head up the mountain from Brisbane, it's perfect for a weekend day trip. Make a playlist, take a picnic and there's your Saturday or Sunday sorted.
Naturally, the event will be adhering to COVID-19 requirements — so expect some social distancing with your bouquets.
Image: Tourism and Events Queensland
Updated June 1.
Food & Drink

Saturday, November 6 - Sunday, January 30

Port Melbourne Dog Beach

Food & Drink

Saturday, October 23 - Saturday, October 23

Southern Cross Lawn, Royal Botanic Gardens

Food & Drink

Friday, October 22 - Sunday, February 27

QT Melbourne