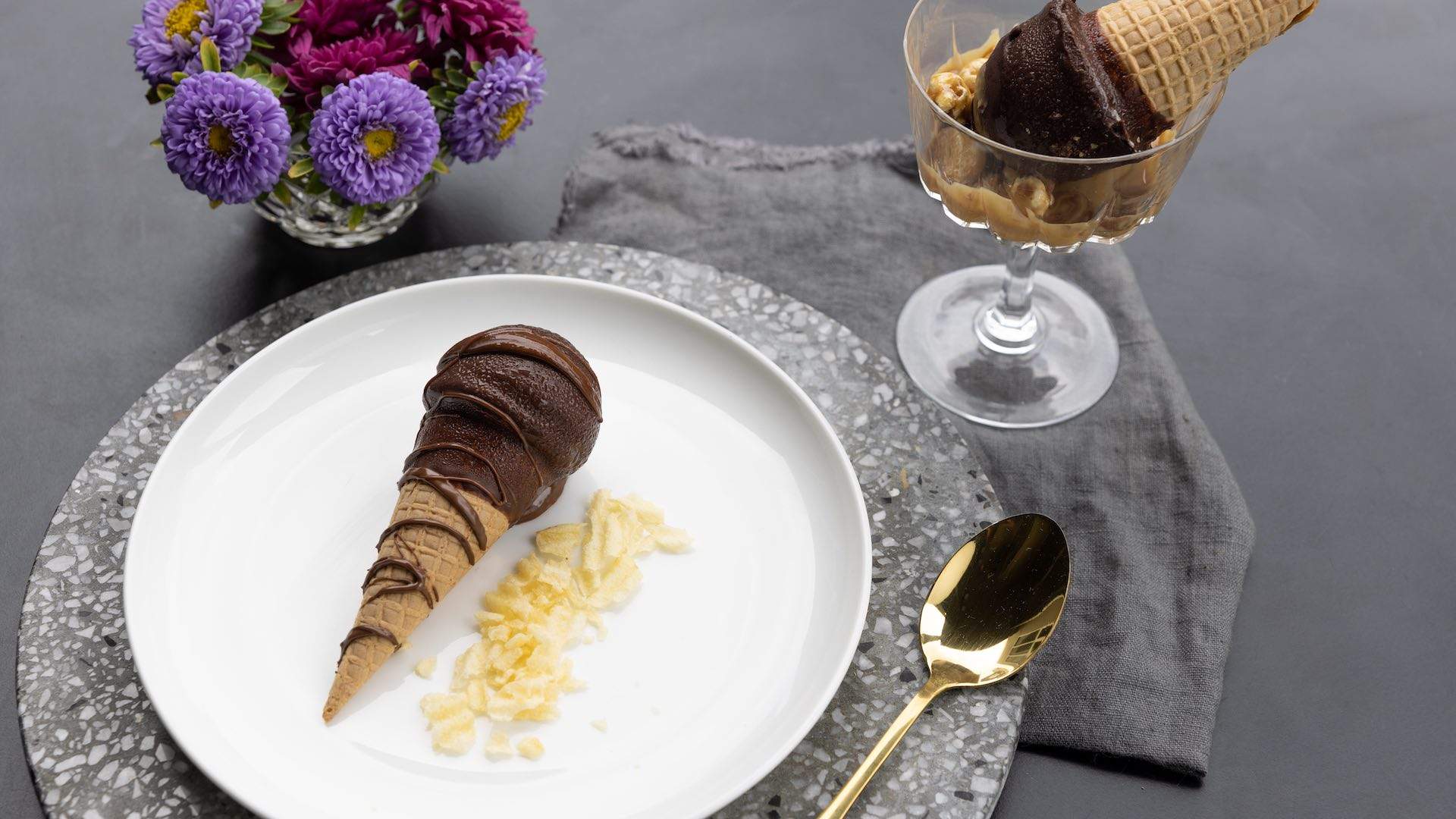 "
The Culinary Challenge
Our Editors Designed a Degustation With Convenience Store Items Only
Two luxe multi-course menus made from 7-Eleven items? Challenge accepted!
As general food enthusiasts, the writers at Concrete Playground tend to have tastes that bridge the high and low. A bag of potato chips, hot jam donut straight out of a packet or even an ice-cold choc top can provide the same hit of satisfaction as an elaborate degustation from a beloved fine diner.
But what if we were to bring those two sensibilities together? That was the question behind this ambitious culinary project in which CP's more palate-fluid writers, Nik Addams and Courtney Ammenhauser, were given the challenge of designing their own degustation menus made entirely of convenience store items.
Every great degustation requires an exceptional finale, so we teamed up with Aussie dessert favourite Bulla for inspiration, courtesy of its new range of choc tops that you can now find in the freezer of your nearest 7-Eleven.
We'll now hand it over to Courtney and Nik — and we have to admit, the results are actually pretty impressive (sorry for ever doubting you).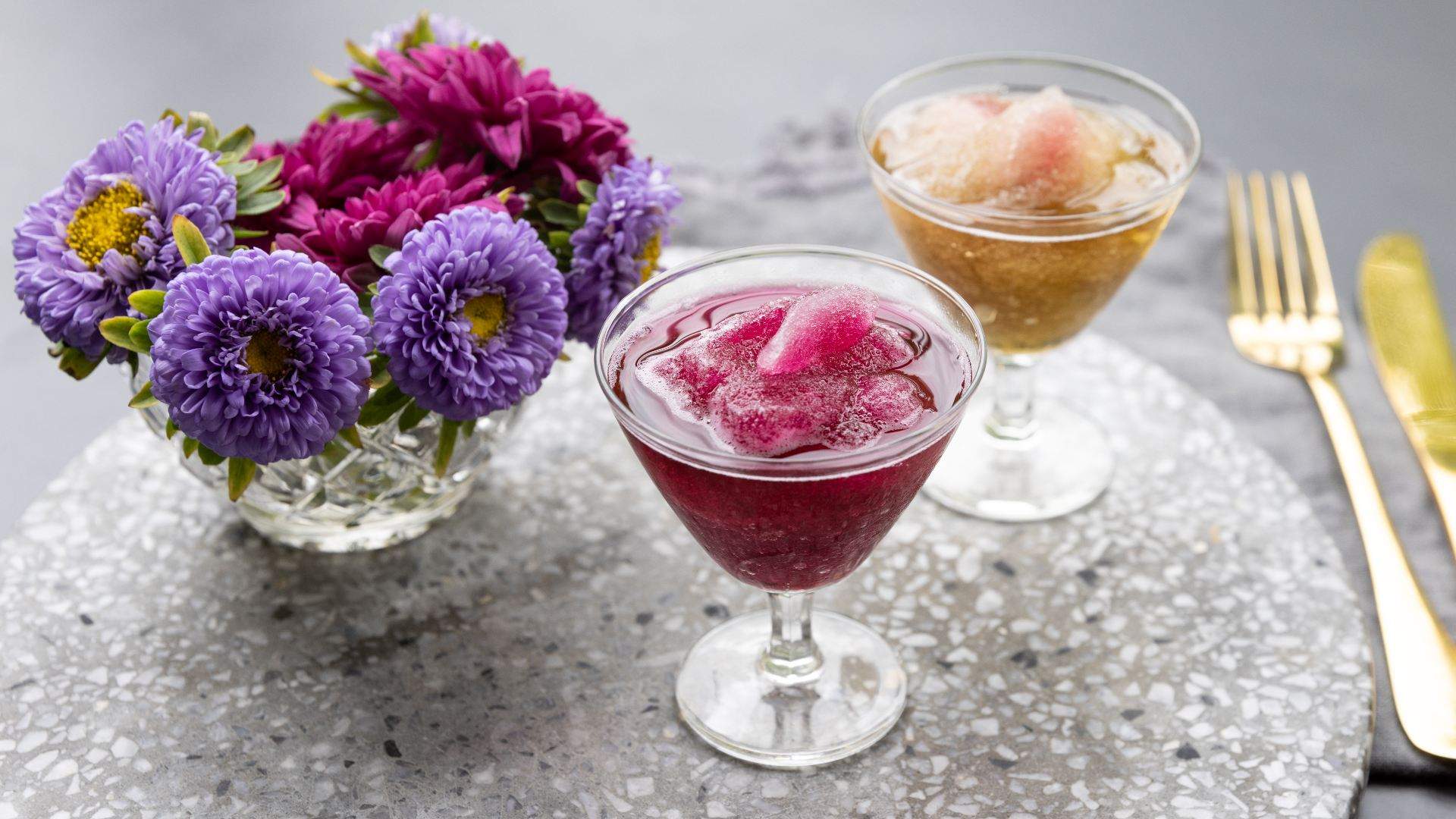 "
Nik's High-Concept Gourmand Degustation Menu
NIK: A great degustation will send you on a journey. And while the palate is the primary focus here, it should also be an experiential and emotional voyage through flavour, texture, colour, sensation and memory. That's why my flight of dishes will surprise, delight and potentially disturb you, but — as with any eventful journey — by the end of it you'll either be ready to take a lengthy nap or fist fight a bear.
THE MENU
Course one (amuse-bouche)
Caramel popcorn and bacon bits
Tasting notes: A sweet and salty snack to prepare the palate.
Course two
Jatz crackers topped with tasty cheese, a slice of apple and a drizzle of honey.
Tasting notes: A classic combo on a classic cracker.
Course three
Toasted 7-Eleven brand bacon, lettuce, avo & tomato sandwich, buttered liberally, topped with a fried egg and served with a handful of Smith's crinkle-cut Original chips.
Tasting notes: A servo-inspired take on a bikini sandwich, with a crinkle-cut chip to add that extra crunch.
Course four
Meat pie with the top taken off, topped with veggies from a pastie and finished with an instant noodle crumb and grated cheese. Tomato sauce optional.
Tasting notes: While I admit that removing the top of the pie is a controversial — and in some quarters probably sacrilegious — choice, this is my, shall we say, postmodern take on a cottage pie. Extra texture is provided by crushed instant noodles on top and a sprinkle of grated cheese rounds out the flavours.
Course five (palate cleanser)
Slurpee shot flight (Guava and Raspberry)
Tasting notes: A pre-dessert palate-cleanser, with the complementary flavours of guava and raspberry providing a frosty tang before the big finish.
Course six (dessert)
Bulla vanilla choc top, drizzled with Nutella and finished with a crumb of Smith's crinkle-cut Original chips
Tasting notes: What's better than one childhood favourite? Two childhood favourites combined! Here, the choc top gets an ice cream parlour-inspired glow up, with the layer of crushed chips (which adheres to the outer layer thanks to the Nutella) adding a peanut-like crunch and saltiness to the classic combo of velvety vanilla ice cream encased in an ice-cold chocolate shell.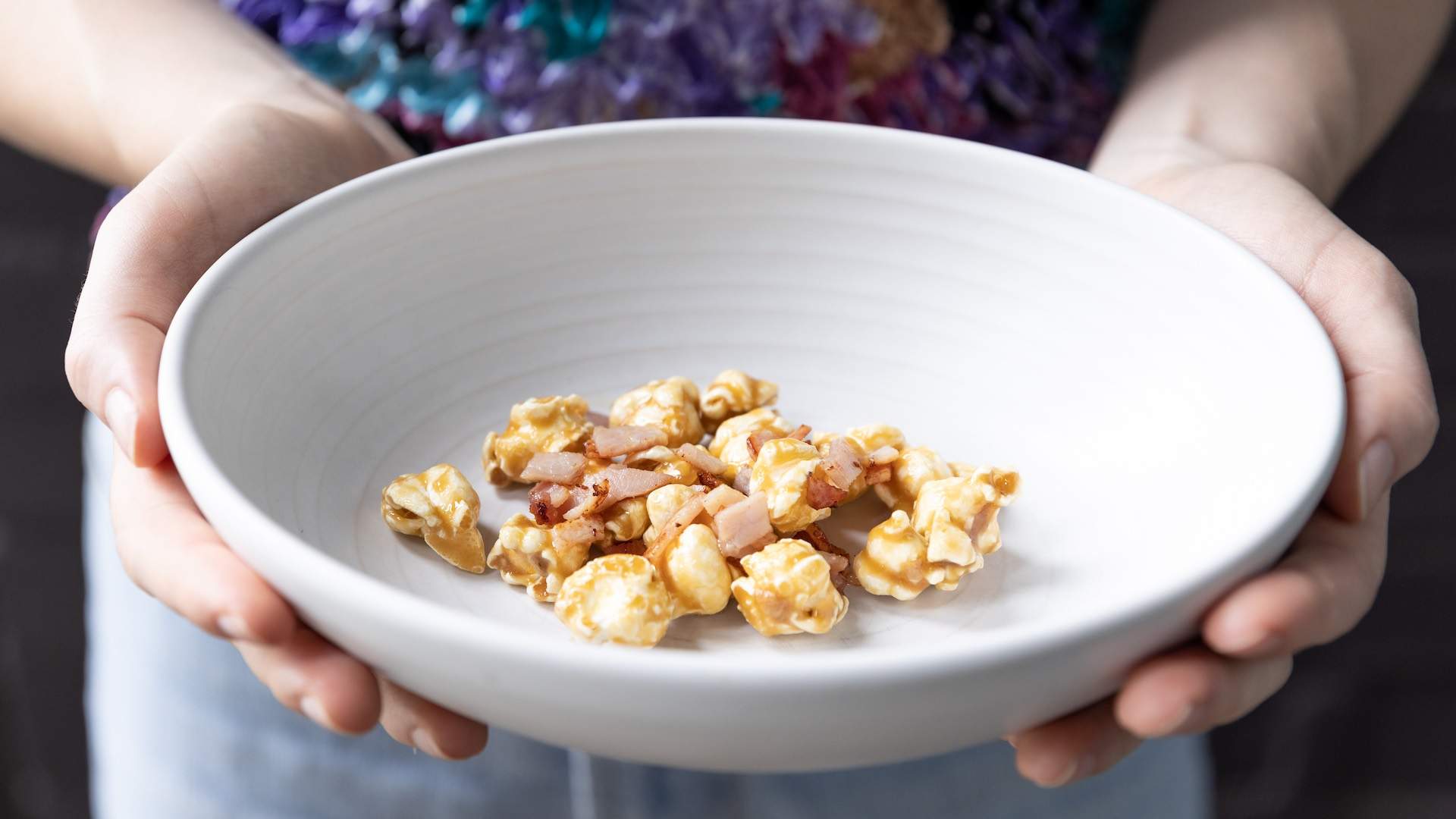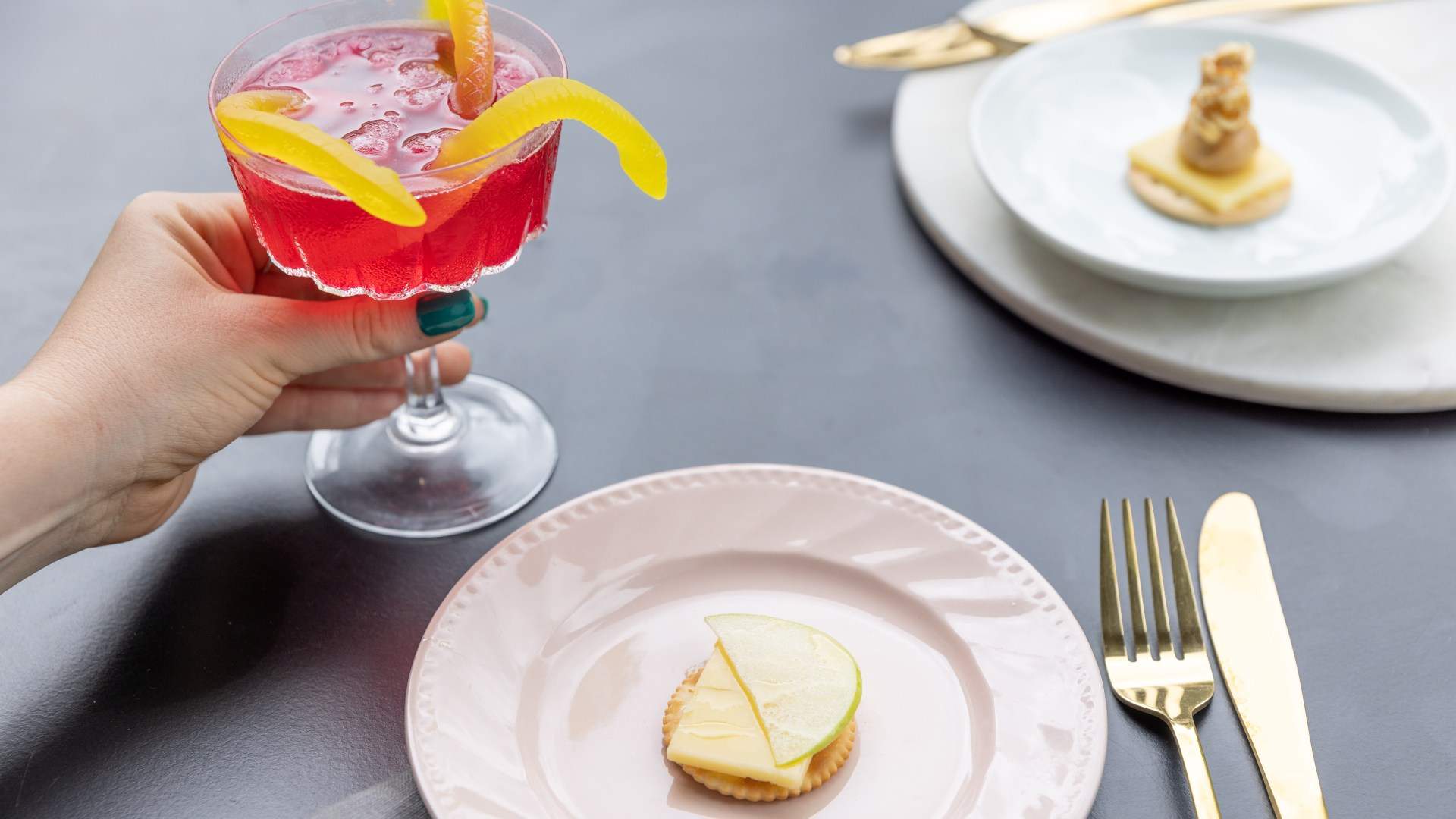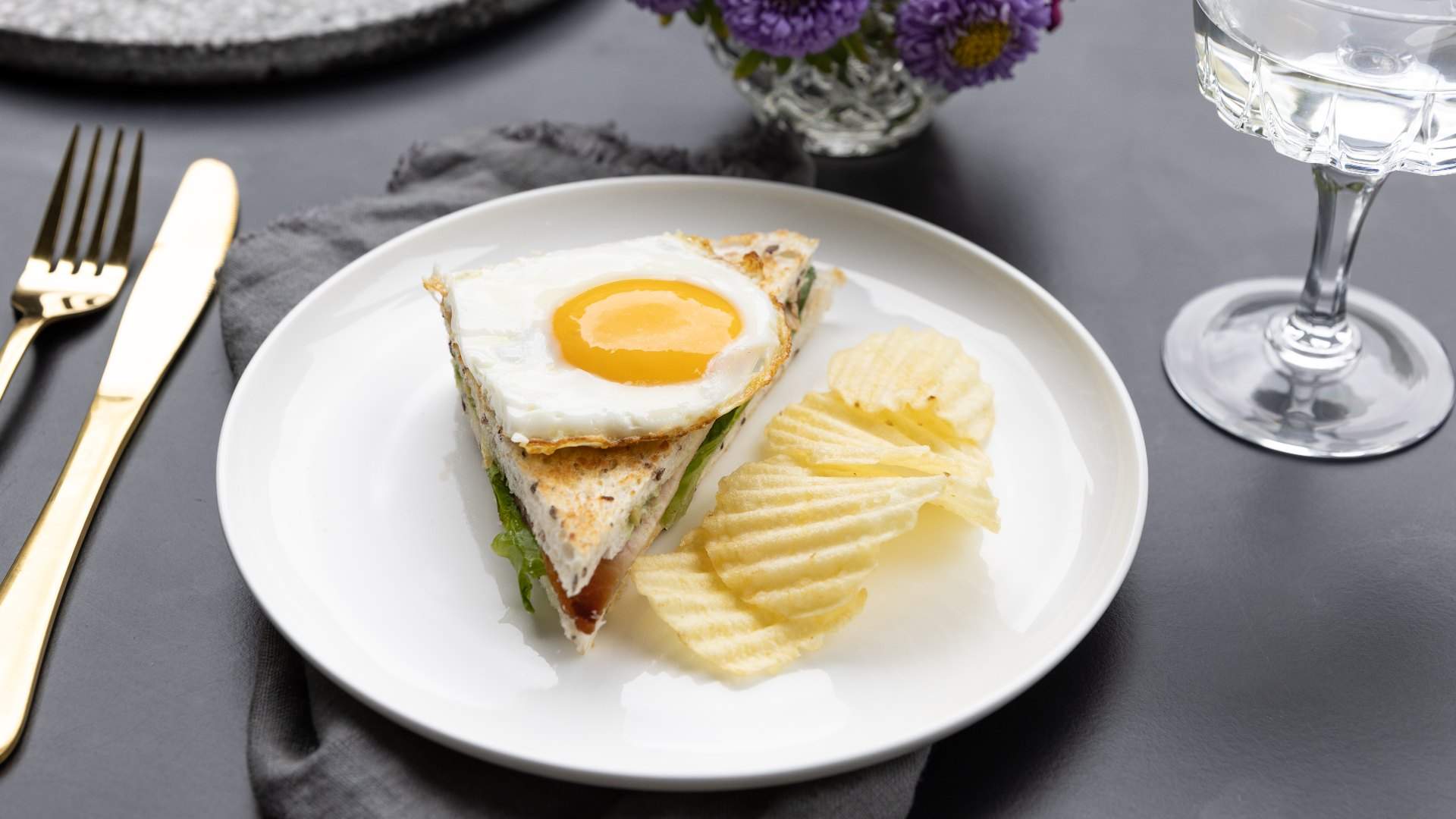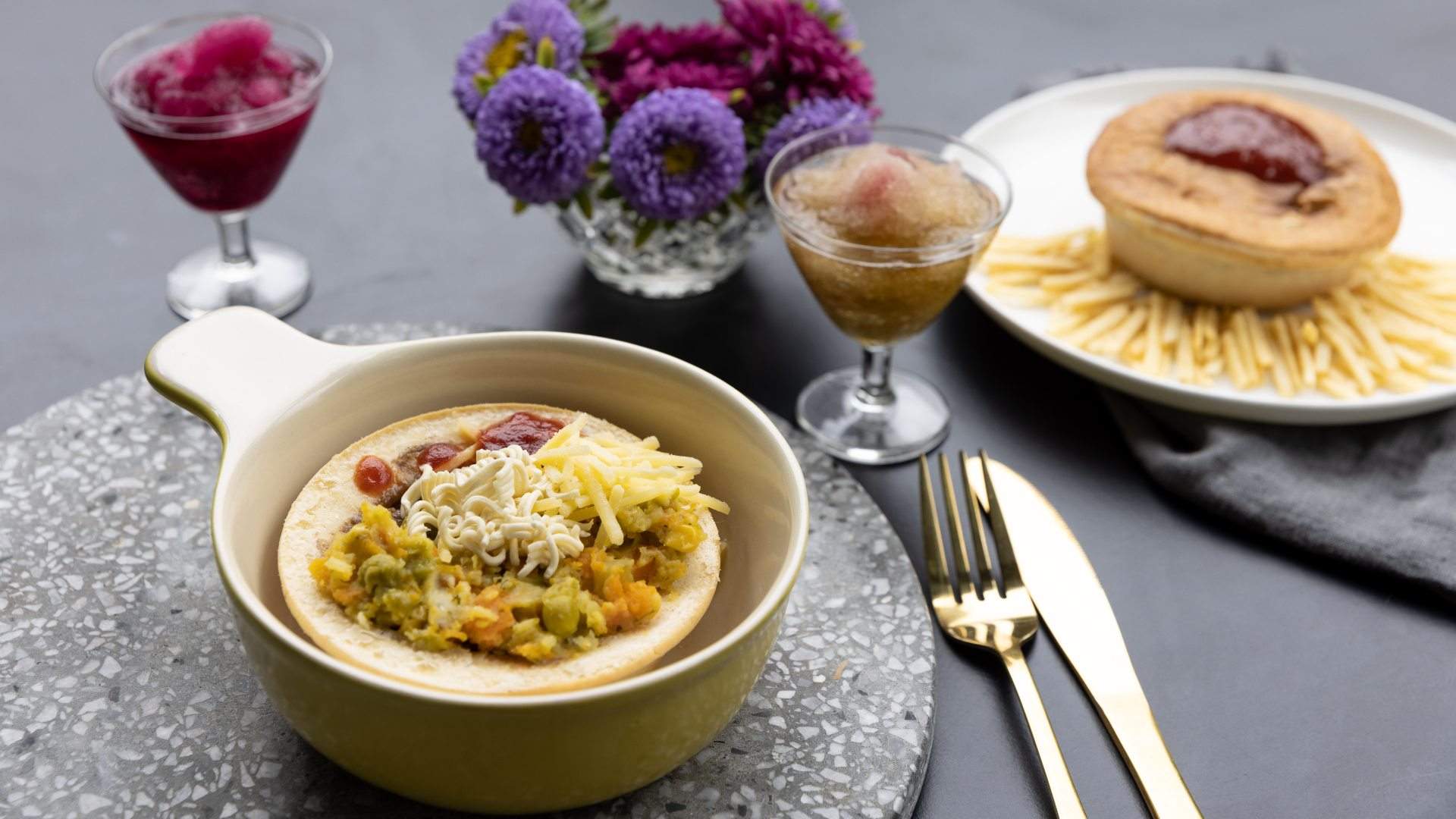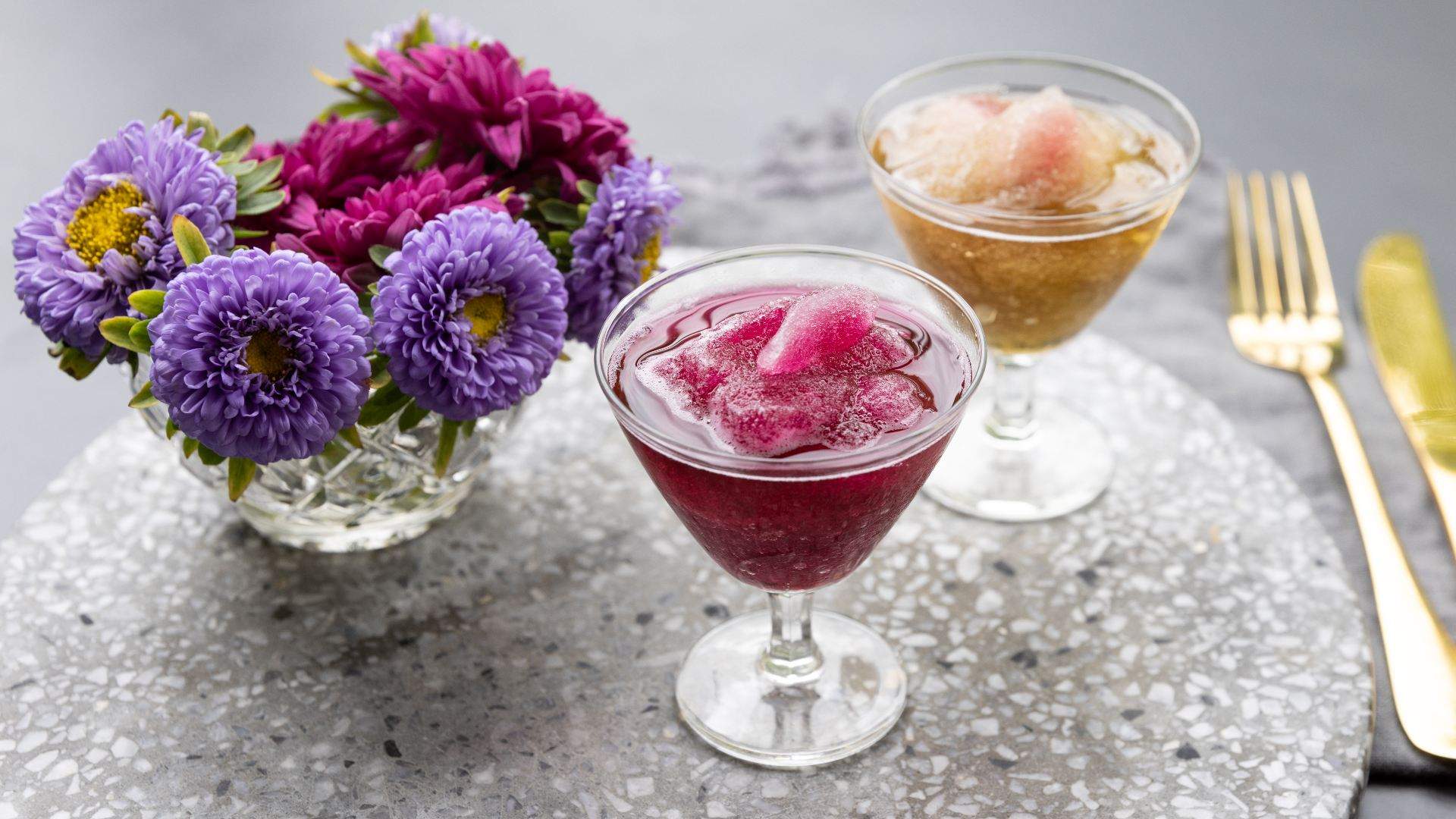 Nik's degustation menu is all about the carefully considered detail. The layers. The drizzles. The journey of textures. Flavours that feel decidedly mod-Oz with an injection of new-wave American diner. Now to see what our resident pescatarian Courtney has in store.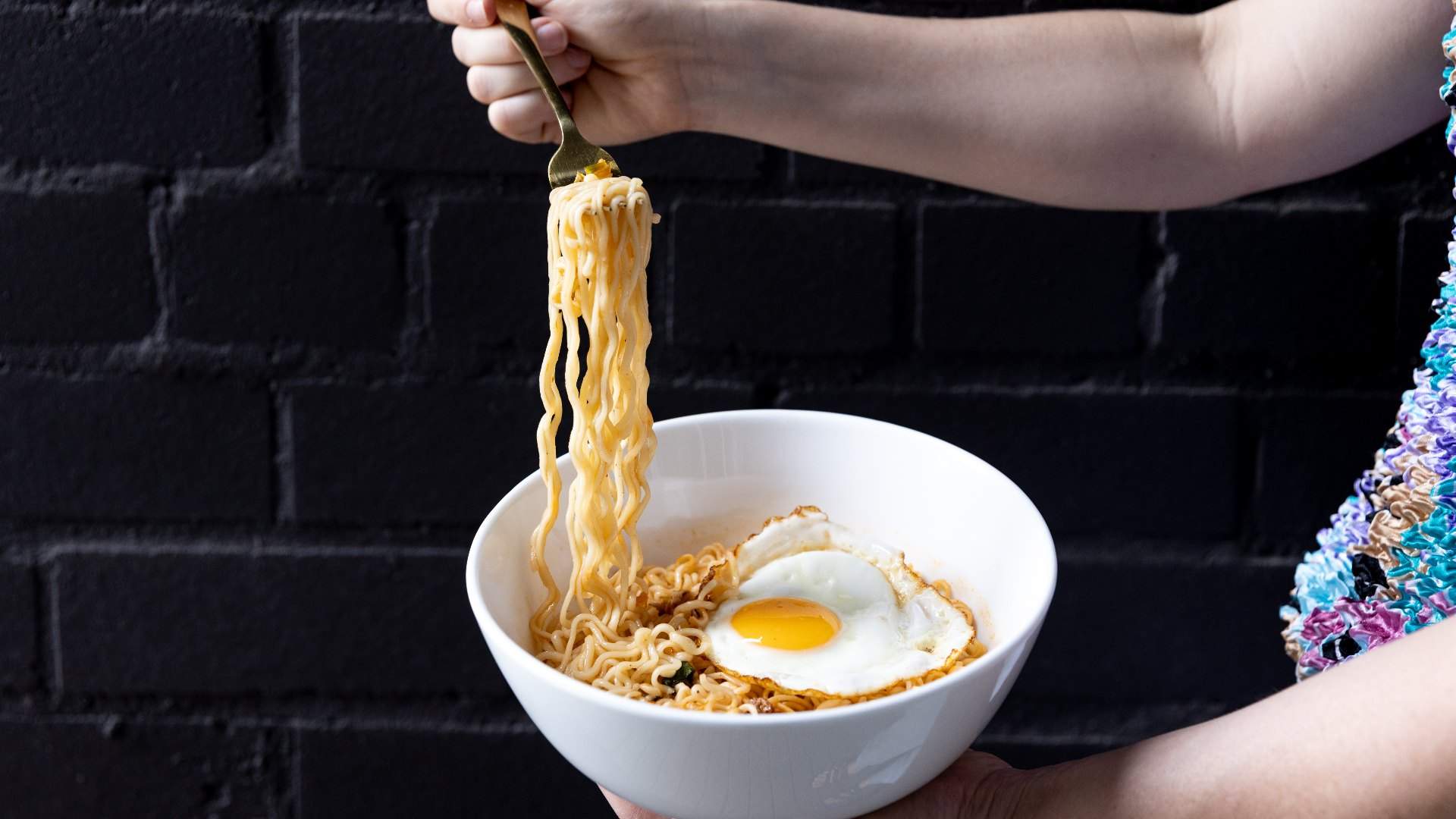 "
Courtney's Adventurous Vego Degustation Menu
COURTNEY: Every memorable 7-Eleven experience features classic snacks and surprising combinations — including this one. This boundary-pushing menu was designed to both expand your food fusion ideas while also allowing old favourites to speak for themselves. For me, this degustation is primarily about fun, flavour and a food-induced coma. BYO blanky.
THE MENU
Course one (amuse-bouche)
Cheese and crackers with a blob of peanut butter and a caramel popcorn kernel stacked on top, hors d'oeuvre-style. Accompanied by Slurpee and gummy snakes.
Tasting notes: A texture and flavour sensation. Smooth, chewy, crunchy, sweet and salty.
Course two
Cubed egg and lettuce sambo — a delicacy!
Tasting notes: A delicate and elegant classic to cool the palate and rest the jaw.
Course three
Nongshin Shin Ramyun instant noodles — with an egg on top, of course.
Tasting notes: Heat up your insides with a bowl of salty broth and silky noods.
Course four
French Fries chippies with vegan pie stacked on top so it looks like a sun. Tomato sauce for colour and that piquant sweetness!
Tasting notes: 7-Eleven is synonymous with road trips and road trips are synonymous with summer. So, here's your chance to eat a sun-shaped dish. The tom sauce symbolises the sunburn you'll get eating this on your car bonnet at a regional servo.
Course five (dessert)
Bulla mint choc top, dipped with peanut butter, Nutella and popcorn.
Tasting notes: My primary school tried to break the record for world's largest banana split in 2001. This is a sweet and salty homage to that moment with added lashings of Nutella and PB for an extra nutty kick, with the cooling notes of the mint-flavoured ice cream bringing it all together.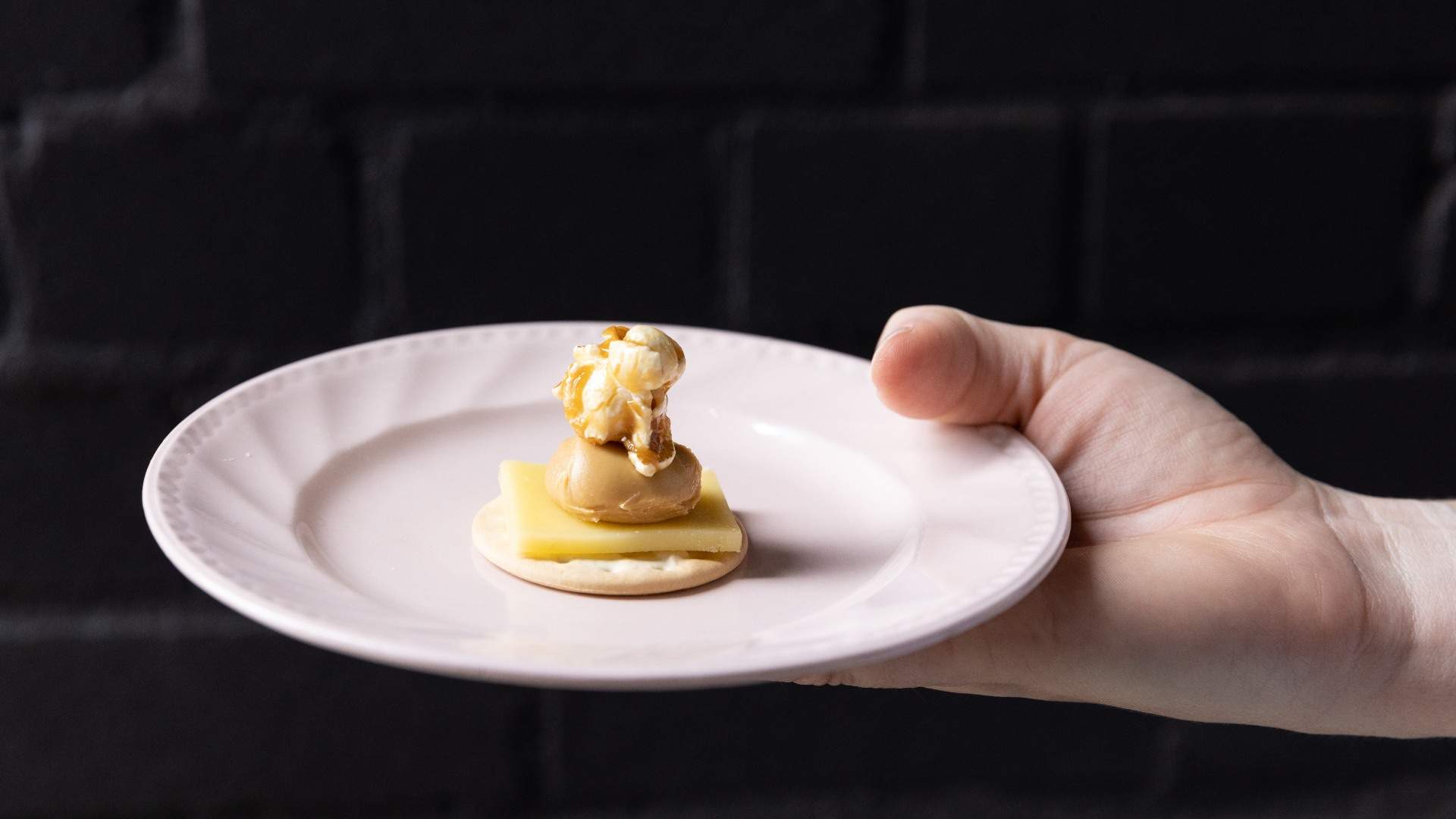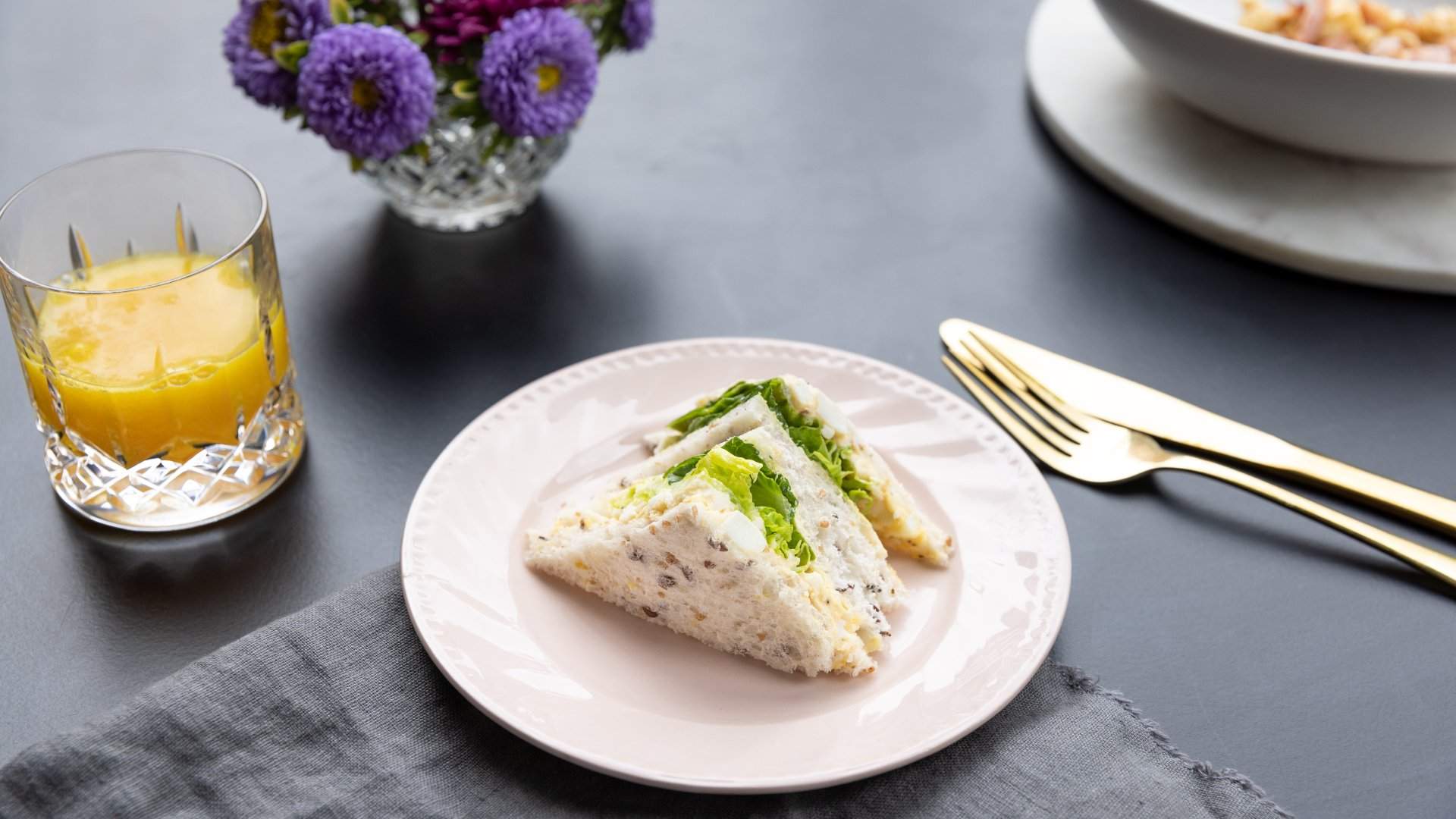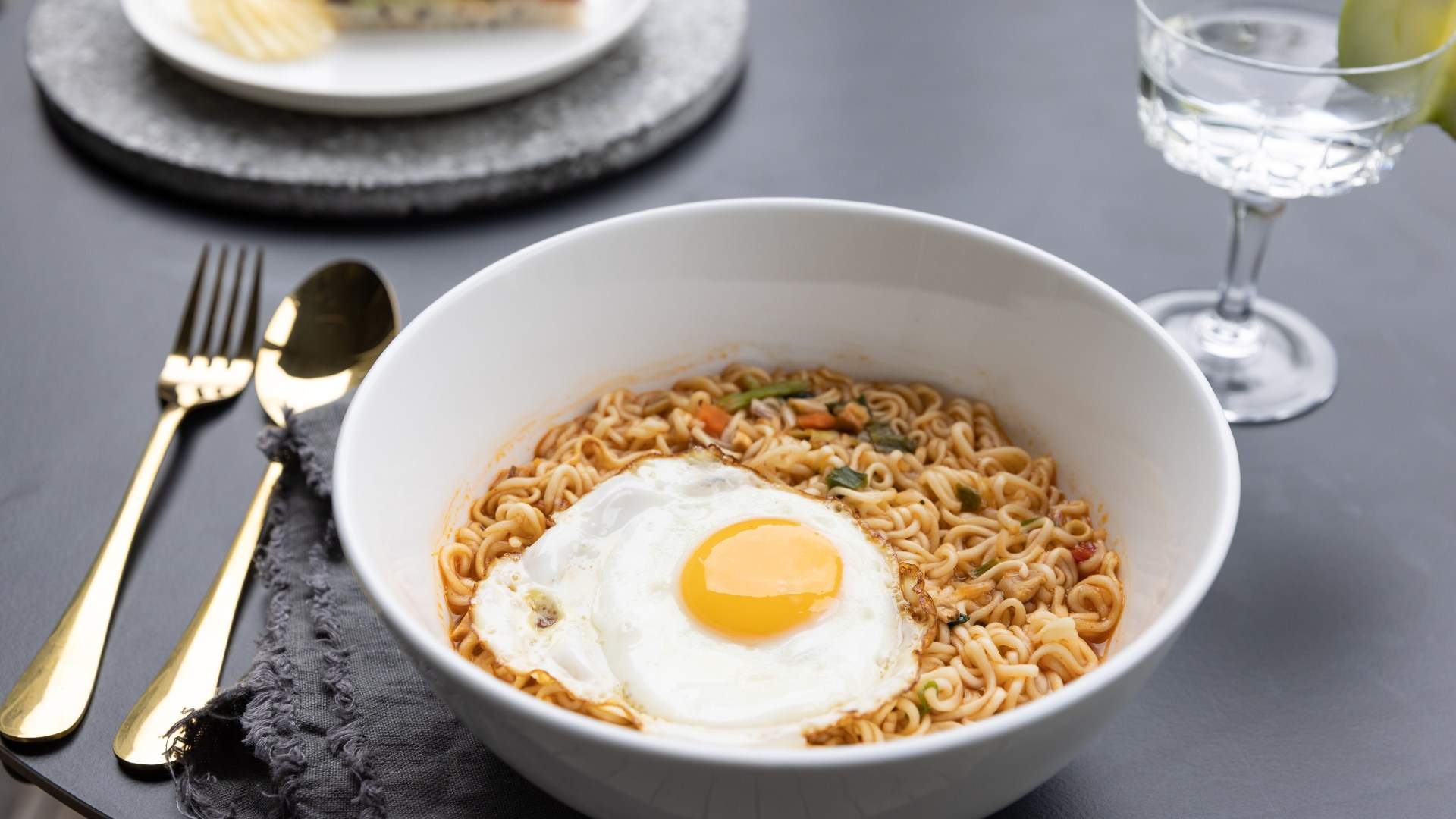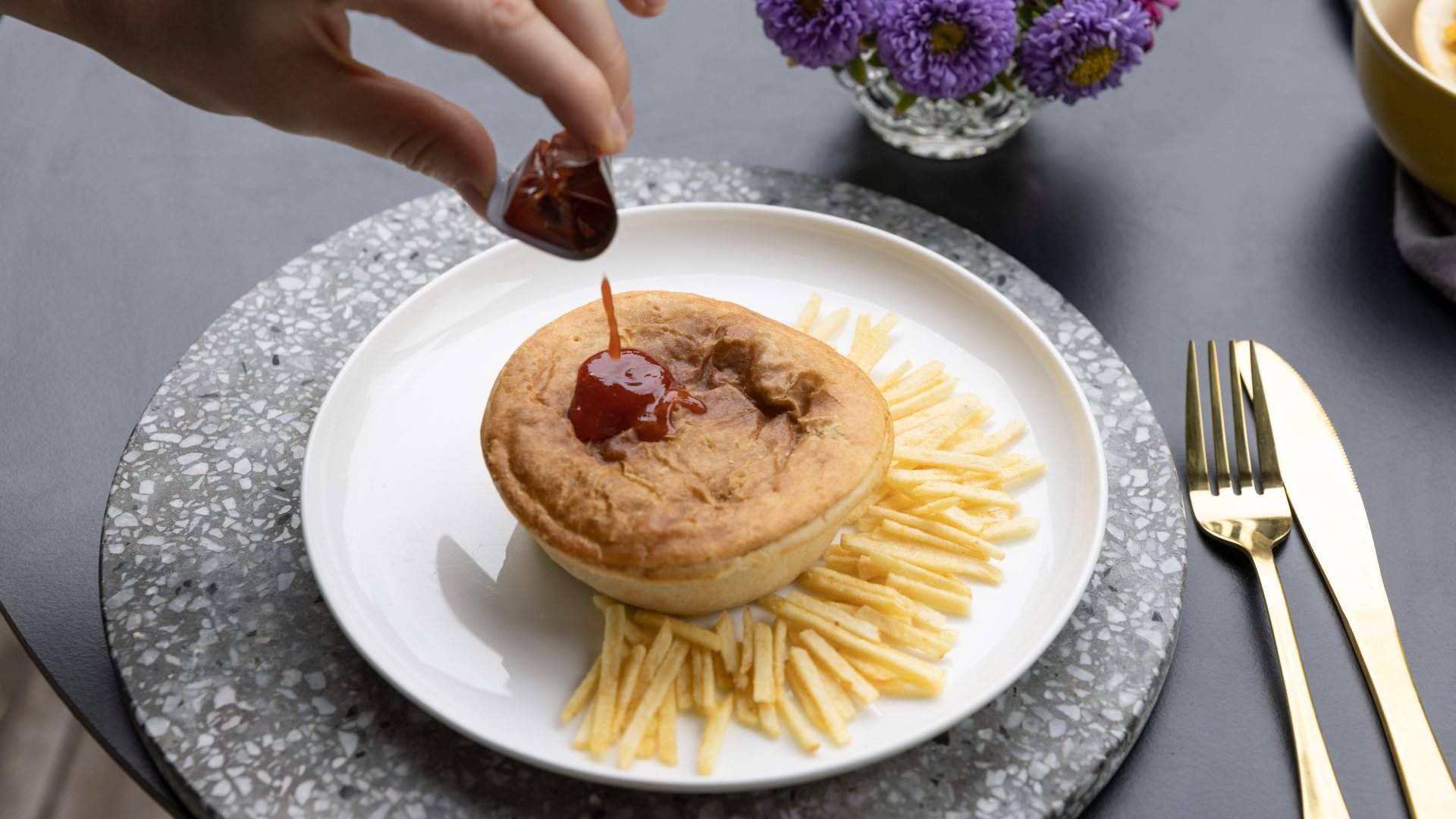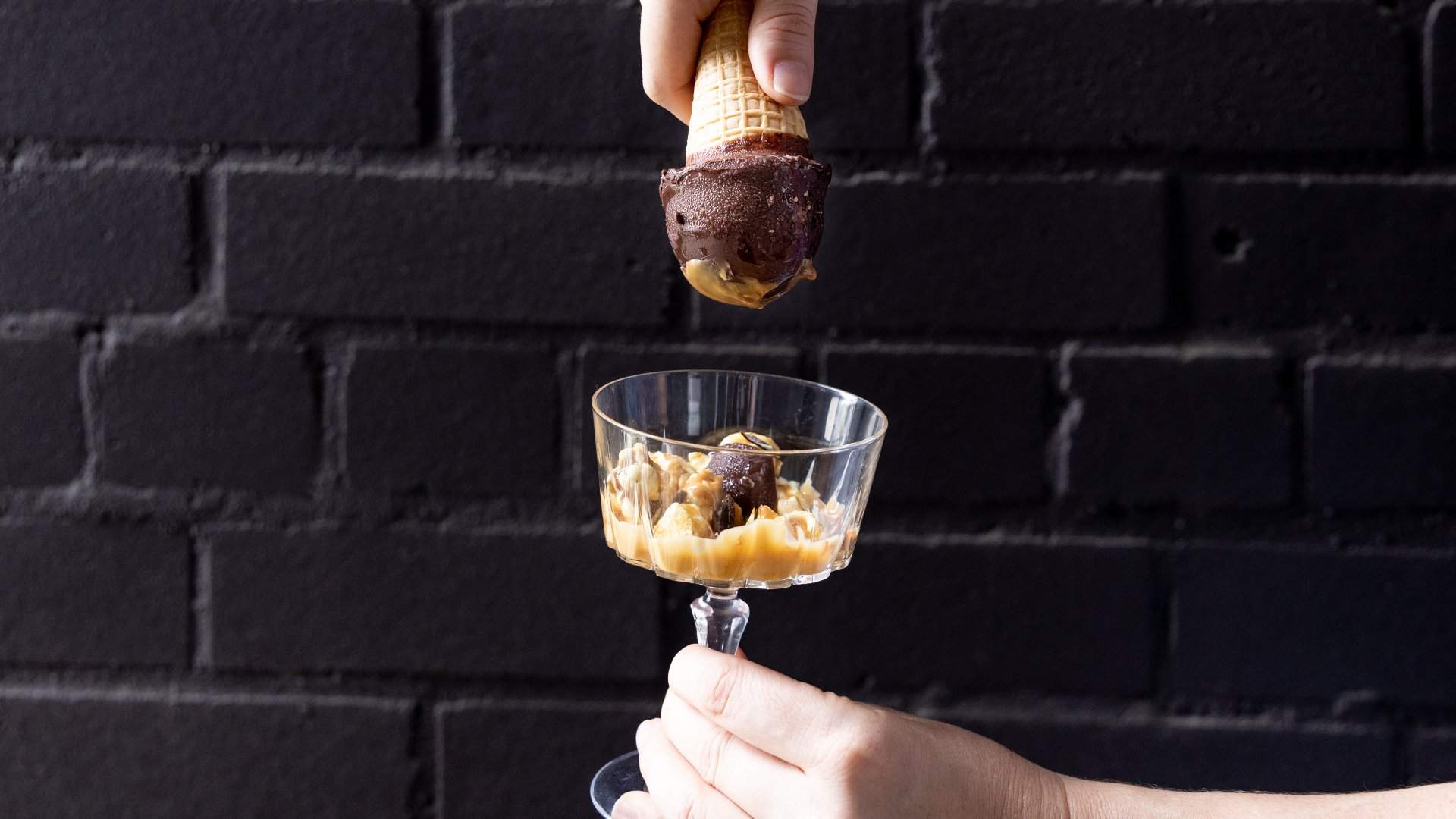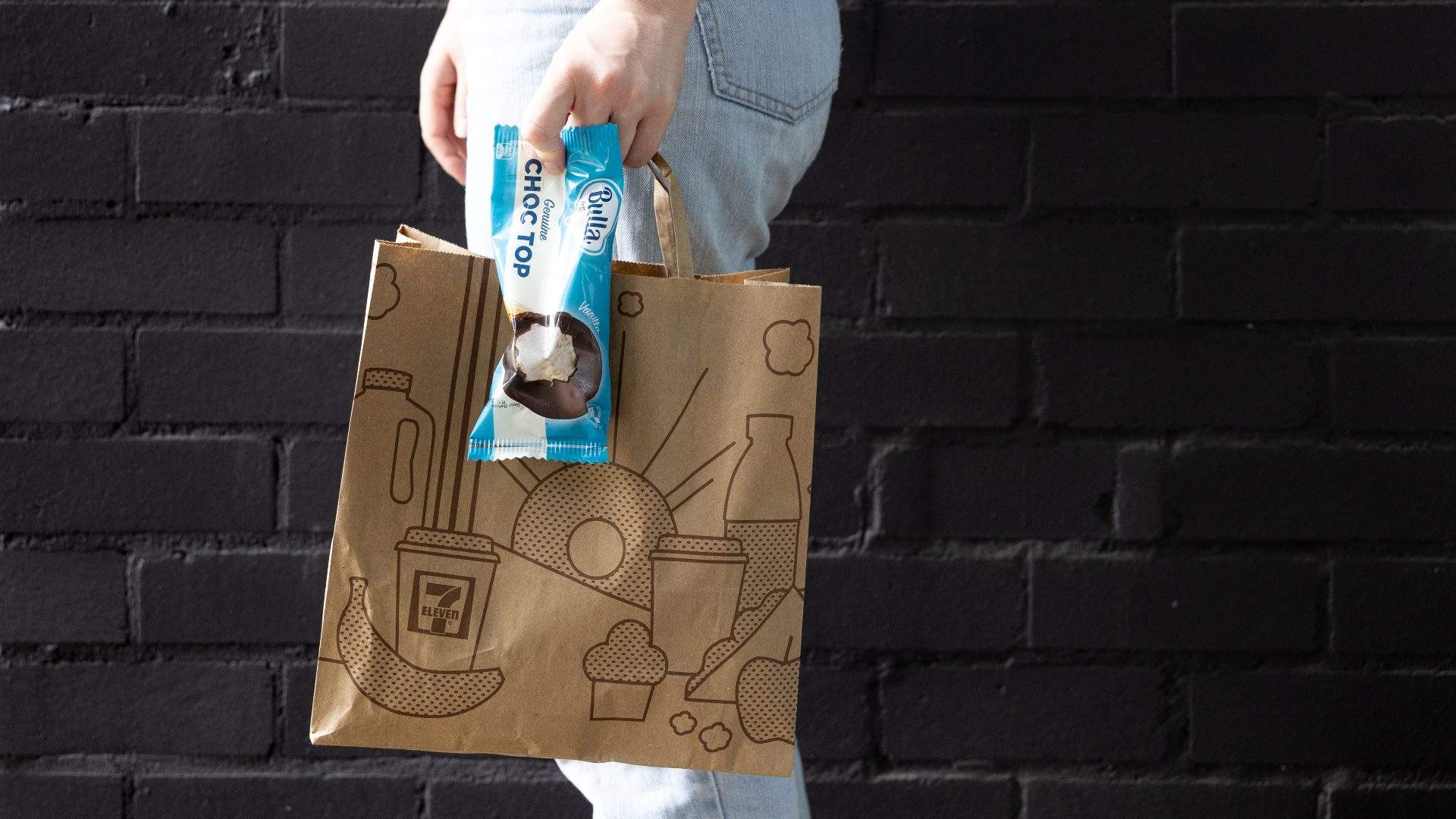 Feeling hungry, inspired or a combination of the two? Bulla's brand-new vanilla, mint and boysenberry choc top ice creams, each made with fresh Australian milk and cream, are now stocked in the freezer section of 7-Eleven stores right across Australia (RRP $5) — so you don't need six courses and a culinary creative mind to get your hands on one.
Images: Brooke Zotti.