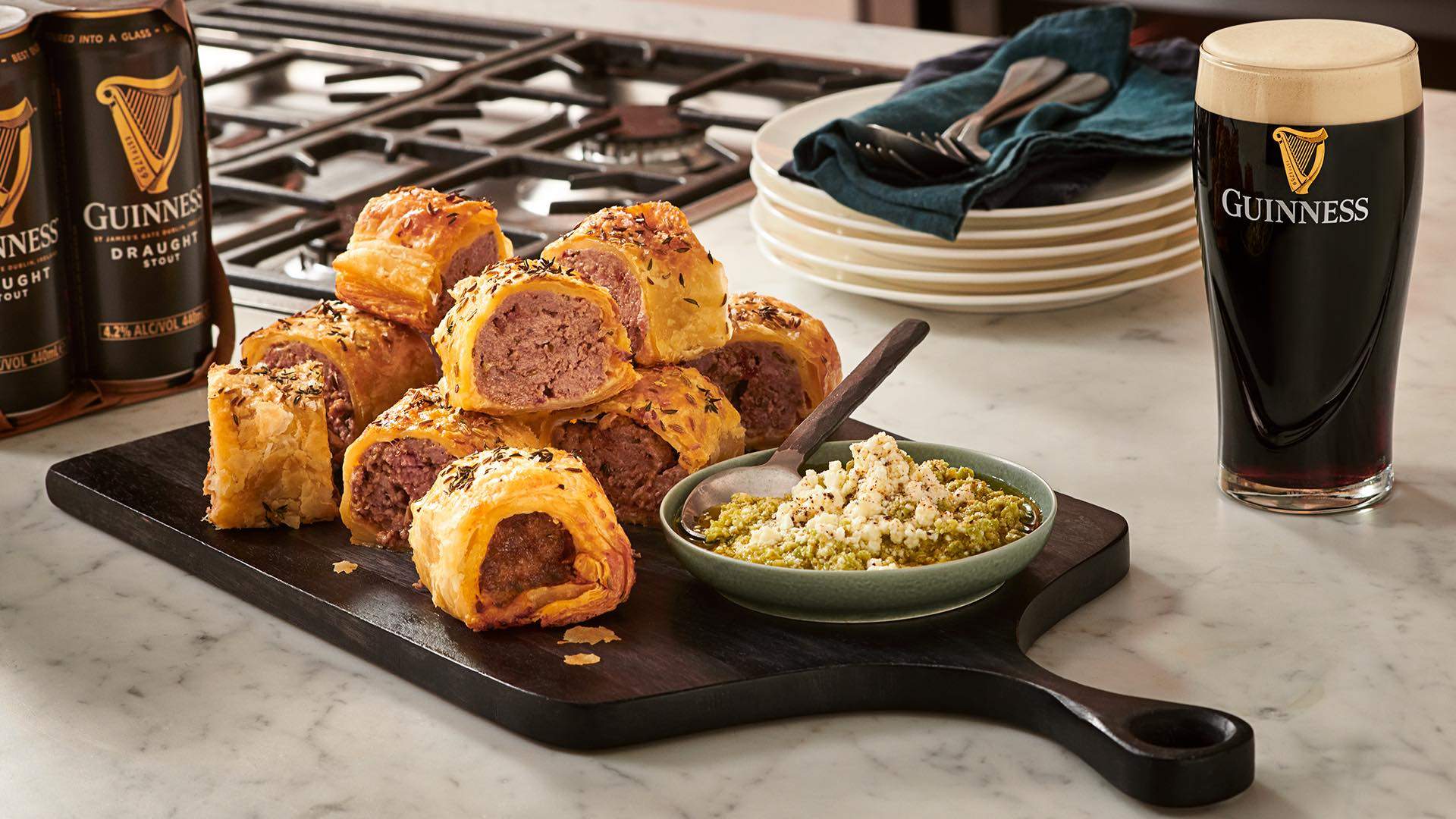 "
Do winter right with these warming snacks.
COLIN FASSNIDGE'S WINTER SNACKS
Make sure your snack game is strong this winter with these easy crowd-pleasers.
Turn up the fire and get nice and cosy — winter has well and truly arrived. To help ring it in, we've linked up with Dublin-born, Sydney-based chef Colin Fassnidge to bring you his favourite Guinness-inspired winter snacks.
Growing up around the corner from Guinness' home at St James Gate, and as a Guinness lover himself, Colin knows a thing or two about pairing snacks with the smooth, velvety stout.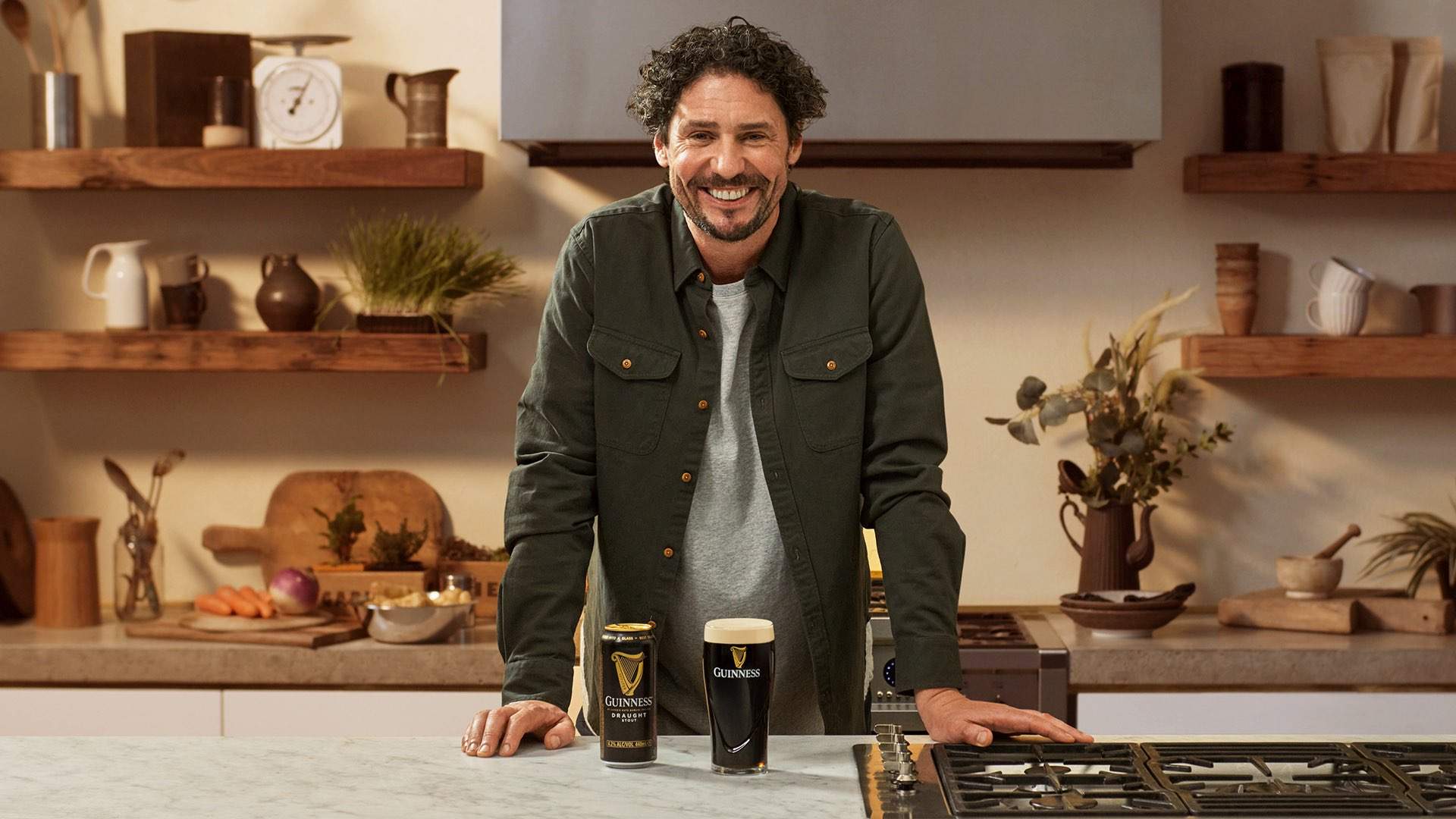 So, whether going gourmet on game day with Colin's take on lamb sausage rolls or adding a little adult indulgence to winter afternoons with a batch of stout-soaked brownies, these delicious snack ideas will make you glad you stayed home.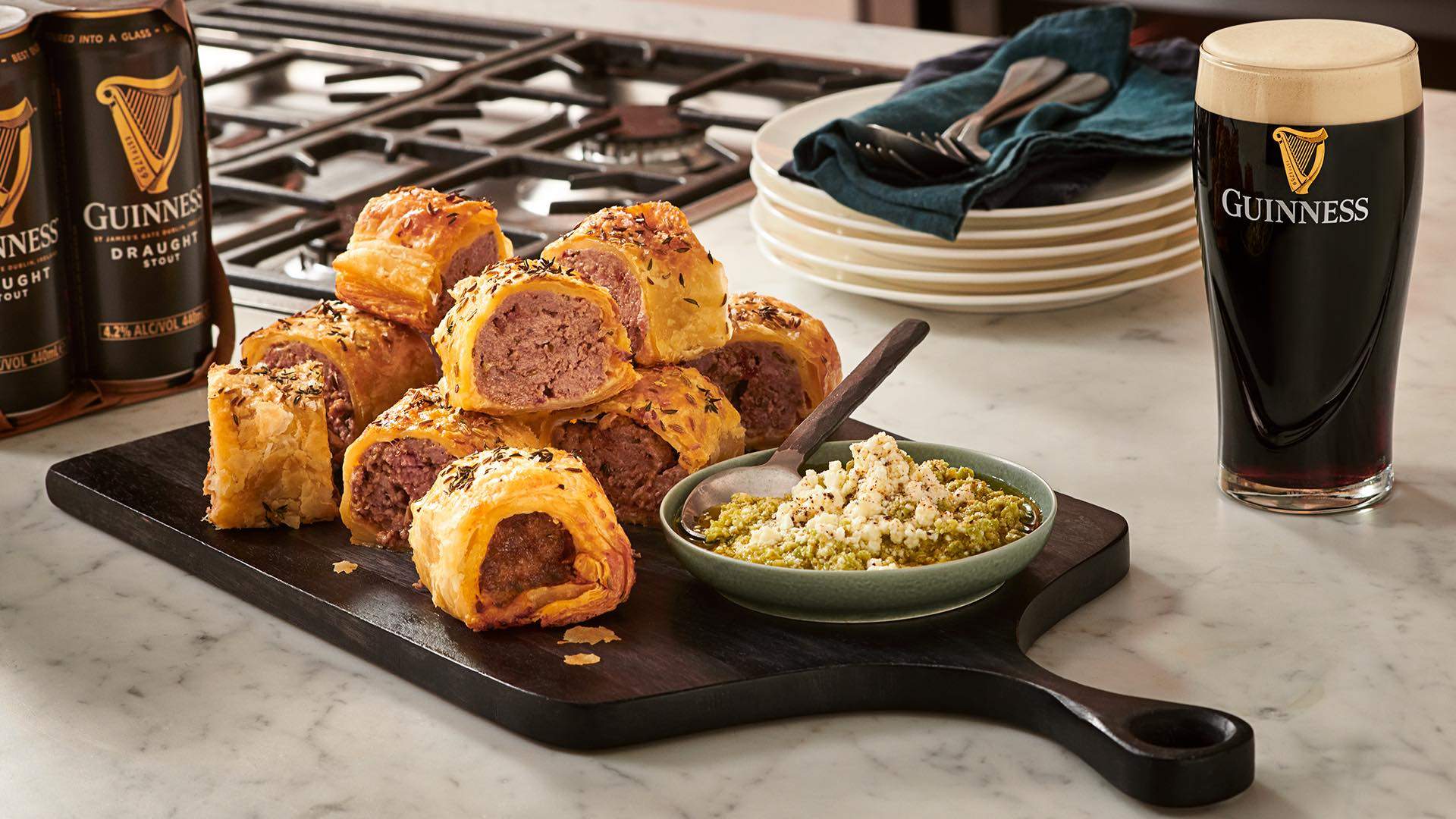 "
Go gourmet on game day with these crowd-pleasers.
Nice and Spiced Lamb Sausage Rolls
Says Fassnidge: "Winter is not only Guinness season, it's footy season. And what better way to enjoy it than with my lamb spiced sausage rolls which goes beautiful with a Guinness?" He's not wrong — the spice filling of these snackable sausage rolls is offset by a salty, buttery pastry, and given a lift with a zingy green olive and feta tapenade.
INGREDIENTS:
2 tablespoons extra virgin olive oil
2 small brown onions, finely chopped
4 sprigs rosemary, leaves finely chopped
3 cloves garlic, crushed
1/3 cup fennel seeds, finely crushed
2 teaspoons smoked paprika
2 teaspoons ground cumin
1 teaspoon cayenne pepper
1kg lamb mince
2/3 cup (100g) breadcrumbs
1/3 cup drained sun-dried tomatoes, finely chopped
2 egg yolks
3 sheets good quality frozen puff pastry, partially thawed
1 egg, lightly whisked
Sea salt flakes, to sprinkle
METHOD:
1. Preheat oven to 220 degrees celsius or 200 degrees fan-forced and grease and line a large oven tray with baking paper.
2. Heat oil in a large frying pan over medium-high heat. Add onion, rosemary, garlic and half of the fennel seeds. Cook, stirring occasionally, for 2 minutes or until onion is soft.
3. Add the paprika, cumin and cayenne pepper. Cook, stirring, for 30 seconds or until fragrant. Remove from heat. Cool.
4. Combine the lamb, breadcrumbs, sun-dried tomatoes, egg yolks and onion mixture in a large bowl. Season.
5. For each sausage roll, place a sheet of pastry on a flat work surface. Shape one-third of the mince mixture into a log along one edge of pastry, leaving a 2cm border. Roll up to form a log. Place, seam-side down, onto prepared tray.
6. Repeat with remaining ingredients to make 3 sausage rolls. Brush tops with egg. Sprinkle with remaining crushed fennel seeds and sea salt flakes. Chill for 15 minutes.
7. Bake sausage rolls for 25 minutes or until golden brown. Cut each roll into 4.
GREEN OLIVE AND FETA TAPENADE
INGREDIENTS:
200g pitted green olives, halved
100g fetta, crumbled
1 clove garlic, crushed
2 tablespoons lemon juice
2 tablespoons extra virgin olive oil
METHOD:
1. Place the olives, fetta, garlic, juice and oil in small food processor. Process until almost smooth (adding extra oil if required). Season to taste.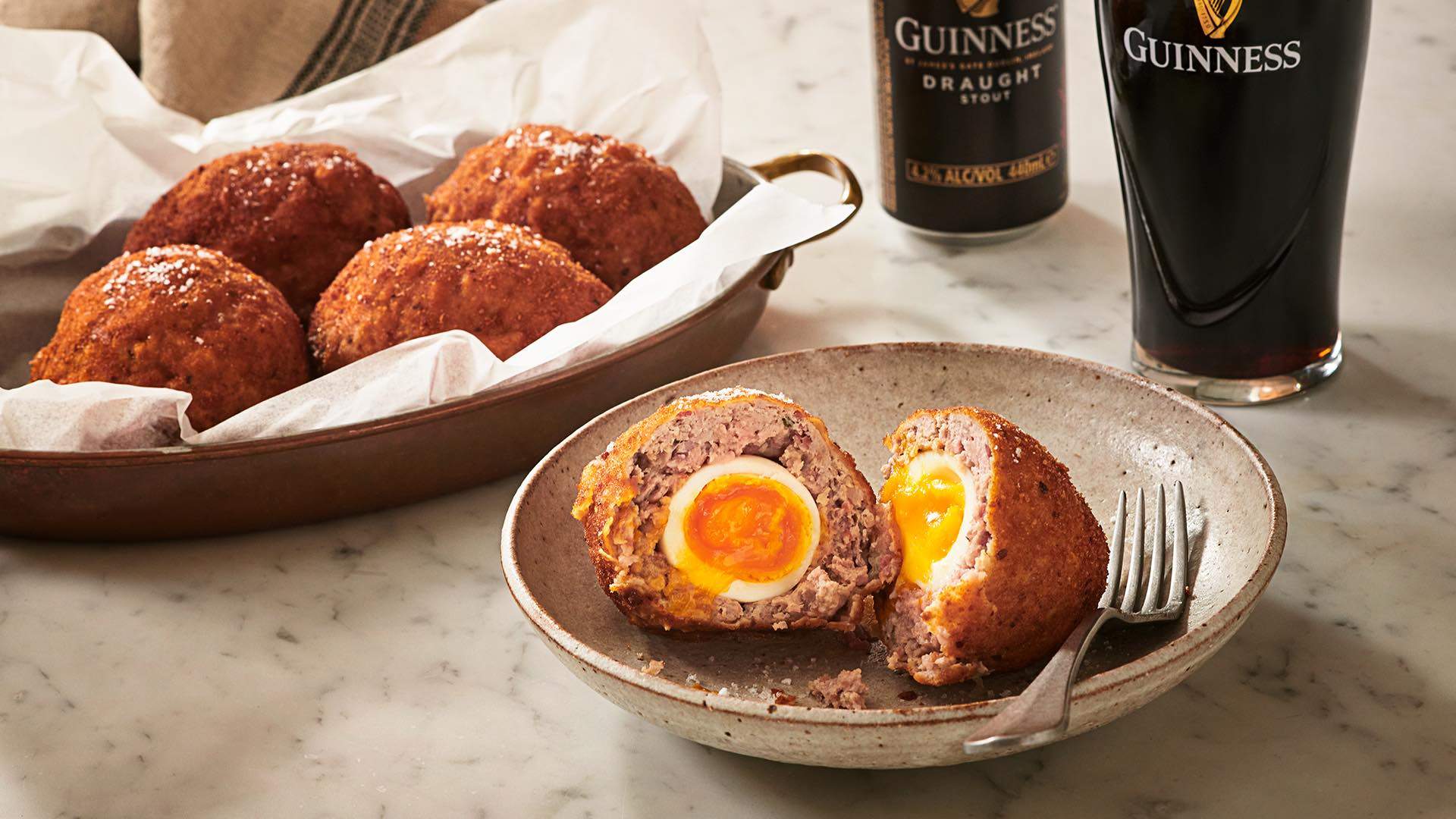 "
The undisputed king of bar snacks.
Colin Fassnidge's Ultimate Scotch Eggs
"Nothing says winter like a roaring fire, a cold Guinness and my ultimate bar snack: the scotch egg" says Fassnidge. And now, you don't even need to go to the pub to enjoy these indulgent, deep-fried delights, with Fassnidge sharing his recipe with us.
INGREDIENTS:
14 x 50g eggs, at room temperature
1kg pork mince
250g pancetta, minced
1/4 small bunch sage, finely chopped
1/4 small bunch marjoram, finely chopped
2 cloves garlic, crushed
4 cups breadcrumbs
2 cups (300g) plain flour
1 cup (250ml) milk
Vegetable oil, to deep fry
METHOD:
1. Place 10 eggs in a large saucepan of cold water. Bring to the boil over high heat, stirring (this helps centre the yolks). Boil for 5 minutes. Drain. Refresh under cold running water. Peel (eggs will be fairly soft).
2. Combine the pork mince, pancetta, sage, marjoram and garlic in a large bowl. Add 1 of the remaining eggs and ½ cup of the breadcrumbs. Mix well and season.
3. Divide pork mixture into 10 equal portions. Shape a portion of pork mince around a soft-boiled egg to enclose and form an oval shape.
4. Whisk remaining eggs and milk in a large shallow bowl. Place flour in a large shallow bowl and the remaining breadcrumbs in another large shallow bowl.
5. Working in batches, dust eggs in flour to lightly coat, shake off any excess. Dip in egg mixture, then roll in breadcrumbs to lightly coat. Repeat to double crumb eggs. Place on a large plate. Chill for 10 minutes (this helps settle the crumb).
6. Preheat oven to 180 degrees celsius or 160 degrees fan-forced.
7. Pour enough oil into a large heavy-based saucepan to reach a depth of 10cm. Heat oil over high heat (oil is ready when a cube of bread crisps quickly without over colouring or a candy thermometer reaches 350C).
8. Deep-fry eggs, in batches, for 2-3 minutes or until lightly browned. Transfer to an oven tray. Reheat oil between batches.
9. Bake eggs for 8 minutes or until golden brown and mince is cooked (eggs will still be soft-set). Serve.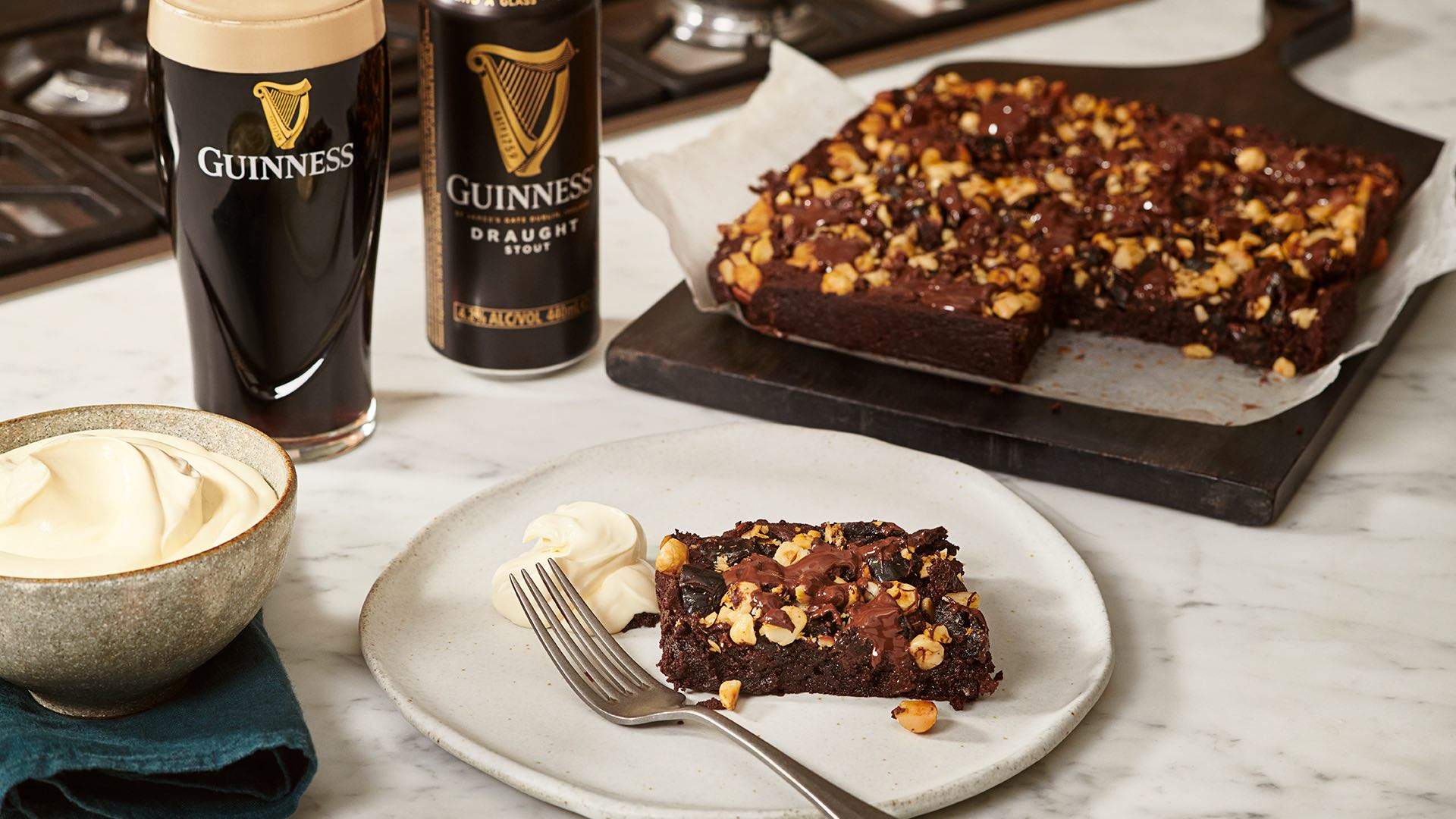 "
Booze, chocolate, fruit, and nuts make for total adult indulgence in one dessert.
Stout-Soaked Brownies
They might look it, but these aren't your average brownies. "On a winter's day this is your adult treat, your adult chocolate brownie," says Fassnidge of these Guinness-laced slices. Pair them with a malt-infused cream and you've got yourself a decadent winter dessert.
INGREDIENTS:
1/2 cup (100g) pitted dried prunes, chopped
1 1/4 cups (310ml) Guinness
250g dark chocolate, finely chopped, plus 100g extra, coarsely chopped
200g unsalted butter, chopped
1 1/3 cups (300g) firmly packed brown sugar
3/4 cup (115g) plain flour
1/2 cup (50g) cocoa powder
3 eggs, lightly whisked
100g unsalted macadamia nuts, coarsely chopped
50g roasted hazelnuts, coarsely chopped
Pinch sea salt flakes
Barley cream
1 cup (250ml) thickened cream, whipped
1 tablespoon barley extract
METHOD
1. Preheat oven to 160 degrees celsius or 140 degrees fan-forced. Grease and line a 22cm (base measurement) square cake pan with baking paper.
2. Combine prunes and Guinness in a bowl. Stand for 30 minutes to infuse flavours. Drain.
3. Place the chocolate and butter in a large heatproof bowl over a saucepan of simmering water (don't let bowl touch water). Stir for 5 minutes or until melted and smooth. Remove bowl from heat. Cool slightly.
4. Add eggs to chocolate mixture, stir until smooth and combined.
5. Sift together flour and cocoa powder over the top of mixture. Stir to combine. Add salt and drained prunes.
6. Pour into prepared pan and top with macadamias, hazelnuts and extra chocolate.
7. Bake for 30 minutes or until just firm to touch. Remove from oven and cool slightly.
8. Place whipped cream in a large bowl. Add the barley extract, fold until combined.
9. Serve brownie with Barley Cream.