New in Town
Stamford Park
This magnificently restored 1882 homestead has been reimagined into a posh cafe, with dining rooms, a beautiful landscaped garden, courtyard, glorious vegie patch and chook house.
Sitting in the parlour of Stamford Park, you feel hours out of the city. But this magnificently restored and reimagined 1882 homestead is only 28 kilometres from Melbourne's CBD, in the southeastern suburb of Rowville.
After sitting dormant for the last 30 years, the homestead has just reopened to the public as a restaurant and cafe. The pair behind it? Hospitality entrepreneur Jason M Jones — who is behind South Yarra's Entrecôte, Armadale's Bouzy and Second Home in Eltham — and his partner in business and in life, interior designer Brahman Perera.
Since winning the Knox City Council tender to restore and operate the homestead in 2016, Jones and Perera adopted a vision for Stamford Park that would "see the old girl once again be used as she was intended". The three-year restoration was to give reverence to a valuable piece of local history and 19th century architecture. But its execution goes beyond this — Jones and Perera have crafted a more whimsical and memorable experience for diners looking to escape the city.
From each of the two north-facing rooms, three large Victorian windows look out to a beautiful autumnal garden and wicker chairs on the front porch. Jazz is playing and fireplaces are burning in adjacent rooms — it feels very much like a home, rather than a venue.
"It's been lovely watching people come in, have a wander around the house while chatting to staff, then go to eat a lovely meal and finish with a visit to the chooks and meander through the garden (drink in hand even better)," says Perera. "We think that's so much nicer than sitting, eating and leaving directly afterwards."
The homestead's eight rooms have been elegantly transformed and styled to offer different experiences. Of the eight, only two actually operate as formal dining rooms. Then there's the kitchen and lobby, and the other four allow for diners to get a change of scenery, perhaps between courses or for pre- or post-meal cocktails. There's also a veggie garden, chook house and ornamental lake that you can explore at your leisure.
Stamford Park opened earlier this month, and we've got a look-in. In partnership with Zantacwe're uncovering the best new restaurants and bars around Australia as they open. We've got the lowdown on the team, the design and — most importantly — the menu so that you can head in educated, excited and ready to take it all in — with a few dishes recommended by the chef, no less.
Stamford Park is by no means a small-scale operation. She sits on a huge six-acre property that commands constant maintenance by a team of experts — just as she would have in her heyday.
Before partnering with Perera, Jones helped establish a string of other acclaimed hospitality venues in Melbourne — Friends of Mine, Porgie & Mr. Jones and Stables of Como included. For this project, the pair is partnering with executive chef Nicholas Boyle. He brings his experience at Gingerboy and Rockpool Bar & Grill to Stamford Park's repertoire, combining this with access to fresh organic produce from the 500-square-metre market garden.
To make the best use of this rare resource, Boyle creates his seasonal menu in conjunction with Stamford Park's gardener, Robert Proudlock. Desserts and baked goods are made on-site by pastry chef Beth O'Laughlin. In keeping with the wholesome approach, even the milkshake syrups are created from scratch.
The homestead was built by the entrepreneurial Row family in 1882 and initially occupied as a country residence. To pay homage to this history, charming heritage features such as the gothic gables, intricate wrought iron details and five-metre-high ceilings have been reinstated wherever possible. But to simply restore the homestead exactly to its original state would be neglecting the importance of functionality.
"When we first took over the homestead, it was logistically a nightmare to have a restaurant with eight separate rooms full of tables and chairs," says Perera. "We honestly couldn't imagine how we'd fill the whole homestead and thought we'd just use these rooms [referring to the Parlour and Emmeline Dining Room] as offices."
But as the couple grew more familiar with the homestead, the purpose for each room unfolded — it just had to be cleared by Heritage Victoria.
"Knocking down the walls to create more flow in the rooms has been such an essential element of giving flow to the homestead," says Perera. "Otherwise you'd just be going in and out of rooms all the time and pathways would get congested."
Besides the kitchen and formal cafe dining rooms, the interior of Stamford Park comprises four recreational and multi-purpose rooms. These can be booked for private functions and include the Emmeline Dining Room for up to 36 guests, or the more intimate Little Sparrow Room, which is ideal for perhaps a 10-person soiree. Then, there's the gorgeous Library Bar and decadent Parlour room where you can select your own music from the 30-strong record collection.
"The option is always there to enjoy the property in its entirety," says Perera.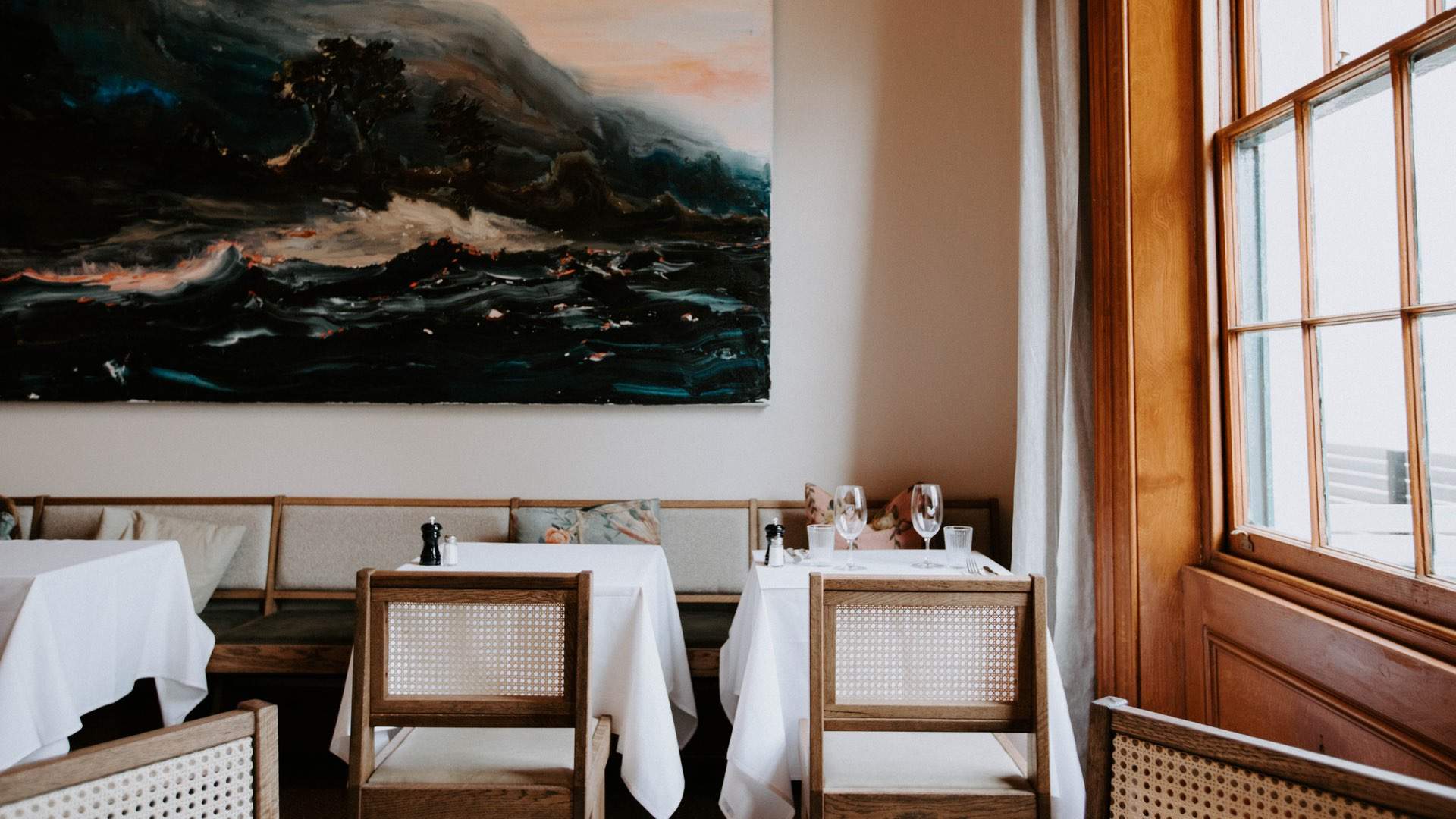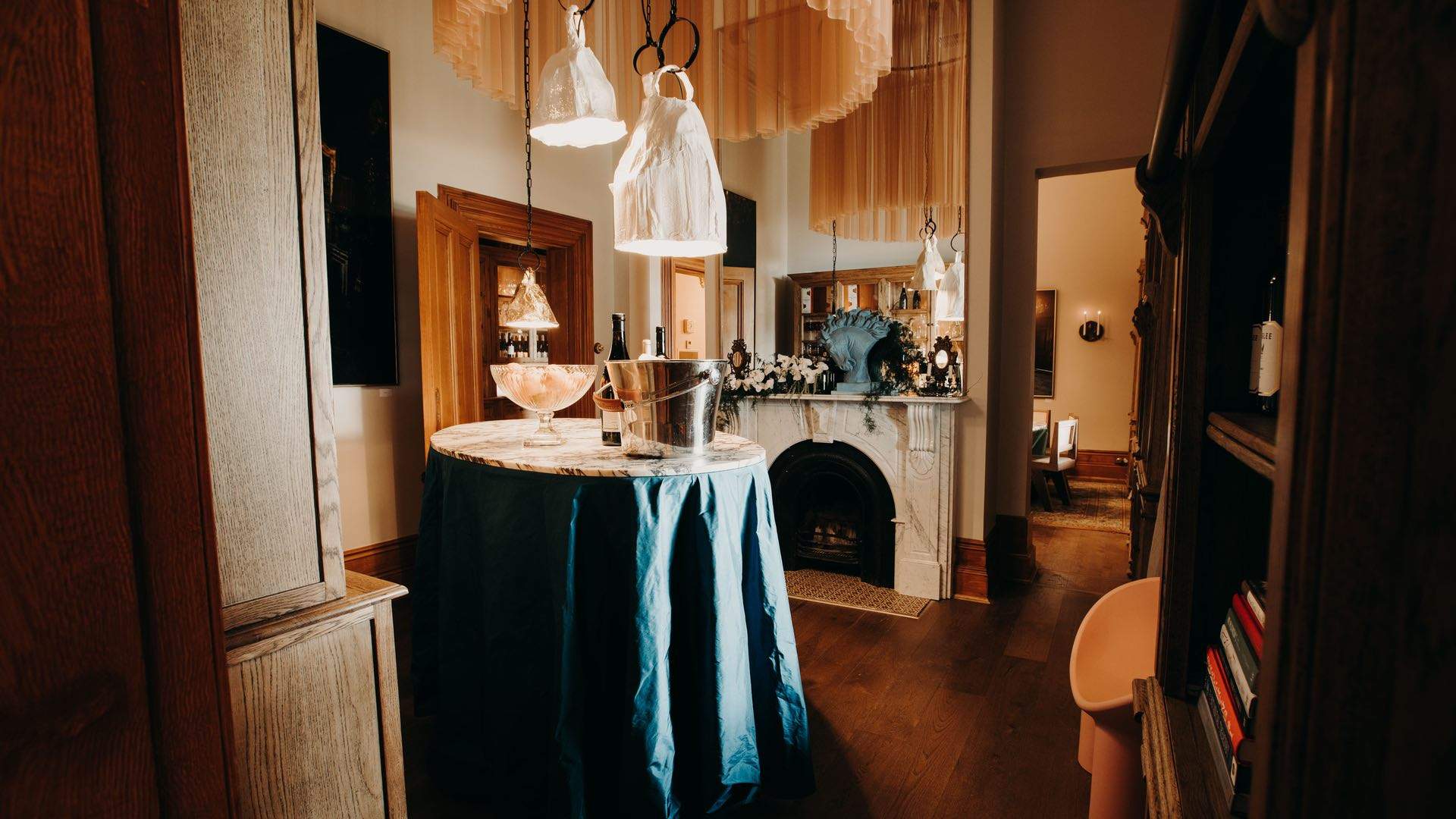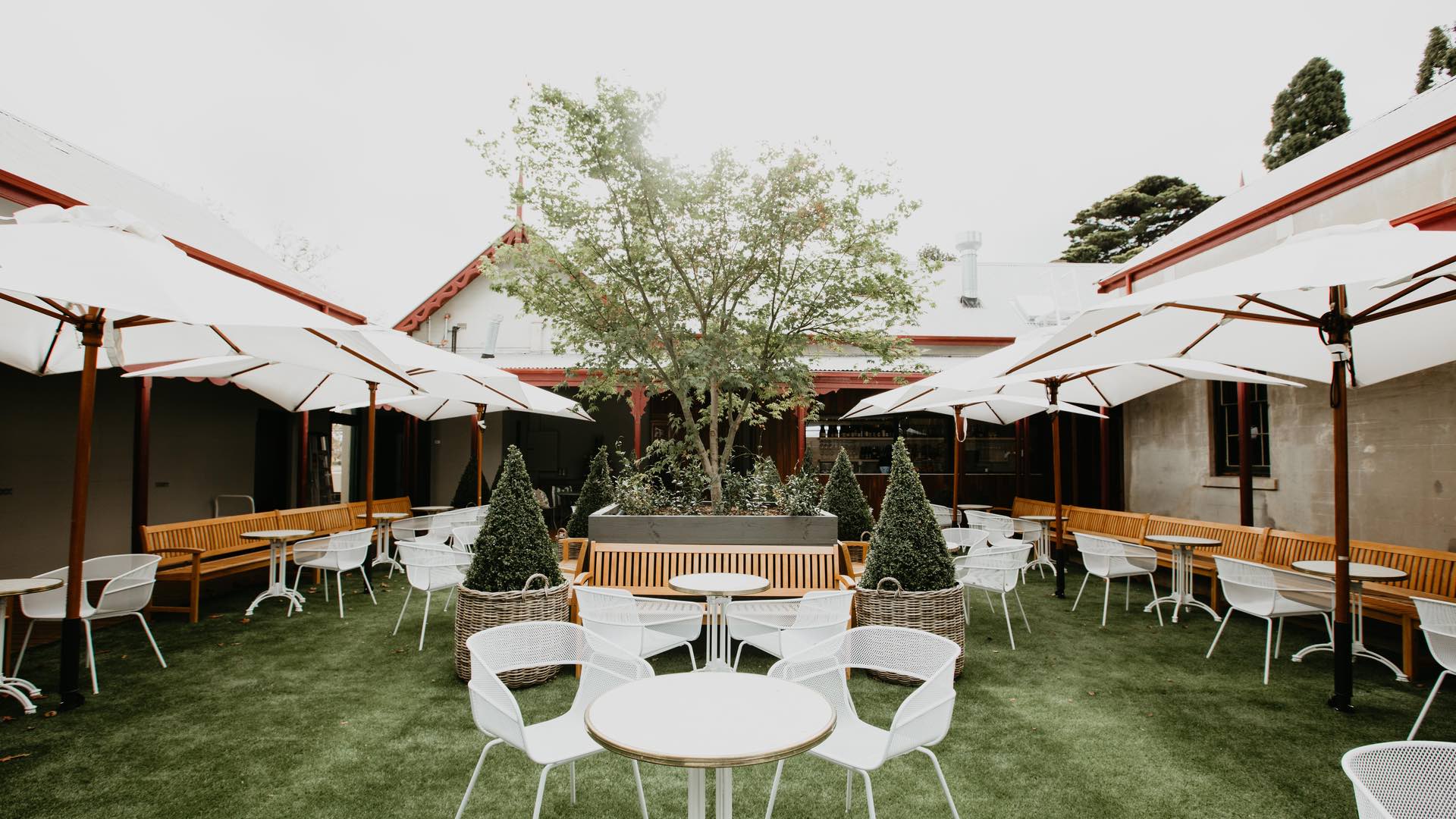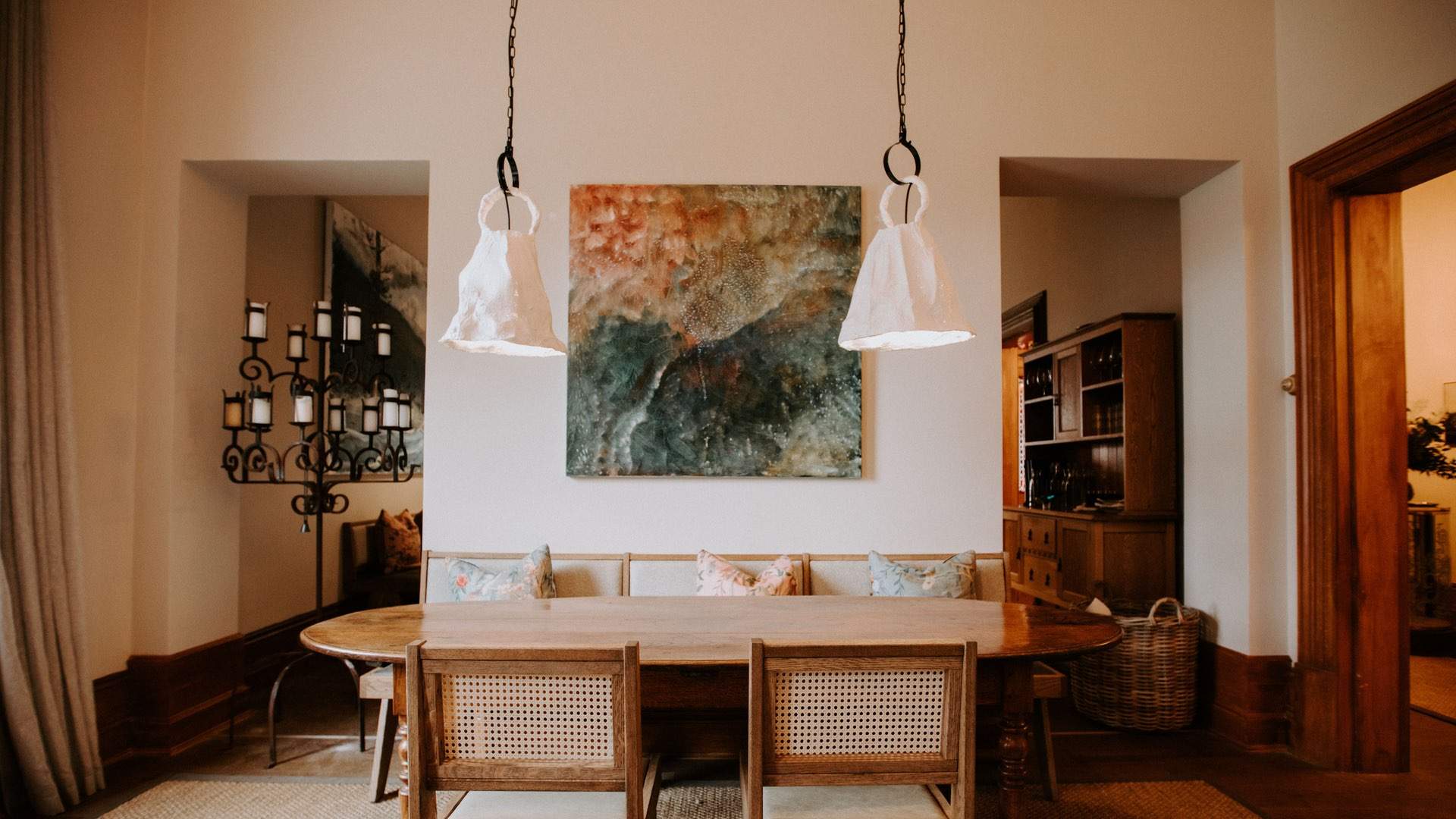 The interior blends tradition with contemporary design and features lush marble tabletops, rattan textures, ornamental light fixtures made using plaster and rare antiques. The furniture collection has been sourced over many years from local auction house haunts — they tend to rotate between the pair's private home and venues.
The couple also has some personal family memorabilia displayed on the walls, such as Jason's grandfather's violin and Brahman's grandfather's walking stick, which he made himself.
"No-one really needs to know these stories, but I think it's always nice to have personal touches in a room. It makes me feel really nice," says Perera.
Artwork by Marnie Haddad further brings the homestead to the modern era, and flowing silk gowns in rich and royal colours spill out from lush marble table tops and exude high-class. They're complemented with sheer drapery in soft flesh tones. Even though it's all on a level of extravagance very few of us could afford, it still manages to be homely and comfortable.
In time, phase two of Stamford Park will introduce its own bakery with reinstated 1880s woodfire oven. The warmer months will also create an idyllic setting for more private and large-scale events, weddings, picnics, jazz nights and poetry readings. A farmers market is also in the pipeline.
Stamford Park operates as a cafe seven days a week with combined seating for up to 140 guests, both indoor and outdoor. There are two dining rooms, a 'secret garden' courtyard and gabled verandas with cushioned wicker seating — meaning there are plenty of different spaces to enjoy the food.
Executive chef Boyle works with the grounds' gardener, Robert Proudlock, to create the menu. Not all the dishes can be created using produce from the garden, but the ones that can are found on the seasonal menu (one, he says, is a "truly incredible" experience). Currently, the crudités plate is the best way to taste the garden's produce. It's the only dish on the menu that's made completely from the veggie garden — including heirloom carrots with carrot tops, candied beetroot and other garden vegetables with herbs, beetroot hummus and spiced labne.
On top of this, an Australian-European-style brunch and lunch is served daily, and includes classics in the way of avocado on house-made pumpkin seed toast and croissant French toast with caramelised banana and rum and raisin ice cream.
There are also cold-pressed juices, banoffee pie milkshakes and coffee by Rosso Roasting Co. But a boozy brunch is definitely the vibe here. The breakfast martini comprises marmalade vodka, Contratto aperitif and lemon, or try the bellini with bubbles poured atop Italian white peach nectar.
On Friday and Saturday nights only, Stamford Park offers three- and five-course prix fixe dinners. A light, sharing style, 'terrace-style' menu will also be available on Friday and Saturday evenings from 4pm until late.
CHEF'S PICK: FIVE THINGS TO ORDER
So what should you order? Boyle has spent a lot of time on this menu, and it's both refined and casual — and full of sweet creations. Here are five picks from Stamford Park's daytime menu.
Stamford Park is now open 9am–4pm daily — and for dinner on Friday and Saturdays — at 8 Emmeline Row, Rowville.
Keen to check out more newbies? Have a sift through the newest crop of Melbourne openings.
To find out more about Zantac, visit the website. Zantac relieves heartburn. Always read the label. Follow the directions for use. If symptoms persist, worsen or change unexpectedly, talk to your health professional.

Words and images: Kate Shanasy.