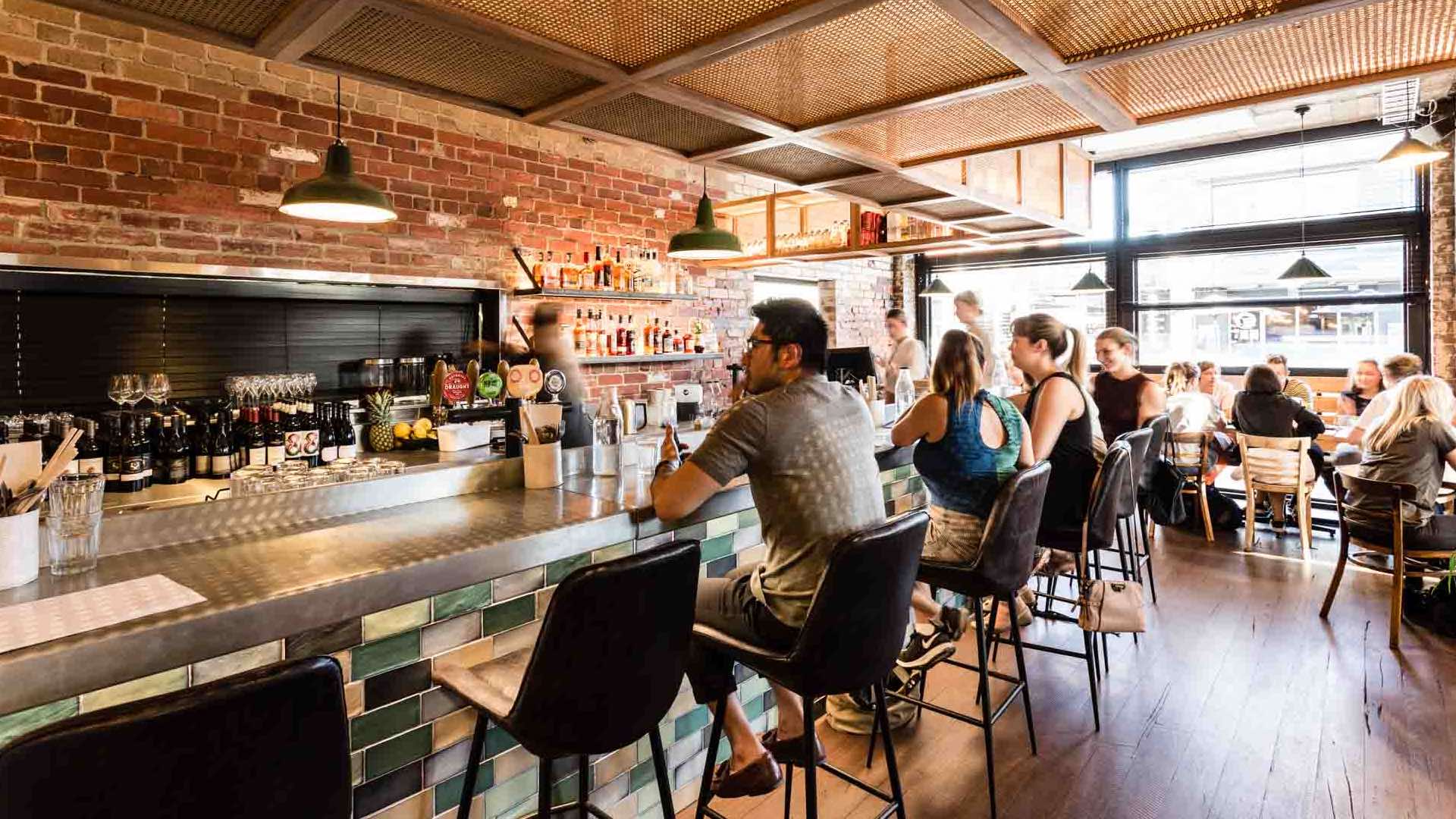 Hanoi Hannah is covering new ground at its latest eatery with a bigger space, a more refined menu and a focus on Vietnamese barbecue.
In Melbourne's ever-flourishing Asian food scene, you can't speak about modern Vietnamese without mentioning Hanoi Hannah. Since opening the restaurant's flagship venue in 2012, Commune Group co-owners Simon Blacher, Paul Nguyen and Nick Coulter have rapidly expanded their foodie empire in Melbourne's south, boasting seven wildly successful venues including three Hanoi Hannah outposts, Saigon Sally (now BKK), Tokyo Tina and Neptune Food and Wine. Now they've ventured north of river to open their eighth venue. Richmond is now home to New Quarter, the fourth instalment in the Hanoi Hannah series.
The restaurant is a more refined version of its sister venues. This means a more complex menu and a moody, exposed-brick fit-out with distinct daytime and nighttime vibes. To prepare for the new opening, the team headed to Vietnam to learn from the masters and has returned with a whole new outlook on the cuisine, and executive chef Anthony Choi and head chef Matty Johns have implemented this into the restaurant's menu.
New Quarter opened this month, and we've got a look-in. In partnership with Zantac we're uncovering the best new restaurants and bars around Australia as they open. We've got the lowdown on the team, the design and — most importantly — the menu so that you can head in educated, excited and ready to take it all in — with a few dishes recommended by the chef, no less.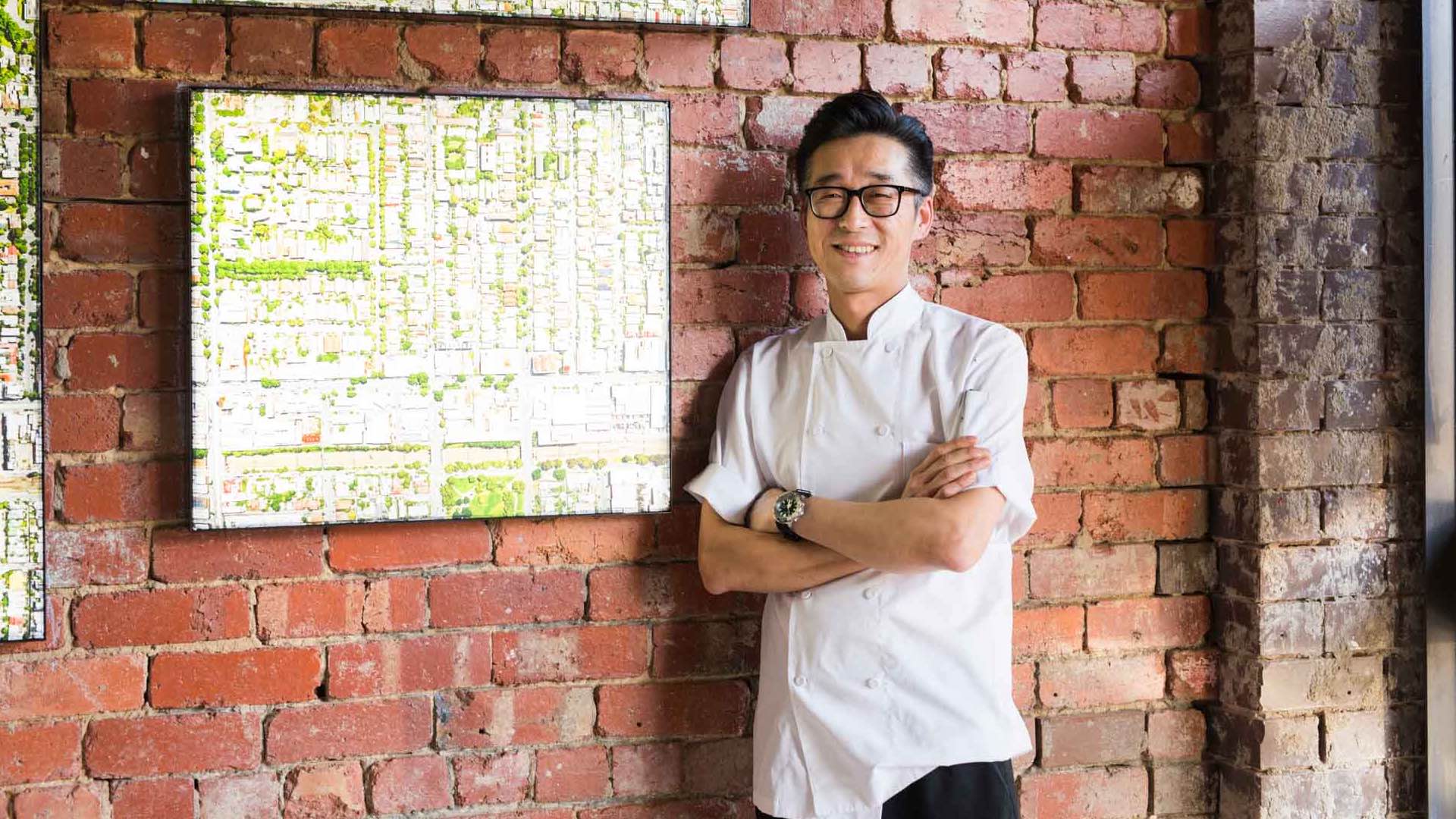 The Team
"Our eyes and minds were really opened up during our trip to Vietnam about how to use more traditional Vietnamese flavours and introduce them in the modern Melbourne palate," says Blacher. "In the city of Hanoi there's the Old Quarter and the French Quarter, so New Quarter is a little play on that."
They took the knowledge they gained in Hanoi and put it to work, setting the new venue apart from its predecessors, which have a much simpler focus on soups and rice paper rolls at an affordable price point. New Quarter will stand on its own, with different menus, service styles and touch points.
"I don't like the idea of replicating restaurants — I like the idea of creating something new using the existing brand," says Blacher. "Hanoi Hannah has such a strong following around Melbourne, but I think we can continue to expand on the breadth of Vietnamese food that's out there at the moment."
Unlike Windsor, though, Richmond is already choccas with traditional Vietnamese restaurants. But Hanoi Hannah is not your traditional mum-and-pop shop and the team of chefs trained in the European-style takes creative licence with different flavours and techniques.
"Obviously Richmond is well known for its Vietnamese food but I don't think there's any other restaurants quite like Hanoi Hannah in the area," says Blacher. "We really understand that restaurants are more about just great food — they're also about vibe, music, drinks and service. It's something that's always been a focus for us and will be an even bigger focus at the new restaurant."
Bringing the Commune Group up to the north had everything to do with the neighbourhood's eclectic locals, from concert goers and sport lovers to young creatives. "Richmond is always buzzing year-round and we want to build that into the space and menu, to give it the feel that it can work for anyone at any given time," says Blacher.
To make this happen, Commune Group tapped executive chef Anthony Choi, whose rap sheet includes big names Circa, Cumulus Inc and P.O.W Kitchen. Choi has been running things at Toyko Tina for the past year and has now taken the reigns of this new venture as executive chef for the entire Hanoi Hannah brand — a massive role which includes venue management and recruitment. Joining him in the kitchen is Matty Johns (Hanoi Hannah, Momofuku Toronto), who has spent five years with the group and will run things day-to-day. New recruit Kevin Cheetam (GoGo Bar) rounds out the core team behind the bar.
Of course, the Commune guys have been there every step of the way, employing their usual self-determined attitude that has worked so well for them in the past. "When we first opened we were cowboys to a certain extent, learning by doing but underlined with confidence and belief in ourselves" says Blacher. "It's that belief that came out of first venue and is still really driving our company."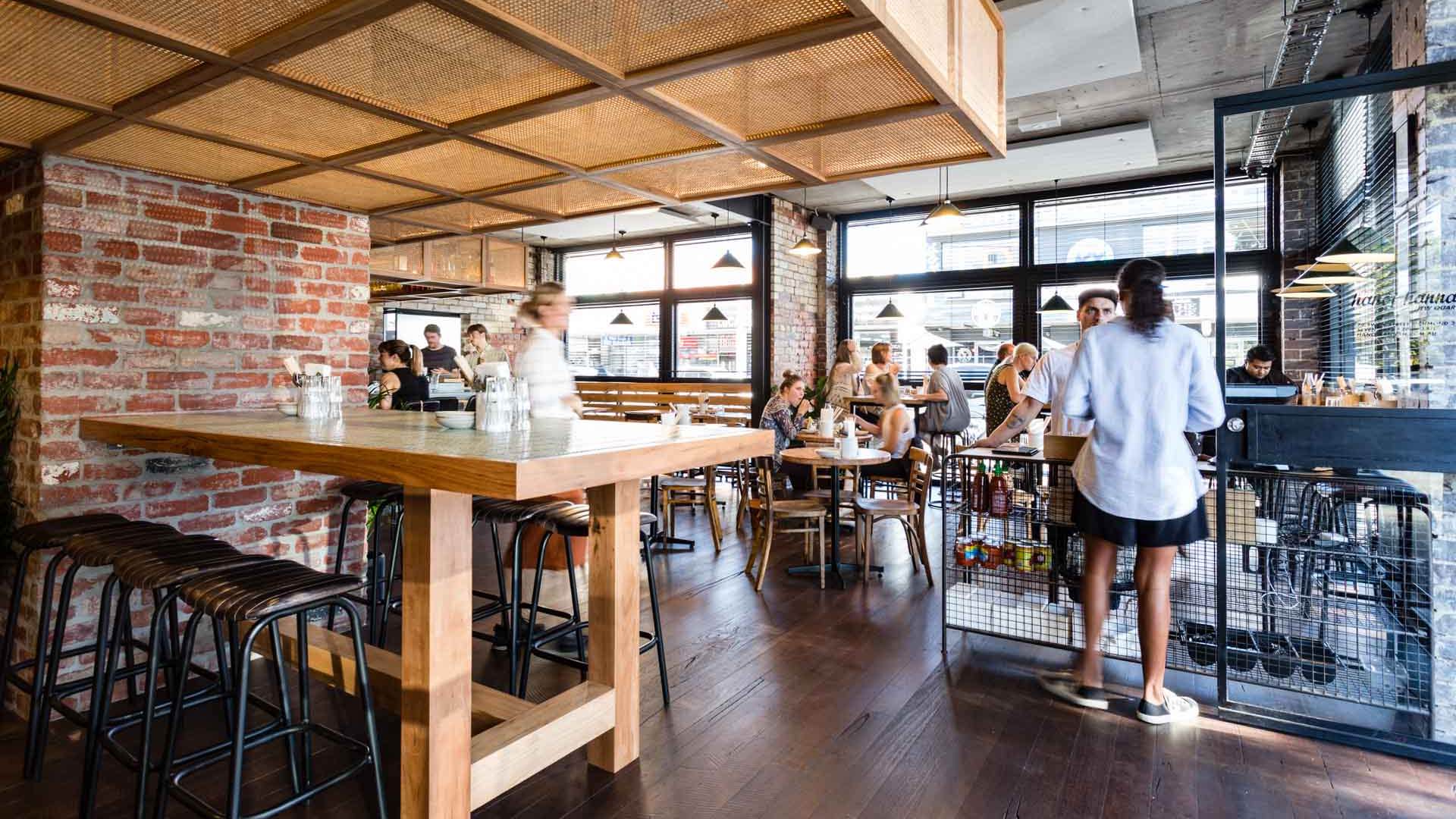 The Design
The team sees New Quarter as a more refined older sister to Hanoi Hannah with a warm and inviting appeal. To achieve this vibe, it again sought expertise from Ewert Leaf Architects, who also designed Neptune. Of course, the venue has a strong brand identity to other outposts, but also reflects the new inner city location and clientele.
"Every fit-out depends on the space and this one has a stripped back industrial feel," says Blacher. "I like venues that feel like they have been there forever — the places that are comfortable from day one are the ones that never go out of fashion."
"We worked with the space rather than fighting against it," says the design firm's director Toby Ewert. "New Quarter is taking the next step up from what they've done before."
To this end, the team embraced the building's exposed brick walls, brandished the concrete ceiling and polished up the existing timber floors, adding reclaimed timber and steel framing elements to the space. The combination of these red, brown and golden hues gives the space a warm feel, with the bar's blue-and-green tiling and the black-and-white mural by artist Conrad Bizjak adding modern touches. "The place really glows at night," says Blacher.
This dark, moody element was crucial to Commune Group. "It's really important to make sure the space translates well from from day-to-night," says Blacher. "I never want it to feel like a cafe, it has to feel sexy and enticing at nighttime. At the same time, we're on a big corner and the light flows in during the day so we can really capture both."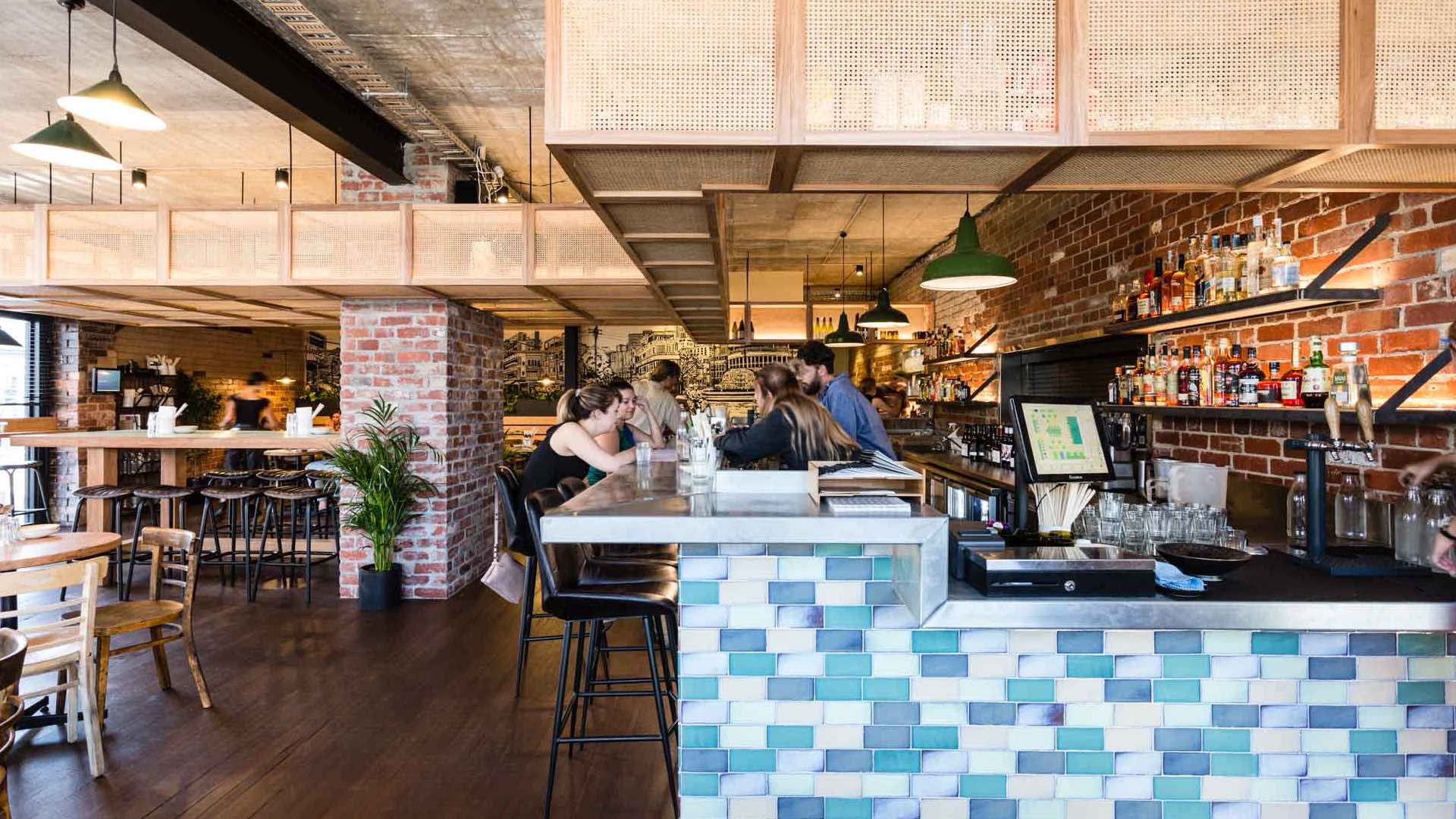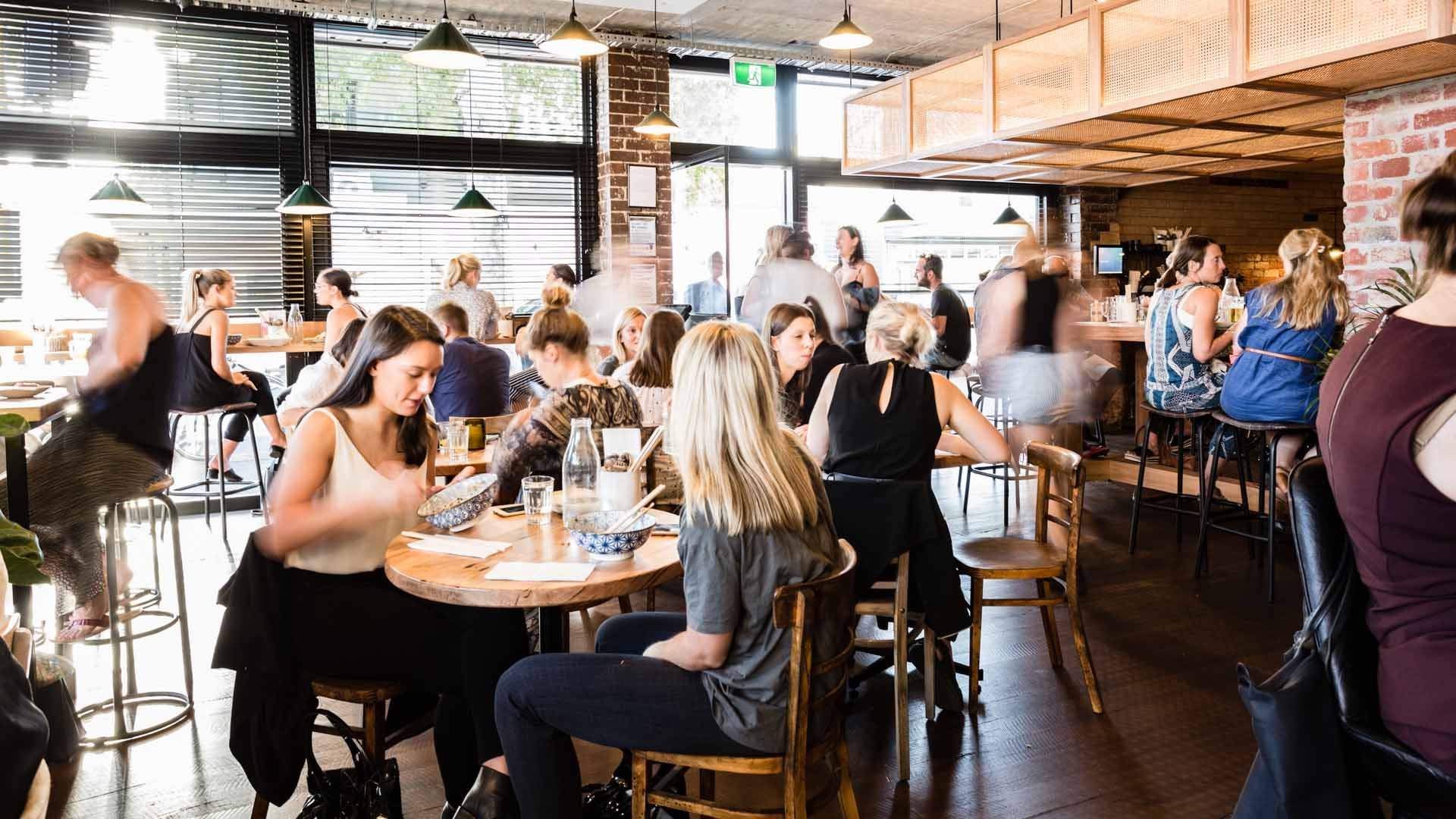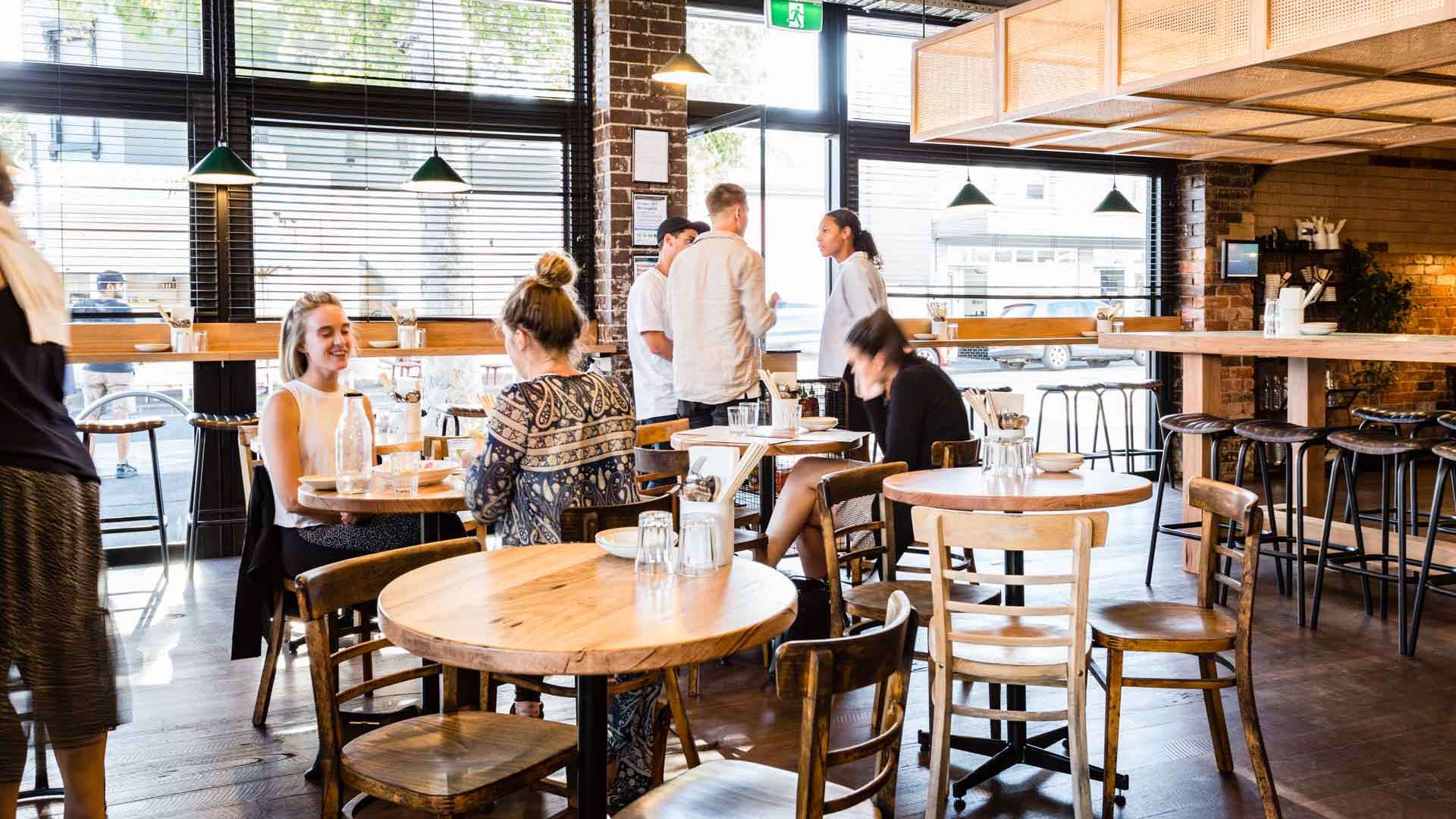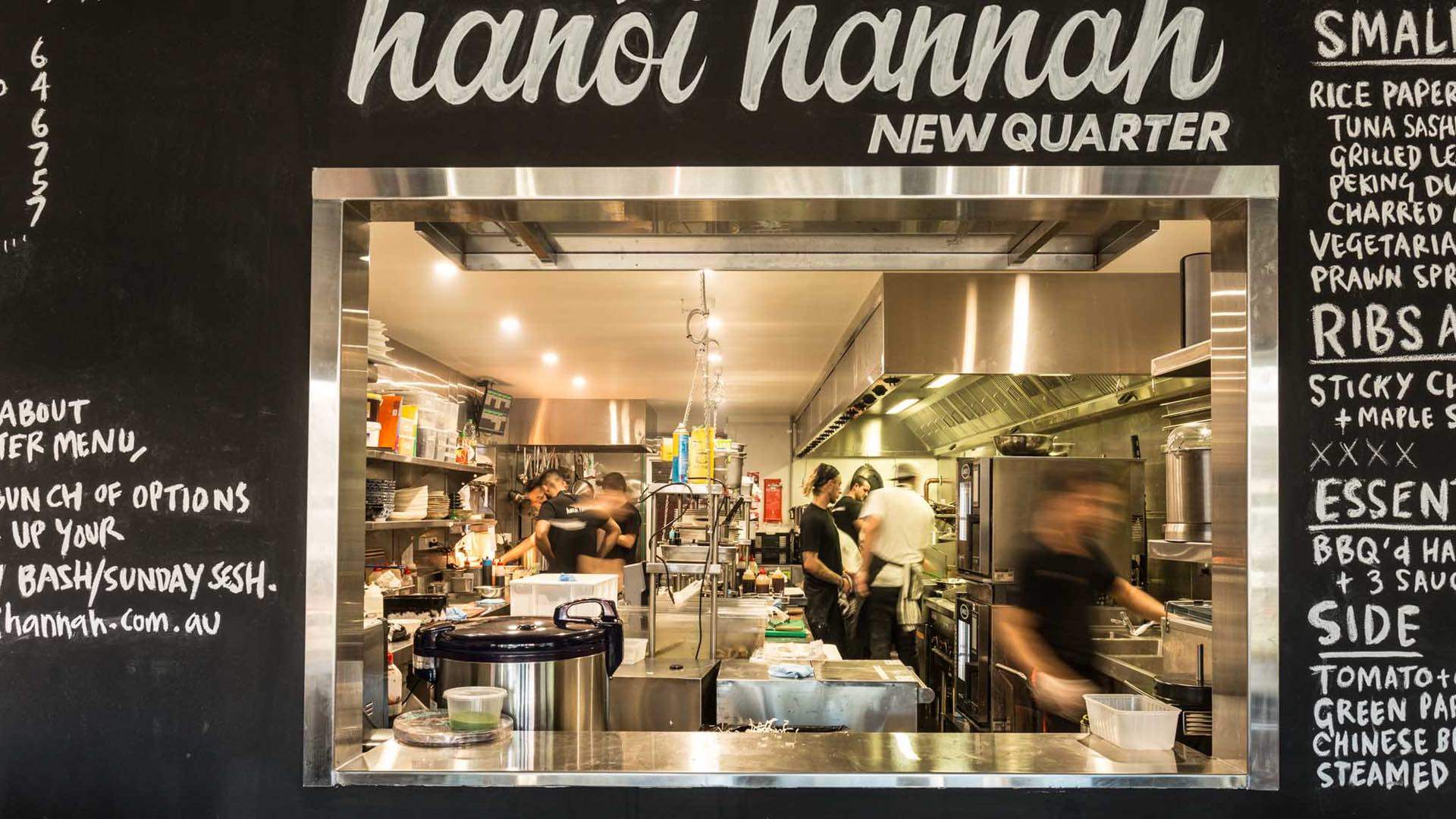 It's a noticeable departure from previous Hanoi Hannah outposts, which are all quite small and intimate. "The design is about maintaining those key elements that made the brand successful and not letting those elements get lost in a larger space," says Ewert. "We achieved this by balancing the recycled brick and exposed finishes with some slightly more sophisticated furniture, steel details and dark tones."
The restaurant contains two separate entrances on Swan and Lennox streets, allowing for two distinct takeaway and dining room areas, with both sides boasting their own look and feel. Takeaway diners get an extra treat, as the entrance has front-row seats into the kitchen's action.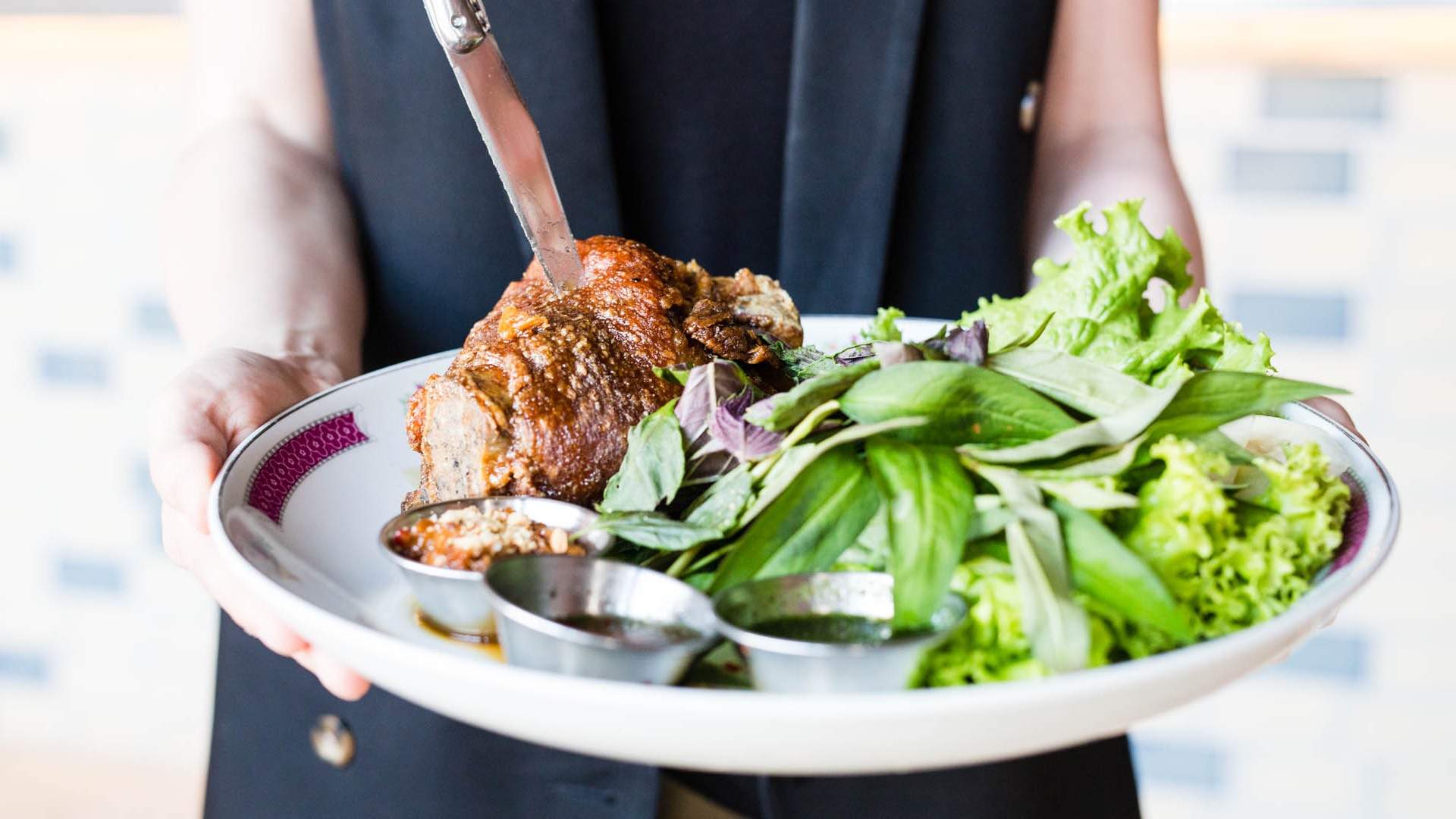 The Menu
Choi and Johns have been working on the seasonal menu for over four months now and it's a stark difference from the Hanoi Hannah original, with 80 percent of the dishes completely new and separate menus for lunch and takeaway. The much loved Hanoi-style spring rolls, poached chicken pho and mixed mushroom pho will remain on the lunch menu, but otherwise it's a whole new beast.
"One of the beautiful things about Vietnamese food is that it's so customisable," says Blacher. "These interactive dishes are the way we like to eat and this way of eating has a real vibe about it."
The broad dinner menu is split into seven sections — smalls, rice and noodles, salads, ribs and wings, essentials, sides and dessert — and has a strong focus on share plates and DIY dishes. "The 'essentials' section is a fun way for everyone to uses their hands, rolling their rice paper roll themselves or eating our barbecued chicken with its three dips" says Choi.
Head chef Johns specifically brings his passion for share plates into the mix, which is reflected heavily in the menu. "Matty's time at Momofuku has given him a lot of ideas about share dishes and using all different kinds of ingredients, too" says Choi.
The menu's newcomers include crispy soft-shell crab salad, sizzling rockling fillets that cook at the table and fried fish wings that change daily depending on what's fresh. Vietnamese barbecue features heavily for the first time and New Quarter is also the first of the brands to do dessert — including Vietnamese doughnuts with coconut sorbet and the popular tiramisu-inspired coffee macaroon sandwich from the bygone days of Saigon Sally.
This expansion is in part due to the roomy, newly equipped kitchen, with the other Hanoi Hannah venues operating with much smaller outfits. The extra space allows the team to butcher in-house, barbecue and make all of their own sauces, brines, bastes and fresh greens salads. Saucing is a big focus on the menu, with around ten different condiments on offer including peanut satay, chilli jam and five different nouc mam dips. The larger menu also ensures a dining experience that can suit all types, a major aim at the new venture.
"We want to offer a bit for everyone," says Choi. "Diners can enjoy after-work drinks and snacks, just grab takeaway or come in with a big group and share some dishes in a fun vibe." Like with Hanoi Hannah express, the team is expecting a big takeaway presence and the exclusive menu includes banh mi sandwiches, wok dishes, pho and fried noodles. Of course, it takes a lot of fresh herbs to do Vietnamese food well, so the restaurant is supplied by Green Produce which has connections with Springvale and Footscray markets, offering a regular supply of fresh Asian ingredients.
As with Hanoi Hannah, the menu is a modern spin on Vietnamese cuisine, with Choi using a wide range of techniques and influences that cross Korean, Chinese, Thai and French cooking. "It's not exactly authentic — we're keeping the flavours Vietnamese but we're having fun with it," says Choi.
"We're using sous vide in our barbecued chicken and a lot of slow cooking techniques. I also love using the wok and we have a couple of really experienced woke chefs here. The LA-style beef ribs actually have a Korean influence, using kiwi fruit to tenderise the meat, and we're using some Thai ingredients as well."
Head bartender Cheetam has closely paired his drinks to the menu, creating Asian-inspired cocktails like the blueberry and star anise sour, Thai basil Bloody Mary, kaffir lime margarita and ginger-lemongrass mojito. If it's beer you're after, he's got local craft tinnies, along with a fairly extensive wine list.
CHEF'S PICK: FOUR THINGS TO ORDER
So what should you order? Choi and Johns have spent months on this menu, so we thought they'd be the best people to ask. Here are four picks from the New Quarter menu.
New Quarter is now open at 79 Swan Street, Richmond. For more info, visit hanoihannah.com.au.
Keen to check out more newbies? Have a sift through the newest crop of Melbourne openings.
To find out more about Zantac, visit the website. Zantac relieves heartburn. Always read the label. Use only as directed. If symptoms persist consult your health professional. 
Words: Marissa Ciampi. Images: Giulia Morlando.