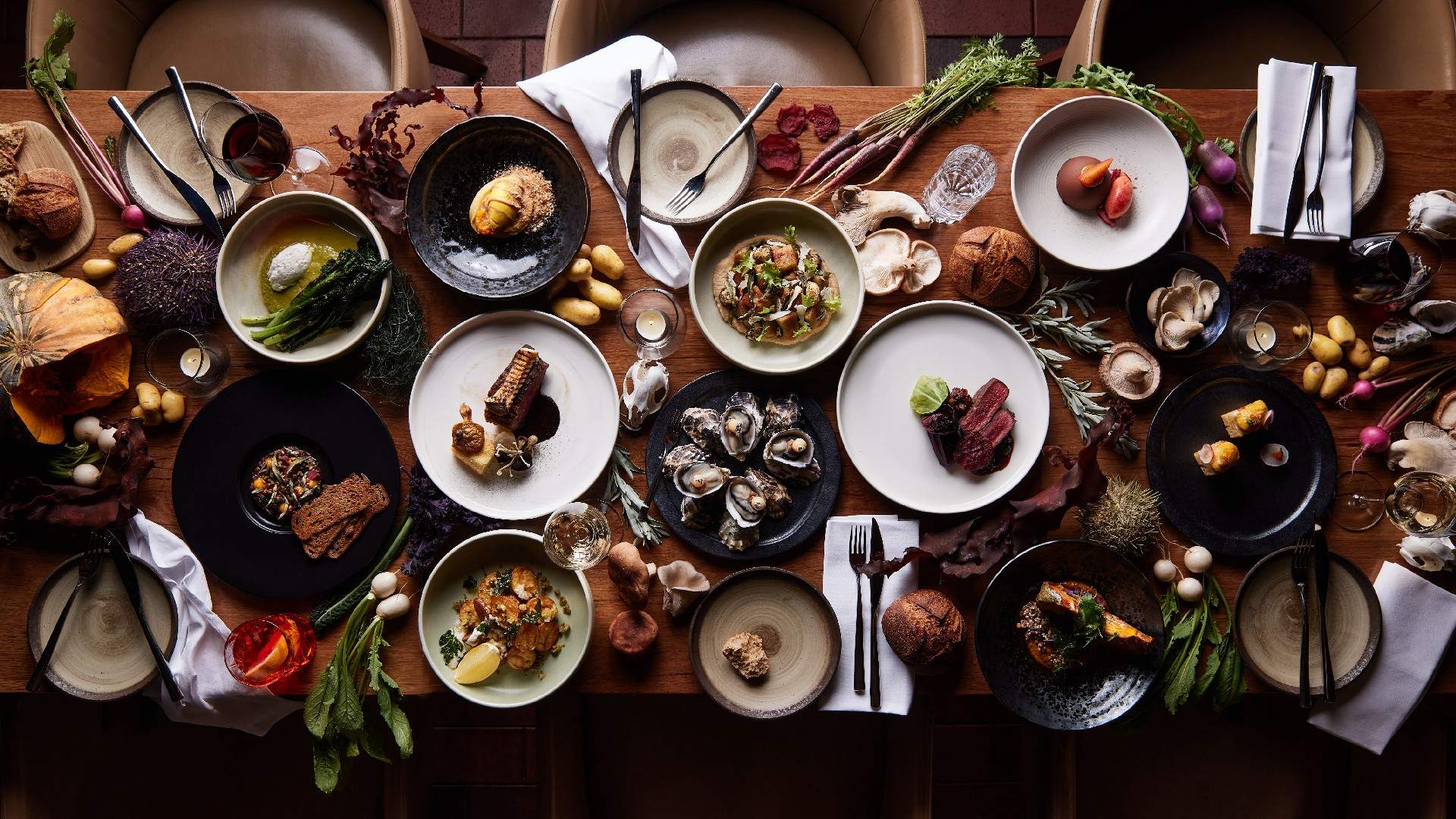 Tasmanian Cuisine
A Study in Excess — and Restraint
Tasmania's food scene has the paddock-to-plate (or pint) movement down to a fine art. And for the local growers, producers and artisans working behind the scenes, it's about more than minimising food miles.
It's 9am in the middle of Tasmanian winter and Ben Milbourne is about to do something crazy. After a wry "I hate you all", with his wetsuit, snorkel and fins all secure and a net bag in his right hand, Milbourne slides off the side of the boat and plunges into the icy water off Bruny Island. The air temperature is about eight degrees — and the water temp is estimated to be only slightly warmer.
As we said: crazy.
It's all in the pursuit of sea urchins. The spiky sea creatures are considered vermin in these parts. Thanks to (yep, you guessed it) climate change, warmer waters have caused sea urchins to migrate from mainland Australia's east coast to Tasmania, decimating the island's giant kelp forests in the process.
So, in filling up that net bag with the predators, Milbourne is helping with reef recovery. Plus, they're considered a delicacy — a not-so-insignificant side note, given Milbourne is a chef.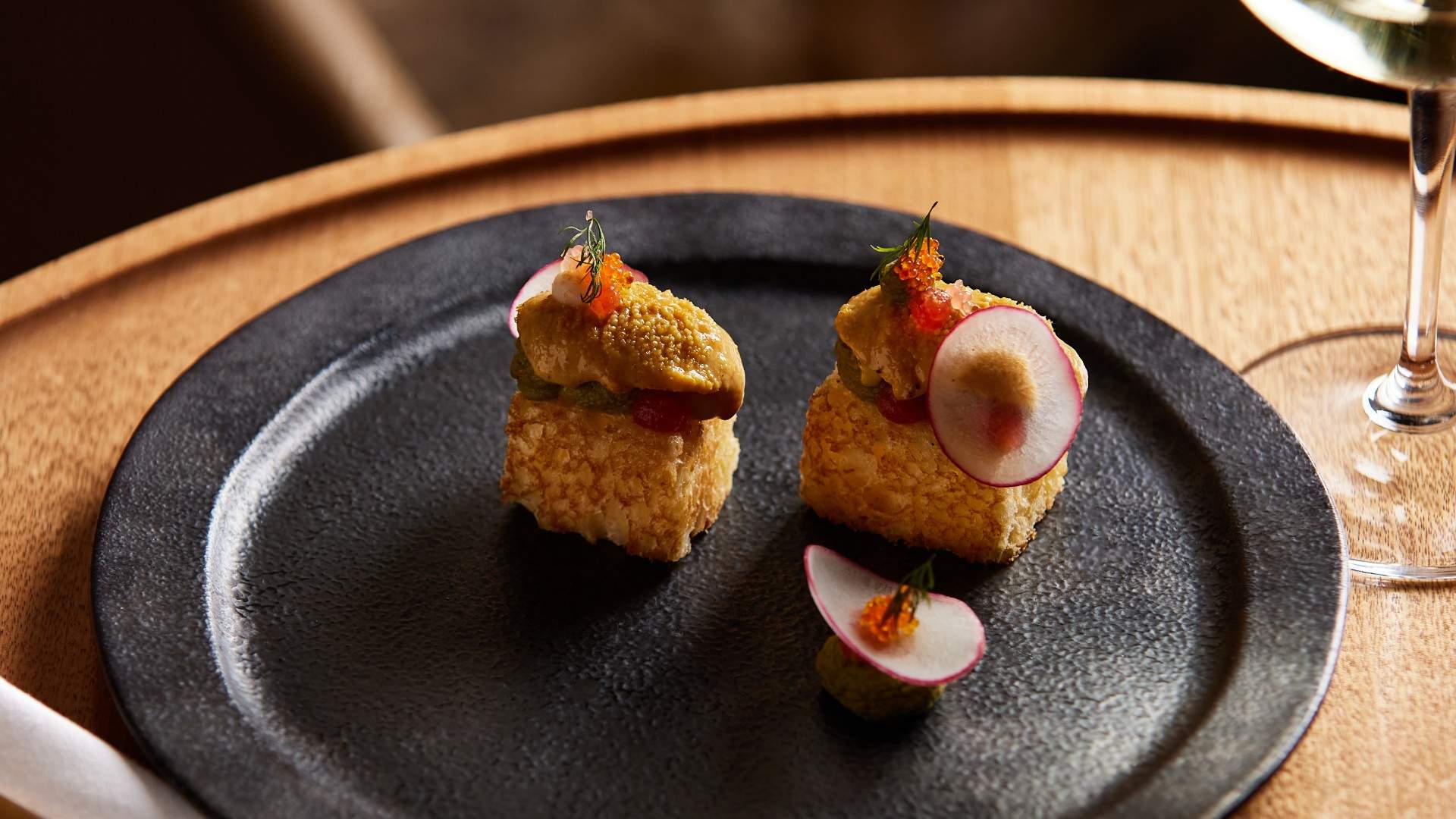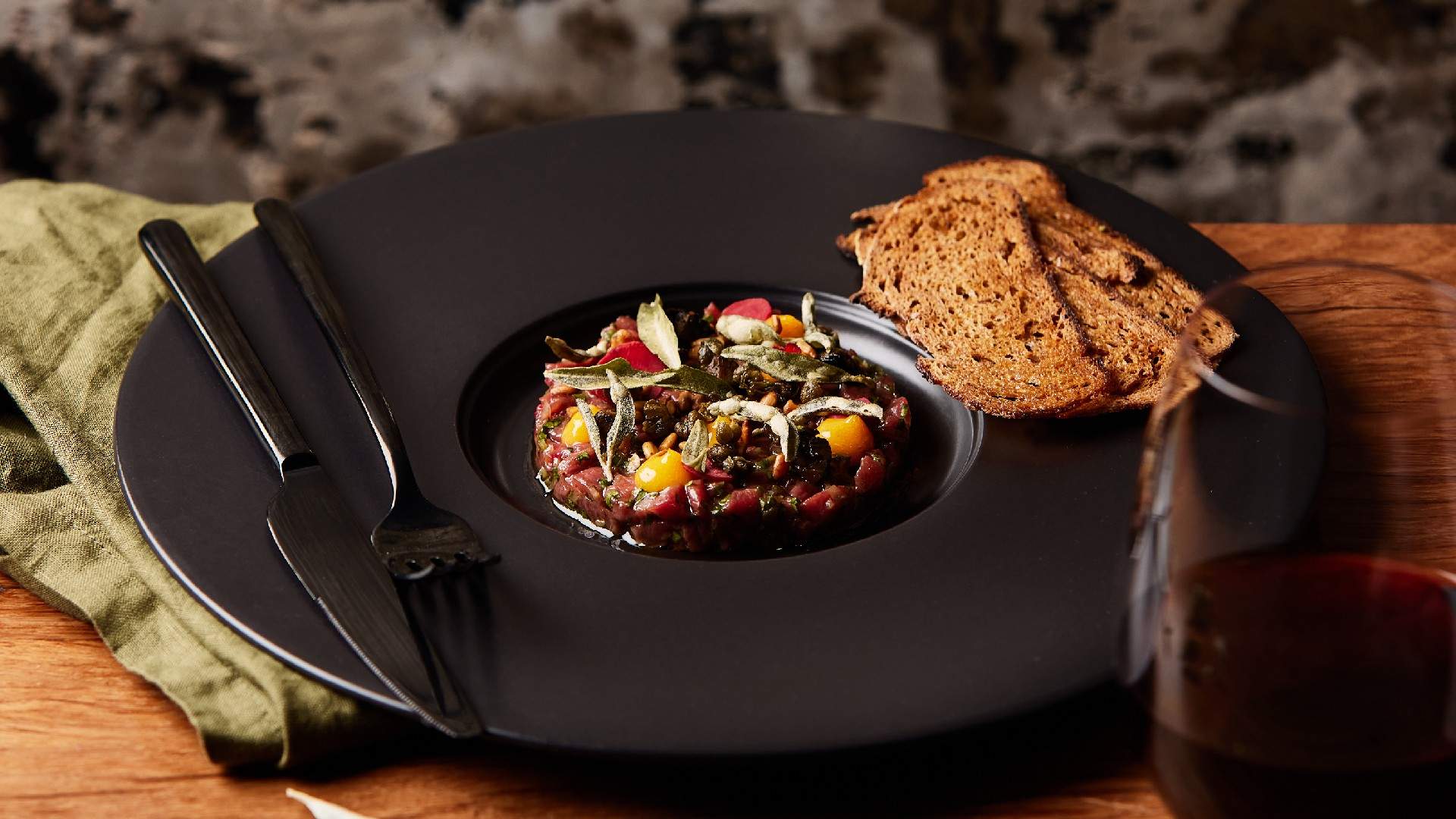 Milbourne is Culinary Curator of Peacock and Jones, the fine diner in The Henry Jones Art Hotel. He works alongside newly appointed head chef Julian Volkmer to design the restaurant's seasonal menus.
A Tassie native, Milbourne taps into his relationships with local farmers, growers and makers to source the state's best ingredients. Some of those ingredients just happen to be overpopulated species harming Tasmania's unique ecosystem — he considers it "doing my bit for the country".
In the Peacock and Jones kitchen, sea urchin is served atop slabs of buttery brioche slathered in fennel purée. Another native predator, wallaby, is transformed into a tartare and seasoned with hibiscus salt, fried capers, wattleseed and saltbush (which Volkmer picks himself each week).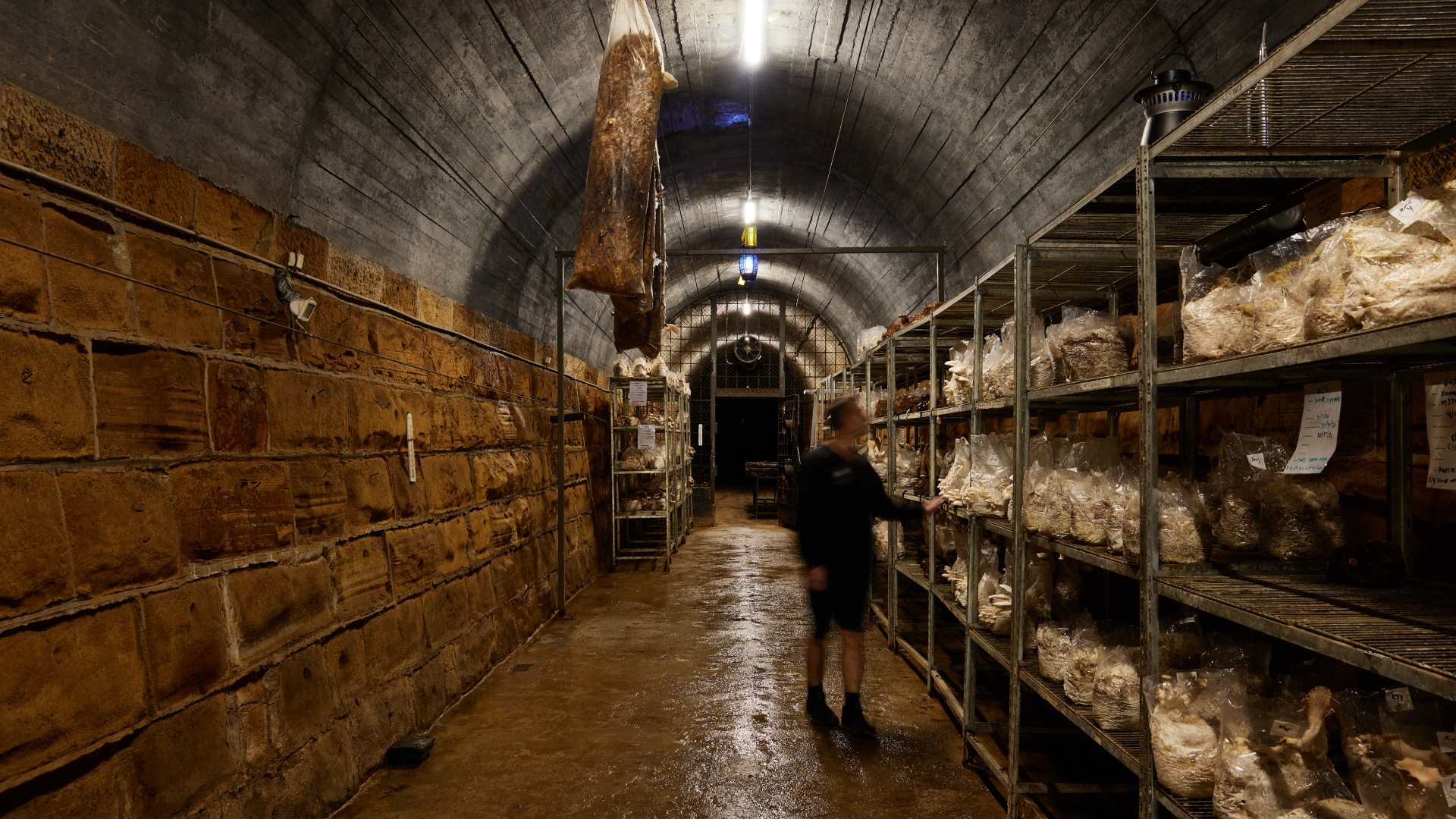 Excess Equals Opportunity
For chefs like Milbourne and Volkmer, excess equals opportunity — a sentiment echoed by many of the local growers and producers they work with.
Take, for example, Dean Smith from Tunnel Hill Mushrooms. In 2000, he bought a property in Mount Rumney, just outside Hobart. For about a decade, the 19th-century railway tunnel on the land was just used a storage space. Then, Smith came to a realisation: the damp, dark conditions of the tunnel were perfect for cultivating mushrooms.
Twelve years on, the former sparky has transformed that additional space on his property into a commercial business supplying mushrooms (mostly shiitake, oyster and king oyster) to high-end restaurants across the country. At Peacock and Jones, you can sample Smith's mushies with wagyu-cross beef, polenta and truffle.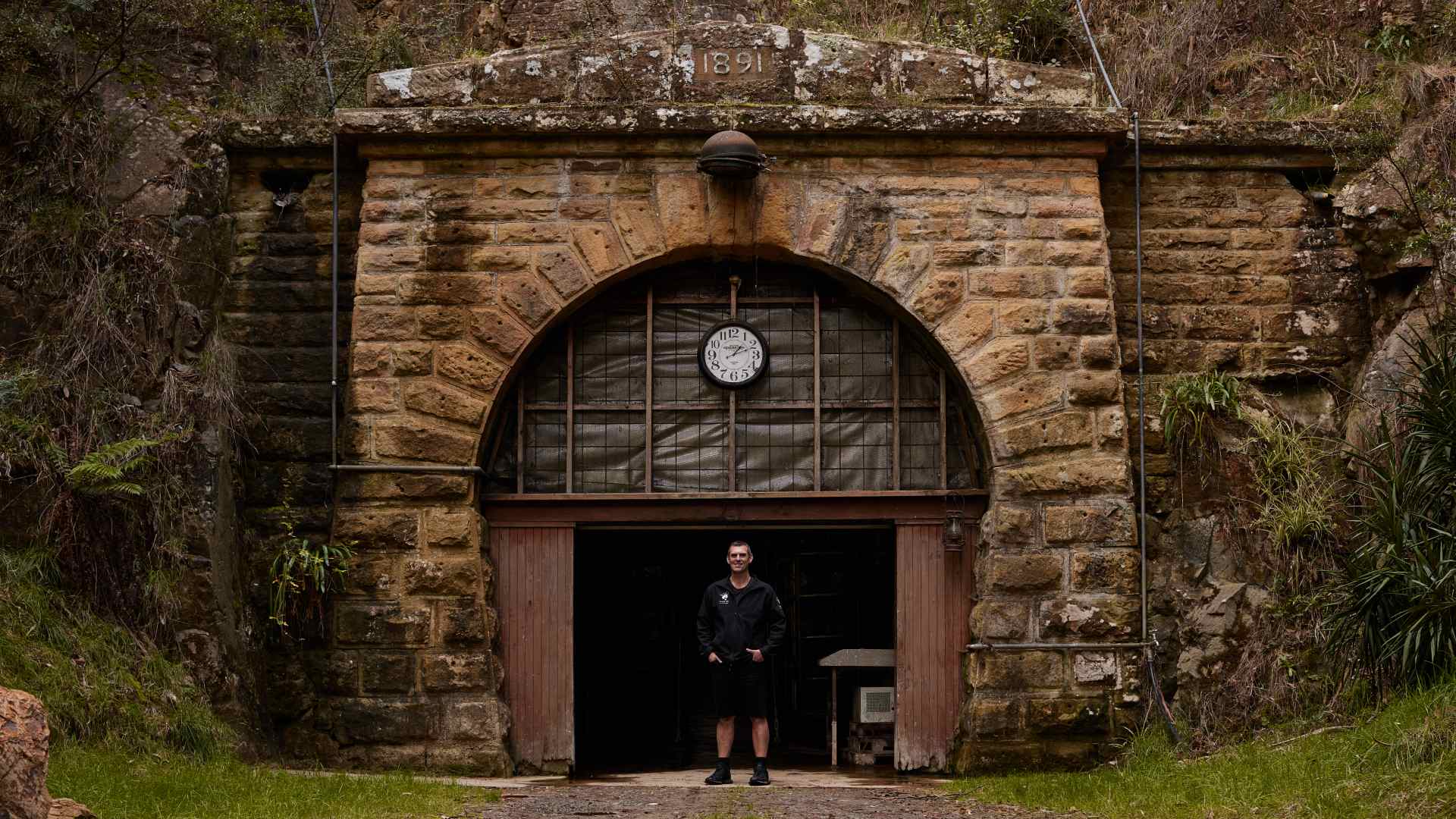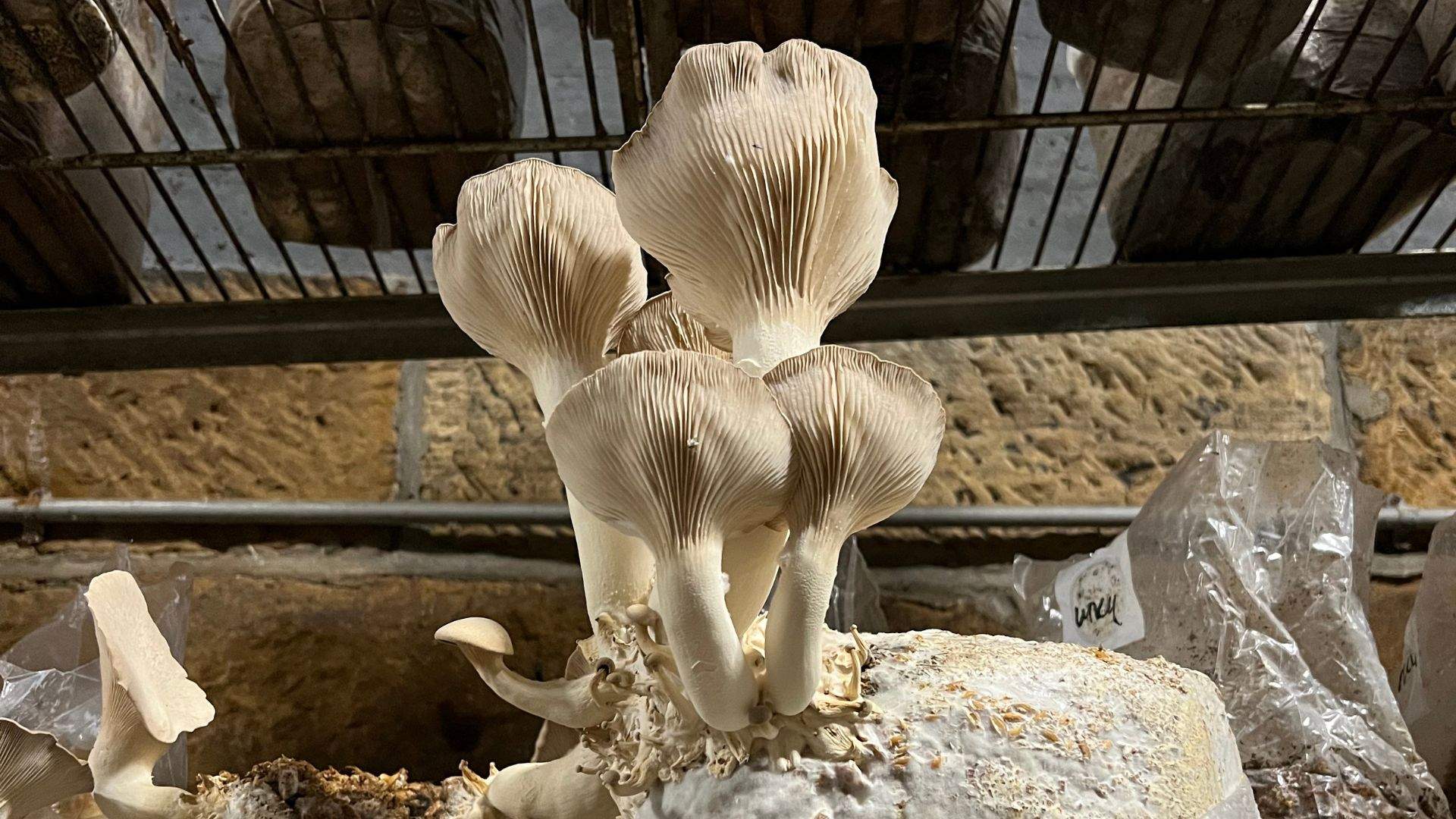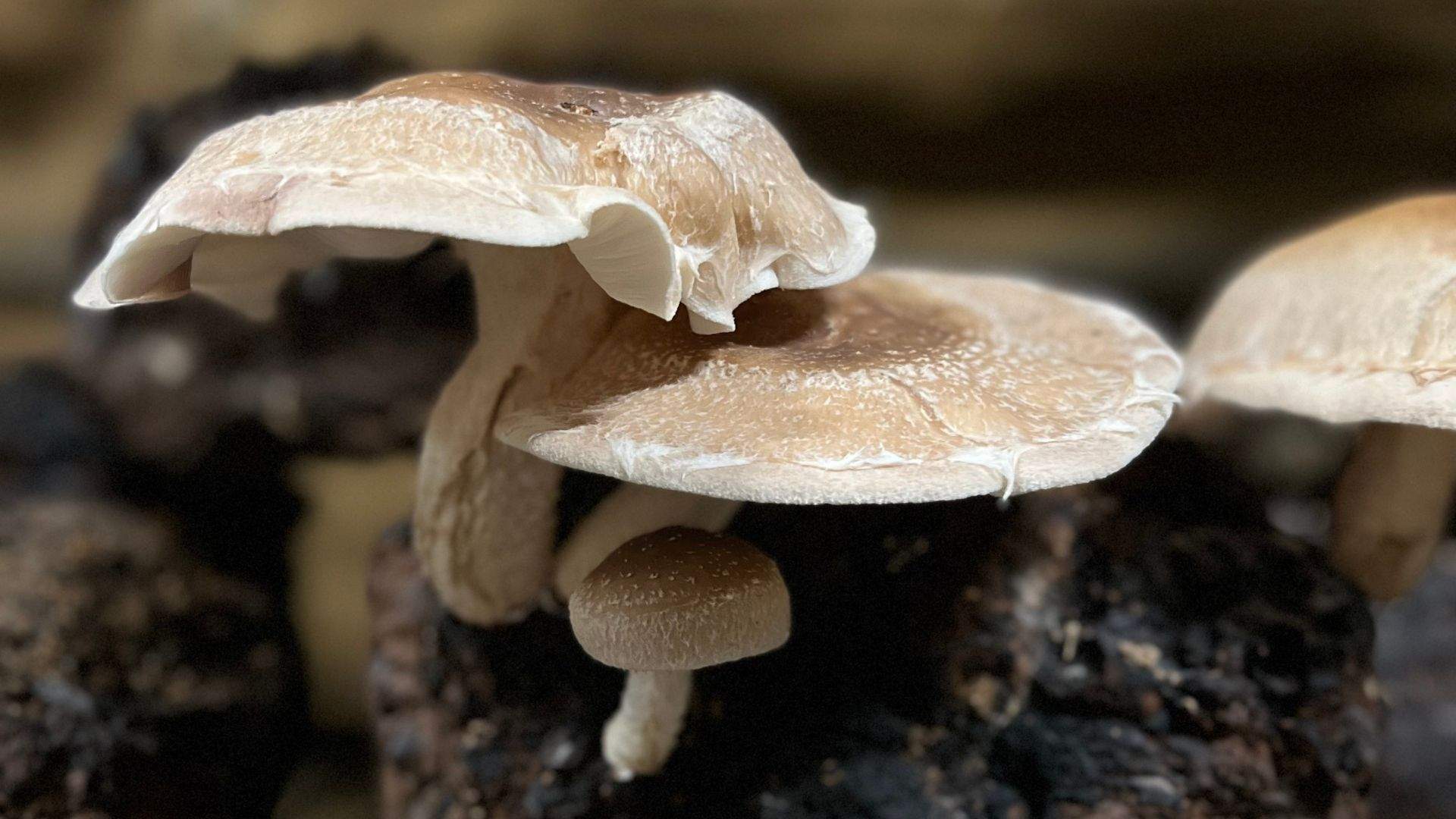 Elements of Smith's story are echoed at Belgrove Distillery. Thirteen years ago, Peter Bignell, a sixth-generation sheep farmer, found himself in a bit of a predicament. He had lots and lots of grain, but he couldn't find a buyer. So, he started making whisky (as you do) — and Belgrove became Australia's first rye distillery.
Bignell's commitment to avoiding waste doesn't end there. The copper pot still (which he built from scratch) is fired using what he refers to as "old chip oil", which he collects from a nearby roadhouse. It's also used to heat water and run other machinery on the property.
The spent mash is fed to the farm's livestock and the wastewater is recycled and reused. He also sources bourbon, wine and stout barrels from other Tassie makers — including his son, the owner of North Hobart-based brew pub T-Bone Brewing Co. "We swap barrels back and forth," Bignell says.
He even fashioned a malting machine and peat smoker from an old tumble dryer that he "stole from the wife".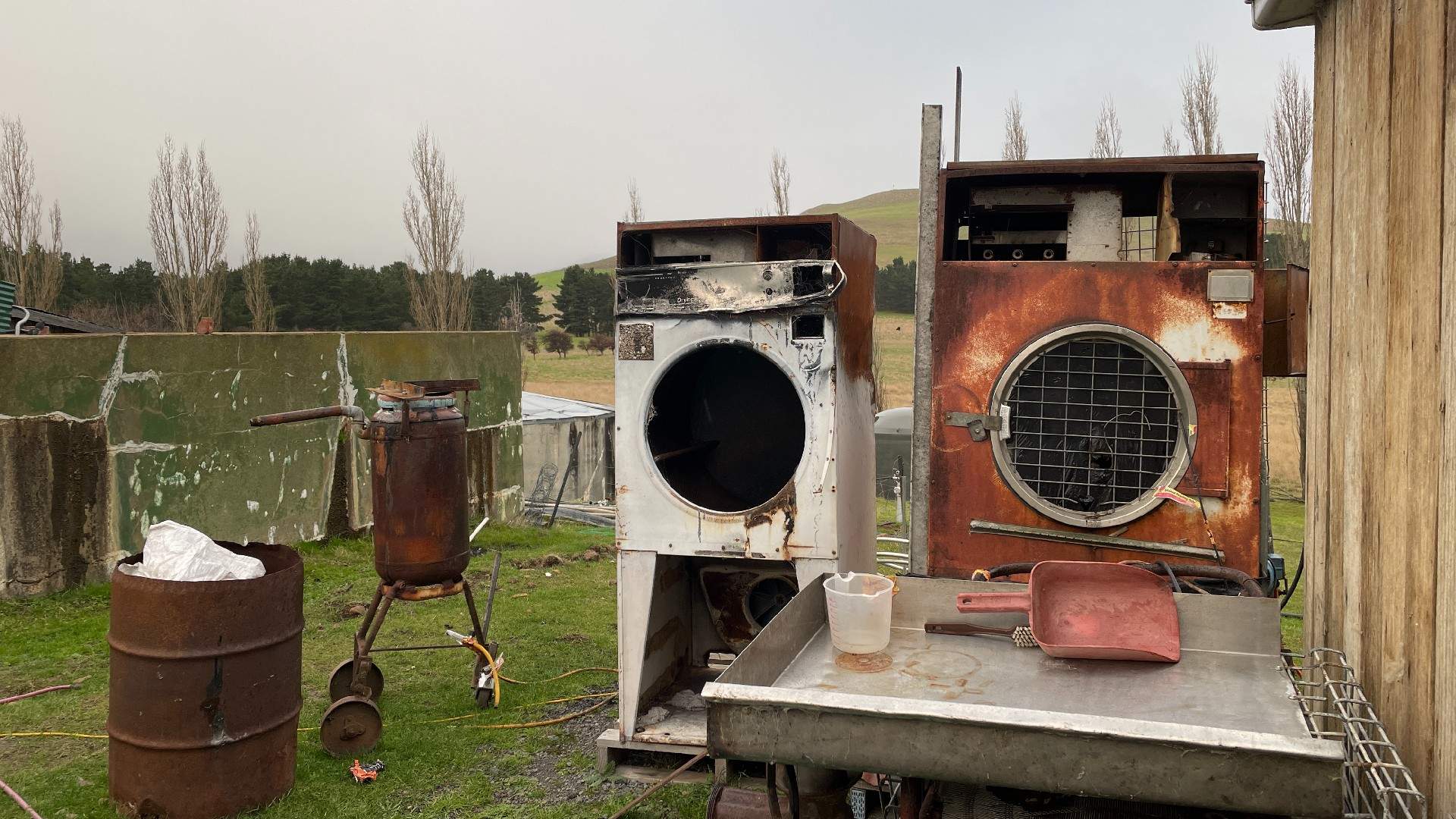 Keep It Simple (Stupid)
There are just two occurrences where Bignell doesn't seem worried about wastage. The first is in the tasting shed, where guests are encouraged to just tip any leftovers onto the floor so he can fill your glass with the next sample.
The other concerns the angel's share, the whisky that evaporates and is lost during the maturation process. It's not ideal for profitability, but Bignell knows the benefits outweigh the costs. "I'm not making alcohol. I'm making flavours," he says.
Results include the likes of Bogan Burnout — named so because it is so heavily peated, Bignell expected it to taste like burnout rubber — and Wholly Shit, which was smoked with burning sheep dung. For a more traditional drop, there's the Heartwood Cask Rye. The latter is paired with a Tasmanian cheese plate on Peacock and Jones' tasting menu.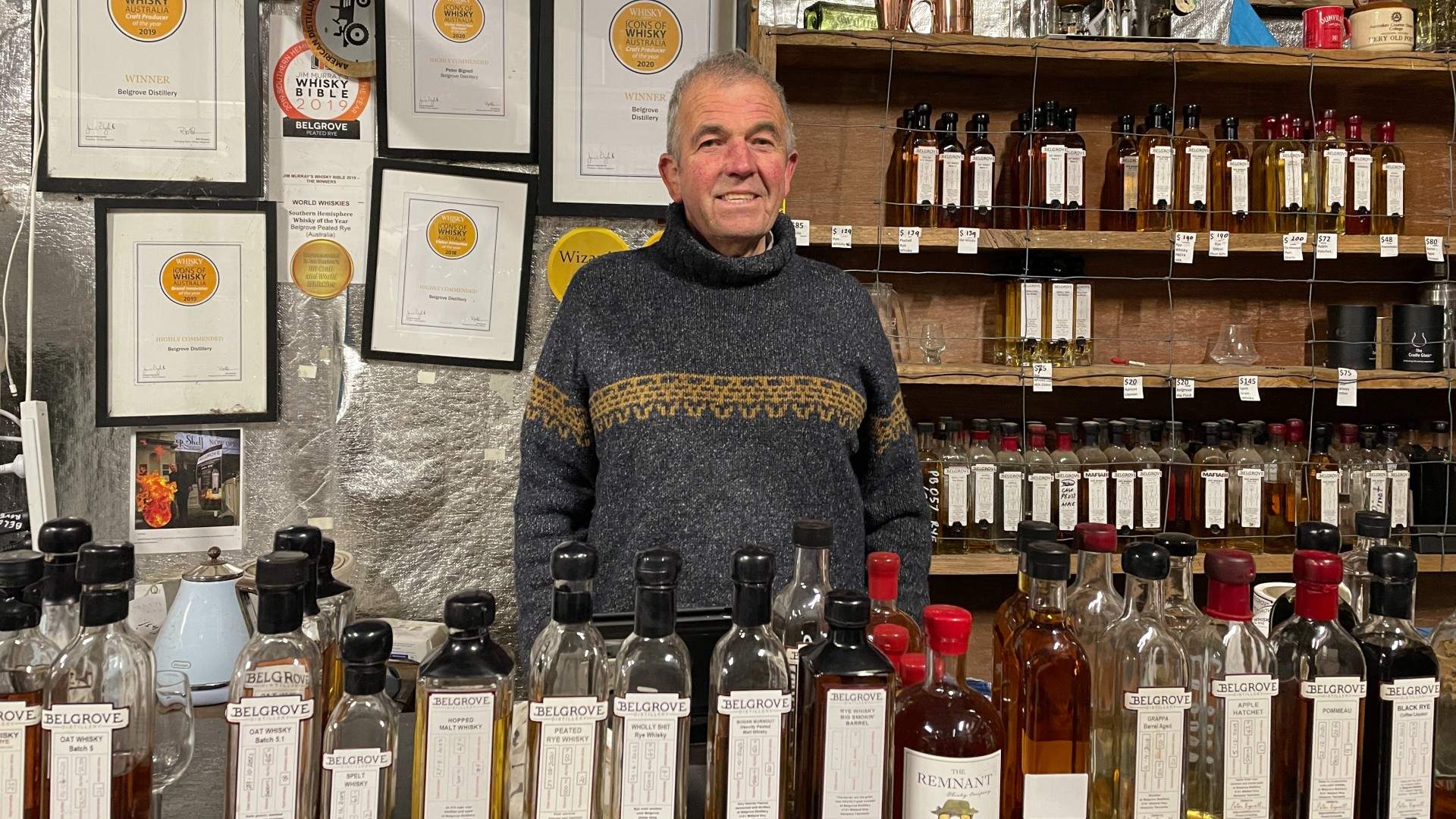 A singular focus on flavour means Bignell stays incredibly close to the process — Belgrove is one of the only distilleries in the world where the grain is grown, malted, mashed, fermented and double-distilled on-site. At each of these stages, Bignell smells, tastes and then tweaks.
It's evidence of his dedication, of course. But it's also symptomatic of another trend in the Tasmanian food scene: restraint.
Though it'd make things more time- and cost-efficient, modern technology (or, as Bignell puts it, "computers and algorithms") isn't used in Belgrove's process. He's creating craft booze in the truest sense of the term.
Elsewhere, restraint materialises as patience. Oyster farmer Tom Gray from Fulham Aquaculture tells us the timeline to grow a Pacific Oyster to market size is about 18 months. "Tasmania's temperate climate means it takes extra time for the oysters to take on flavour," he explains.
During that 18-month period, the oysters are moved from trays to baskets to grates. They're also graded constantly. And this is all while dealing with some pretty precarious conditions. Like this:
Harvesting oysters ain't for the fainthearted.
The way these locals talk about their life's work, it's clear the hard work is worth it. It's a labour of love actualised.
It's a similar story at The Truffle Farm. After Anna Terry's father first planted the orchards on his Deloraine property, he had to wait ten years to see if it would successfully produce a truffle harvest. Spoiler alert: it did.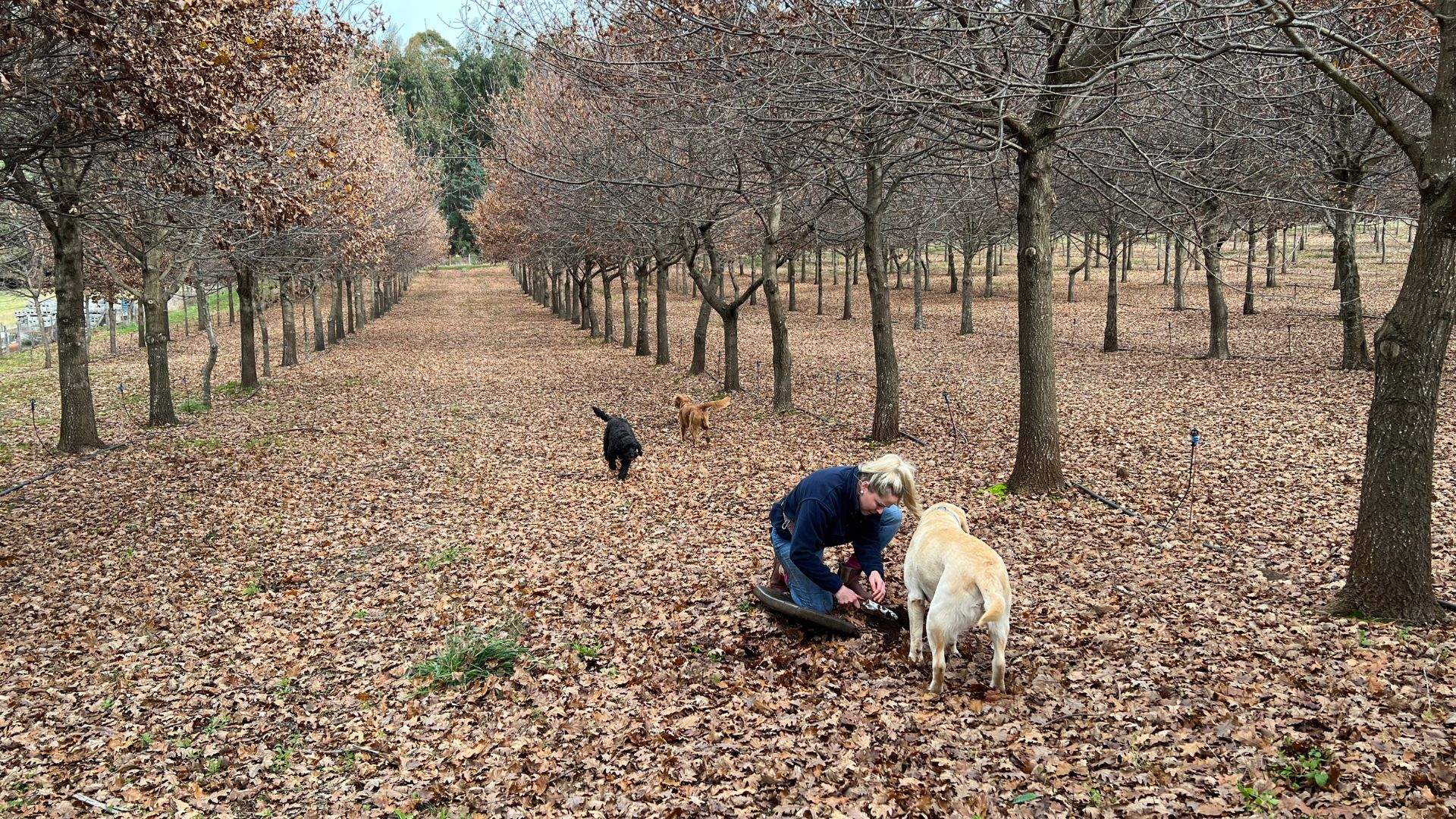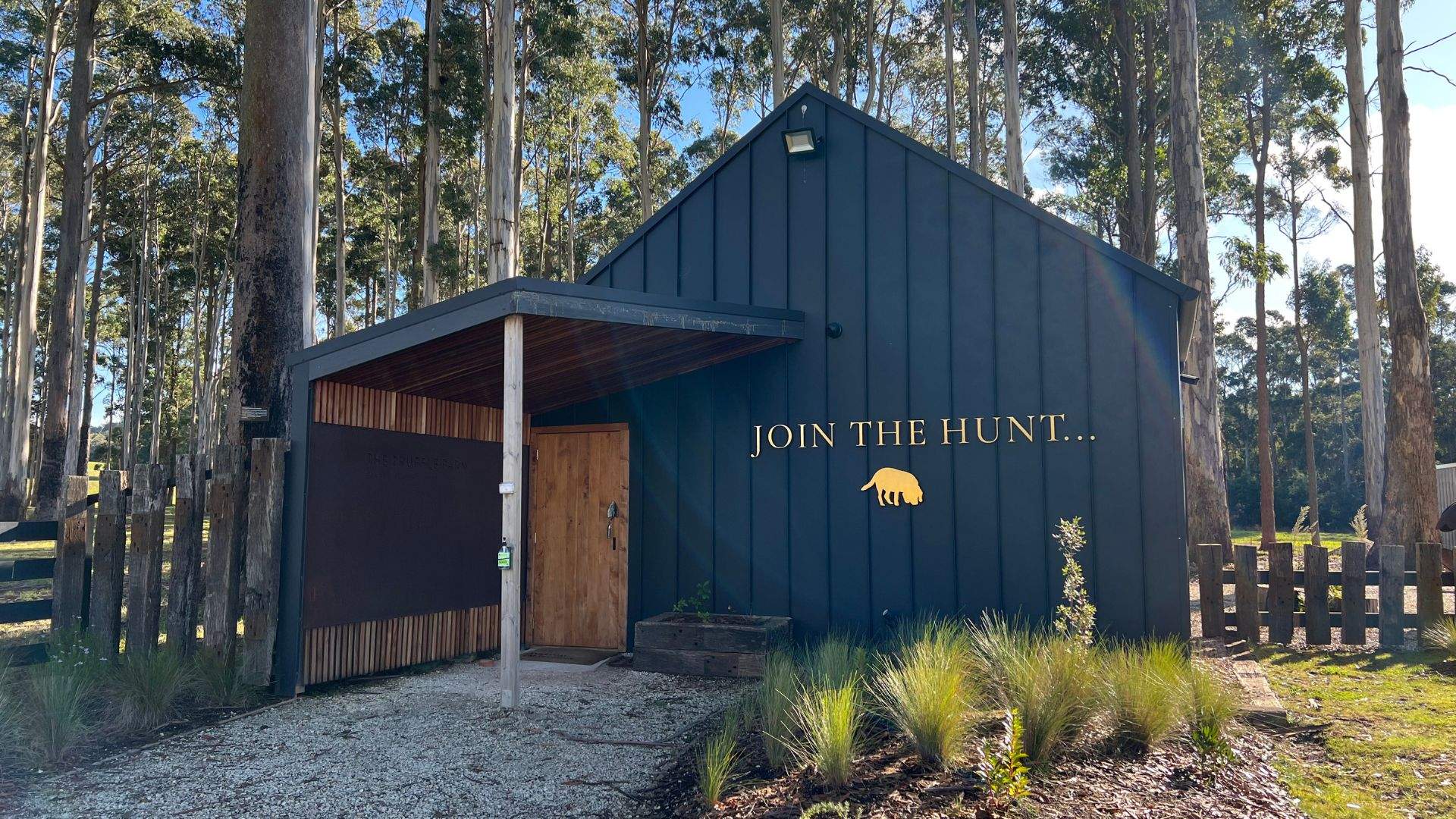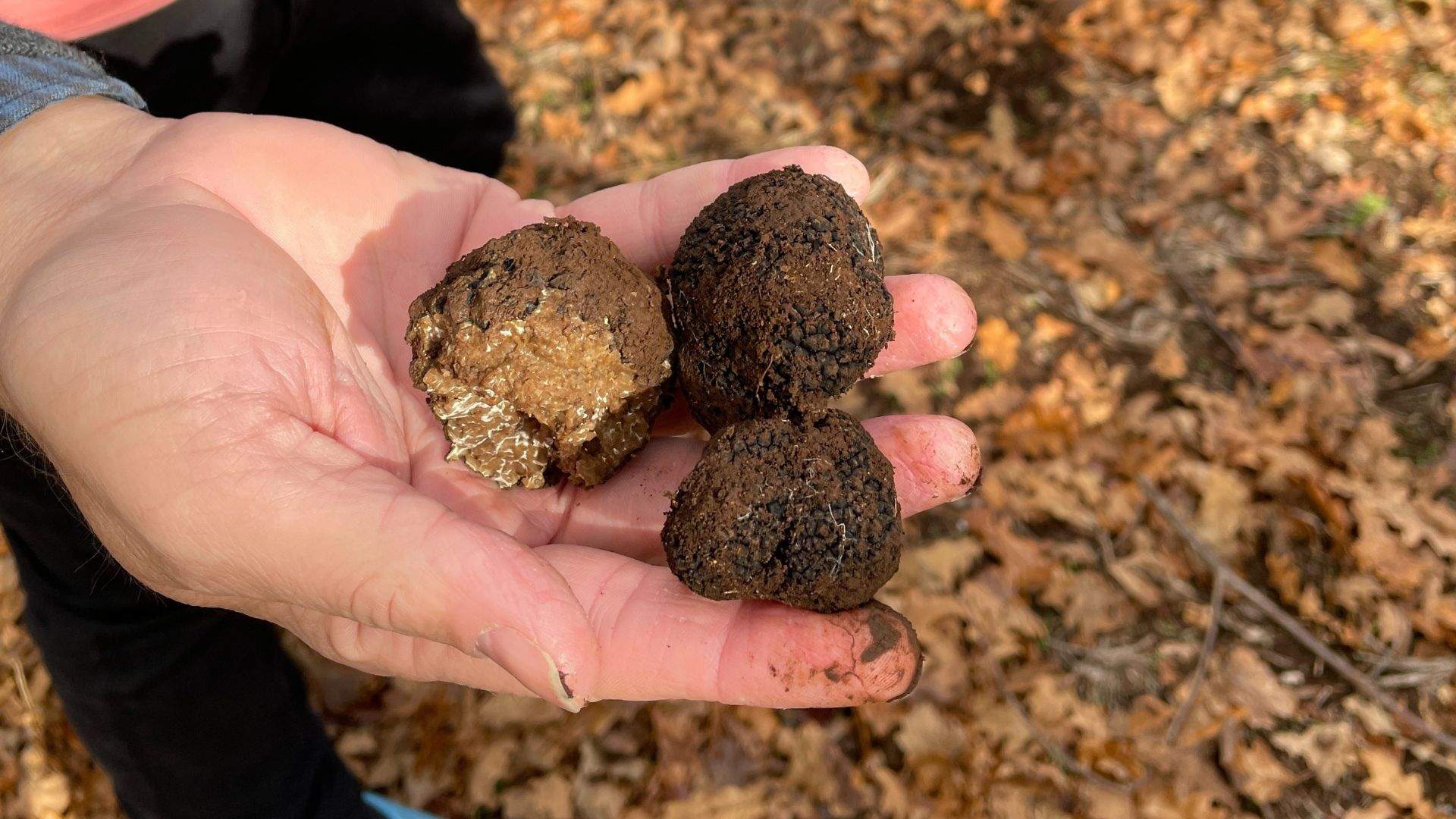 But, even now, it's a fickle game. Truffles need to be harvested at the precise moment that they're ready. "Not before, not after," Terry says.
If one of her truffle pups — Doug, Poppy and Peggy — accidentally digs up a truffle before it has reached maturation, it can't just be popped back into the soil. The delicate (and invisible) root system has been tarnished. If they leave a truffle in the ground too long, it will start to rot, which Terry describes as smelling like "wet woolen socks".
Prudence is recommended for truffle use, too. Tempting though it may be to incorporate the pungent fungus into your cooking, Milbourne tells us it's best used as a garnish. "Shaving it maximises the surface area. It enhances the aroma and taste," he says.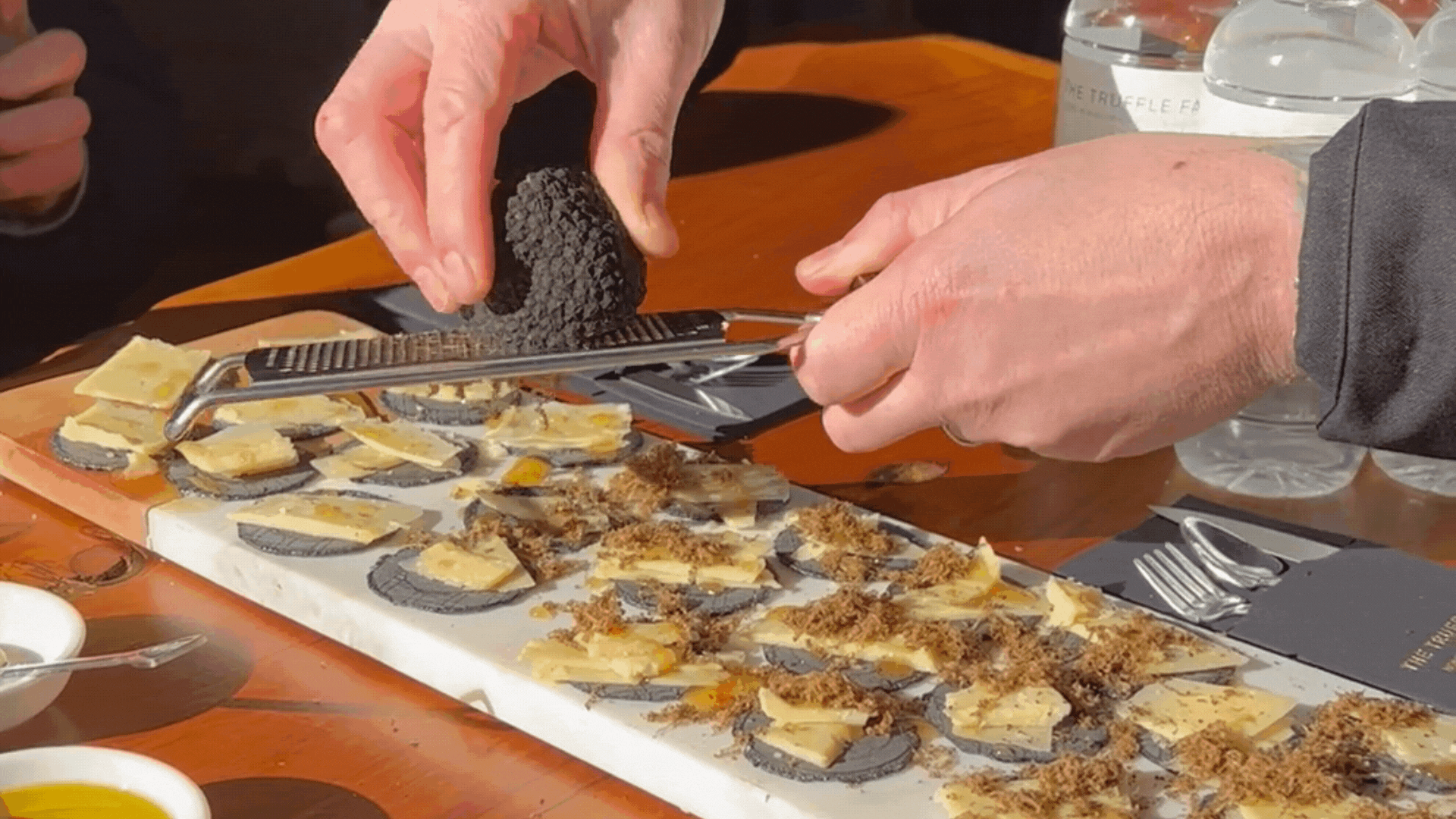 The commitment to keeping things simple and letting the produce sing tracks all the way through to restaurant kitchens like Peacock and Jones.
"When the produce is so high quality, you don't need to hide behind it," Milbourne explains. "You set aside your ego and do less to it."
It's not coming at the expense of creativity. Volkmer tells us that being at the helm of Peacock and Jones is the perfect marriage of heroing (and making the most of) ingredients with the skills he developed during his five-year stint at MONA.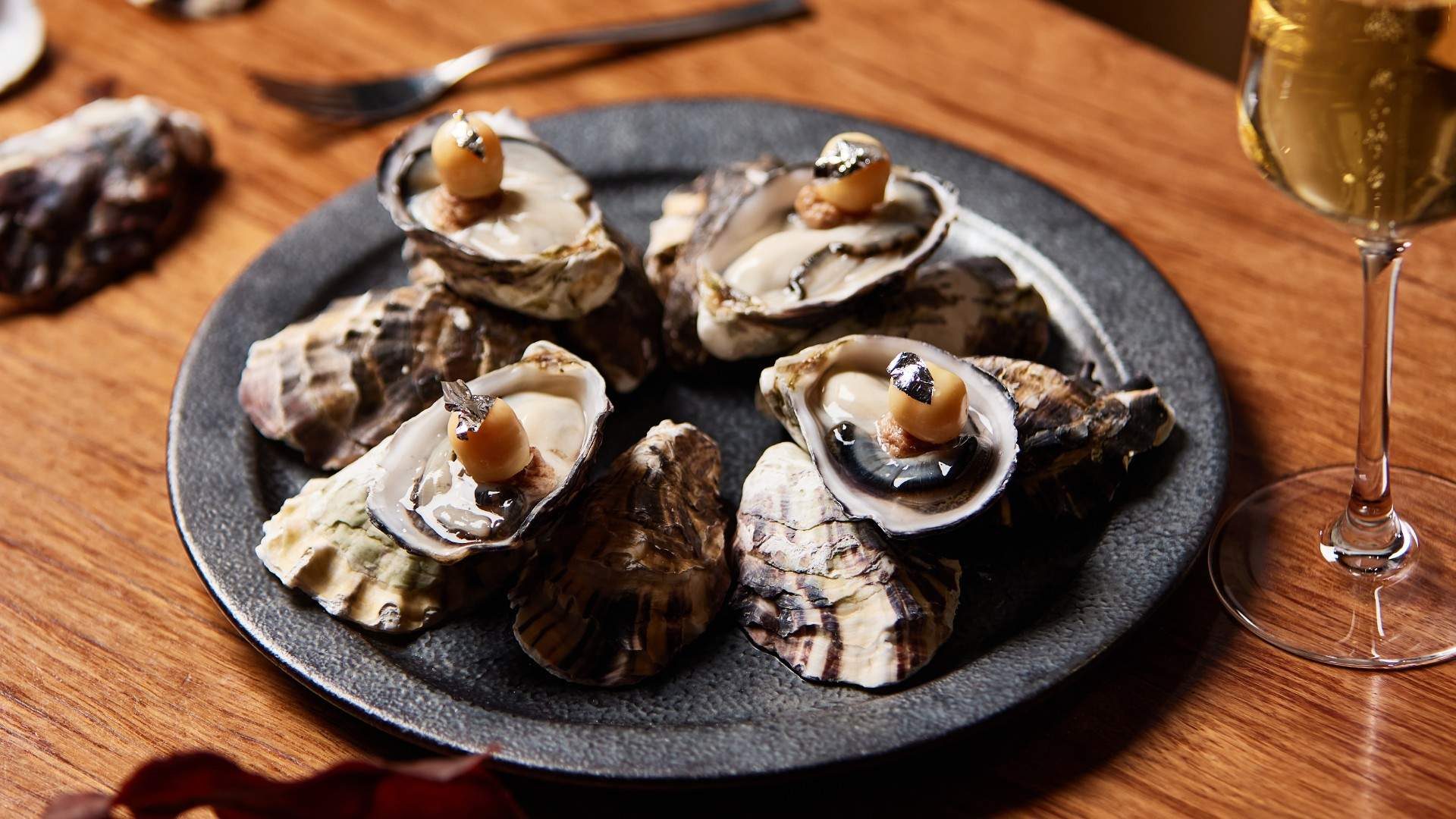 The result is dishes like the signature oysters — a spin on Kilpatrick oysters featuring bacon jam and Worcestershire 'pearls'. This dish fittingly kicks off the nine-course tasting experience at Peacock and Jones. It'll set you back $260 per person and includes paired wines (all Tasmanian, of course) — a fair price to pay to taste the best Tassie has to offer.
Concrete Playground travelled to Tasmania as a guest of Peacock and Jones and Federal Group.
Images: Melanie Colwell and Federal Group.
Concrete Playground Trips
Book unique getaways and adventures dreamed up by our editors