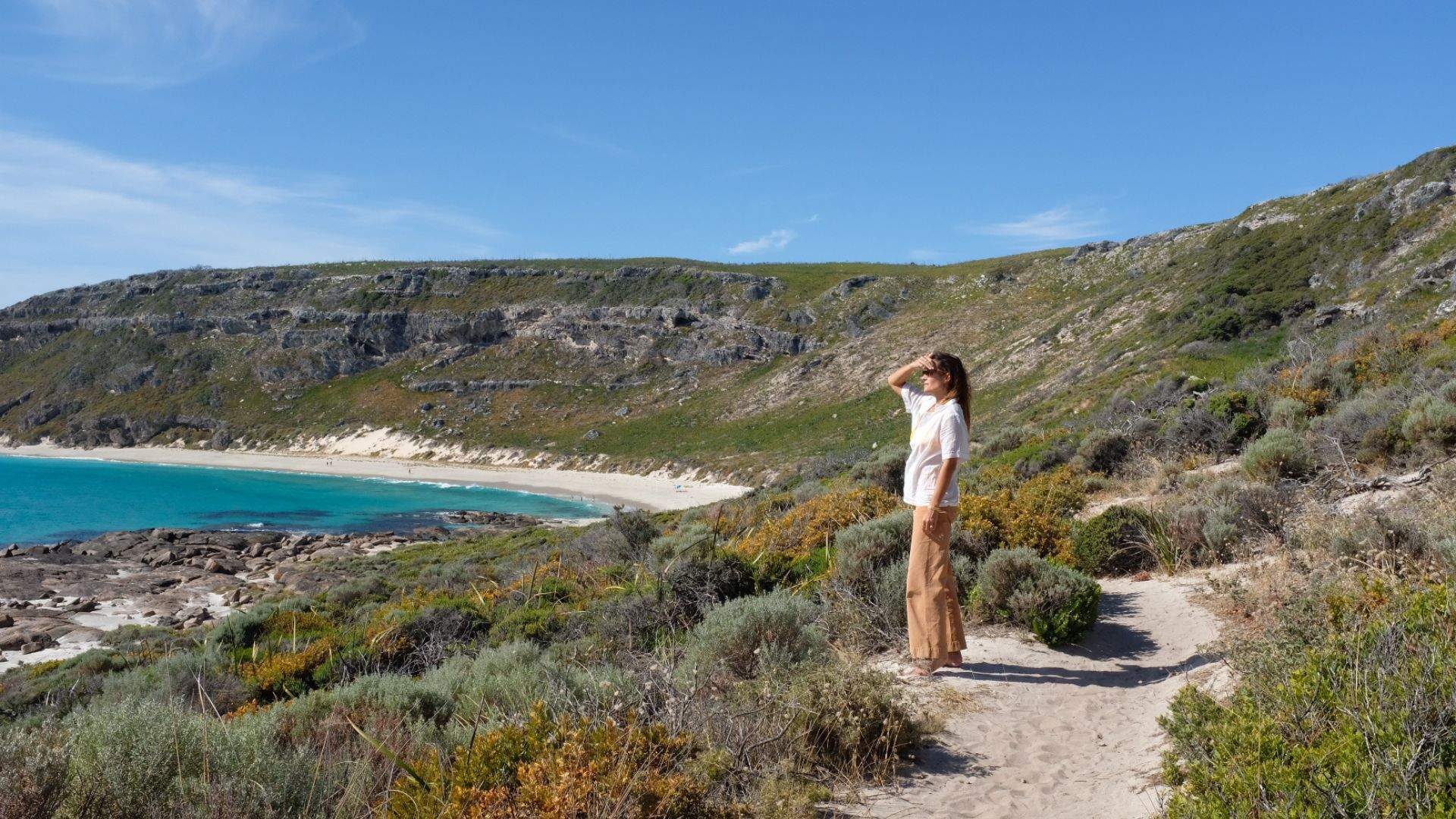 Pristine Waters and Wine Country:
We Chat to The Vista's Julia Ashwood About Her Three-Day Journey in the Margaret River Region
From world-class wineries and six-course meals to sunrise paddleboarding and beachside beers, hear the highs (and more highs) of this nature-soaked adventurous trip.
Julia Ashwood — of The Vista — is a professional traveller. Forever exploring both her own backyard in the Northern Rivers and the vastness of our wider world, she's a creative force with a hunger for adventure. That spirit has taken her and her family along Tasmania's stunning coastline, to the eclectically vibrant streets of Japan, on road trips across the expanse of America, and more.
As well as all the wandering? Julia is a hotelier and restaurateur, specifically making "spaces and places for good times". She has brought new life and bright country charm to The Eltham Hotel's five seriously special rooms; is working away busily on perfecting the 70s dream house that is the Byron Bay Sun Ranch for future holidaymakers; and, along with her hubby Matt and their business partners, co-owns and runs Eltham Pub, Ciao, Mate! and You Beauty in the Northern Rivers.
Here, we share the details of Julia's recent Western Australia jaunt. With the spectacular beaches, towering trees and friendly locals of the Margaret River region their hosts, Julia and Matt flew cross-country to dive into the famed locale that's just 2.5 hours from Perth. The five words she uttered when asked to describe the trip? "Remote, seductive, breathtaking, relaxing, surprising."
Keep reading to hear all the delicious details of her trip. And head to Concrete Playground Trips if you want to book one for yourself.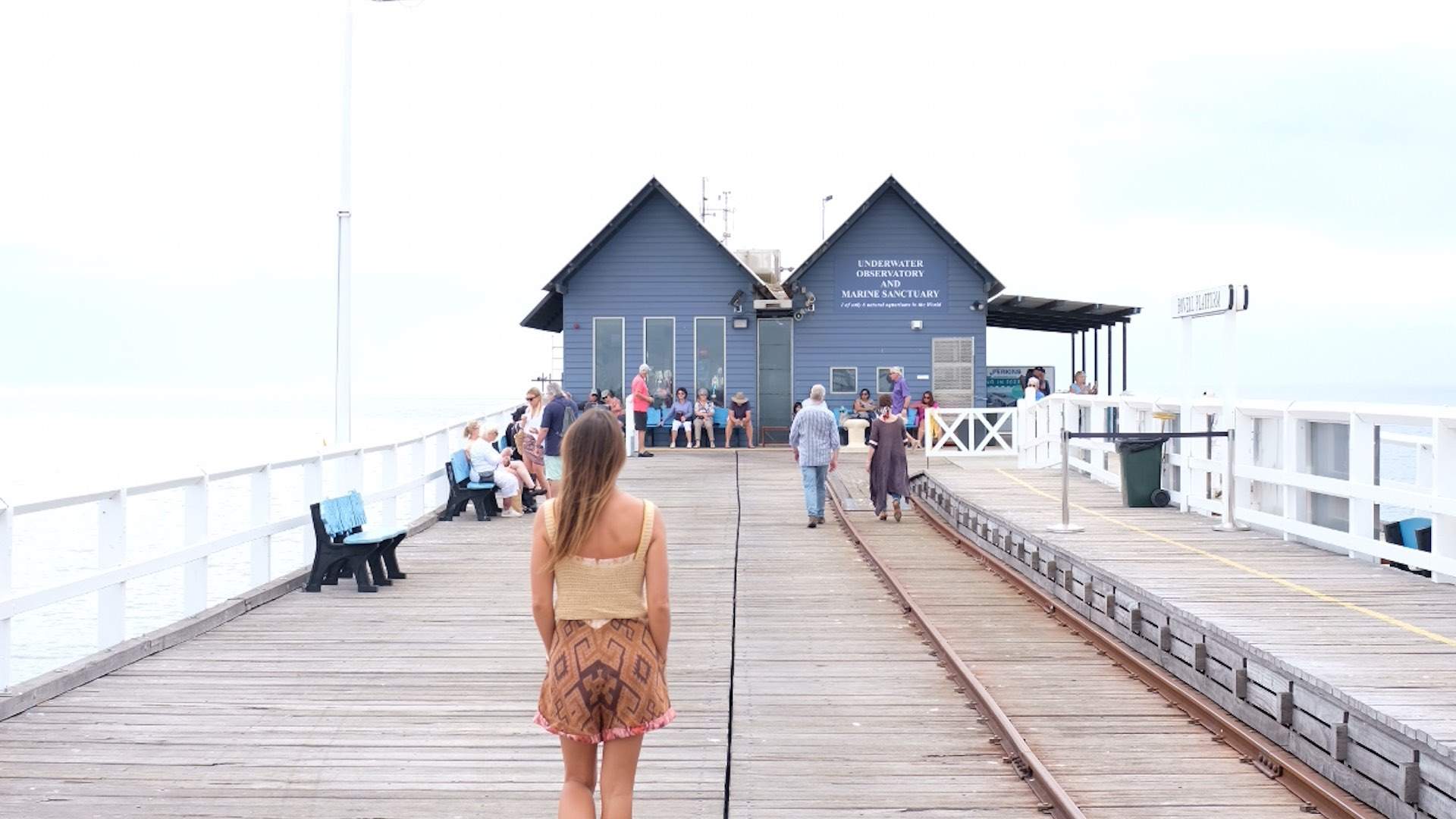 Day one
Busselton, Lake Cave and Smiths Beach
So Julia, how was your trip to the Margaret River region? Was it your first time in the region?
To be totally honest, I wish we were back there right now! What a stunning part of the world. I have travelled to Perth a few times — over to Rottnest Island and Exmouth — but this was the first time in Margs for both Matty and me.
Amazing! So, on day one: you started off in Busselton and visited some natural sights. What were the top experiences of the day?
Day one, I woke up at 4am due to the time change from NSW. Once the sun came up, we hit the road from Perth to Busselton, with a short detour in Fremantle to grab a cuppa at Best Wishes Coffee.
Arriving at the jetty, we jumped on the little red train and headed a couple of kilometres to the end of the wharf for a guided tour of the underwater world. A staircase then winds you 18 metres down to an underwater aquarium where you can see hundreds of species of local fish and coral.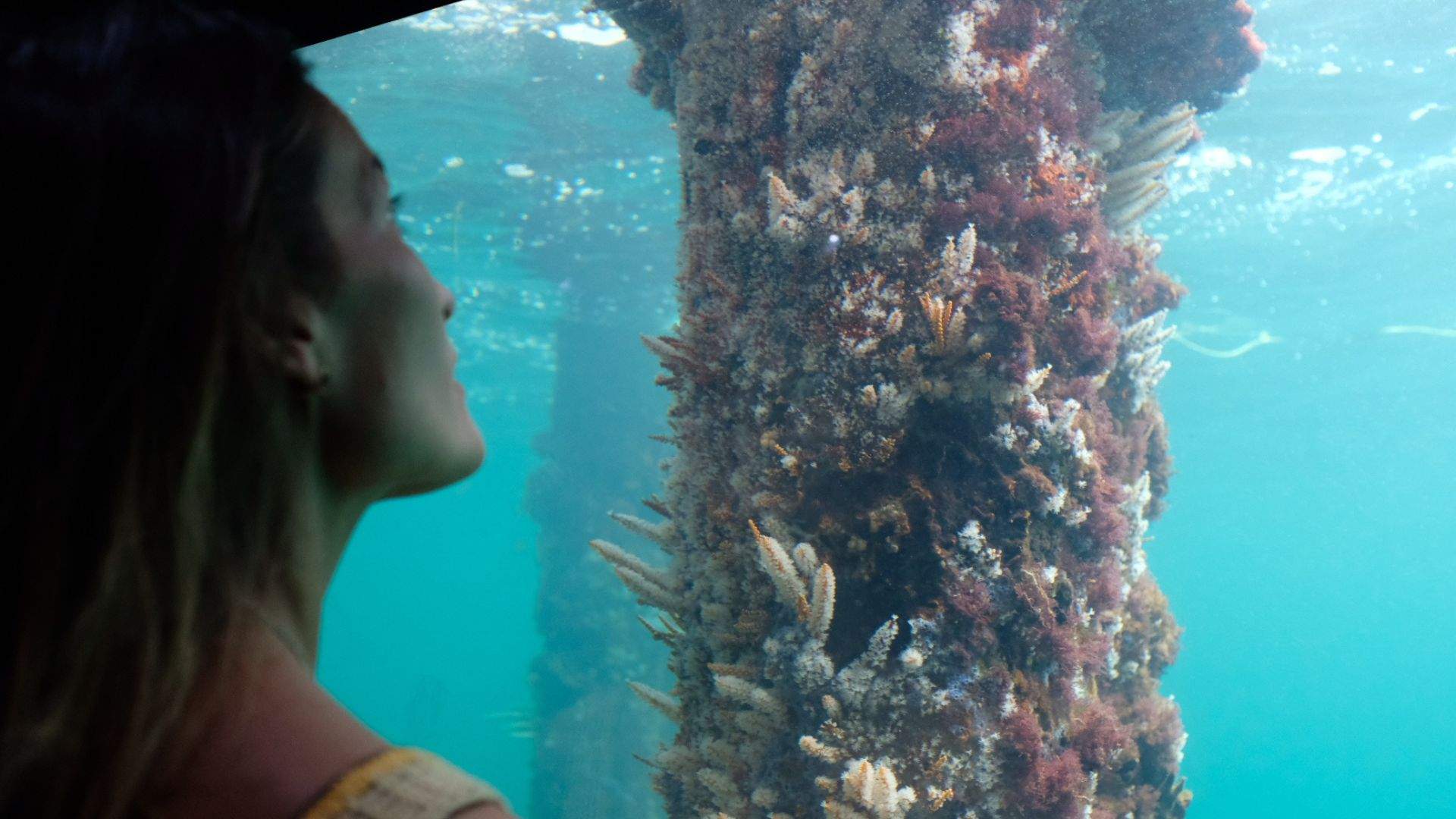 Totally submerged in the ocean, how special!
Yeah! Then, we had a quick beer off the tap at Shelter Brewing Co and an awesome lunch at nearby Alberta's. My hot tip? Allow more time here if you can. We were on the road again towards Margaret's, arriving at Lake Cave for a fully guided tour around 4pm.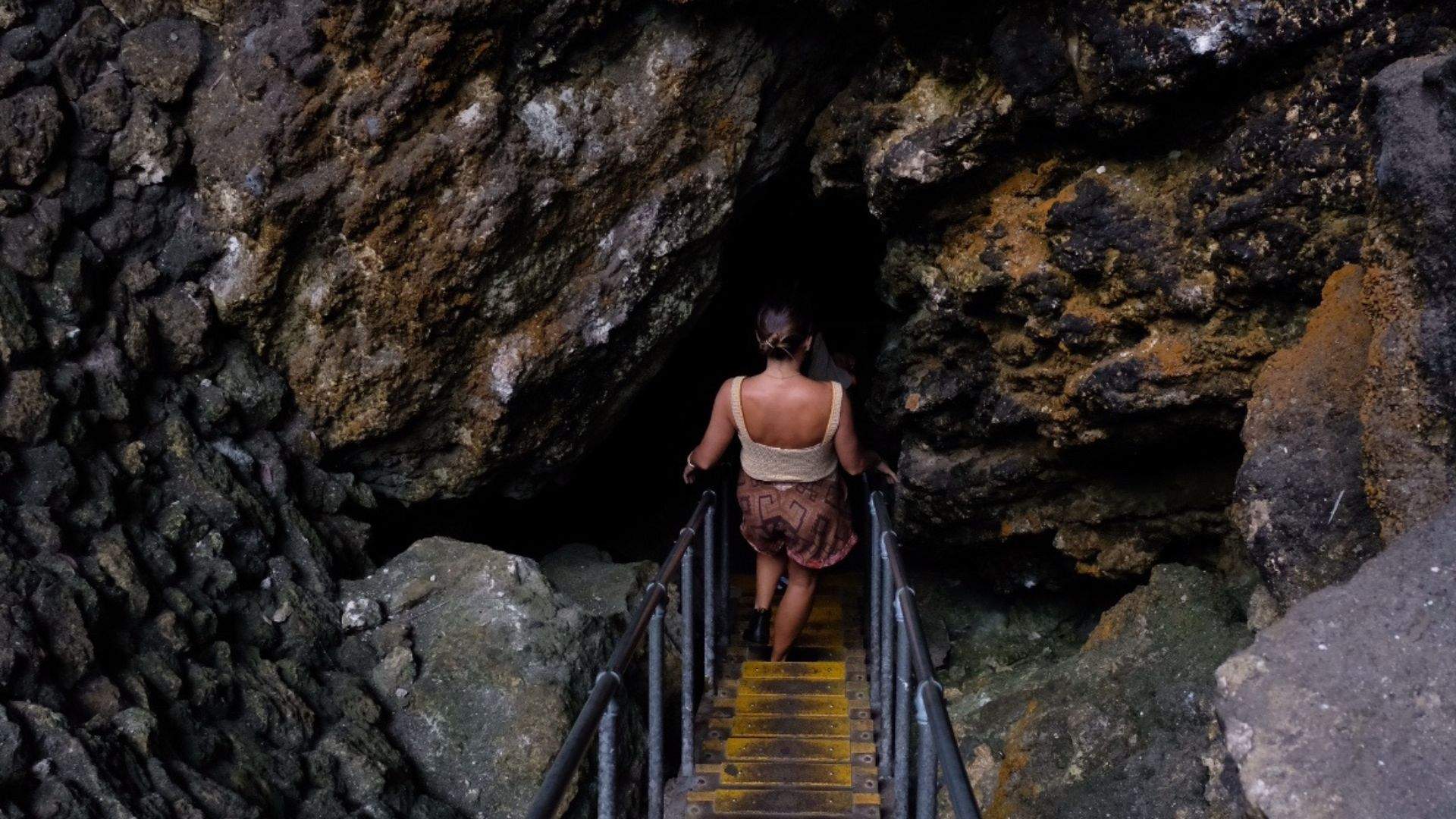 Here, we were met with our guide and ventured into a huge opening in the earth. The further we walked into the depths of the cave, the more the temperature dropped. Quite soon after we found ourselves in complete darkness and silence. A flicker of the guide's torch then revealed that we were in fact in a crystal wonderland. We were in awe of the giant stalagmites and stalactites growing deep within the cave. Those and the iconic Suspended Table, which seems to defy gravity as it hovers above the clear lake water.
By 5.30pm, we were en route to dinner — I pre-booked Miki's, a Japanese spot that was delicious by the way — and then on to Smiths Beach Resort to settle in for the night.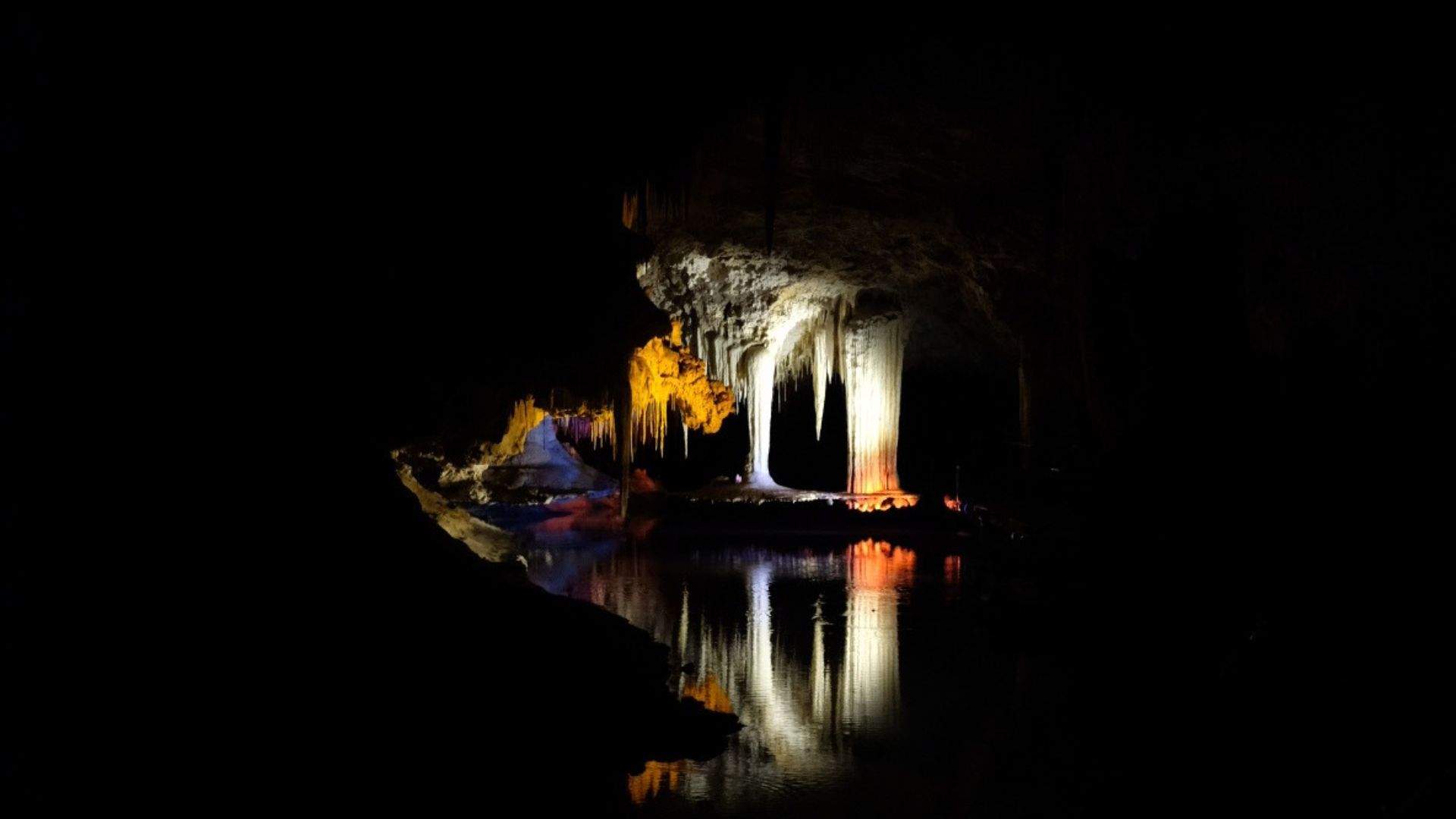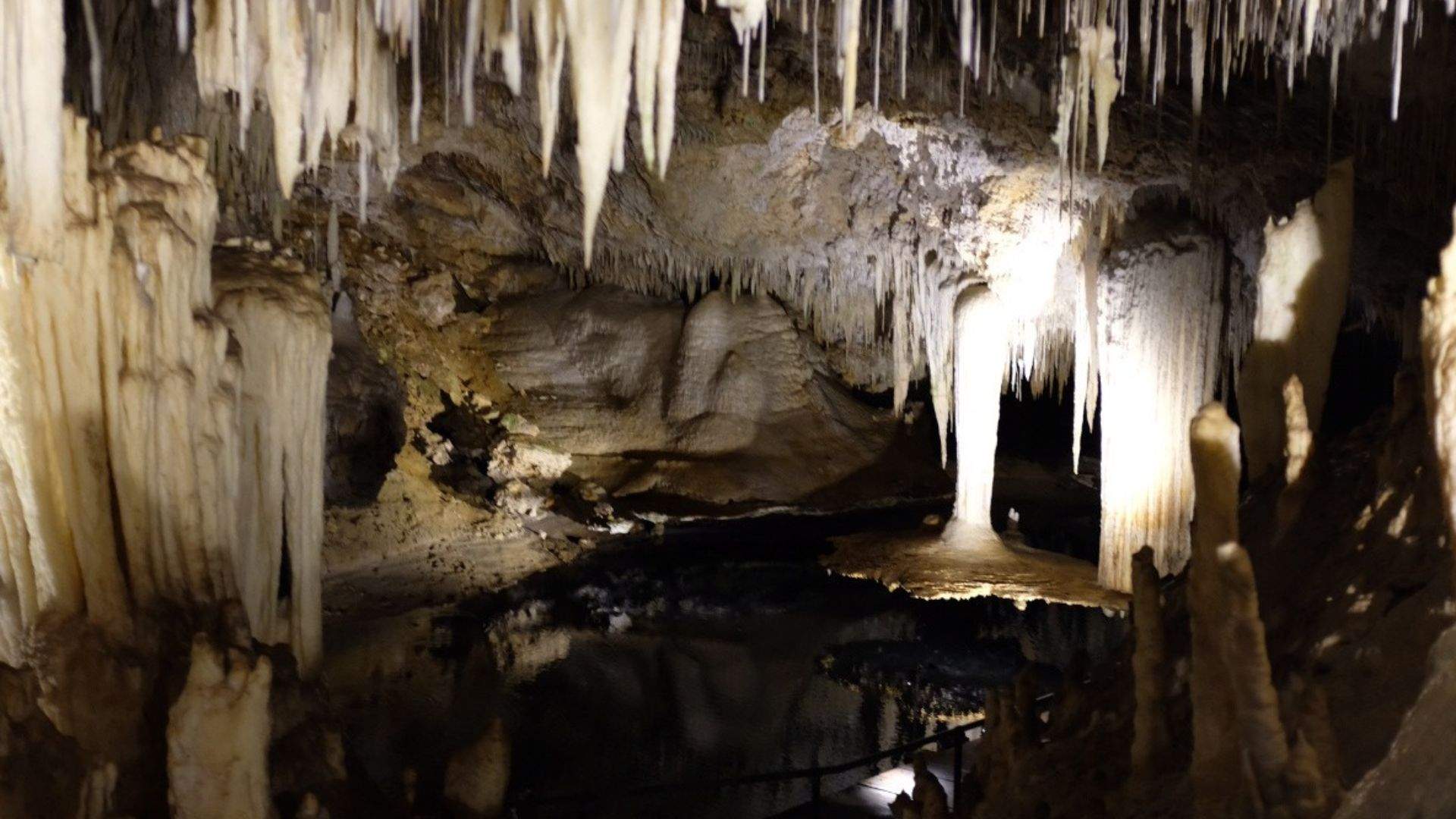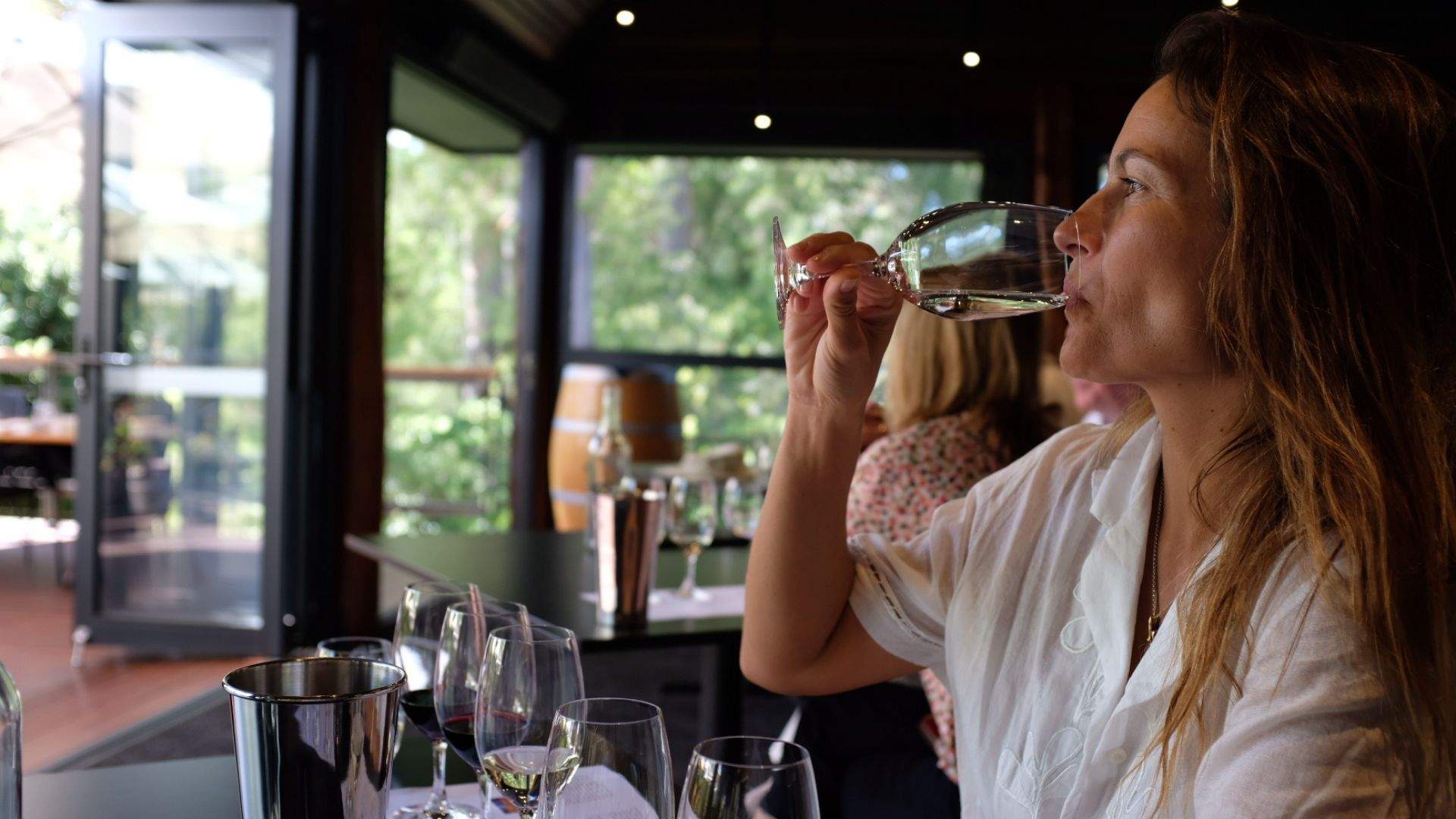 Talk me through your trip to Leeuwin Estate. The plates looked unbelievably pretty!
It was amazing, we did the ultimate tasting experience. Greeted upon arrival by the lovely staff, we were soon placed into our tasting group and explored an array of wines that would tempt any and every tastebud. Prior to lunch, we took a short stroll through the estate's art collection, an opulent curation of Australia's finest artists who have all featured on bottles across the years.

We love some integrated arty history with our vino!
By midday, we were escorted to the balcony for lunch. It was at this point that I was very happy we'd skipped breakfast! The six-course tasting menu at Leeuwin Estate is a quintessential fine-dining experience. Six mouth-watering plates matched with great wines, from kingfish, daikon, golden beetroot and apple ponzu to wagyu rump, black bean, oyster and cucumber — finishing off with a sweet combination of shaved cheese and marmalade piled on lavosh. Needless to say, there was no room for dinner.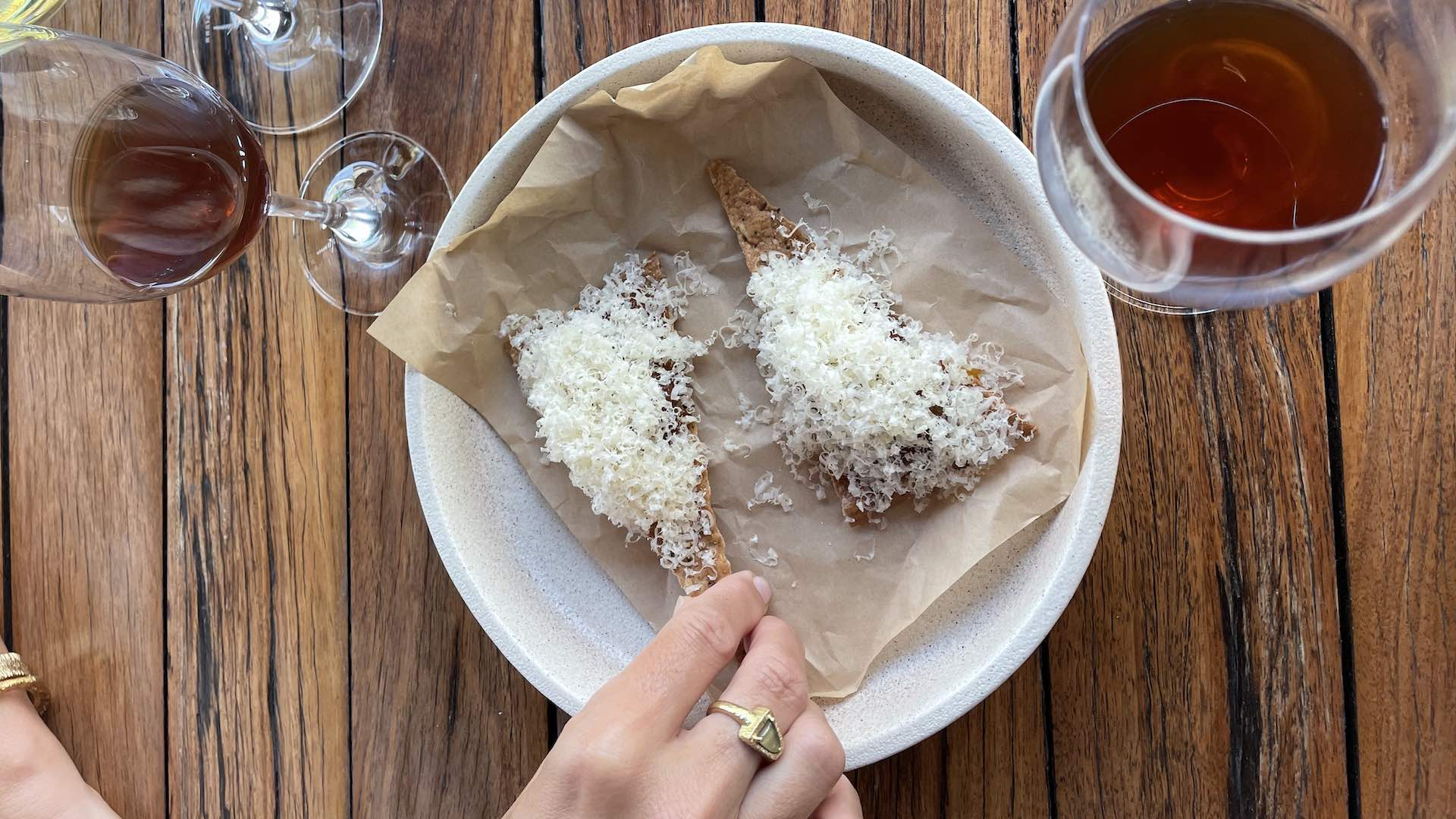 So, back home to Smiths Beach Resort? How was it? Would you stay again?
Sure. It's in a great location — just a hop, skip and jump to a perfect swimming beach. Breakfast is on the house too, so we quickly worked out that an early coffee, breakfast and taking a swim was the best way to start the day.
Did you explore Margaret River town before you headed back?
We did. The Margs village was bustling. Great little cafes, bars and shops line the street. It is what you would describe as a surf town — but it was anything but sleepy. We also enjoyed a visit to Witchcliffe where we discovered a great little record store, thrift shop and the local pies.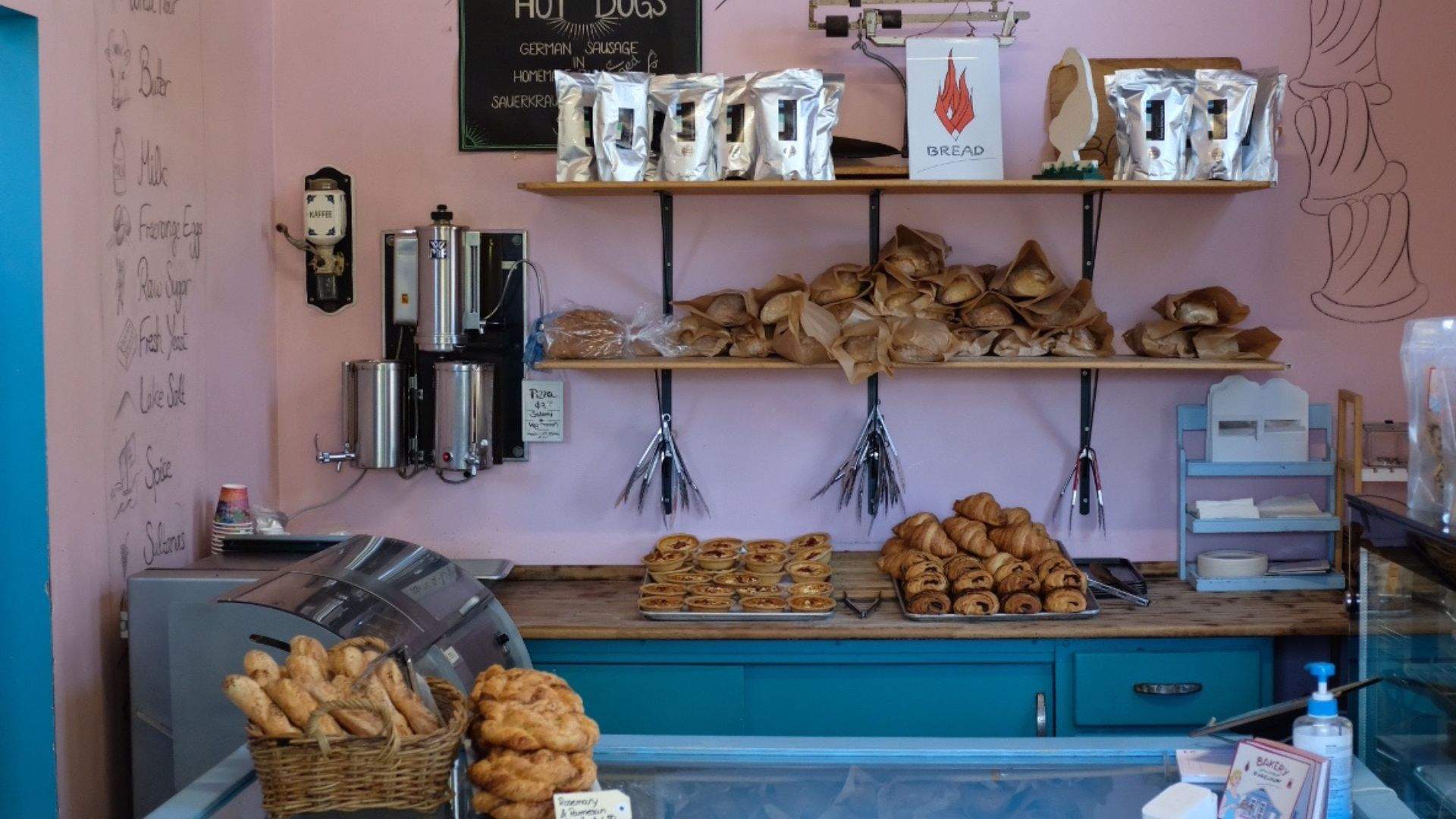 Yallingup township was also very sweet and relaxed. The Yallingup Gugelhupf bakery had me at hello. Painted pink and blue, you can't miss it. Locals' tip: the bread is hot out of the oven at 3pm at Yallingup Woodfired Bakery. Our favourite thing to do was grab a few cheeses from the General Store, a cold beer from the cellar and head to the beach for sunset.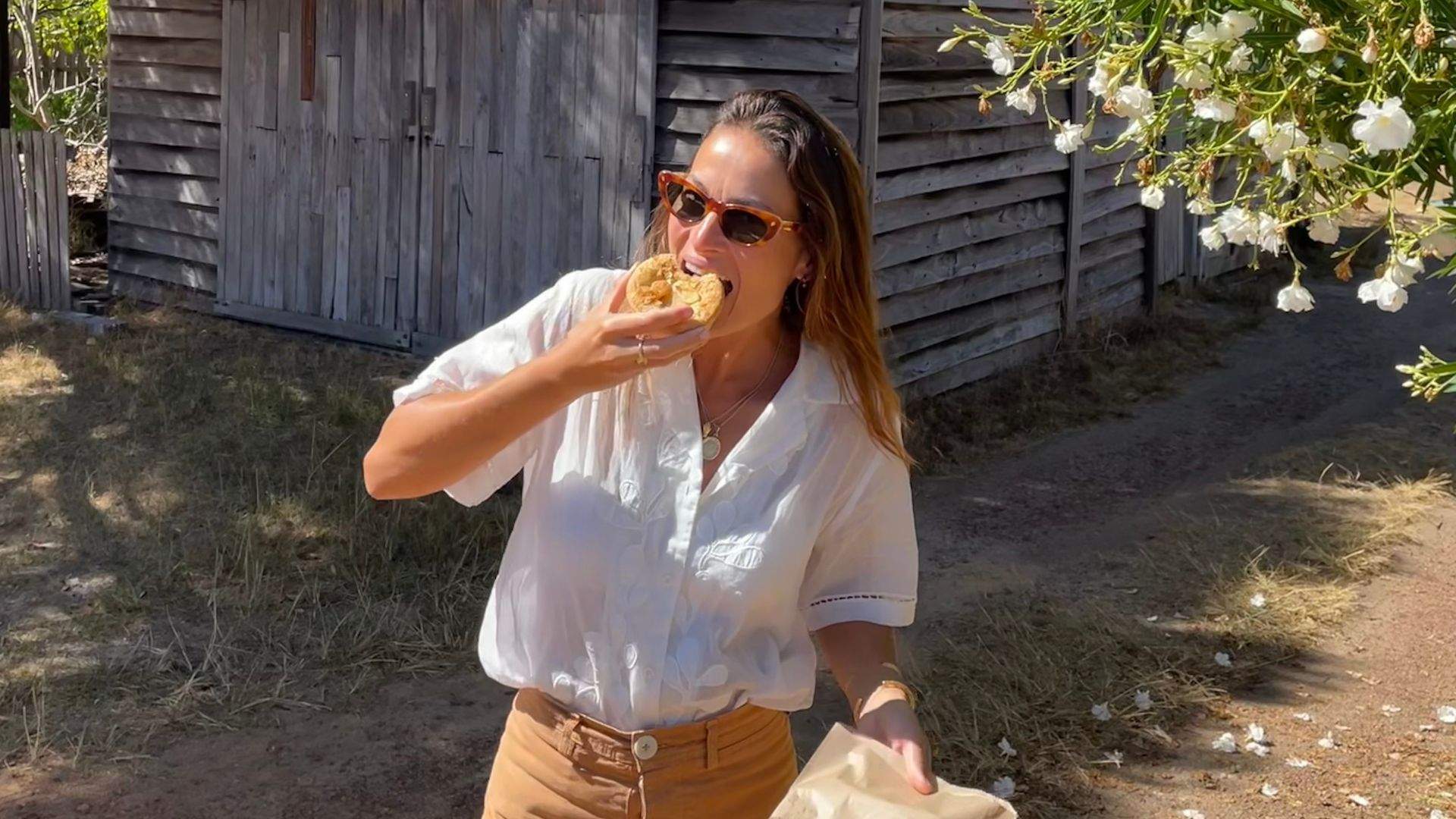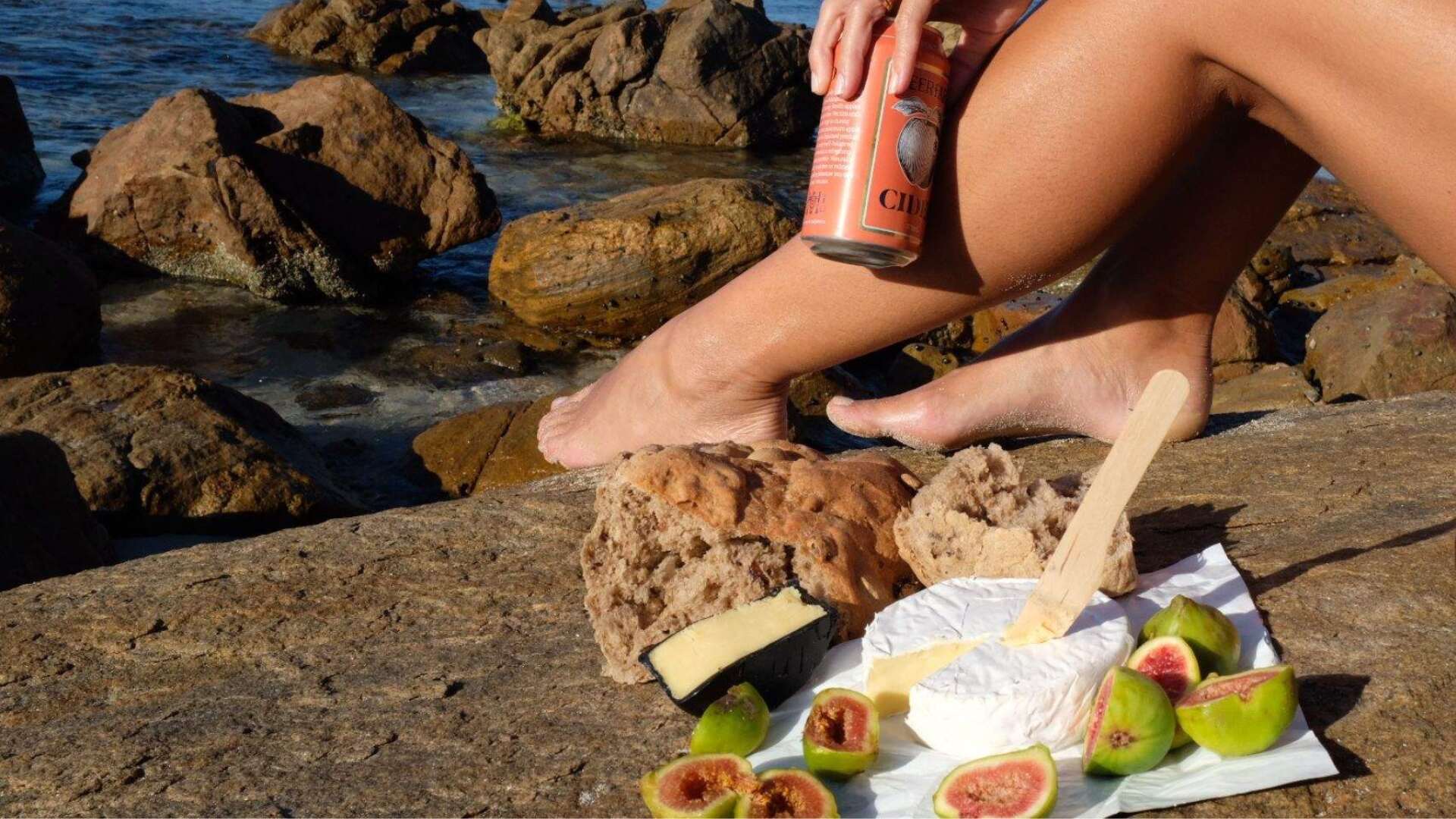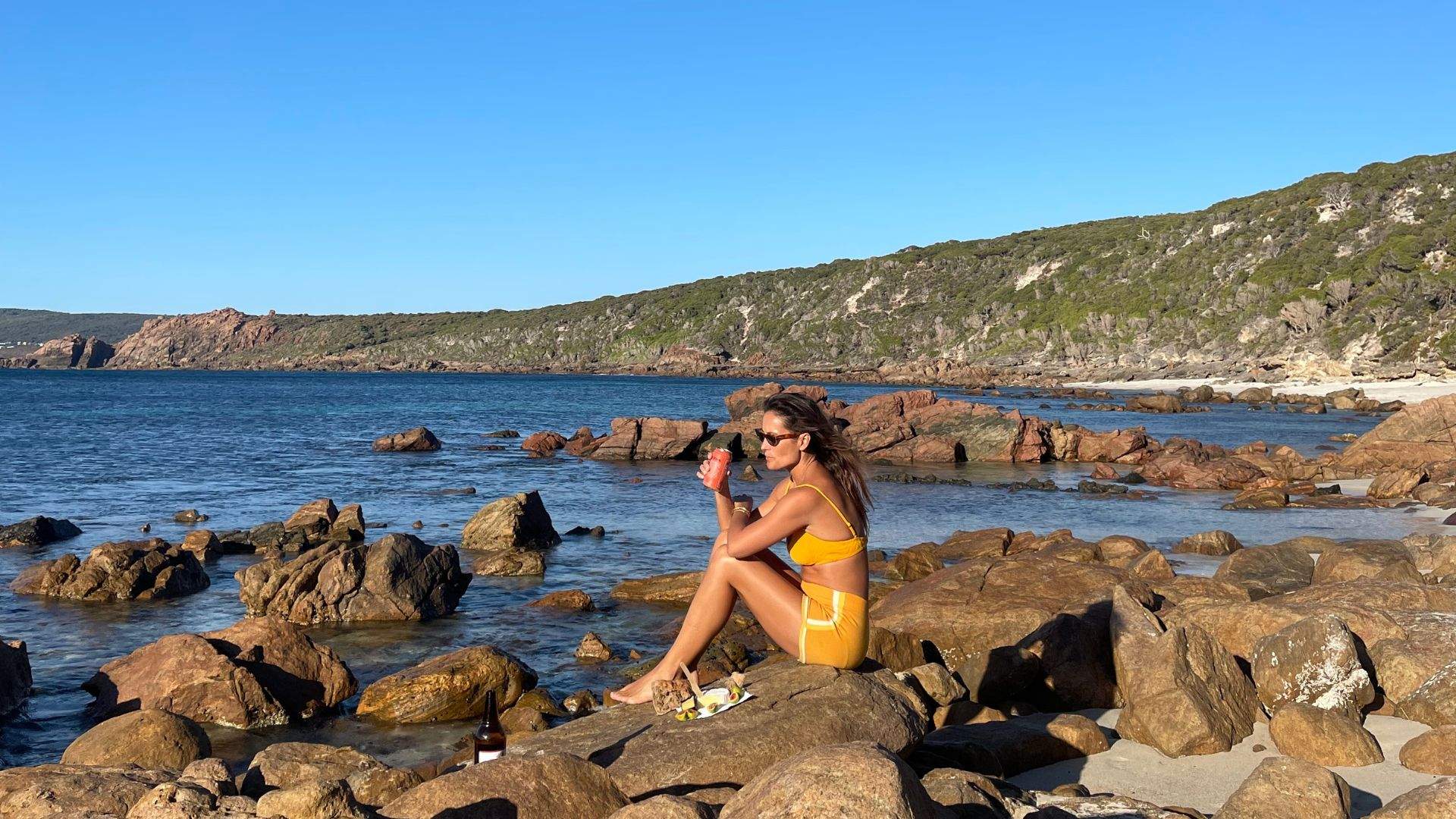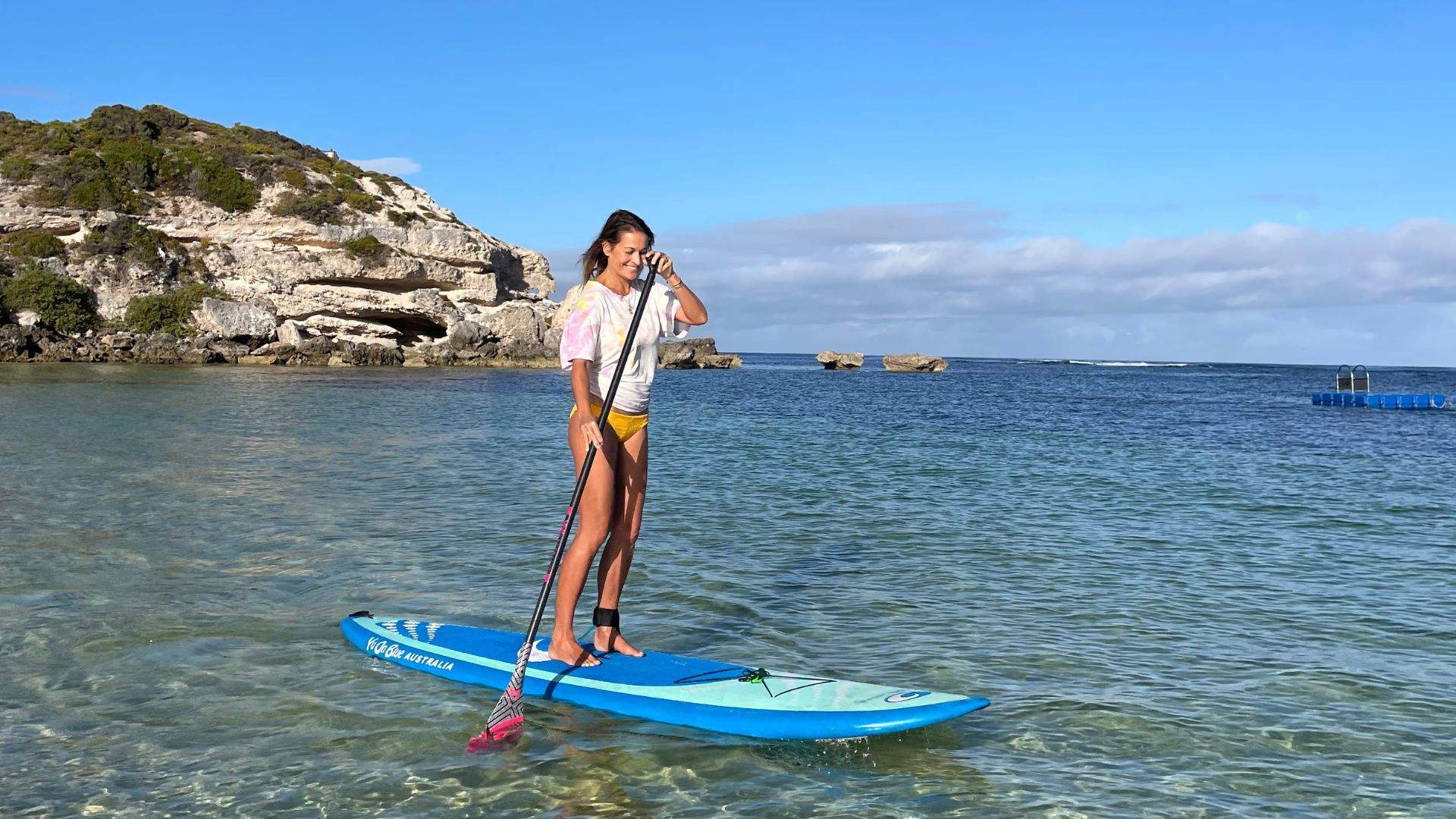 Day three
Gnarabup Bay and a private wine tasting
Beginning your day nice and early atop a paddleboard is a ripper way to get going on a Friday. What was Gnarabup Bay like?
A burly bloke with arms full of boards and gear exclaimed 'There are only about eight days in a year when it looks as good as this' when we arrived at Gnarabup Bay. Phil, we quickly discovered, was what you would describe as a bit of a local legend — he knew everyone and everyone knew him. He also heads up Stand Up Surfing, a family business. They affectionately call themselves a 'family of self-declared beach bums'. A paddle with Phil felt like being let in on a sun-soaked family holiday.
A quick lesson on the sand and then we were gently paddling through translucent, still water out to the nearby reef breaks. Post-paddle, we had a sea dip, a fresh shower and bircher muesli in the sunshine. It really was a perfect start to the day — highly recommend taking a lesson, getting on the water, then refuelling afterward.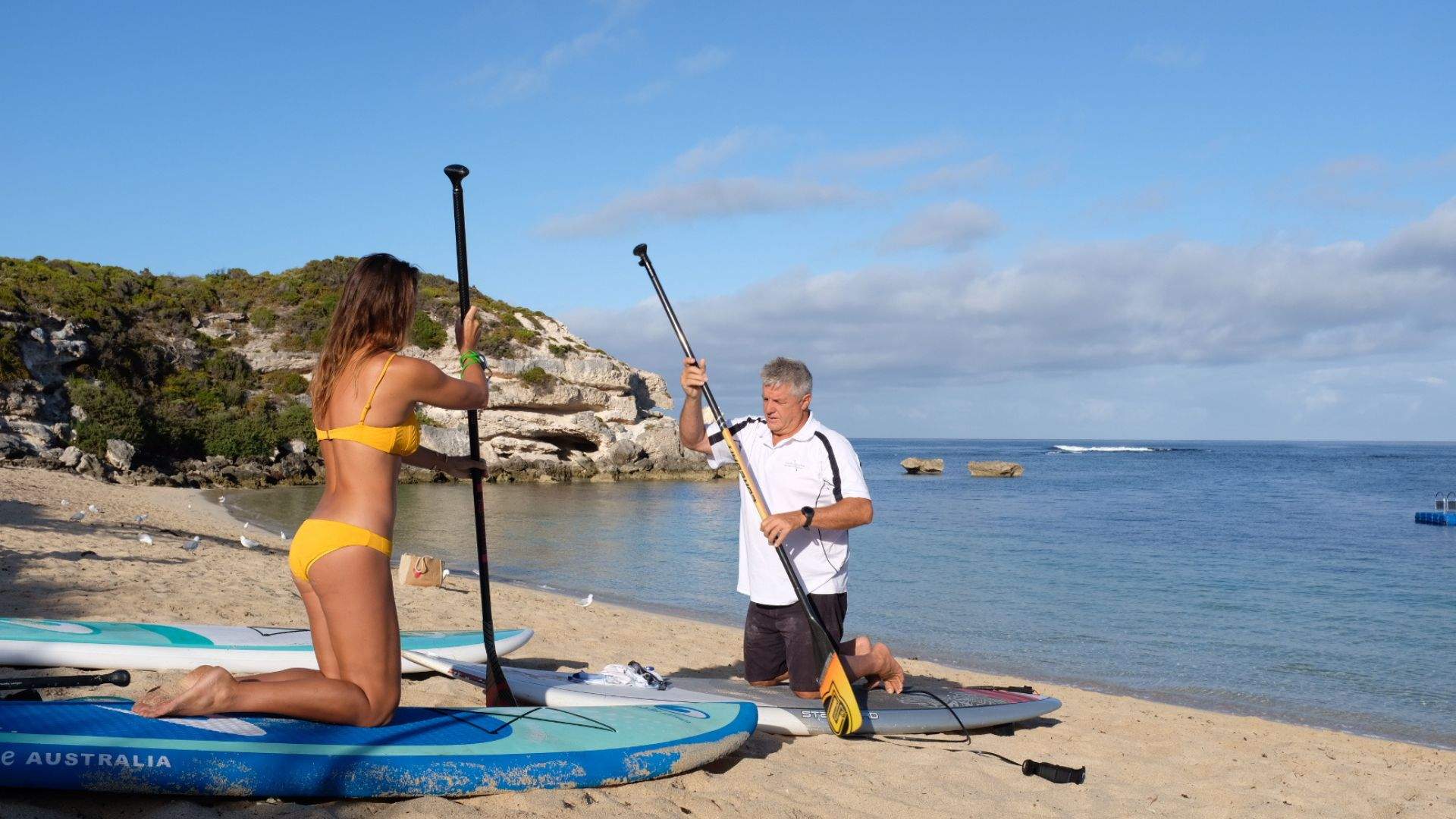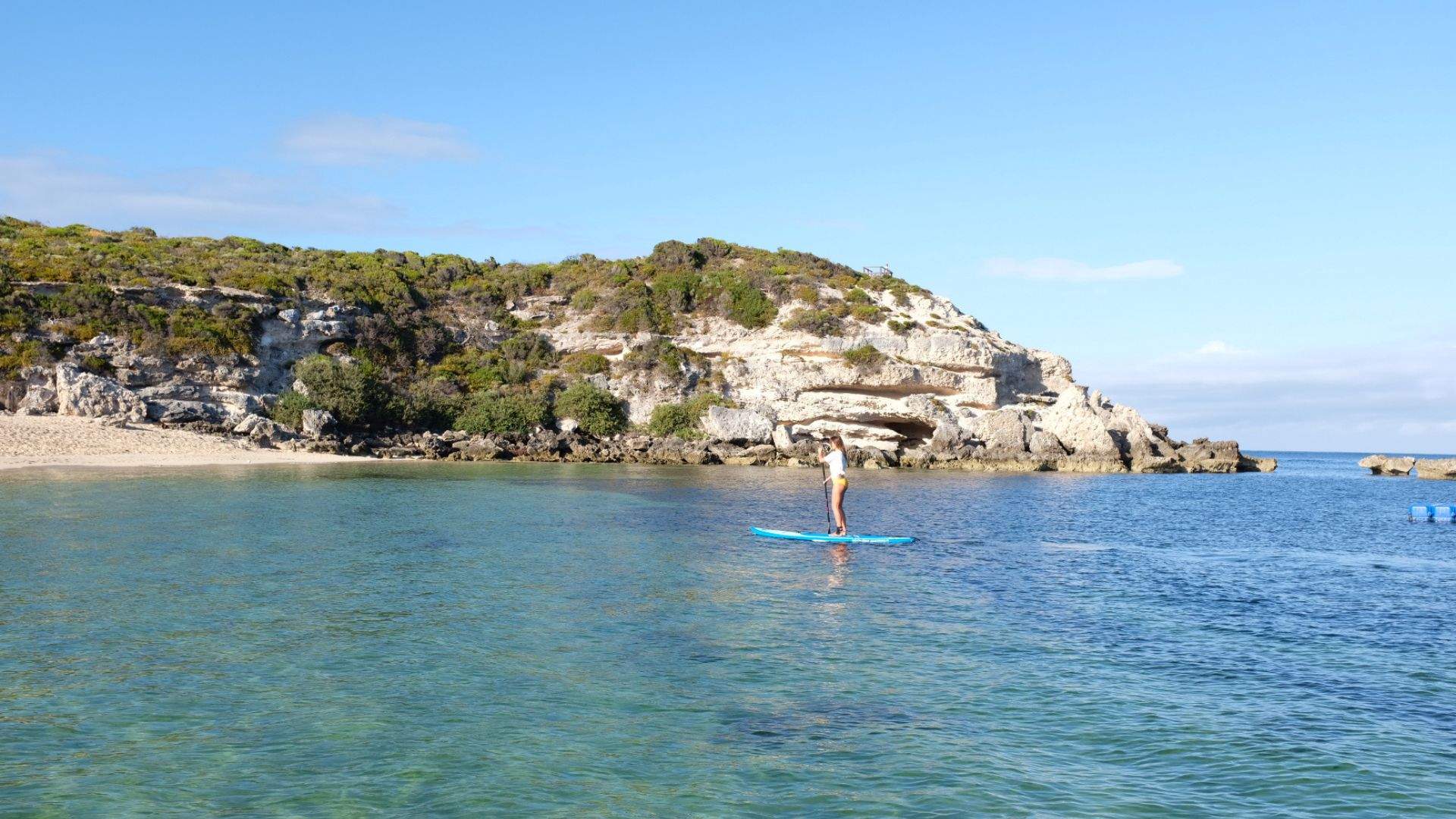 A morning that's tricky to beat. How would your ideal day around Gnarabup Bay be spent?
I must say we are very spoiled for beaches coming from Byron Bay. However, this area was what I'd describe as a true nature's wonderland. Many parts of the coastline piled high and wide with giant sandstone boulders reminded me of Joshua Tree National Park, yet, unlike the desert, these formations tumble into seas of azure blue. 
Then in complete contrast, long, open beaches curve the coast. There are no high-rises here. Instead, you'll discover enormous balga grass plants and sky-high eucalyptus — a seemingly untouched landscape alive and plentiful. In many ways, the land also reminded me of Tasmania's Bruny Island, and those welcome feelings that only wild open spaces can grant you.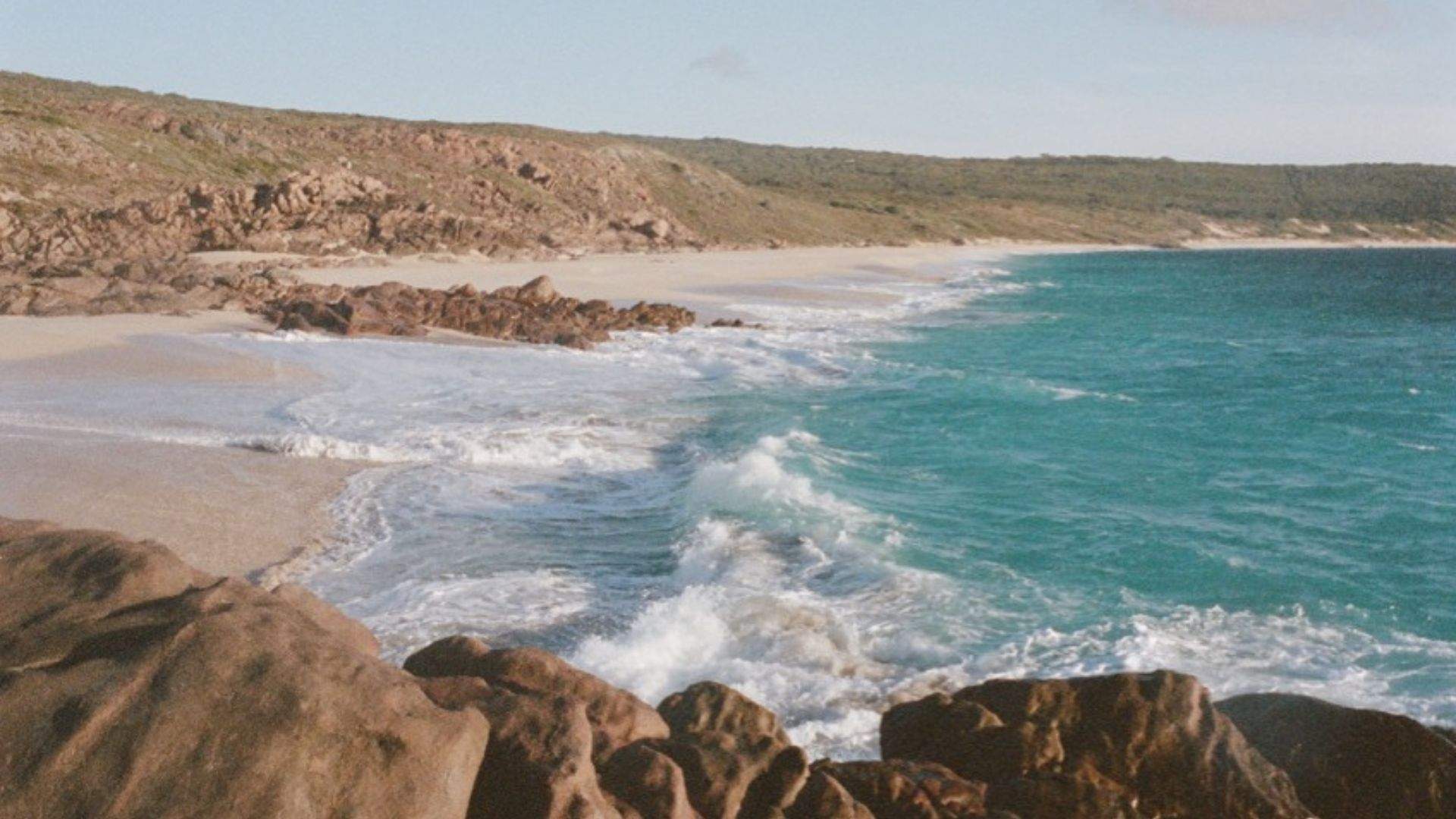 You then went to sip more vino. How did your excursion to Voyager Estate live up to your expectations?
I certainly felt Voyager was a more relaxed winery, perhaps due to our great guide Clarissa. With the private winery tasting tour, we had a much more hands-on experience here — picking grapes and tasting the sweet juices straight from the vine. We wandered production areas towered by oak barrels and returned for a further tasting in the family dining room.
Lunch with head chef Travis Crane was extraordinary. I'm not a huge dessert person, but there was something about this gelato and caramelised wafer that I had to write home about.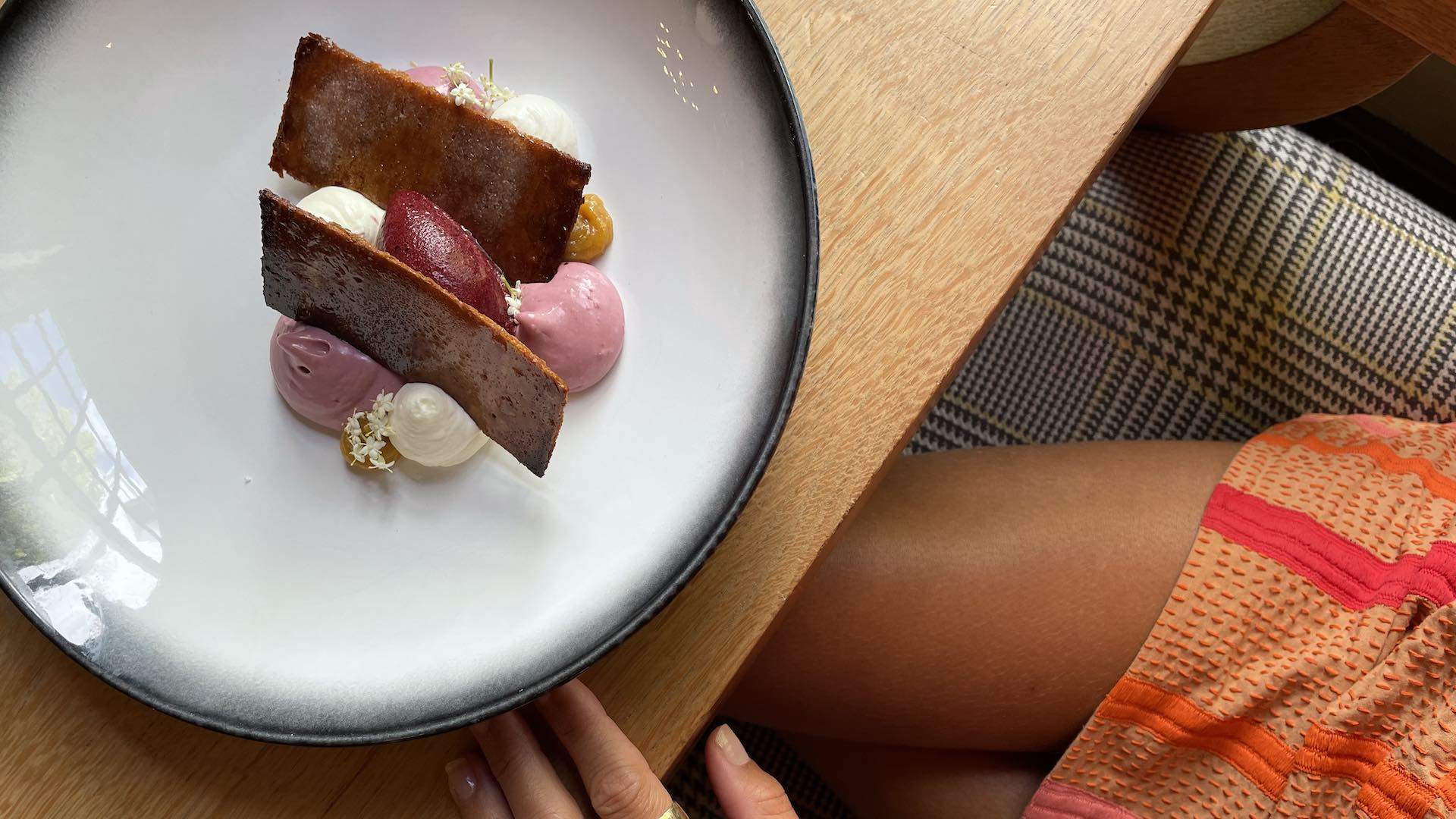 You and Matt co-own a few truly delish dining spots in the Northern Rivers. Did you discover anywhere extra tasty while you were in Western Australia?
In this part of WA, outside the winery scene — which is truly at a mind-blowing level of food and service — we found some great gems. Alberta's and  Miki's Open Kitchen (mentioned above), plus Pearl's and Rhum Burgundy, two sweet little bars on the main street of Margaret River.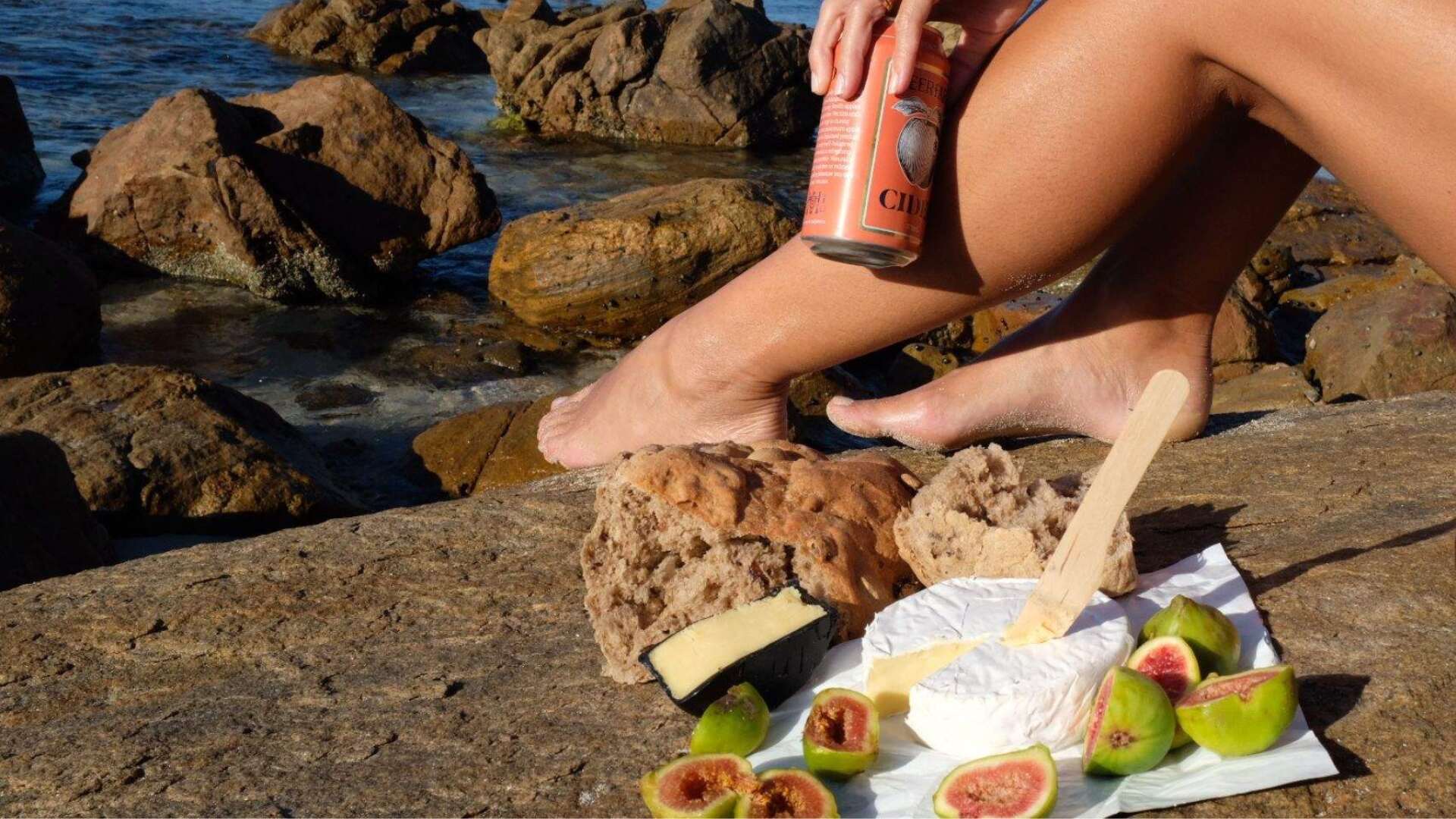 The verdict
So, did you feel you experienced the best of the west? Is there anywhere else in WA you've got your travel eyes on?
I would love to go back to WA with the kids next time, who I know would love it — especially my son who is an avid fisherman. We will definitely need at least a few weeks to see it all!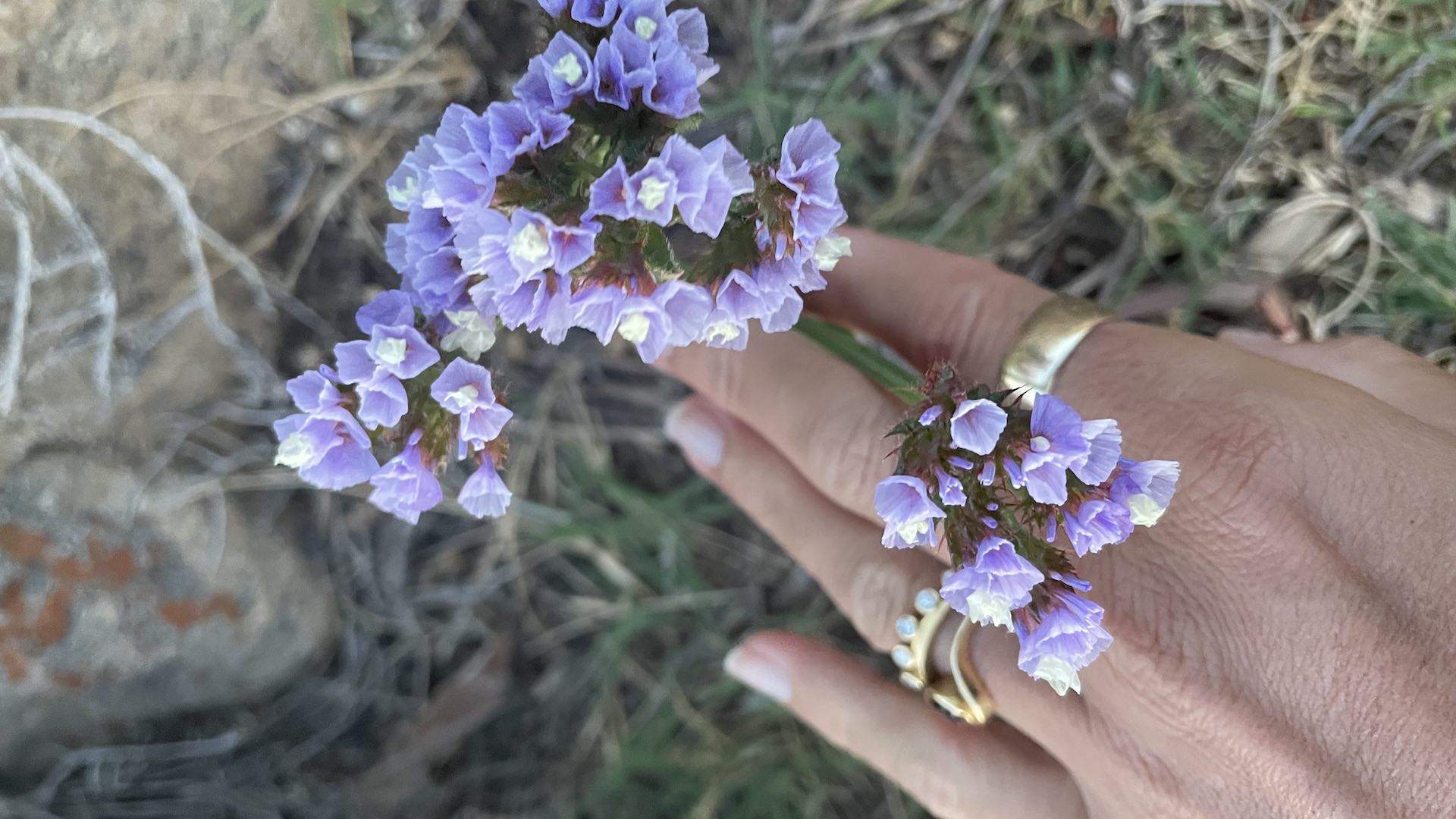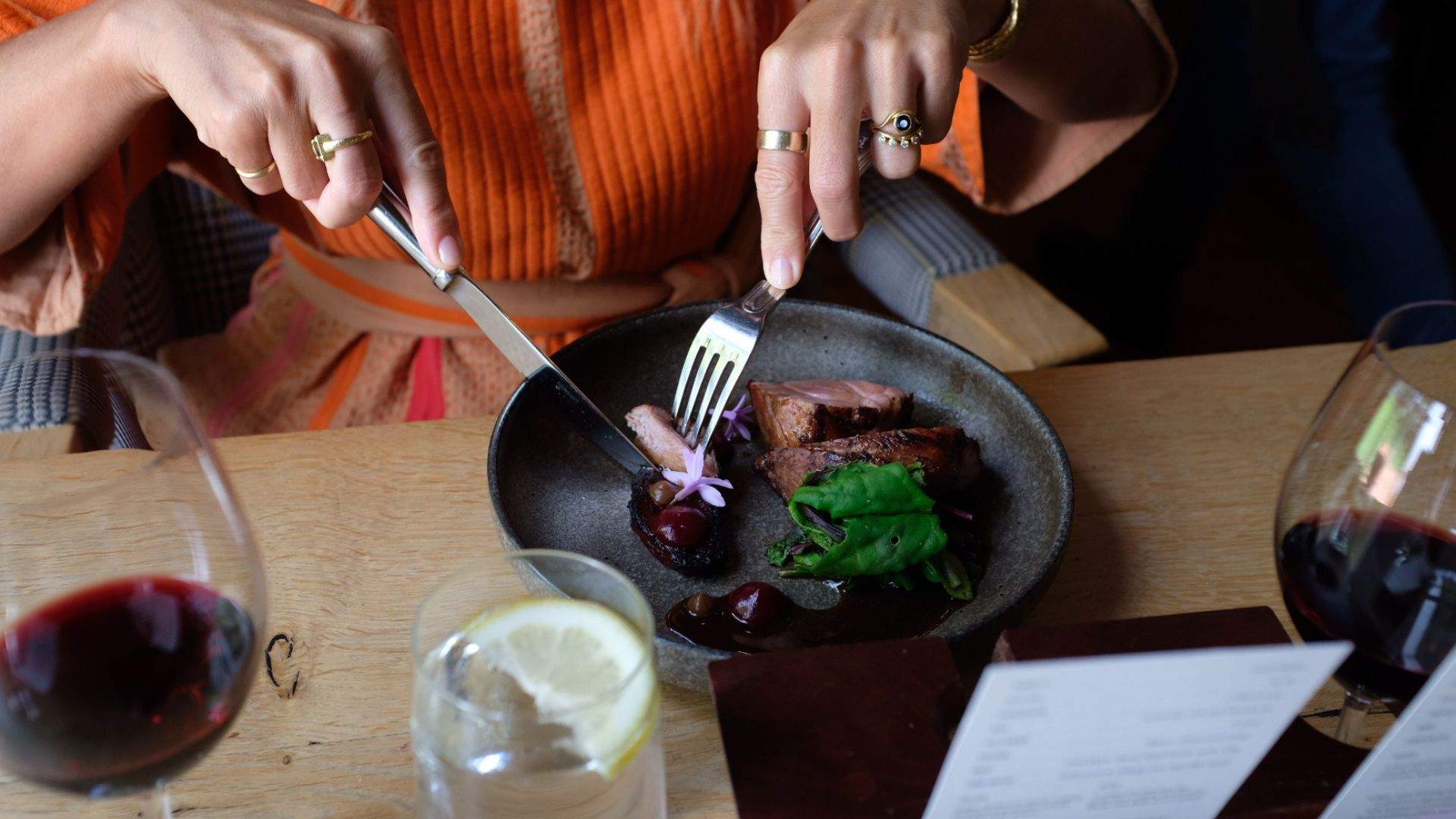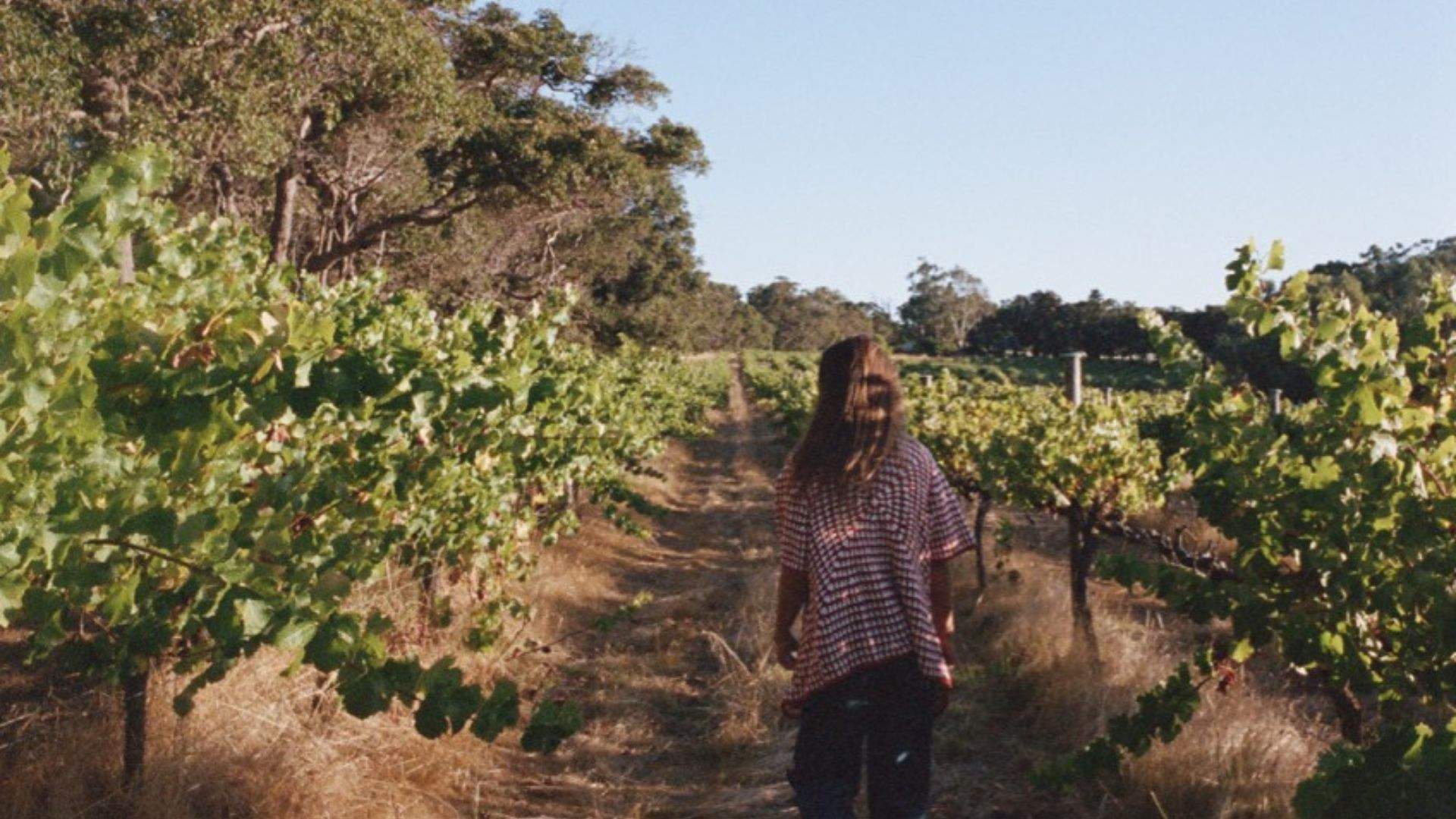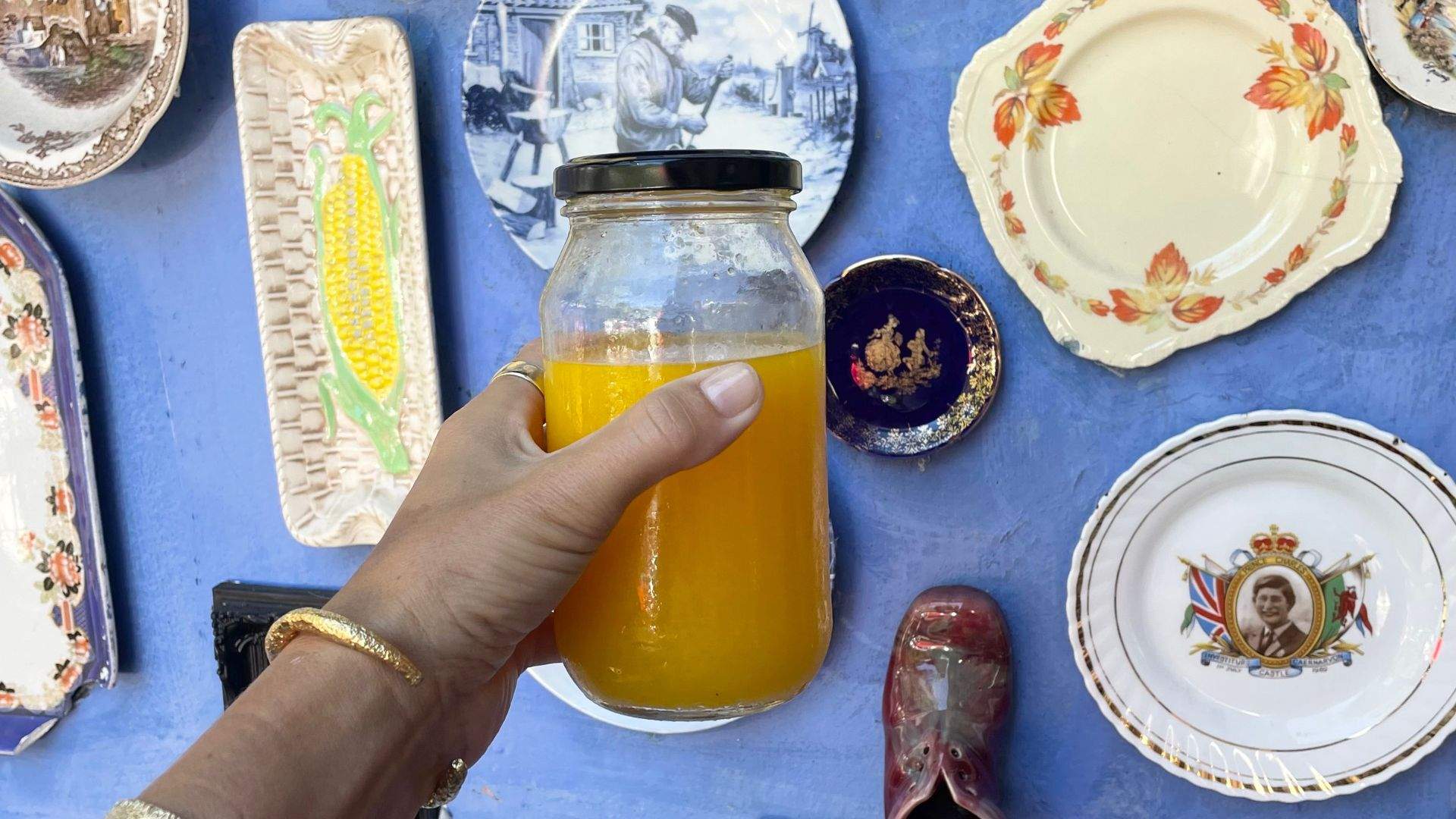 Julia's post-holiday exuberance tells you all you need to know: it's time to head to the Margaret River region — stat.
Concrete Playground Trips has all you need to start planning your ultimate trip to Western Australia's pristine Margaret River region. To start, head to the website.
Images: Matt Rabbidge.
Western Australia awaits
Prepare for a trip rich in culture, community and spectacular scenery