FOOD & DRINK
Announcing Concrete Playground's Best of 2018 Melbourne Award Winners
The very best new Melbourne bars, restaurants, cafes, pubs, events and spaces of the year.
Melbourne's cultural ecosystem has boomed once again, with each new opening bigger, bolder and more impressive than the one before it. We're eating in the middle of 50-acre sculpture parks, drinking in multi-level karaoke joints, sipping coffee in renovated furniture showrooms and having fun in four-storey exhibitions.
And the fun we're having as a city is becoming ever more inclusive. Our festivals are catering to wheelchairs and being translated into AUSLAN, our pubs and public spaces are becoming more accessible and sustainable and our restaurants and bars are catering to more dietaries and allergies.
And we have, in part, these ten venues to thank. The following restaurants, bars, cafes, pubs, spaces and events have gone above and beyond. They combine originality, innovation, creativity and sustainability to bring something a little different to our city. Something that pushes us to keep being better and braver. Something that we love — and so do you.
That's why they're the winners of Concrete Playground's Best of 2018 Awards. This year, we have awarded both a reader voted People's Choice and Overall award in each of the following six categories:
Best New Restaurant
Best New Bar
Best New Cafe
Best New Pub
Best New Event
Best New Space
So, with no further ado, the winners for 2018 are...

BEST NEW EVENT
This year, Australia scored its most inclusive music festival yet, with sports and radio legend Dylan Alcott hosting the inaugural Ability Fest. The festival was launched by the Paralympian's charity, the Dylan Alcott Foundation, and was co-helmed by Untitled (the entertainment group behind Beyond The Valley and Pitch Music & Arts) — and was one that catered to everyone, regardless of gender, disability, age or race.
Alcott set out to both normalise disability and help boost inclusivity across all areas of the music industry. With 20 percent of Aussies living with a physical or intellectual disability, it's high time an event like this was added to the festival calendar. A massive lineup — including Zimbabwean-born singer-songwriter Tkay Maidza, disco guy Harvey Sutherland and a back-to-back DJ set with Flight Facilities and Client Liaison — took to the stage, with all artists donating their time. And, the festival managed to raise over $200,000 for the Dylan Alcott Foundation, which will be used to offer mentoring, scholarships and grants to marginalised young Australians with disabilities.
Descending on the gallery in December 2017 (until April 2018), the NGV Triennial series presents a smorgasbord of art and design, plucked from all corners of the globe and representing established artists, emerging talent, and plenty else in between. Kicking off with a bang, this year's inaugural event was nothing short of grand, with the free exhibition taking over all four levels of the gallery and hosting exciting works by over 60 artists and designers.
Legendary Japanese artist Yayoi Kusama invited glimpses into the artist's mind with a work titled Flower obsession. Kusuma joined other international names like Germany's Timo Nasseri and Canada's Sascha Braunig, alongside an Aussie billing that included the likes of Ben Quilty, Louisa Bufardeci, and Tom Crago. There was an installation from Chinese haute couture fashion guru Guo Pei, designer of Rihanna's canary-yellow Met Ball gown, and an epic display of 100 oversized human skulls created by Australian artist Ron Mueck. We're eagerly awaiting its return in 2020 — the second iteration has big shoes to fill.

BEST NEW SPACE
The Grand Dame of Swanston Street has been given a makeover. Visitors of revamped State Library of Victoria will now find two new reading rooms, a dedicated events space complete with huge production kitchen and space for 220, and a new lounge off Russell Street. There's also a new Readings bookstore that eclipses the original library outpost, as well as brand new cafe Guild, helmed by the team at Almond Milk Co.
When you need a break, check out the 29-metre-long original work by Melbourne artist Tai Snaith, which is bound to provide some surefire inspiration. A new entrance to the building has been opened on La Trobe Street, while the historic Russell Street entrance, closed for more than a decade, has made its triumphant return complete with a lounge and welcome area. Heading up the transformation are Australasian firm Architectus and Scandinavia's Schmidt Hammer Lassen Architects. The library's Swanston Street entrance and ground floor are currently closed to the public — while the final stages of the building's $88.1 million revamp are completed — and are expected to reopen by spring 2019.

BEST NEW PUB 
Since the 1920s, it's been a sentry guarding the corner of Grattan and Bouverie Streets. To this day, the Prince Alfred Hotel's light stone and brick façade is symbolic of its past, as a popular gathering point for uni students and hospital workers since opening in 1926. Regulars will recall the simple worn-out interior — which was all fine and well until it closed in 2015 and sat empty ever since. But the Carlton has been given a new lease on life. The 100 Burgers Group has come on board to commandeer the pub's revival.
As before, it spans two levels, each with a bar, and a beer garden — and its own rooftop bar. In addition to a permanent kitchen serving traditional pub fare, there's a shipping container showcasing visiting food pop-ups. The pub pours from 60 beer taps which highlight local, Victorian and larger well-known brews. The wine list showcases solely local and Victorian wine and the cocktail menu takes inspiration from the pub's regal theme.

BEST NEW CAFE
Fitzroy cafe Bentwood proves a fitting homage to the Thonet furniture showroom that previously occupied its Napier Street home, not only named for the brand's iconic chairs, but boasting a dining room filled with them. They're set beautifully against a warm, rust-hued fit-out, where soaring ceilings, concrete pillars and walls of exposed brick give another nod to the building's industrial heritage. Here, Julien Moussi (Elsternwick's Penta and Northcote's Tinker) is delivering another stand-out cafe, where attention to detail extends well beyond the decor, into the coffee cup and onto the plate. The caffeine offering comes courtesy of Moussi's own Inglewood Coffee Roasters, with a tidy range of specialty options to satisfy the coffee connoisseurs of Fitzroy. Food here packs as much of a punch aesthetically as it does for the tastebuds, across a generous menu of brunch and lunch creations. You'll spy elevated classic like meringue-loaded hotcakes and an eggs benny with braised beef cheek, sitting alongside contemporary hits like a poke-style assembly that comes atop slices of dark rye.
A fun-loving new contender has crashed Melbourne's pastry scene and it's out to woo the sweet-toothed masses with its plant-based treats, party-ready attitude and late-night hours. Fittingly dubbed Weirdoughs, the CBD spot is 100 percent vegan, with a clear appetite for fun. The store's even open until the wee hours on Fridays and Saturdays, with DJs serving up a sparkly mix of hip hop and electronica to match. Here, the pastries are all about teaming traditional technique with innovative flair. The kitchen, helmed by former Vue Group Executive Pastry Chef Kane Neal, is out to smash those preconceptions and prove that butter's no longer a necessity for flavour-packed baked goods. It's swapping out the dairy for a special blend of cashew, macadamia and coconut oil. Expect a selection of sweet and savoury creations, like a custard 'Weirdoughnut', oozing golden turmeric custard and smothered in rhubarb sherbet sugar, a cube-shaped take on the croissant, an Aperol doughnut and even an all-vegan version of the humble ham and cheese croissant.

BEST NEW BAR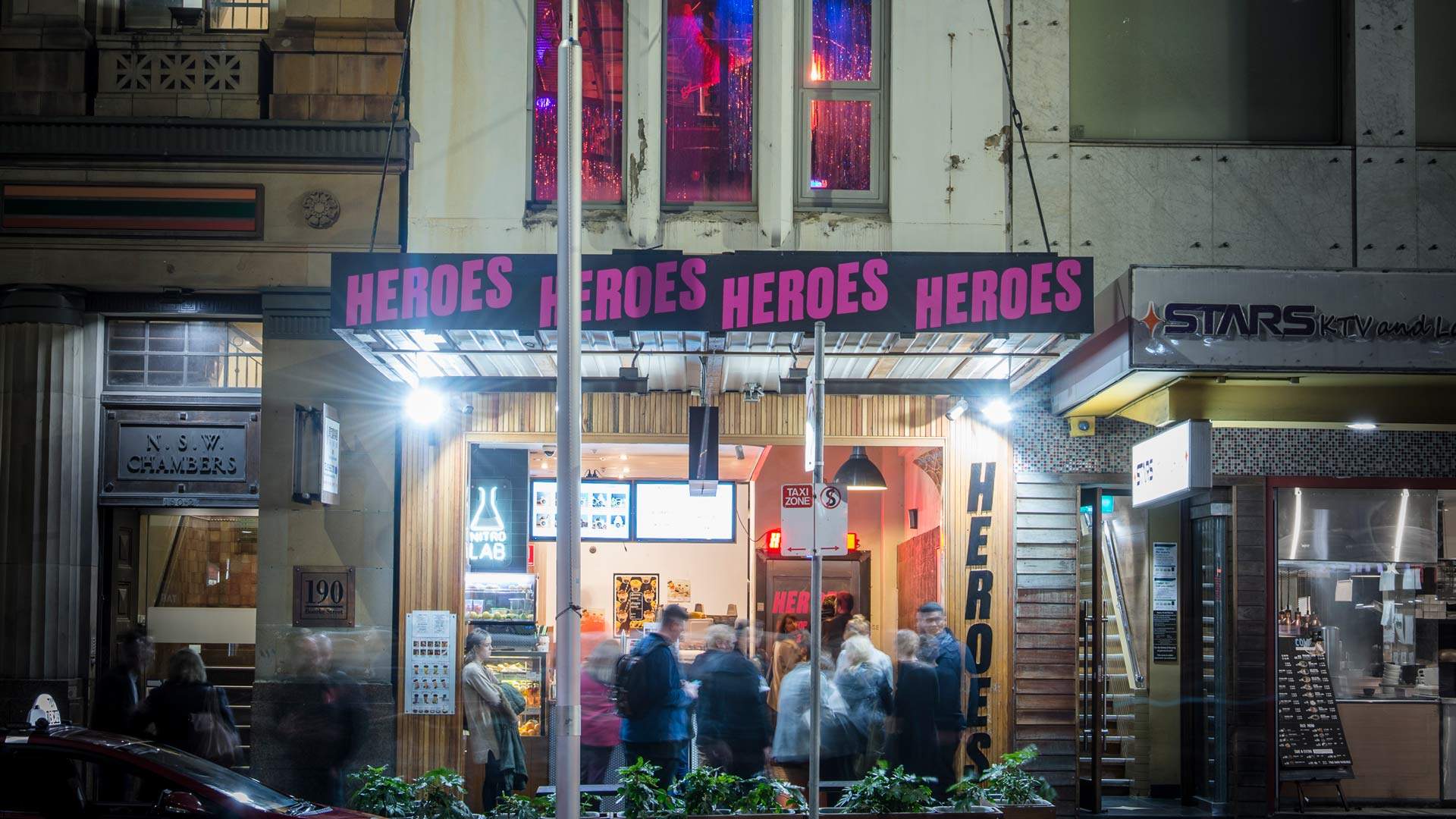 OVERALL WINNER: HEROES
Everyone loves a hero. Some people even hold out for one. So when a bar opens with heroes as its namesake, we're, naturally, interested. And when that bar features three levels of karaoke, barbecue and a rooftop bar, we're making a beeline to its front door. As soon you step out the elevator, senses are assaulted. Your eyes by a cacophony of colours from the treasures gathered on the owners' 10-day jaunt around Malaysia. Your ears by music reminiscent of roller skating rinks from Saturday afternoons in the early 80s. Your nose by the smell of the smoky grill. And this is before you put anything in your mouth. If you like your cocktails to have qualifications, order a Doctor Jones (rum, Melbourne moonshine sweet tea, turmeric and Malaysian sour plum) and the assault on the sense will be complete. Then there's the food — all the cooked offerings come straight off the charcoal grill.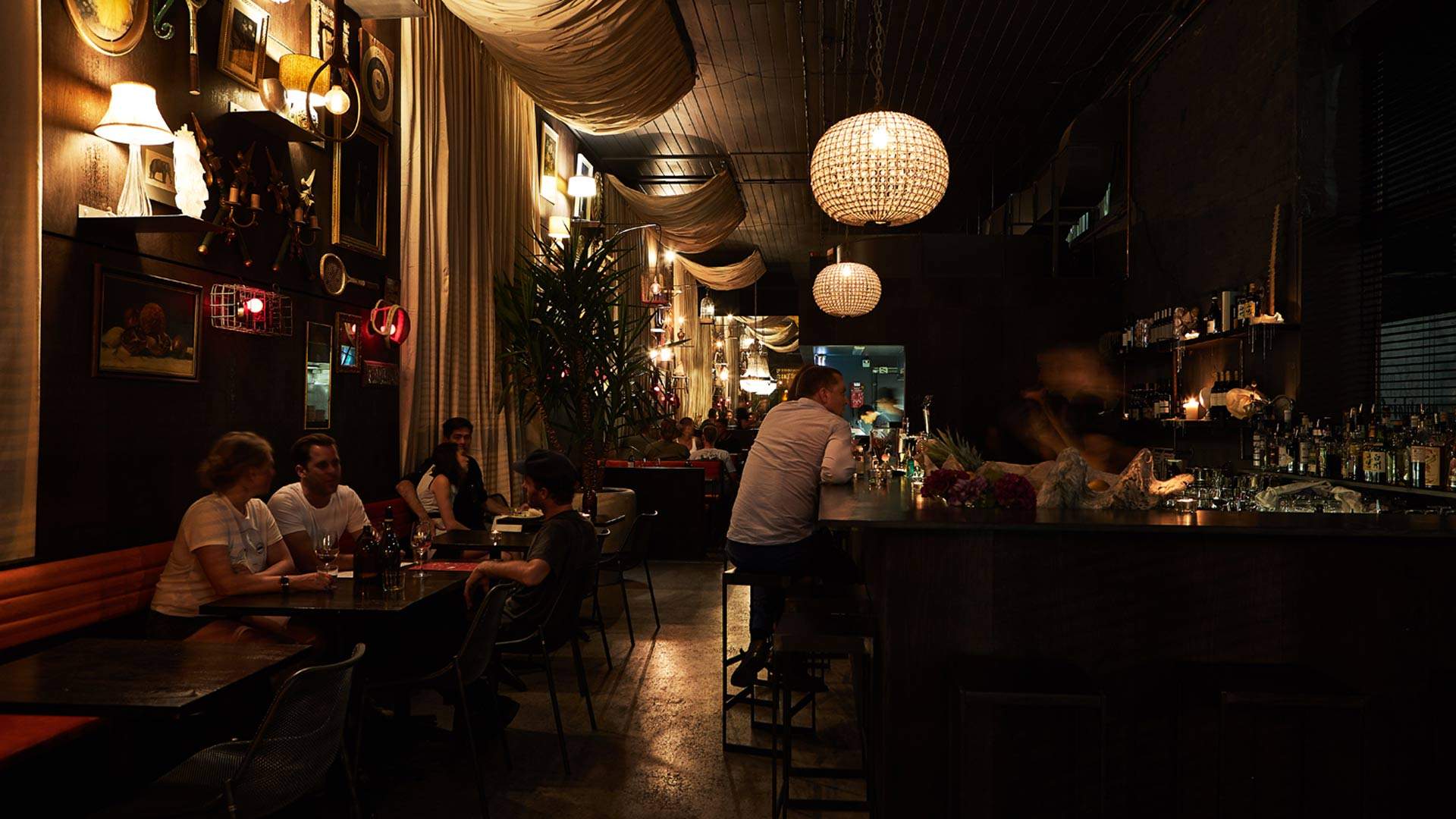 PEOPLE'S CHOICE: LOVER
The airy space at the end of Chapel Street — formerly home to a health food cafe — has crossed over to the dark side. Its once light and bright fit-out has been replaced by a dark and ambient decor combining recycled timbers, giant drapes of fabric hanging from the ceilings and a melange of antiques mounted on the walls. The food at this Windsor restaurant bar doesn't have a specific cultural identity, but rather draws influences from around the globe and has an overarching theme: nostalgia. Old classics you may have eaten as a child (like prawn crackers and pretzels) come out to play in modern forms. And this is done successfully by head chef Paul Turner — who hails from Cutler & Co. When it comes to drinks, cocktails are the word at Lover — all prettily picturesque and met with generous flavour. Visitors will find a blueberry and sage sour made with infused gin, as well as a coconut and elderflower margarita. Lover also sports a collection of white, red and sparkling wines from across the globe to match its diverse food offerings, too.

BEST NEW RESTAURANT
OVERALL WINNER: LAURA
It's hard not to be impressed when you visit Laura. Sweeping vistas, thoughtful food and appropriately matched wines poured into individually hand-blown Austrian glassware. When you drive from the city, it's an overland route. Even driving into Pt Leo Estate, you are surrounded by vines with no view of the sea. So the effect of entering the front doors of the cellar door and restaurant, seeing the verdant sculpture park running off down towards Western Port Bay, is nothing less than breathtaking. Laura is an intimate dining experience where the idea is to put yourself in culinary director Phil Wood's hands and follow a six-course tasting menu. The food side of the degustation takes you on a tour of the Mornington Peninsula with each course named after the location of the main element of the dish. The matched wines, on the other hand, are more of an international jaunt, with a couple of home visits in between. At any point in your journey, your waiter will happily pour whichever wine you are drinking into a less precious glass so that you can take a digestive stroll around the sculpture park. Make sure you do a 360-degree turn around Laura, the restaurant's namesake and monumental cast-iron head from Spanish sculptor Jaume Plensa.
PEOPLE'S CHOICE: SUNDA
If you learn — and respect — the intricacies of particular cuisines, you can successfully fuse them together. And that's exactly what is being done at Punch Lane's newest restaurant. Tucked behind Chinatown, Sunda marries together the flavours of Indonesia, Malaysia and Vietnam with native Australian ingredients with great success. Designed by award-winning architect firm Kerstin Thompson, Sunda is tastefully minimalistic, founded on a neutral palette of concrete and light timbers — allowing the true focus to fall on the food, whose vibrant colours beautifully contrast against the interiors. After having some house-made pickles to start, you could indulge in the oysters with coconut curry vinaigrette and Tasmanian pepperleaf. Or the roti with Vegemite curry diP. Yes, you read that correctly: Vegemite. It's combined with sourdough and blended to make a salty, creamy accompaniment to the Indian-style bread — the perfect intersection of cultures. The inventive cocktail list continues the same theme, uniting flavours from several countries. The Saigon puncH, for example, combines cognac, Chartreuse, lemongrass, ginger and lime; and the Sunda Sling pairs Tanqueray with andaliman pepper, Benedictine and soda.

Congratulations to all the winners. Our city is a better place with you in them.

Top image: Bentwood by Kate Shanasy.
Published on December 12, 2018 by Concrete Playground