FOOD & DRINK
Brisbane's Cult-Favourite Range Brewing Has Quietly Opened a Melbourne Taproom
Newstead's heroes of haze have opened a Scandi-inspired bar in Abbotsford with 24 taps pouring massive technicolour flavours.
Range Brewing might be unknown to most. After all, it's a Brisbane-based brewery with little in the way of distribution outside its own online store and Newstead brewery bar. But there's something about the style of the beers — modern, aggressively hopped, often with all the appearance and flavour of fruit juice — that lends itself to a cult following. With no core range, no marketing and after just three years in business, Range Brewing is letting Melbourne in on its secret.
Visitors are welcome to bring a pizza across the road from Rita's, but there's no food otherwise — it's all about the beers here. With 12 taps in the front bar and another 12 at the rear, to service the little beer garden on sunny days, Range pours predominantly hazy beers. This isn't a place for the traditionalists, and Range is proudly very modern in its style.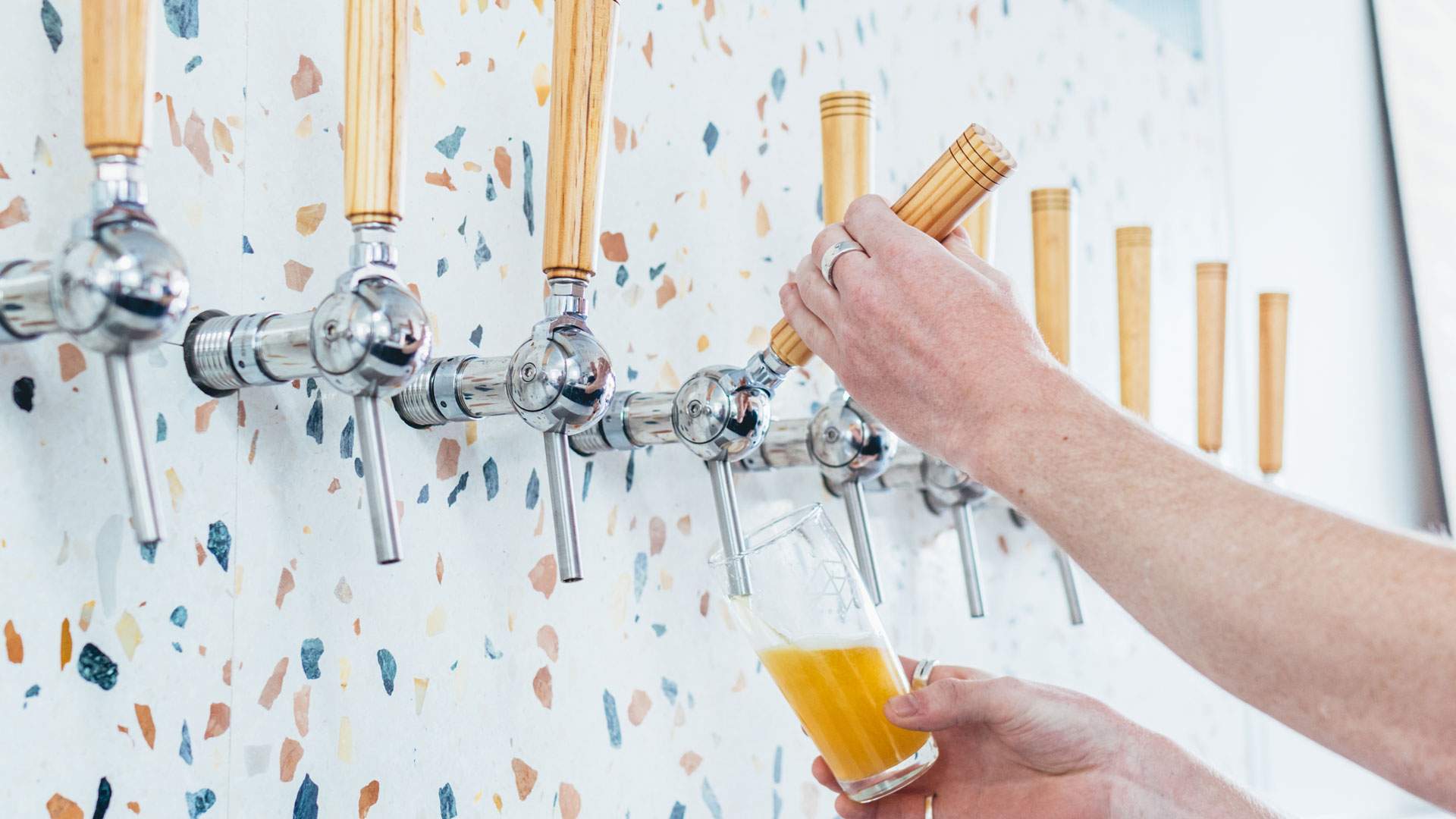 It was in East London, drinking a beer from UK haze-heads Cloudwater that founders Gerard Martin and Matt McIver knew they had to get in on it. "When Matt and I started the company, we were living in the UK," Martin tells Concrete Playground. "And about that time — about three years ago — this hazy beer style was becoming more popular. I remember sitting down and having my first one and being blown away by the flavour differences, and the aromatic and tropical flavours coming from it."
Expect to be blown away yourself. Here, it's predominantly hazy pale ales and IPAs, with plenty of hops and plenty of booze — there's not much below five percent ABV in these kegs. Some, like Plus One, are thickened with creamy lactose and oats, while Elephant in the Room is a juicy blend of New Zealand and US hops. There are sours, too, like the 3.7 percent watermelon, which is a clean and tart melon sour born from Brisbane humidity and perfect for a palate cleanser. There's also a lager from locals Mr Banks — the sole guest tap — but expect more guest appearances in the future.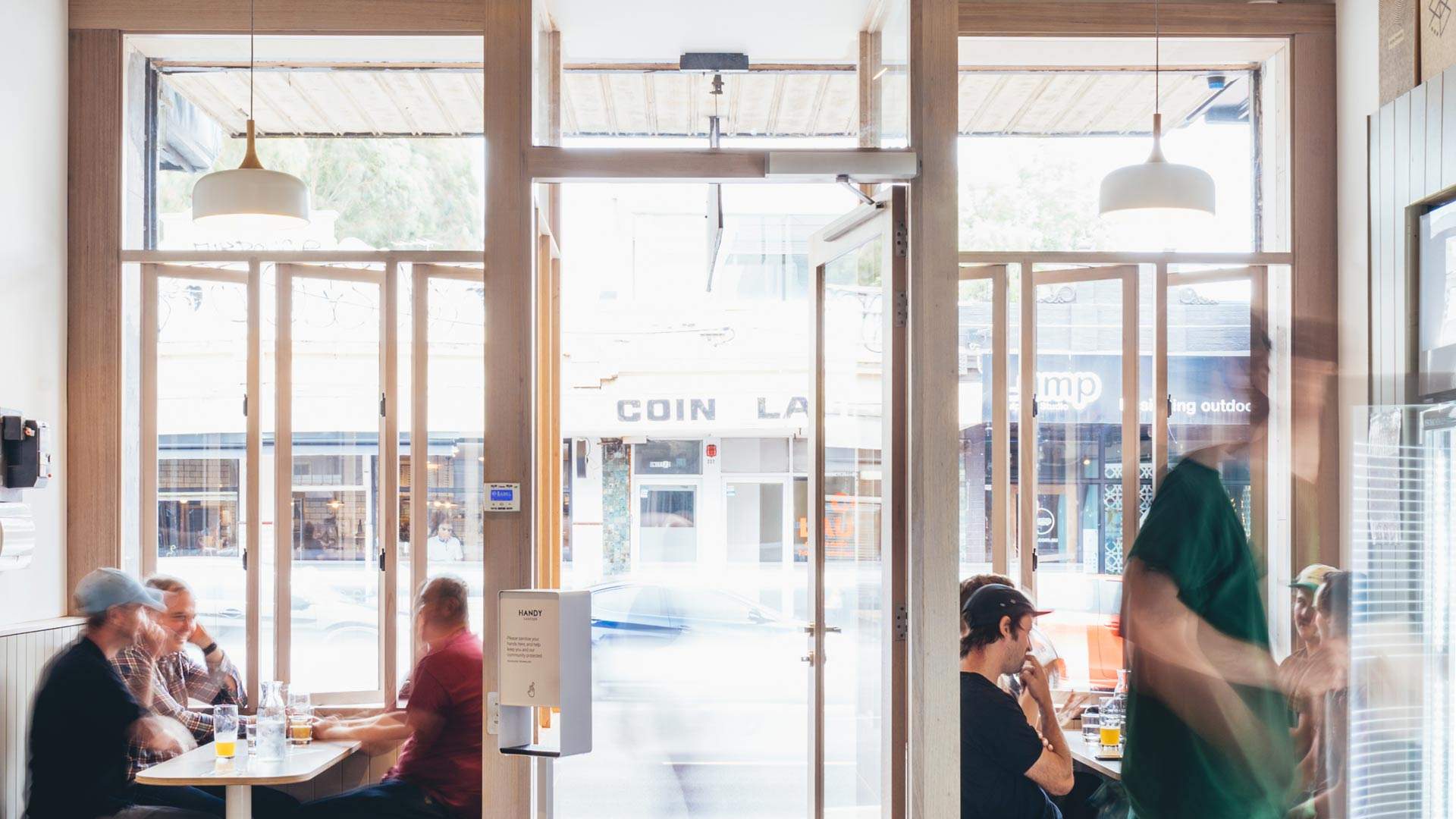 Two double-door fridges welcome visitors, with the latest can releases cold-freighted from Brisbane on a Friday to arrive in Melbourne by Tuesday. The ostentatious can art — by Brisbane-based designer Jess Vandersande — flashes like a neon sign amid the reserved taproom decor.
The subtle monochrome of Range Brewing's new Johnston Street taproom gives away little about what's happening inside the kegs. It's all whites, beiges, unpolished rafters. "It's kind of like a cafe vibe," Martin says. "It's a flip of what you would expect for a brewery taproom."
The design — by Brisbane's Hurley Architects — evokes classic Queensland, with its outward-opening windows and vertical joinery, combined with American diner-style booth seating and the clean simplicity of Scandinavian design. It's like the chaser to the shot.
Find Range Brewing at 272 Johnston Street, Abbotsford from 3–10pm Wednesday–Thursday and 12–10pm Friday–Sunday.
Published on December 16, 2020 by Evan Jones