How to Drink Tequila Like a Grown-Up (And Why You Should)
It's not that we've been drinking tequila wrong — it's that we can be drinking it better. Two experts share their tips on how to upgrade your tequila game.
in partnership with
Tequila is having a moment right now. Global demand for the Mexican spirit has been soaring over the past decade, and is still on the rise. Some will say that it's been a long time coming, but this is probably not too much of a surprise given tequila's dubious (and long-held) reputation as a spirit downed as a shot.
What should be less of a surprise, however, is that tequila is an incredibly complex spirit with a proud legacy, and is a product that is more than worthy of being taken seriously. It's not that we've been drinking it wrong — it's that we can be drinking it better.
POPULARITY IS SOARING
Paul Hayes, CEO and co-founder of VIVIR Tequila, is playing his part in helping change perceptions. Launched in 2019, the UK brand made it its mission from the outset to "become the first independent brand based [in the UK] to support and educate on the category, and show Britain just how special quality tequila could be". This is a message that Hayes is hoping translates to the Antipodes, with the recent launch of VIVIR in Australia.
Kevin Griffin (pictured above), National Sales Director of the spirit's Australian distributor Highball Spirits, believes we're well on our way. "Tequila is the fastest-growing spirits category in Australia right now, and a huge part of this is due to education around this fantastic spirit," he says.
Griffin credits tequila's recent upswing on our shores to two converging factors: "Trends globally have shown us that people are premiumising when they are enjoying alcohol, so the movement from shots to cocktails is evident. During lockdowns when people were forced to make cocktails at home, you guessed it, most people turned to the classic margarita." Griffin notes a growth of more than 30% in recent demand for triple sec as evidence that the margarita is "now most definitely Australia's most popular cocktail".
A QUICK NIP OF TEQUILA EDUCATION
Of course, there's a lot more to appreciating tequila than the margarita. But first, a very quick overview of the basics. First produced in the 15th century, tequila is made from the twice-distilled fermentation of the hearts of blue agave plants. Like other iconic food and drink products, its production is protected by Mexican law — all products advertising themselves as tequila must be made in the spirit's namesake town in the state of Jalisco, and must contain at least 51% of blue agave plant distillate.
There are three main types of tequila: blanco, reposado and añejo. The latter two refer to tequila that's been aged following its distillation — reposado rests in oak barrels for anywhere between two to 12 months, while añejo ages between one to three years (anything beyond three years is called extra añejo). Blanco is tequila that's immediately bottled following distillation or aged for a very short period of time, and is often seen by tequila connoisseurs as the purest expression of the spirit. Whichever you prefer, though, there are differences in taste between tequila made from valley and highland agave plants — the former can be identified by its earthier flavours, while the latter is usually sweeter and fruitier.
VIVIR produces all three of these expressions, as well as a tequila-based coffee liqueur, using premium Weber Blue Agave grown for nine years in the Jalisco highlands. The agave hearts, or piñas, are cooked in traditional hornos (clay ovens) and with natural volcanic spring water from a well at its distillery. The result is a natural, fresh, flavour-packed spirit that celebrates the agave plant.
ENTER: VIVIR
Griffin thinks that VIVIR has entered the Australian market at exactly the right time. "VIVIR as a brand is a fantastic example of incorporating modern branding with a very traditional recipe process behind it. Consumers are choosing brands that have similar ethos to theirs so the fact that VIVIR follows sustainable practices in its production of tequila will sit well with the consumer."
More importantly, perhaps, is the one fundamental that slick packaging can't hide: taste. But Hayes reckons VIVIR is on to a winner in that department, too. "Sip our expressions over ice and you'll immediately notice a difference — the smooth rounded mouthfeel and earthy fresh tastes of agave couldn't be further from that terrible shot we've all had at the end of a night out."
To that end, Hayes is also excited about VIVIR becoming a potential gateway for people to appreciate tequila in new ways. "We often hear people saying they really want to 'get into tequila', but they don't know what to buy or how to drink it. We're always there to help out."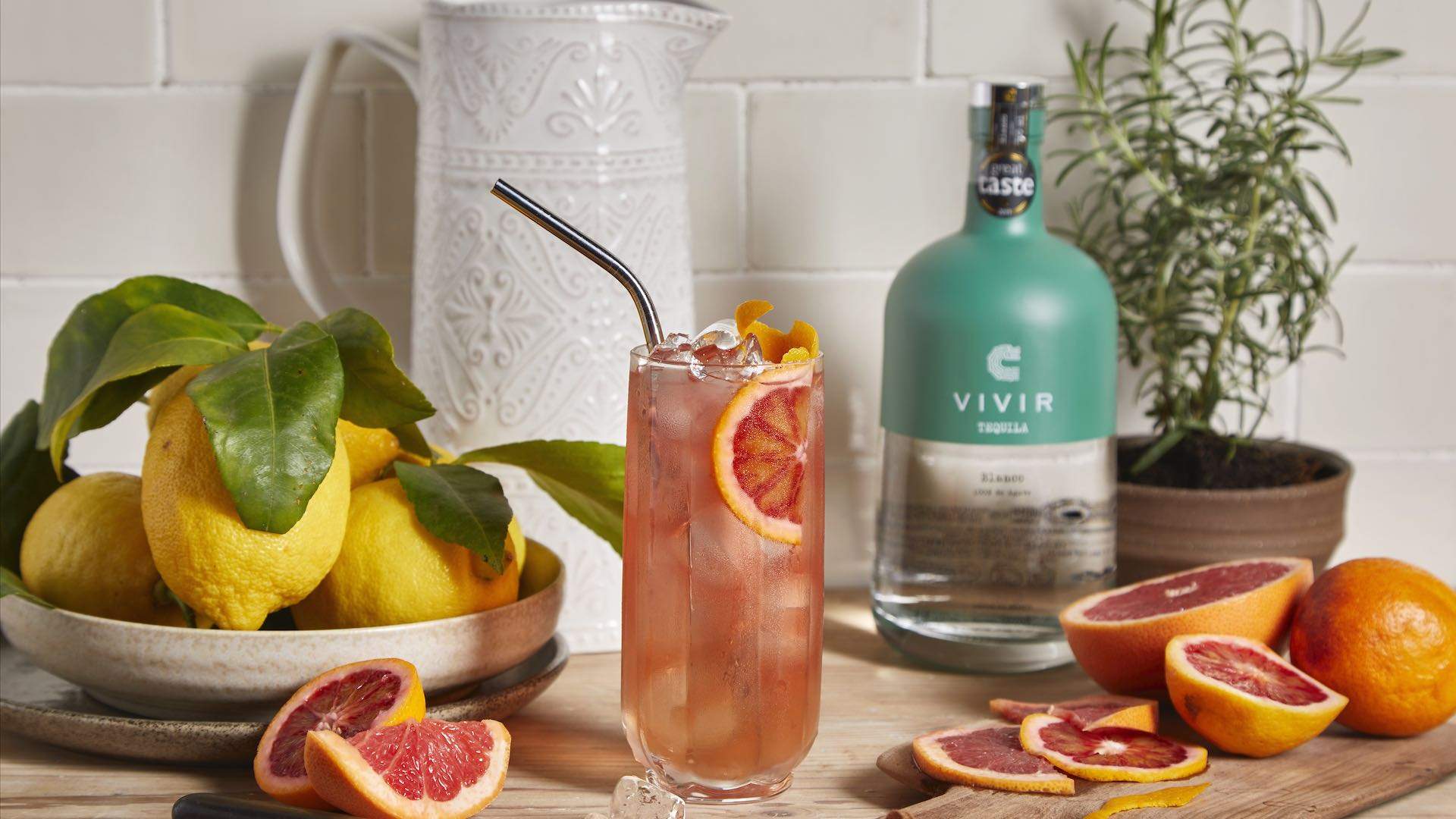 SERVING SUGGESTIONS
So, where to start? For Hayes, less is more. "A generous measure of VIVIR Tequila Añejo, which has been aged in bourbon barrels for 18 months, served over a large cube of ice in a whisky tumbler is my go-to serve. It lets the rich smoky aromas and unique flavours take centre stage, and is the perfect sipper for an evening after a long day behind a screen."
Griffin is also a fan of keeping things simple. "Depending on the occasion, my drink of choice for years has been tequila blanco with tonic water and a slice of orange."
And if it's cocktail hour? Griffin likes a rosita, an agave-fuelled cousin to the classic negroni that calls for sweet vermouth instead of dry. "A tequila-based negroni using the VIVIR Reposado is a great drink," he says. Griffin also likes switching up his old fashioned game with a tequila twist. "I love using the VIVIR Añejo Tequila with either a dash of honey water (1:1 water and honey) with a dash of chocolate bitters. It's a delicious drink that really highlights the sweeter vanilla notes in an aged tequila."
No matter how you choose to enjoy tequila, you're in for a treat. "Good quality tequila tastes amazing and is wonderfully versatile," Hayes says. "There is so much craft and skill that goes into producing superior quality tequila and the results between brands can be as different to taste as whiskies. It really is a spirit to savour."
To discover more about VIVIR Tequila, where to try it, where to buy it, as well as cocktail recipes, head to the website.
Introducing Concrete Playground Trips
Book unique getaways and adventures dreamed up by our editors