FOOD & DRINK
Four Impressive Garnishes for Pre-Bottled Cocktails When You Want a Drink (But CBF Bartending)
Try these low-effort, high-reward garnishes to level up your next cocktail hour.
in partnership with

As we enter holiday mode, it's time to celebrate with our nearest and dearest. But entertaining can be stressful — and we can't all be master cocktail makers.
Luckily, Archie Rose has made it easy for us to enjoy a delicious cocktail without needing to do any heavy lifting, thanks to its range of limited-edition bottled cocktails that bring the bar to you. Whether you want a refreshing beverage on a hot summer's day or a classy nightcap to impress guests at your next dinner party, these pre-made cocktails are a sure thing.
And even though the drinks are already taken care of, you can take your serve to the next level with our picks of easy (but effective) garnishes that will make anyone look like a master bartender.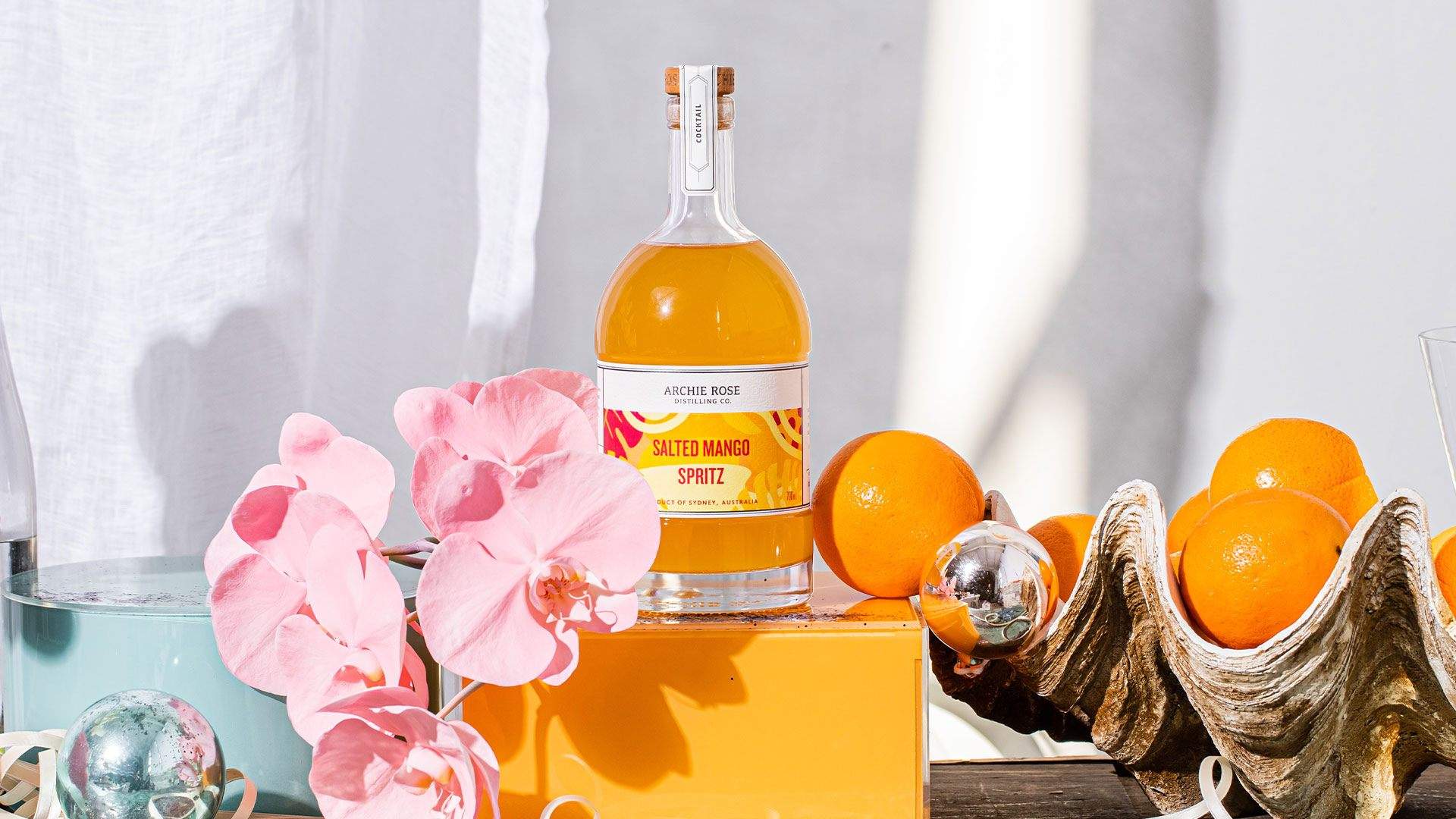 THE MOOD: Bright and summery
THE SERVE: Salted Mango Spritz with sparkling wine and dehydrated mango
For something bright and fresh, grab a bottle of the limited-release Salted Mango Spritz. This cocktail is summer in a bottle, and features Archie Rose Native Botanical vodka, tropical mango, salted caramel and chamomile. This salty sweet beverage is impressive enough when served straight from the fridge neat. However, you can really up your game with a couple of additions.
Balance out the sweetness — and add a bit of sparkle — by topping up your glass with a splash of champagne or sparkling wine. Finally, add a slice of dehydrated mango as a garnish for an extra special touch.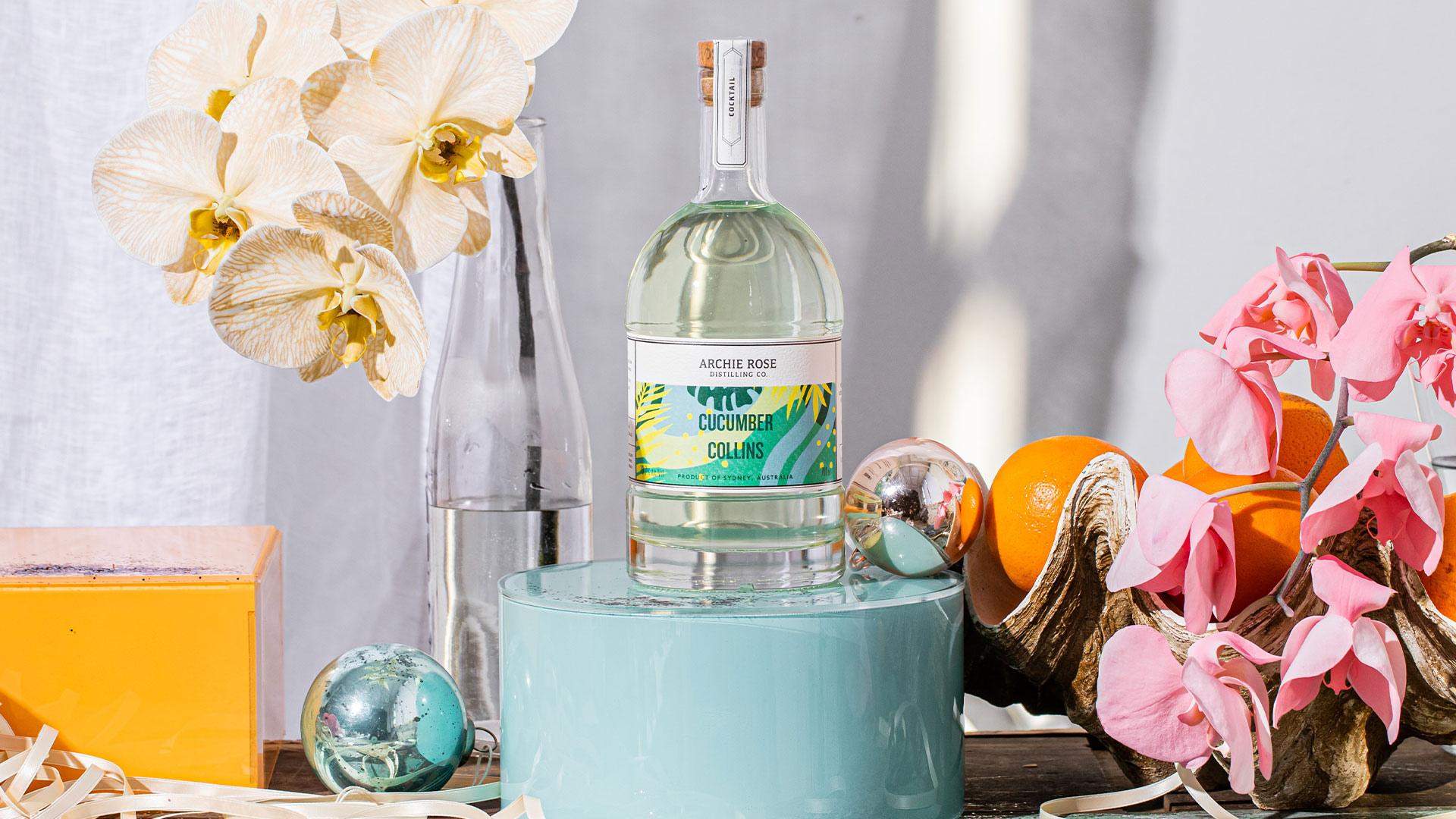 THE MOOD: Cool and refreshing
THE SERVE: Cucumber Collins with elderflower tonic and a ribbon of cucumber
If you're after something refreshing and aromatic to enjoy poolside, the Cucumber Collins is a perfect addition to any summer's day. It features juniper notes from Archie Rose's Bone Dry Gin, as well as accents of cucumber and jasmine.
This cocktail will impress any guest for your end-of-year entertaining, especially with a couple of simple tweaks. Sure, you could serve it neat, but we recommend you jazz it up with soda or tonic water — try Fever-Tree elderflower for an extra hint of sweetness. Finally, add a cucumber ribbon (simply by taking a peeler to a cucumber) to enhance the flavours in the serve.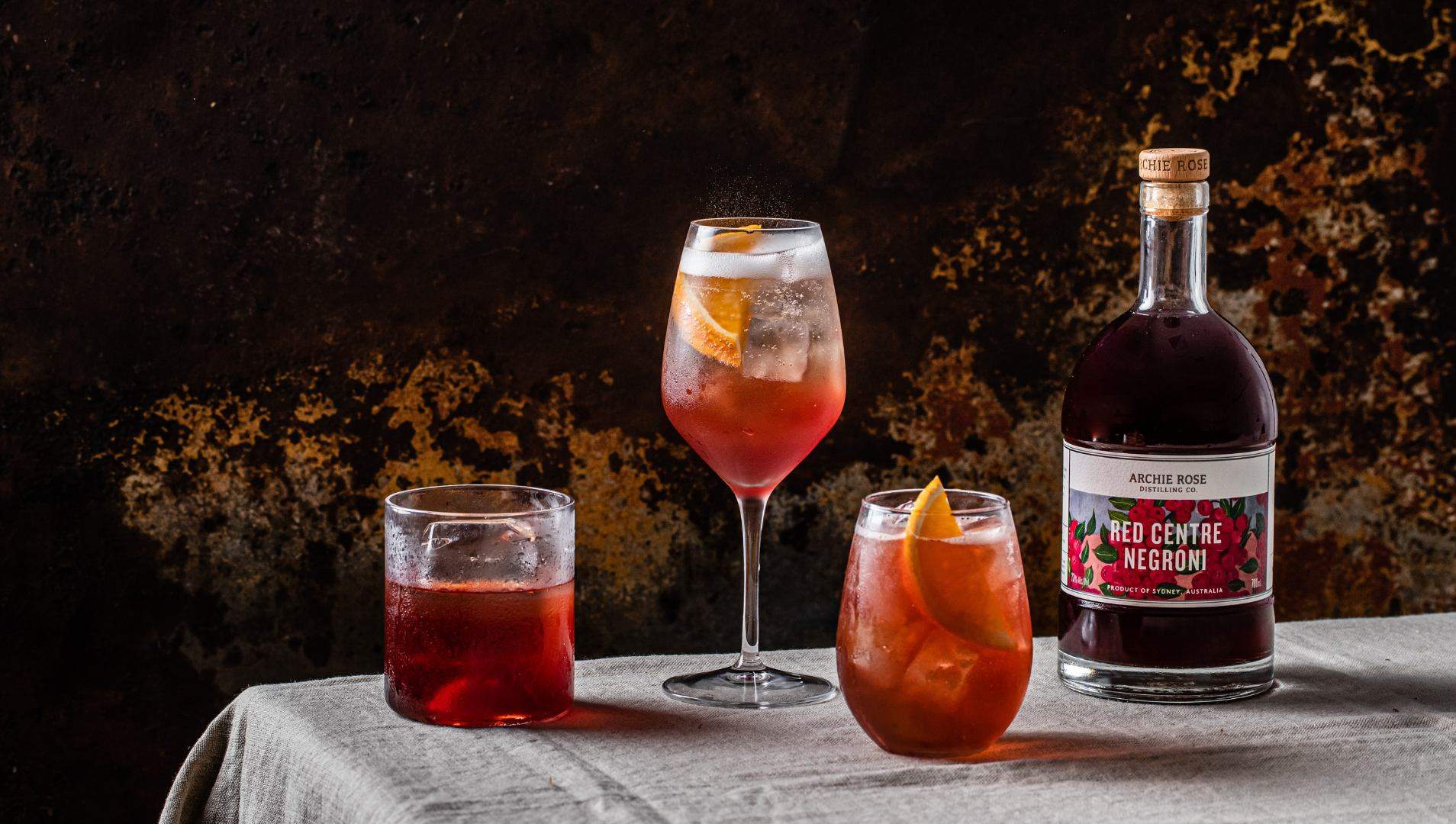 THE MOOD: Smooth and sexy
THE SERVE: Red Centre Negroni with pink grapefruit tonic
There's nothing like a negroni on the rocks to kick-start an evening. This bottled version is from the Archie Rose Native Australian range celebrates local ingredients and adds a homegrown twist to the classic. This all-Australian negroni features gin with sweet vermouth by Victorian-based maker Maidenii, and Økar Island Bitter sourced from South Australia's Applewood Distillery. With notes of native riberry and strawberry gum, this cocktail is bursting with flavour.
To take it to the next level, top with soda water, sparkling wine or Fentimans pink grapefruit tonic water. Garnish with a twist of grapefruit, a slice of orange, or a sprig of rosemary to compliment those native flavours.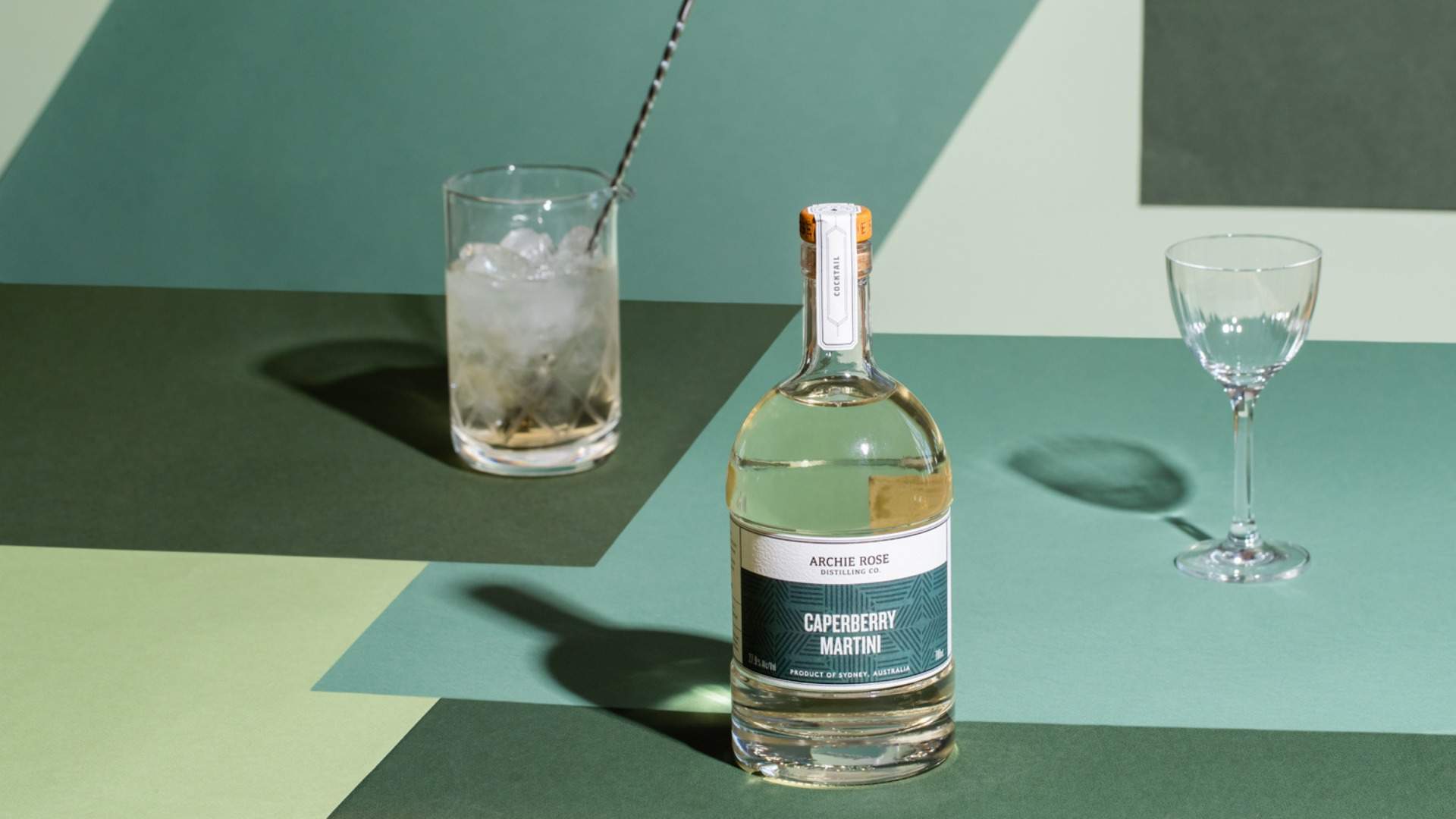 THE MOOD: A classy nightcap
THE SERVE: Caperberry Martini garnished with a rosemary-speared olive
For a classy nightcap to impress your guests, try a Caperberry Martini. This twist on the classic is crafted using Bone Dry Gin, Belsazar dry vermouth, sake and caperberry. Keep your bottle in the freezer and serve neat, or over ice if that's your thing.
Or, you could enhance the subtle savoury flavours with a garnish to really bring the bar into your home. A classic Sicilian olive speared in a sprig of rosemary is a great addition for some fragrance. Or keep it simple with a whole-stemmed caperberry. If you really want to impress, then make a lemon twist with a knife or a peeler and wipe around the rim of the glass before serving to add an aroma of citrus.

Discover Archie Rose's full range of pre-bottled cocktails at the website.
Published on December 09, 2021 by Reema Hindi