FOOD & DRINK
Eight Excellent Bowls of Pho to Slurp Your Way Through in Melbourne
No matter where you live in Melbourne, a steaming hot bowl of pho is never far away.
A quintessential winter staple and favoured comfort food for many — soup noodles have earned their reputation as a trusty go-to during Melbourne's colder months. Perfect for a lazy morning in or late night out, you can't do much better than a steaming bowl of warmth, and luckily for Melburnians — there's a noodle soup for just about any situation.
Enter pho, arguably Vietnam's most recognisable dish: rice noodles, delicious broth and a smattering of herbs and veggies. This humble dish is the ultimate balancing act, highlighting the richness of your protein (usually beef or chicken) while keeping it light on the palate with a clear but flavourful soup. Plus, there's added depth from the additional zest from lemons. From Springvale to Sunshine — here are some you won't want to miss.
There are currently restrictions in Melbourne including a curfew and five-kilometre travel limit. For more details or more information about the rules in place at the moment, head to the Victorian Department of Health website.

CO DO, RICHMOND
Most debates about pho in Melbourne mostly boil down to Team Richmond, Team Footscray and Team Springvale — and first up to bat is Co Do, right in the heart of Richmond's bustling Victoria Street. The long menu might be a touch intimidating for the uninitiated, but with pages upon pages of noodle soup options, Co Do is sure to please. At the more accessible end, find classic rare beef, brisket or meatballs, and for the more seasoned pho slurper — tripe and offal. There's also Co Do's specialty bun bo hue, a tangy chilli beef version of soup noodles, which comes with its own array of toppings. Service tends to be quick, and food is guaranteed to satisfy.
Get it during lockdown: Delivery is available via UberEats and Doordash, or you can order for takeaway by calling the restaurant on (03) 9421 2418.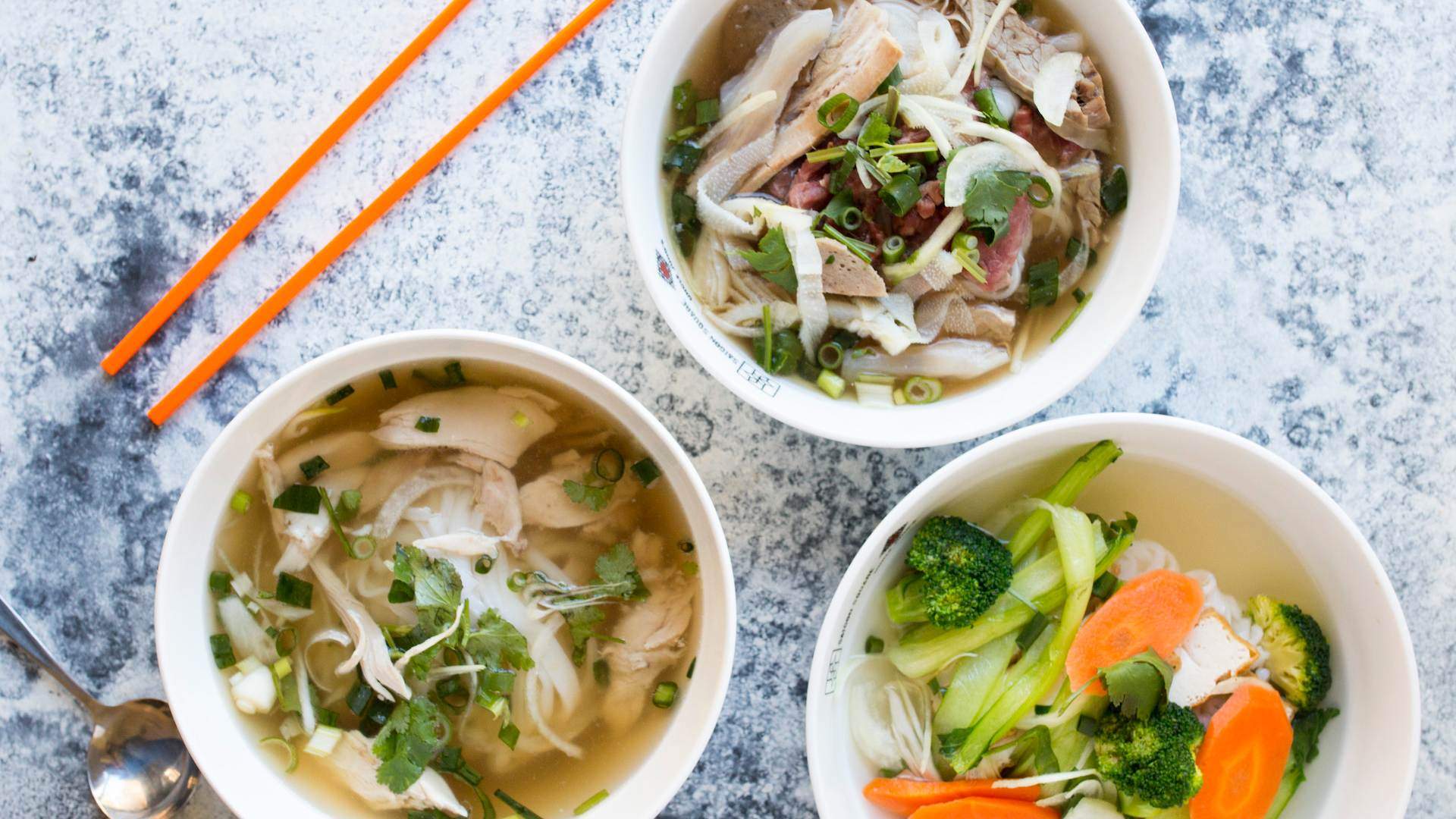 I LOVE PHO, RICHMOND
This one's all in the name. With a focused and easy-to-read menu that doesn't compromise on variety, I Love Pho is your go-to for a quick and no-fuss meal. Again, there are topping options all across the spectrum including brisket, meatballs, tendon, heart, liver and giblets — but notable here is a vegetarian option, with tofu and veggies. Either way, you're sure to get the classic flavour and soft mouth-feel you'd expect from a top quality pho.
Get it during lockdown: You can order takeaway or delivery by calling (03) 9427 7749, or heading to the website.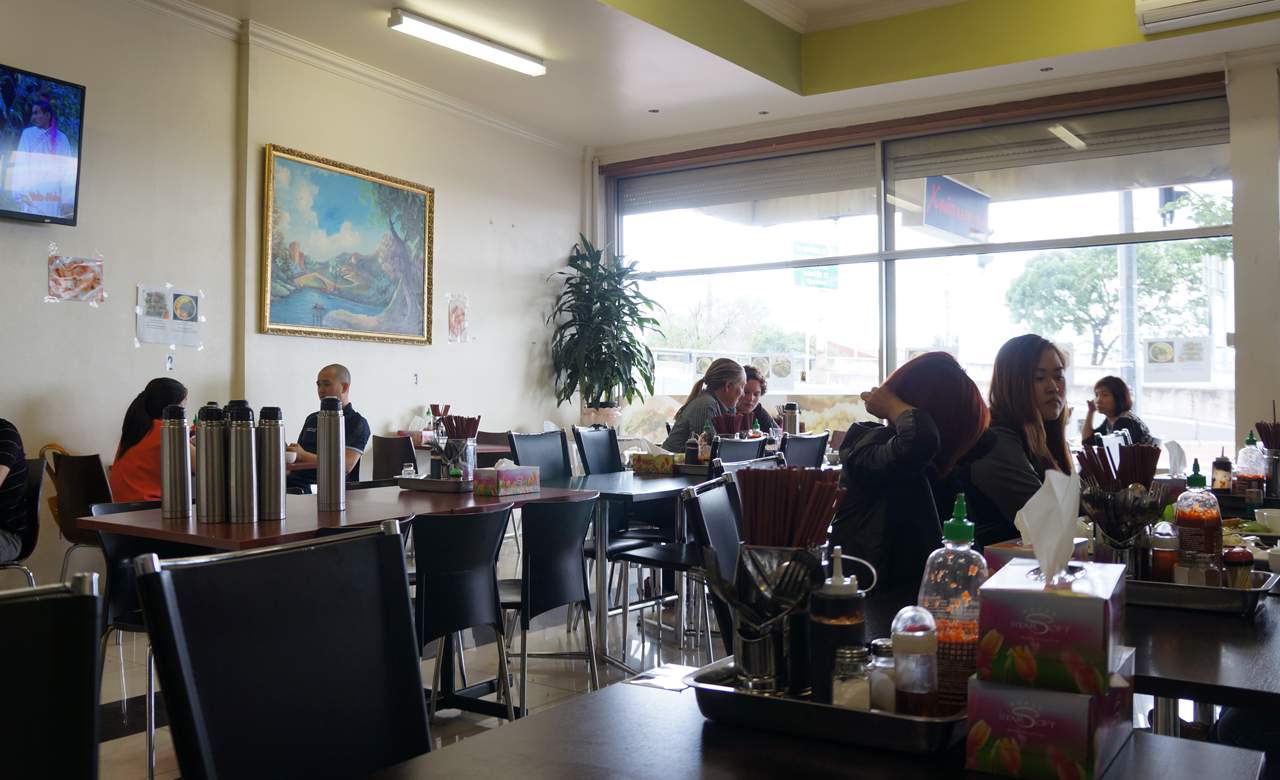 XUAN BANH CUON, SUNSHINE
Moving westwards, Xuan Banh Cuon is perhaps a little off the beaten path, but it boasts a delicious variety of noodles worth the trip. As always, there's pho — chicken, beef or combination — but also glass noodles and vermicelli varieties should you wish to mix it up from the usual rice noodle suspects. The banh da cua, a noodle made out of red rice paper which is popular in Northern Vietnam, is also on the must-try list.
Get it during lockdown: Call the restaurant on (03) 9364 8992 to order for takeaway.

PHO CHU THE, FOOTSCRAY
Representing Team Footscray is Pho Chu The, an unassuming corner restaurant — even as far as pho restaurants go — in the heart of Melbourne's west. Blink and you'll miss the relatively pared-back menu, consisting largely of pho bo (pho with beef). Where Pho Chu The really shines is the punchiness of its broth, perfectly balanced to pull together the noodles, herbs and meat. The relatively slim set of options might even make ordering easier: you know you'll get a cohesive and flavourful meal no matter what you choose.
Get it during lockdown: For restaurant pick up, make an order by calling (03) 9687 8265.


GOOD DAYS, BRUNSWICK
A quick pause in Melbourne's inner north means a visit to Good Days on the iconic Sydney Road. The pho here is a touch pricier than the other venues on this list, but it's distinguished by its commitment to ethically sourced protein. Large chunks of the menu are also vegan for your non-carnivorous buddies. The centrepiece of the meat-free menu is a mushroom pho with a rich vegetable broth, served with a helping of grilled and braised mushrooms. The interior of Good Days is dominated by bar seating and is not particularly large, so just make sure you come prepared to queue once restrictions lift.
Get it during lockdown: The restaurant's currently open for takeaway — order via the website or by calling (03) 9041 2000.

 

View this post on Instagram

 
PHO HUNG VUONG, SPRINGVALE
Locals in Melbourne's southeast swear by Pho Hung Vuong. Though this hole-in-the-wall is inconspicuously tucked in the middle of a small block, between an Asian grocer and real estate agency, diners come from far and wide prepared to line up for the noodles inside. The protein options here aren't particularly novel, but each of them is hearty and delicious — the beef special and chicken thigh are particularly stellar choices. Pho Hung Vuong is a Saigon-style, Southern Vietnamese restaurant, so expect big flavour here in contrast with the cleaner palate typical of Northern Vietnamese pho. If you're not prepared to brave the queue here, try its sister venue in Clayton, open seven days a week.
Get it during lockdown: The restaurant's currently open for takeaway — order by calling (03) 9558 5147.

PHO THIN, CBD
With pho in just about every corner of the city, Melbourne's CBD is no exception. Even among all the restaurants serving pho here, Pho Thin is a standout. Its signature pho features beef that has already been stir-fried in garlic, before taking the plunge into a soup that is cooked overnight to maximise flavour. This recipe also has decades of history, first developed in Hanoi by the restaurant's namesake Nguyen Trong Thin in 1979. There are a small number of other pho configurations, including a vegetarian option, and all pho can also be enjoyed with a crispy Vietnamese donut dipped in broth.
Get it during lockdown: Order for takeaway via the website, or try UberEats and Doordash for delivery.

PHO BO GA MEKONG VIETNAM, CBD
A Melbourne pho round-up would not be complete without the truly iconic institution of Mekong. With a steady stream of customers passing through its inner-city doors — and a steady stream of delicious noodles more than keeping up — Mekong is a must-visit if you're in the city and hungry for pho. Here, you are spoilt for choice: the usual topping options are all there, accompanied by fish balls, blood jelly and chargrilled chicken. There is a vegetarian option here too, so the whole crew will be well-fed. In addition to all this, the drinks menu has a variety of smoothies and three colour bean drinks to tide you into summer. The avocado smoothie is a crowd favourite, although the Vietnamese white coffee and mint lemon ice crush are also worth a spin.
Get it during lockdown: The restaurant's currently delivering via UberEats.
Images: Pho Thin, Mekong — Kashish Sandhu, Co Do, I Love Pho — Abir Hiranandani.
Published on August 27, 2021 by Mark Yin