FOOD & DRINK
How to Make, Eat and Love the Xiao Long Bao
How to create and — more importantly — devour the perfect xiao long bao according to a real-life dumpling master.
How to Make, Eat and Love the Xiao Long Bao
How to create and — more importantly — devour the perfect xiao long bao according to a real-life dumpling master.
---
This weekend we celebrate the Year of the Goat for Chinese New Year, and we can't stop thinking about the feast that awaits us. In Chinese dining, dumplings are without a doubt the biggest crowd pleaser, and we thought it was high time we learned the art of their creation. So we went straight to the experts.
And where better to look to than New Shanghai? Located in Emporium's cafe court, this Shanghainese chain has earned rave reviews for their handmade xiao long bao (steamed soup dumpling) and the sheng jian bao (pan-fried pork dumpling). Dim sum chef Yihua Wu is the dumpling master here — he's been making dumplings for 10 years, and it's safe to say he has his practice down to a fine art. He first learned how to make dumplings at home in Wuxi, and claims that it took years of practice to get him to the skill level he currently possesses.
His xiao long bao consist of 18 folds at the tip of the dumpling. Considering how tiny and delicate these dumplings are, this is no easy task. Wu says it took him years to master the practise, and his tip for perfect parcels? Try to make the folds as even as possible. Now, Wu can make a basket of eight dumplings in two minutes, and on a weekend day he can be making up to 200 baskets a day. You can do the math.
We love a good dumpling, and we're guessing that you do too. So without further ado, here is how you make — and eat — authentic dumplings.


THE DOUGH
Make a dough using simple ingredients of flour and water. The dough needs to be the right softness and elasticity to be used for making dumplings, so measurements and temperature need to be carefully monitored when preparing the dough. For the sheng jian bao, yeast is also added to the dough — that ensures they are more bulbous when fried, and have a breadier texture in comparison to xiao long bao. Let the dough rest for at least 15 minutes before filling.

THE FILLING
While the dough is resting, you can mix up your dumpling filling. Any sort of mince meat is a good base, just as long as it still contains fat so the meat doesn't go dry and the dumplings stay juicy. You can also throw some finely-chopped vegetables in the mix for some extra flavour.
Ever wondered how they get the soup in the xiao long bao? It comes from boiled pig skin that has had the fat removed, and when the liquid is left to cool, it gets a sticky consistency, leaving you with a jelly substance. This jelly is then mixed into the mince filling, and when it is heated, it becomes liquid once more — and the dumpling is filled with soup.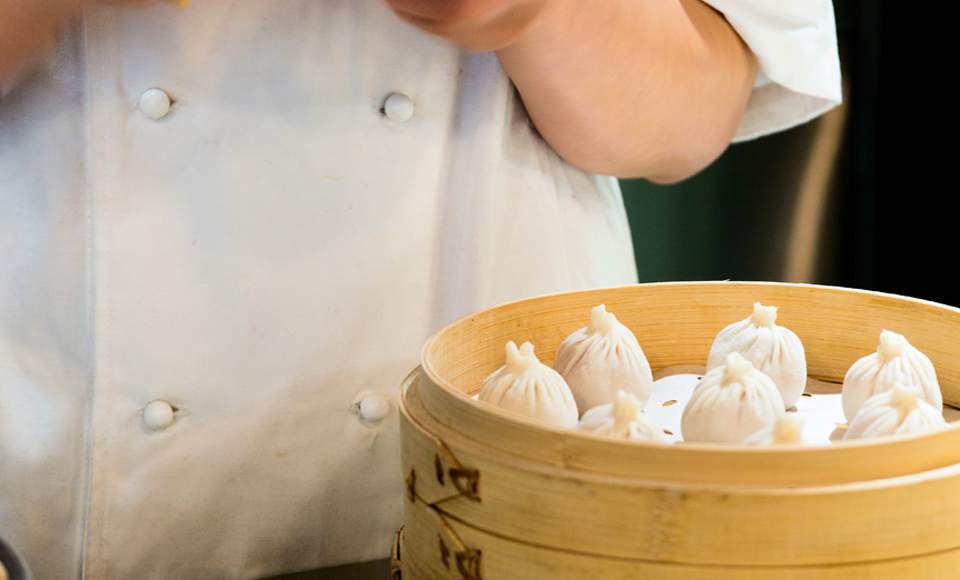 PUTTING IT ALL TOGETHER
Divide the dough into small balls and roll out into perfect circles, approximately 5cm in diameter. The dough should be close to 1mm thick, so roll them out so they are thin, but not too delicate. A good teaspoon of filling is added to the centre of the flat dough circle, and then the edges are brought together and folded many times. To be honest, this is certainly the most difficult part for beginners, so if you are playing at home, you'll need a bit of practice to make perfect. Once all the folds are made, pinch the tip of the dumpling closed. You should have something that looks like an adorable mini moneybag.

COOKING
Xiao long bao are steamed in a bamboo basket for four and a half minutes. Fried dumplings are cooked for about eight minutes.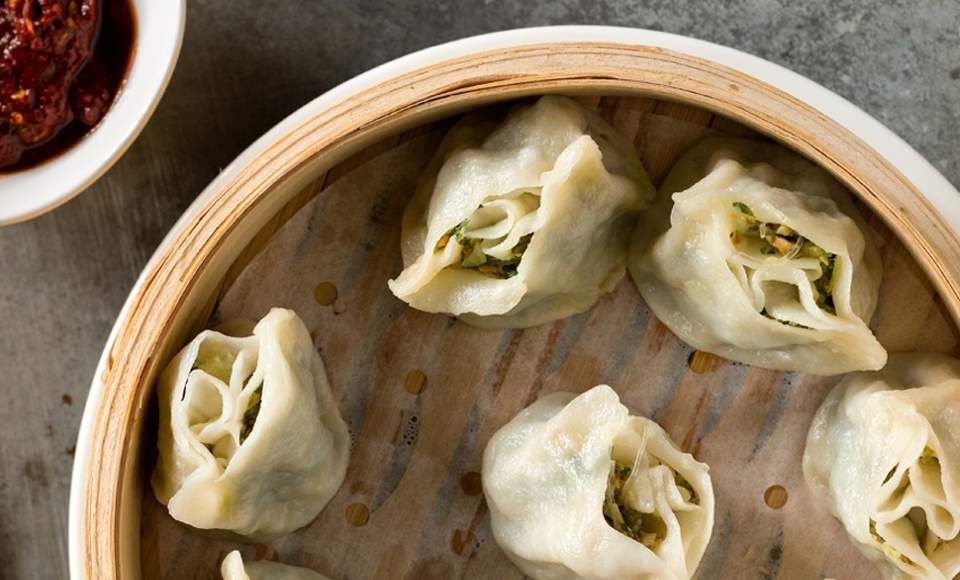 EATING
Yes, there is a correct way to eat these dumplings, and it will save you from making a mess and burning your taste buds. Or at least it will ensure you don't do it again. For xiao long bao, sit the dumpling in a soup spoon and bite only the tip off first, to release steam. Once it has cooled slightly, you can suck out some of the soup. From there, you can eat the dumpling as you like — but this way, you won't burn your mouth and spill the soup. For the sheng jian bao, you can actually stab them to release some steam before taking a bite, and you don't have to swallow it whole — it's best enjoyed over a few bites.

New Shanghai are celebrating Chinese New Year with selection of special dishes in addition to their regular menu. We can vouch for their xiao long bao. newshanghai.com.au
Published on February 20, 2015 by Hannah Valmadre