Gelato Messina Is Bringing Back Its Bake-at-Home Fairy Bread Cookie Pie
It's topped with more 100s and 1000s than you've probably seen since your childhood birthday parties.
Another week, another cookie pie. That's how it feels sometimes thanks to Gelato Messina's beloved desserts — and no, we're not complaining. After the gelato chain first introduced its cookie pies to the world in 2020, it has kept bringing the OTT dessert back. We all need an extra dose of sweetness every now and then, obviously, including while both Sydney and Melbourne are in lockdown.
So, it should come as no surprise that Messina is serving up the decadent dessert yet again. This time, though, it's quite the Frankenstein's monster of a dessert. This version is also a returning favourite — and, if you like fairy bread, cookie pies and Messina's gelato, prepare to get excited.
Hang on, a cookie pie? Yes, it's a pie, but a pie made of cookie dough. And it serves two-to-six people — or just you. You bake it yourself, too, so you get to enjoy that oh-so-amazing smell of freshly baked cookies wafting through your kitchen.
Now that you're onboard with the overall cookie pie concept, the fairy bread version really is exactly what it sounds like. That crunchy, crumbly cookie dough is filled with milk and dark Messina chocolate chunks, as well as vanilla custard. It's then topped with more 100s and 1000s than you've probably seen since your childhood birthday parties. It wouldn't be a fairy bread version otherwise, of course.
You can only buy this pie in kits, which means that you'll get some of the cult ice creamery's famed gelato along with it. You can opt for a 500-millilitre tub for $38, a one-litre tub for $44 or a 1.5-litre tub for $48.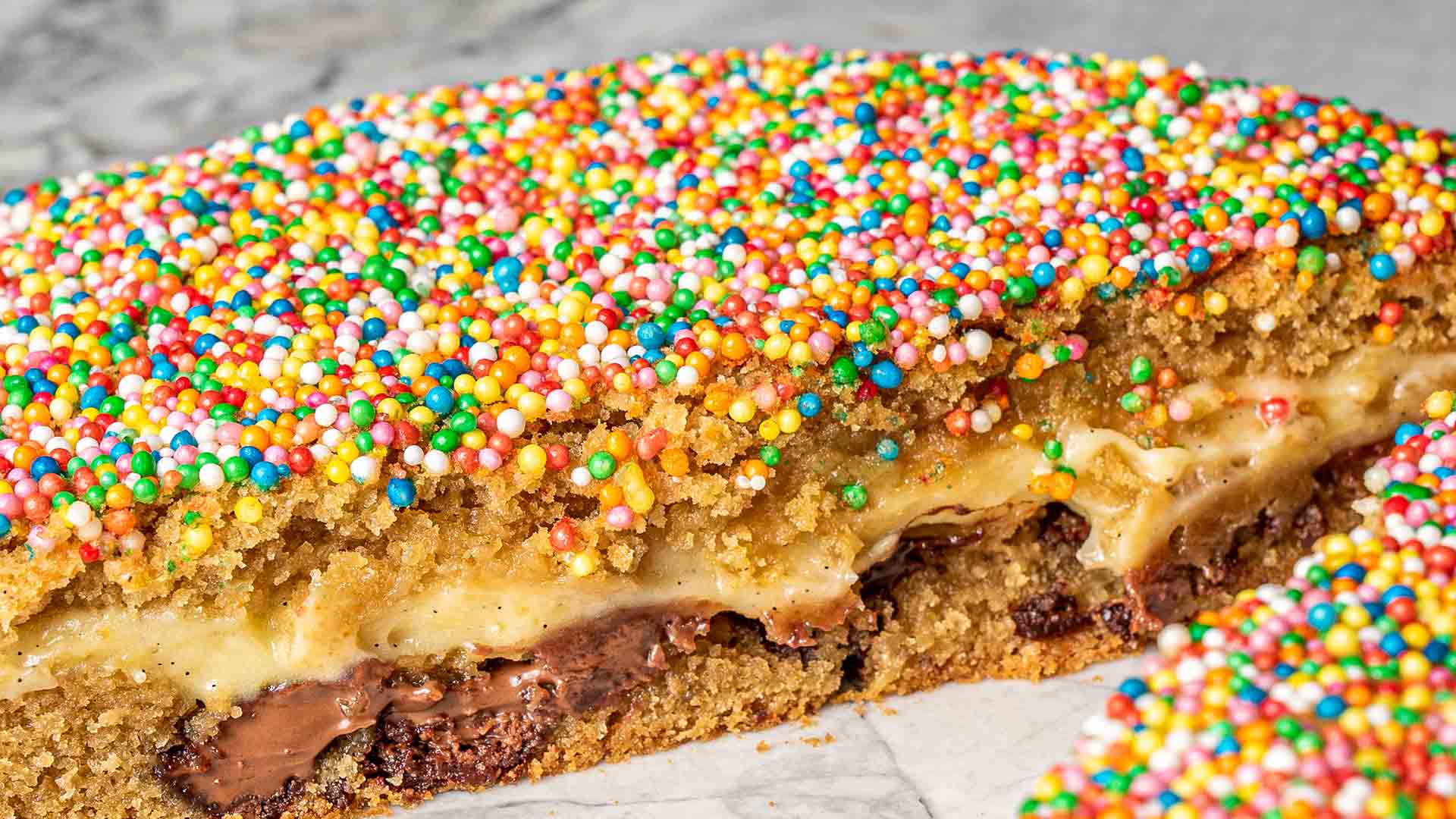 If you're keen to get yourself a piece of the pie, they're available to preorder from 9am on Monday, July 19 — with pick up between Friday, July 23–Sunday, July 25 from your chosen Messina store.
Once you've got the pie safely home, you just need to whack it in the oven for 30 minutes at 160 degrees and voila.
You can preorder a Messina fairy bread cookie pie from Monday, July 19, to pick up from all NSW, Vic and Queensland Gelato Messina stores except The Star.
Introducing Concrete Playground Trips
Book unique getaways and adventures dreamed up by our editors