FOOD & DRINK
The Ten Best Snacks Under $10 in the Melbourne CBD
Grab a bite without breaking the bank.
The Ten Best Snacks Under $10 in the Melbourne CBD
Grab a bite without breaking the bank.
---
Besides naps and binge watching Netflix, there's very few things in life that will fix a grouchy mood better than a delicious snack. And when you inevitably find yourself in that irritated, hungry state — perhaps cooped up in your office, working on a deadline at the library, or just roaming the city streets on the verge of breakdown — that's exactly when you need those snacks the most.
So for the love of your soul, here are the ten best snacks in the city — from sweet somethings to the hot, deep fried kind. They're all under $10, can all be eaten on-the-go, and are all absolutely delicious.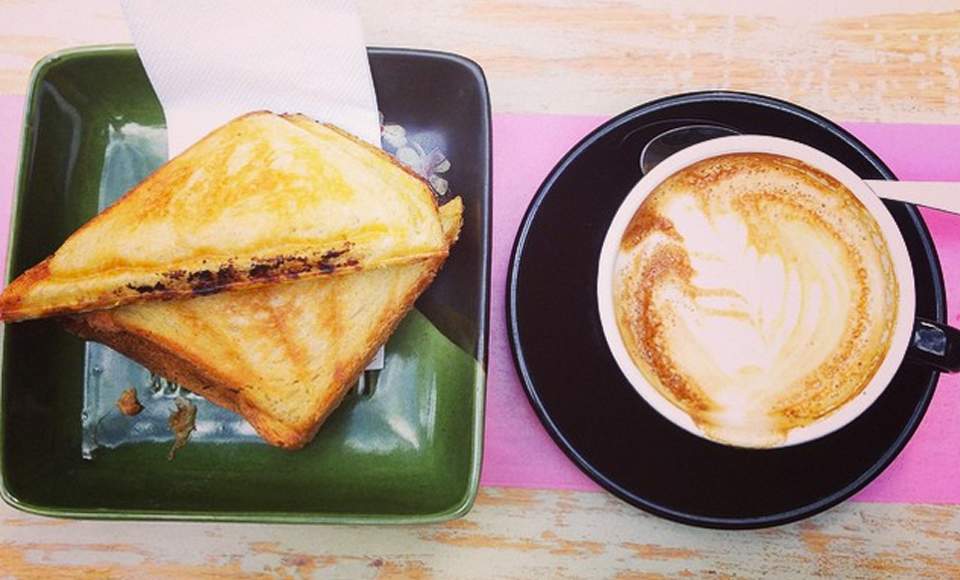 NUTELLA AND BANANA JAFFLE, T-ROY BROWNS — $4.50
Every tummy needs a T-Roy Brown Nutella and peanut butter jaffle from time to time. Combining our two fave spreads, this Melbourne cafe has turned the all-too-familiar PB&J sandwich into one very sleek snack. Bursting with a mix of warm chocolate and peanut spread, these babies are available for the taking on the outskirts of Flinders Street Station, right next to the 24 hour gym. White shirts are not advised during consumption.
365 Flinders Street, CBD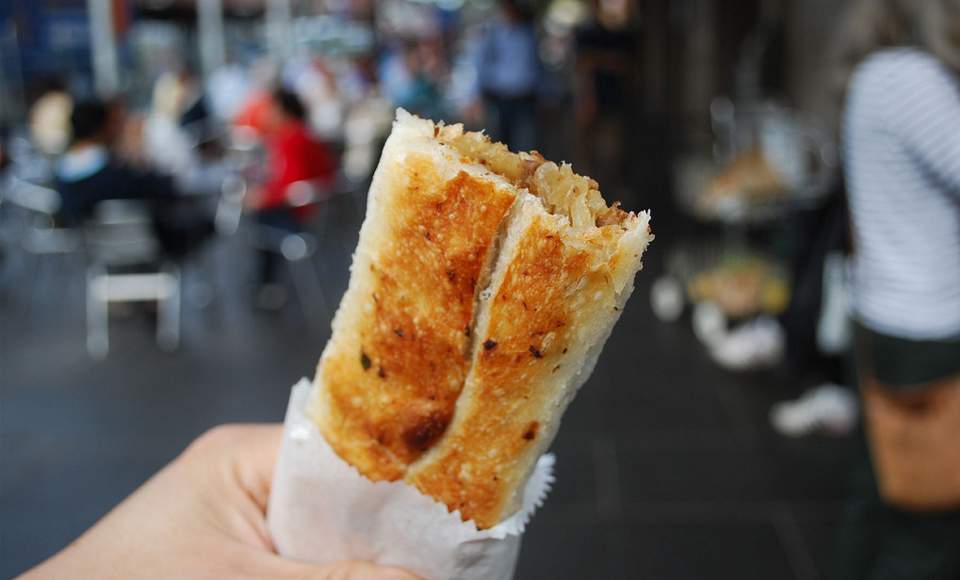 One of Melbourne's best savoury pastries is located in the heart of Queen Vic Market. Remarkably kind on your purse, these boreks are Melburnian legend. Don't be fooled by the low prices, the ultra-efficient ladies at Shop 95 know exactly what they're doing. Just be prepared to elbow your way in, because this Borek Stand isn't much of a hidden gem anymore — it's a rather popular one. You'll know why after you take the first bite.
Shop 95, Queen Victoria Market, cnr Victoria and Elizabeth Streets, CBD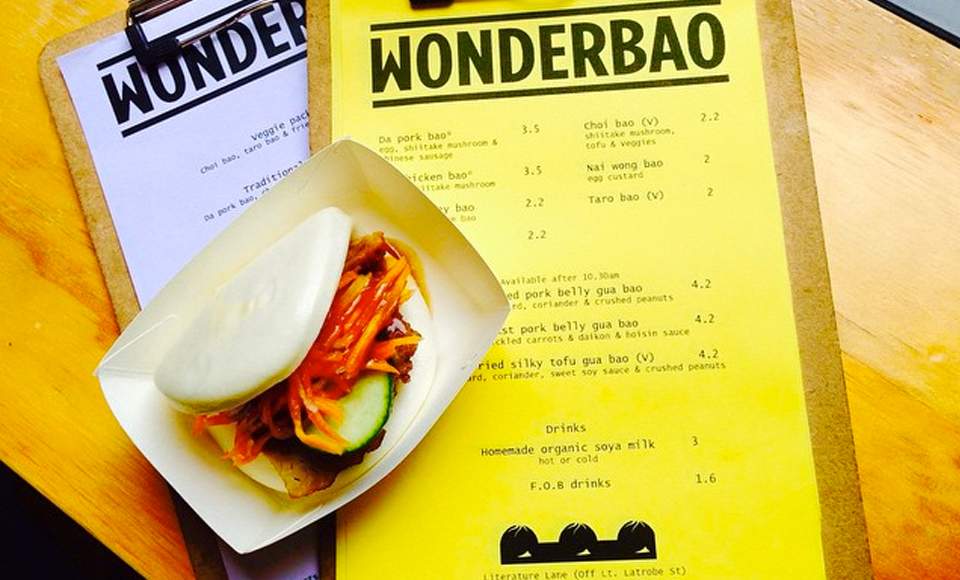 BRAISED PORK BELLY BAO, WONDERBAO — $4.20
Surely a list of the CBD's best of the best cannot exclude the wondrous creations from Wonderbao. Set between their plant-your-face-on-it soft bao, Wonderbao's sticky braised pork belly buns are the perfect 3pm snack. Pickled mustard, fresh coriander and crunchy peanuts make up this gua bao dream from Wonderbao's A'Beckett street home. Splurge with some hot soya if you feel a cold coming on.
Shop 4, 19-37 A'Beckett Street, CBD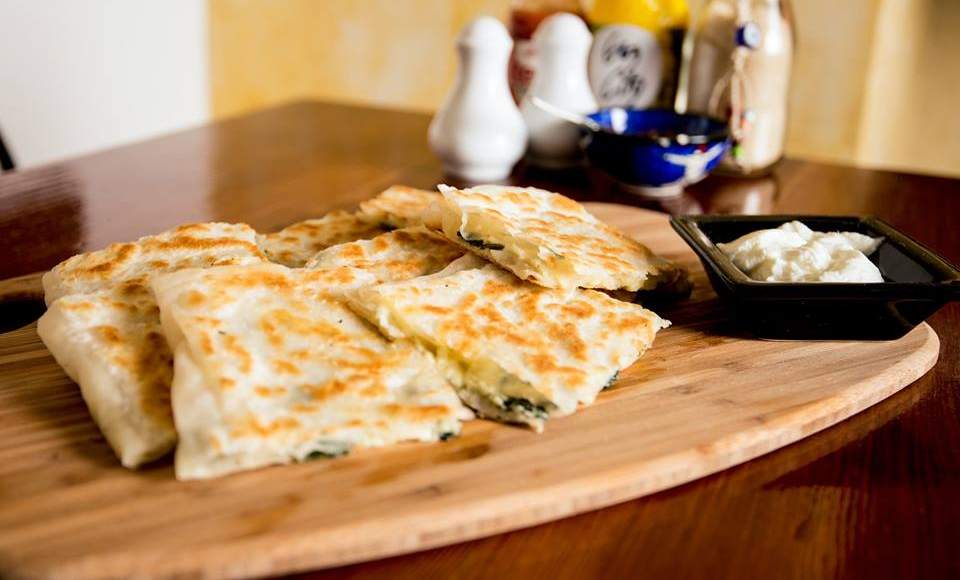 HERBED CHICKEN GOZLEME, GOZ CITY — $10
Regretting that lunchtime salad because you 'weren't hungry'? Do a runner down to Goz City, one of Melbourne's best Turkish takeaway joints. Warm timber and classic wooden stools make up this homey Lt Collins Street eatery, but if you don't have time to stop, grab your gozleme to go. Crammed with fresh herbs and tender chicken, Goz City's herbed chicken option is the ideal post-lunch filler.
502 Little Collins Street, CBD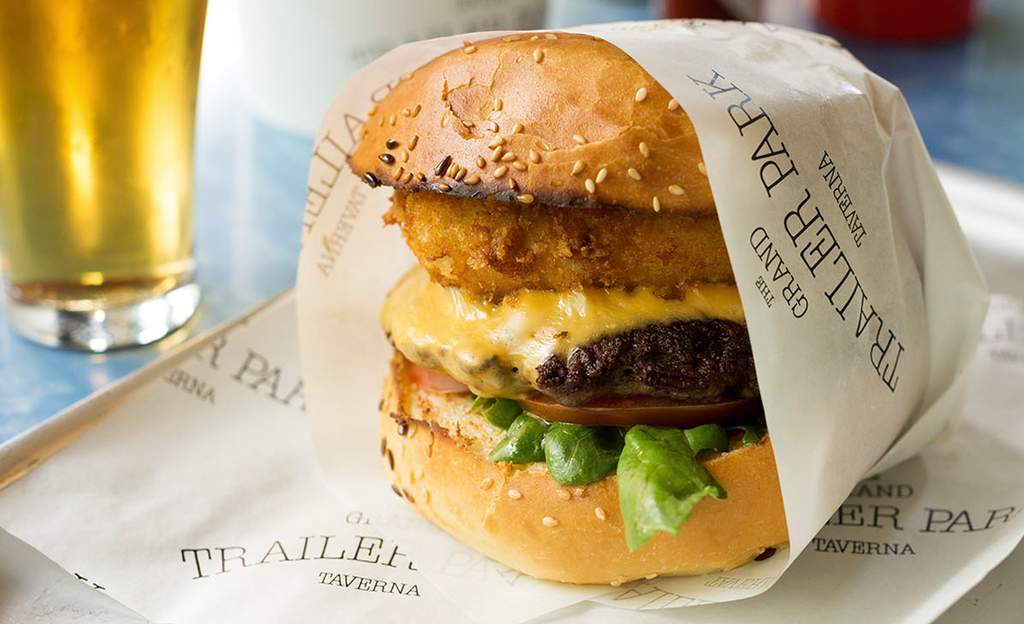 When the afternoon blues hit and you're in need of a delicious (preferably greasy) pick me up, there's really no time to skimp on carbs. Luckily, one of Melbourne's favourite burger joints also makes gloriously crispy snacks, which are perfect to snag on the go. The Grand Trailer Park Taverna's potato mac and cheese croquettes (pictured above in a burger) are stuffed with gooey cheesy goodness and piping hot potato — and they're guaranteed to make your afternoon considerably better. And at $4.20 a pop, you can grab two and still get change for a tenner.
87 Bourke Street, CBD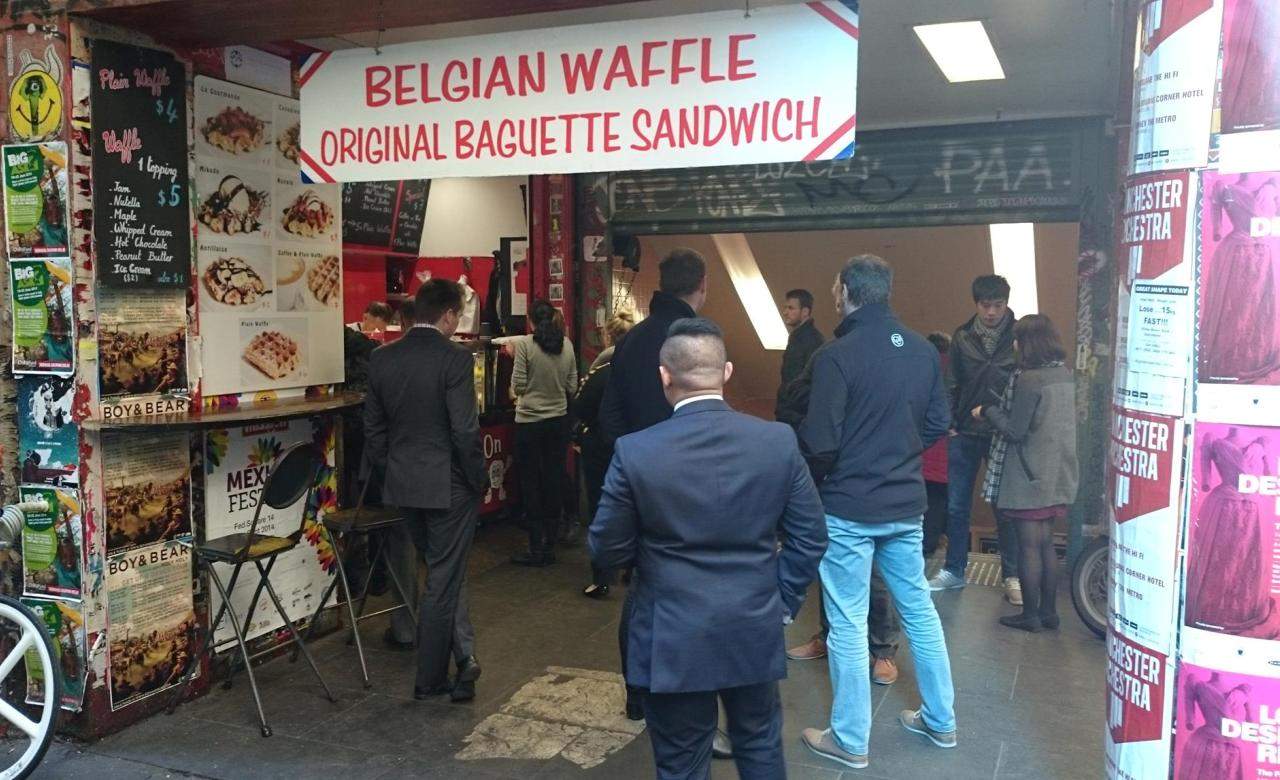 LA GOURMANDE WAFFLE, WAFFLE ON — $9
If melted chocolate layered with fresh strawberries and topped with whipped cream doesn't make you happy on a bad day, I'm sorry — there's nothing we can do for you. But if it does, then you're in luck. Tucked between the sandwich shops in Degraves Street, Waffle On is a haven for work-weary Melburnians (as well as an occasional awkward date-spot.) Order a La Gourmande waffle (chocolate, strawberries and extra cream) when you're down in the dumps, and prepare to slip into a blissful post-waffle state.
Shop 9, Degraves Street, CBD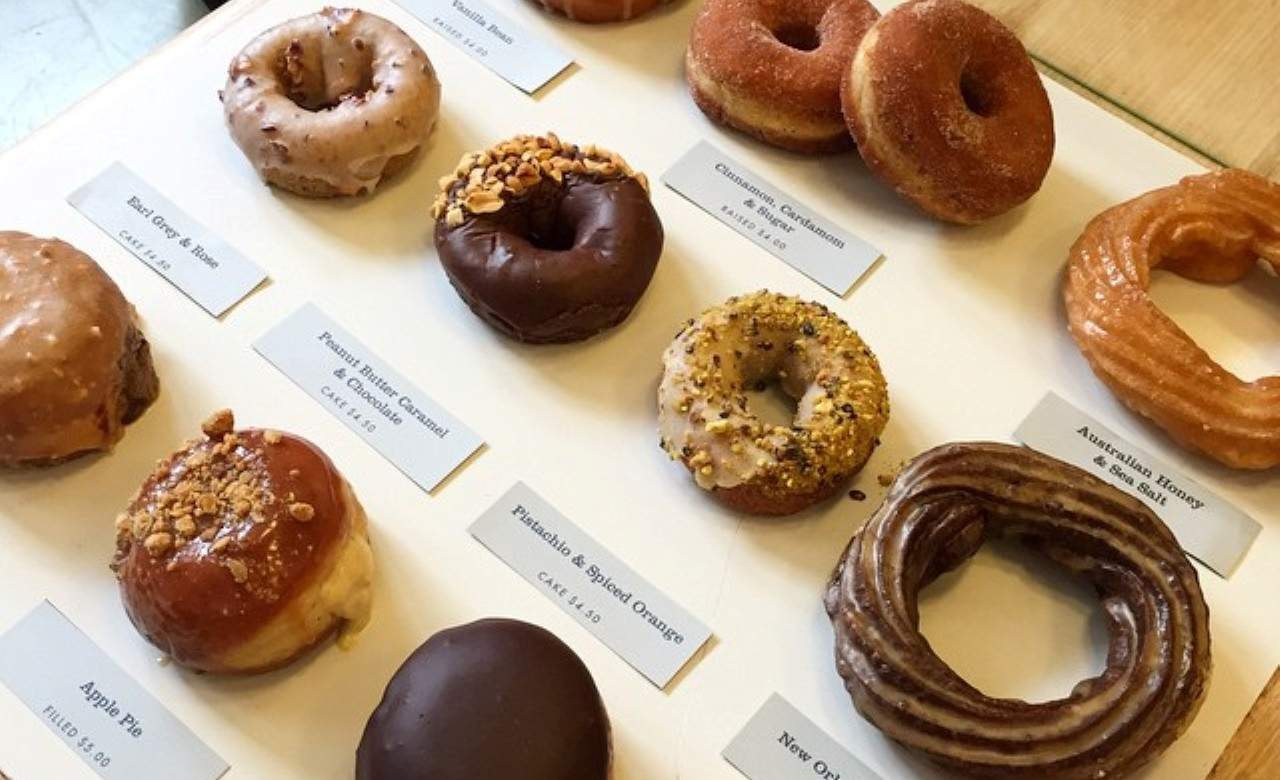 COFFEE AND DOUGHNUT, SHORTSTOP — $8
A doughnut a day won't keep the doctor away, but we'll pretend Shortstop's goodies do until further notice. Their magnificent sticky date and gingerbread doughnut combo is hellishly decadent, merging three of the best desserts together into one ridiculously delicious snack. You can also pick up your morning coffee in this deceptively small setup. Better yet, you can use your addiction to caffeine as an excuse to keep coming back. We certainly do.
12 Sutherland Street, CBD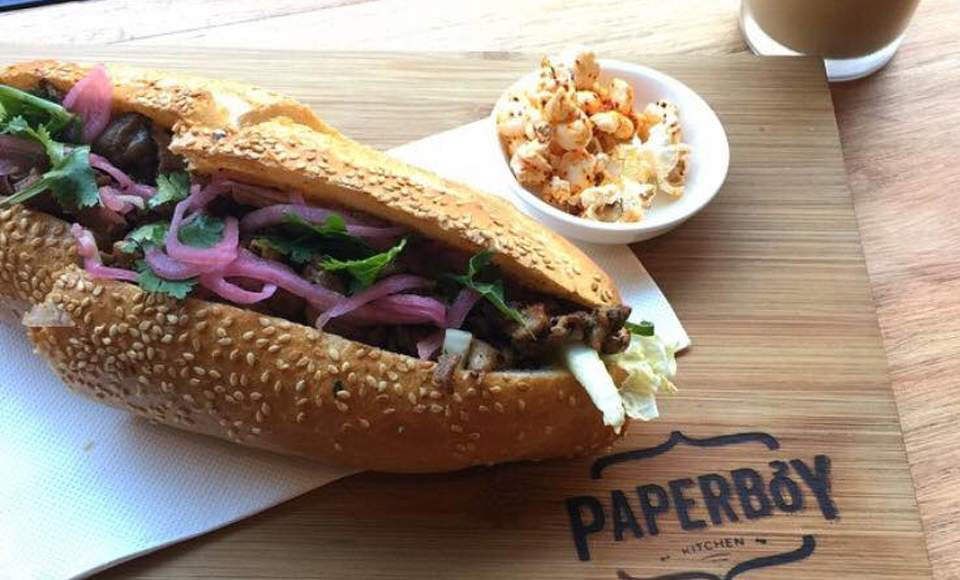 The humble bahn mi might be Melbourne's favourite takeaway roll. For breakfast, lunch and dinner, those of us true to Vietnamese baguettes munch away on the pickled vegetable and soy sauce combo. Paperboy Kitchen's BBQ chicken creation is perfect for your pesky second lunch craving. And while it isn't the dirt cheap bahn mi you can get elsewhere, it's got an edge you won't find in traditional offerings. Filled with marinated, free-range chicken and a killer sriracha-mayo combo, you'll be raring to go after dropping by Paperboy.
320 Little Lonsdale Street, CBD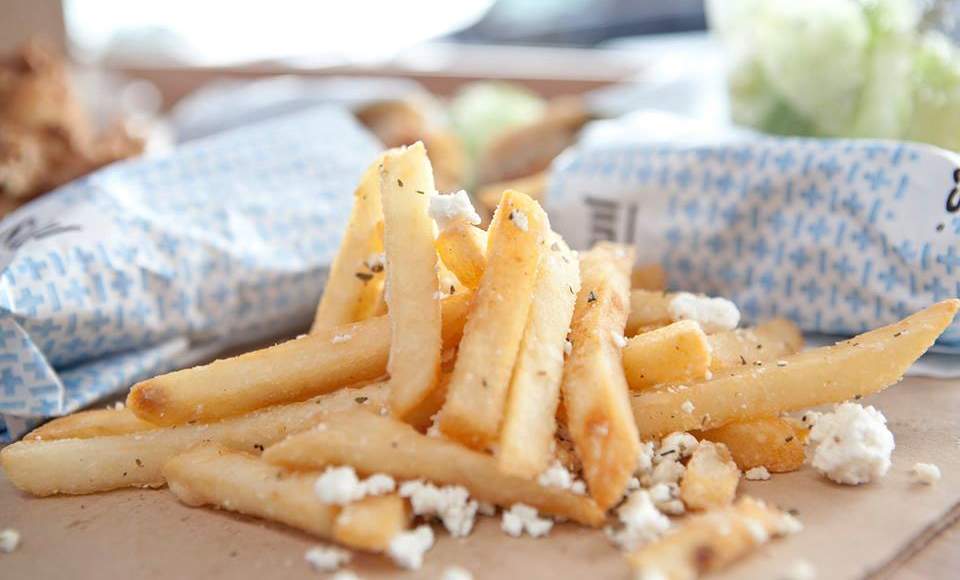 FETA, OREGANO AND GARLIC OIL CHIPS, JIMMY GRANTS — $7
Melburnian's can only resist the crispy comfort of deep fried chippies for so long. When you eventually cave to the urge, you might as well pick some of the best chips in Melbourne too. One of our favourite Greek restaurants, Jimmy Grants, is now located in the Emporium food court, and serves up fries layered with creamy feta, oregano and garlic oil. They're certainly good enough to warrant repeat visits. Many, many repeat visits.
Emporium Cafe Court, 287 Lonsdale Street, CBD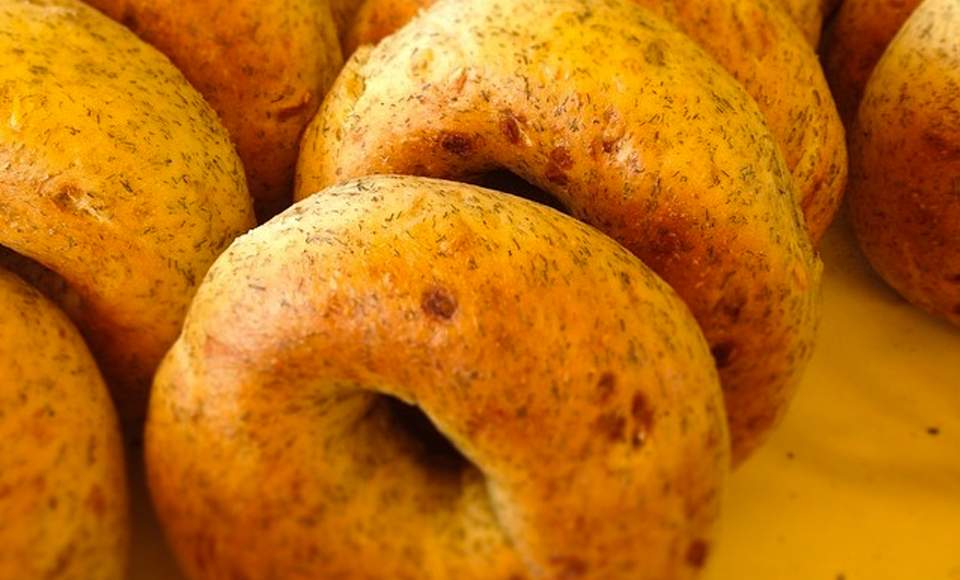 CINNAMON AND RAISIN BAGEL, 5 & DIME — $2
In all their hole-y, carb-filled glory, there's nothing quite like 5 & Dime bagels. If you haven't been to one of Melbourne's best bagel bakers at The Archway in Katherine Place yet, you've been doing coffee breaks wrong. Their cinnamon and raisin bagel is ideal for sweet tooths struggling with afternoon hunger pangs — and all you'll need is the change in your back pocket. For a laughably cheap two dollars, you might as well splurge and get housemade jam ($3.50) or seasonal fruit ($4.00) while you're there.
16 Katherine Place, CBD

Borek image credit: avlxyz via Flickr; T-Roy Brown's image credit: clyde_yang via Instagram; Paperboy image credit: victoriatrian via Instagram
Published on July 29, 2015 by Ellen Seah