FOOD & DRINK
Hope St Radio Is Opening a Wine Bar and Music Space at the Revamped Collingwood Yards
It'll be slinging natural wine, fresh pasta dishes and curated tunes from your favourite presenters.
Over the years, internet radio station Hope St Radio has been earning its fans through residencies at venues like Rooftop Bar and Lazerpig. But now it has scored a home of its very own at the newly-revamped Collingwood Yards, complete with a kitchen and roomy wine bar.
Also dubbed Hope St Radio, the new venue marks the arts precinct's first permanent hospitality resident — and it's set to throw open its doors on Thursday, April 29 with three days of grand launch celebrations. Taking over an expansive space beside Collingwood Yards' central courtyard, the bar boasts plenty of communal outdoor seating, while indoors will feature cosy timber booths and striking mural art by Alice McIntosh.
It's going to be an all-day affair, dishing up breakfast, after-work snacks and dinnertime feasts alike. Chef Ellie Bouhadana is heading up the food offering, with a considered seasonal menu that's set to showcase salads, raw seafood and a generous lineup of fresh pasta dishes. It'll rotate regularly, though you'll find options like cavatelli with red onion and butter beans, Sydney Rock oysters finished with a house vinaigrette and a Basque cheesecake for dessert. Come June, a selection of vegan congee and filter coffee will also be on offer at brekkie.
Meanwhile, a strong focus on sustainable wine will see the drinks list packed with natural drops sourced from both Australia and afar. Expect a 60-strong wine selection, sitting alongside tap brews from nearby Stomping Ground.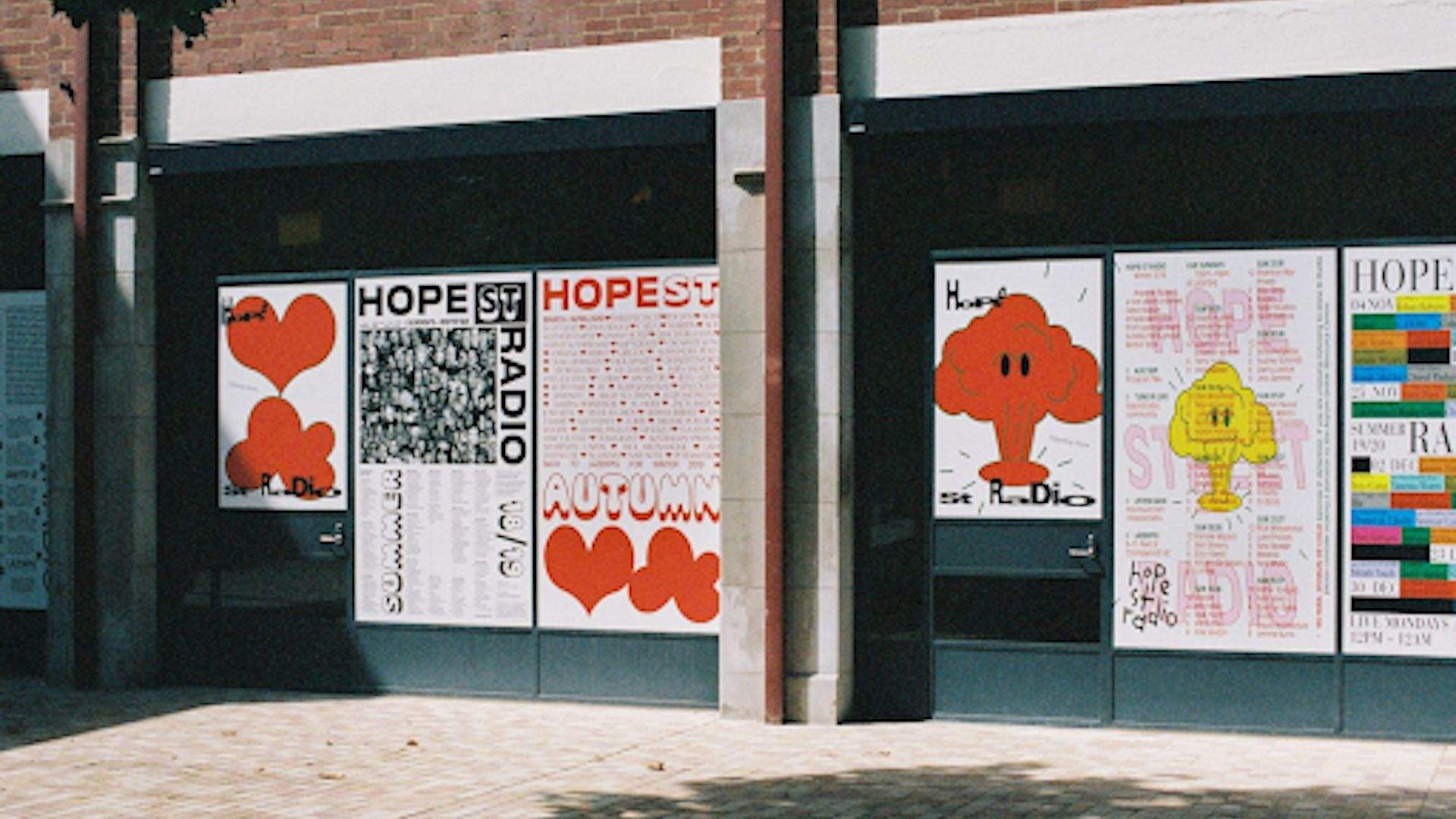 It'll come as no surprise that music is a big part of the new venue's DNA, with a custom sound set-up courtesy of Hot Wax Sound Systems set to feature tunes from Hope St's expert curation of musicians and artists. A live broadcast program promises to keep the venue buzzing right through the week.
As mentioned, Hope St Radio is kicking off its new tenancy with a bang, hosting a series of free parties from Thursday, April 29–Saturday, May 1. The shindigs will be soundtracked by the likes of Darcy Justice, Jess Zammit, Moopie, Danny Hotep and Bayu. Pop in from 5pm on all three nights to check out the new digs and suss out the menu.
Find Hope St Radio at Collingwood Yards, 35 Johnston Street, Collingwood, from Thursday, April 29. Throughout May, it's set to open 1–11pm Thursday to Sunday, with all-day hours from Tuesday, June 1 onwards.
Images: Hope St Radio interiors by Tom Blachford; Hope St Radio facade by Henry King; Collingwood Yards by Stefan Postles.
Published on April 22, 2021 by Libby Curran