FOOD & DRINK
How Cocktail Bitters Has Made Its Way onto Your Dinner Plate
And three recipes to try for yourself with a few drops of Angostura bitters.
How Cocktail Bitters Has Made Its Way onto Your Dinner Plate
And three recipes to try for yourself with a few drops of Angostura bitters.
---
in partnership with

It's your saving grace when you're designated driver. The dash you can't do without in any manhattan or whisky sour. Yet, Angostura bitters has long been relegated to play the bittersweet supporting role. But, trust three ex-MasterChef contestants (and culinary champions) to look beyond the old fashioned and take bitters from cocktails to cooking.
Far from bitter that they missed out on the top spot, MasterChef runners-up Ben Ungermann, Matt Sinclair and Georgia Barnes accepted the challenge to create three unique recipes featuring one unlikely ingredient — Angostura bitters. From entree through to dessert, the three chefs prove that bitters complements both sweet and savoury dishes that, luckily for us, you don't need to be a MasterChef to cook at home.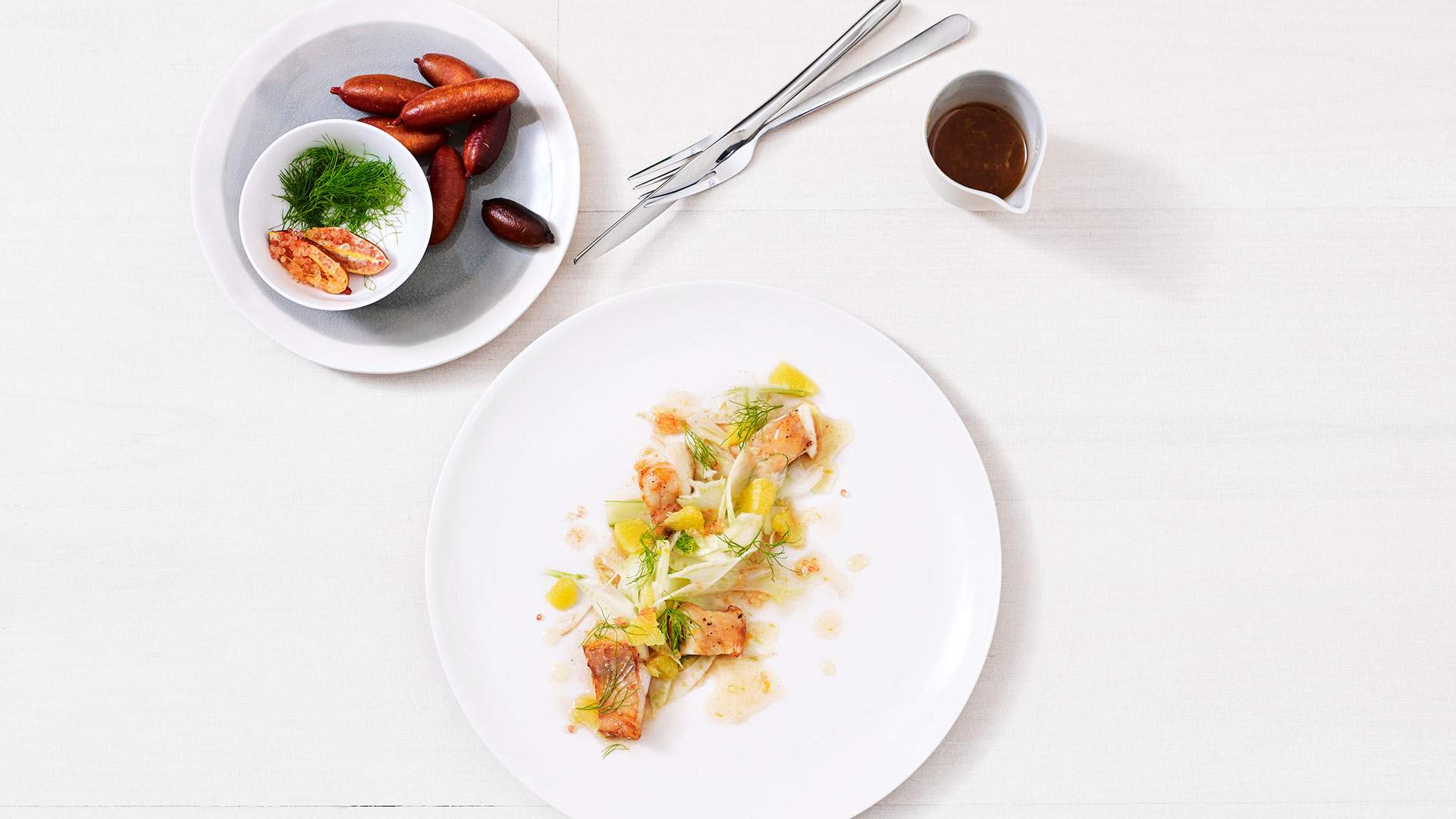 ENTREE: ANGOSTURA-POACHED COD WITH FENNEL AND ORANGE SEGMENTS
While bitters and fish may seem like an unlikely combo to us amateurs, Ben Ungermann found multiple ways to hero bitters in his Angostura-poached cod entree. First by using the ingredient in the marinade for the cod, and then as a bittersweet vinaigrette to match the tartness and zest of the accompanying orange and fennel salad.
Angostura Marinated Poached Cod with Fennel and Orange Salad
For the vinaigrette
1 tsp Angostura aromatic bitters
2 tbsp olive oil
1 tbsp white wine vinegar
Pinch of salt and pepper
For the fennel and orange salad
1 handful shaved fennel
1 small handful of bean sprouts
Orange segments from one orange
For the Angostura-poached cod
150g cod
1 tbsp Angostura aromatic bitters
100g unsalted butter
Zest from one orange
Salt
Pepper
Method
Vinaigrette
Combine all ingredients in a small bowl and whisk together. Set aside for serving.
Fennel and Orange Salad
With a mandolin, shave the fennel into thin strips.
Take an orange and remove the skin. Cut the orange into segments, then vertically cut the segments to make small triangles.
Toss the fennel and orange through bean sprouts and set aside.
Angostura-Poached Cod
Cut fish fillet into 4–6cm pieces. Place fish in foil along with butter broken into small pieces, Angostura aromatic bitters, orange zest and seasoning.
Tightly wrap and place in oven at 120 degrees Celsius until steamed. Check fish every 10 minutes until cooked through.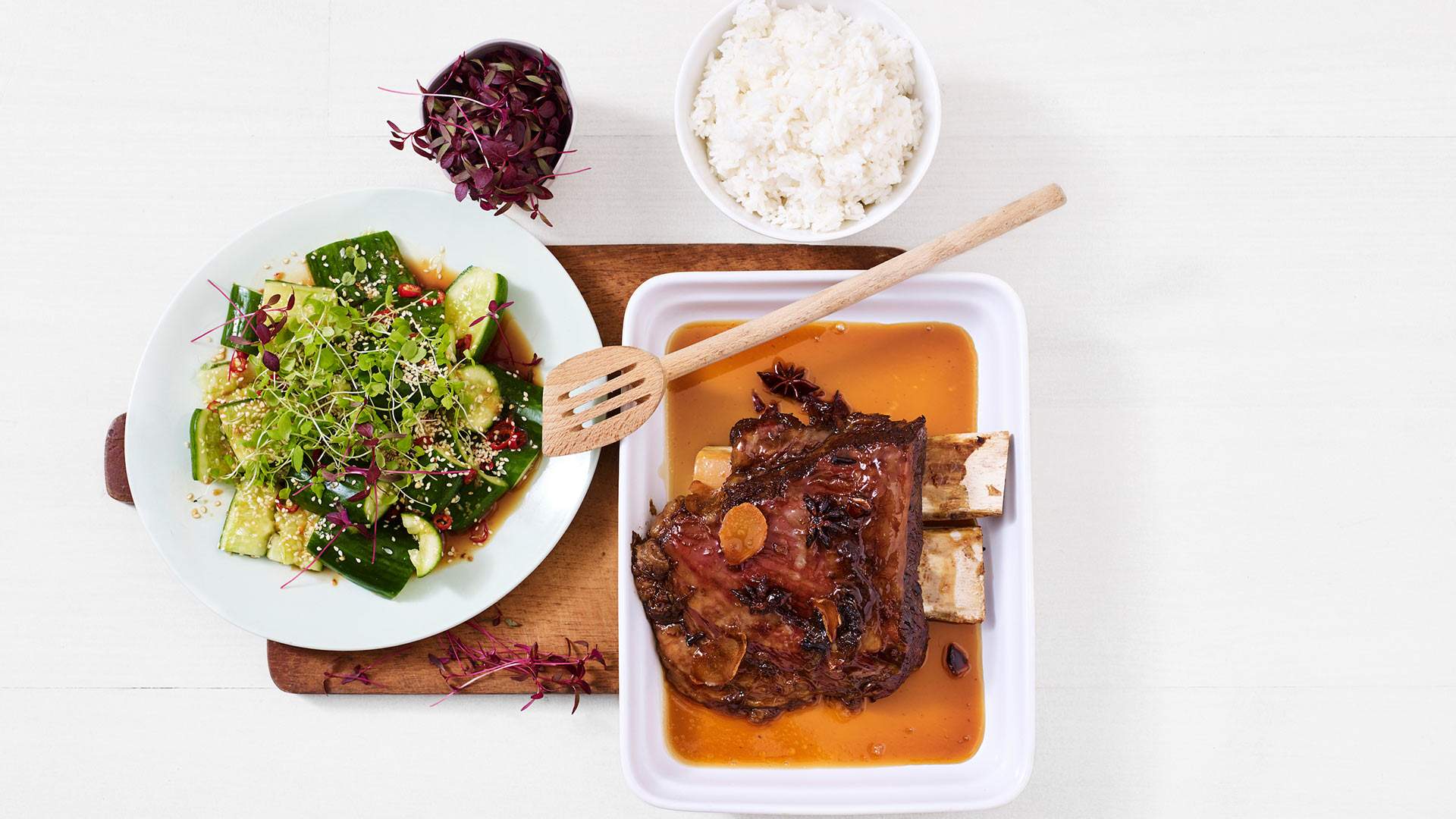 MAIN: ANGOSTURA BEEF SHORT RIBS WITH OLD FASHIONED GLAZE
When a single ingredient added to an orange glaze helps to achieve what Matt Sinclair describes as "a liqueur-like intensity that complements the richness of short ribs", there's no questioning that bitters has found a new calling as the secret ingredient in your new favourite dish. Seeing bitterness as a "vital aspect of a balanced dish that's just as important as sweet, sour and salt", Matt brings all these elements together, turning an old favourite into new in his recipe for Angostura beef ribs with old fashioned glaze.
Angostura Beef Short Ribs with Old Fashioned Glaze
For the beef ribs
2kg beef ribs
1l master stock or chicken stock
For the glaze
1/2 cup soy sauce
1/2 cup bourbon
6 tbsp Angostura orange bitters
4 tbsp vinegar
Zest and juice of two oranges
1 cup sugar
2-inch piece of ginger, thinly sliced
6 cloves of garlic
4 star anise
For the crystal cucumber
2 lebanese cucumbers
1 tsp sea salt
2 tsp caster sugar, plus extra
1 1/2 tbsp rice wine vinegar
2 tsp sesame oil
2 tsp soy sauce
1 tbsp olive oil
2–3 garlic cloves, finely grated
1–2 birdseye chillies, finely sliced
2 tsp toasted sesame seeds
1/2 cup fresh mint, leaves picked
Method
Ribs and Glaze
Preheat oven to 150 degrees Celsius.
Place ribs in a deep oven tray, bone-side up and cover with master stock or chicken stock. Cover with foil, and cook in the oven for 3.5 hours.
Remove from oven, and transfer ribs to a wire rack over a roasting tray, bone-side down. Cover with foil. Increase oven temperature to 220 degrees Celsius.
While ribs are cooking, in a medium saucepan add all glaze ingredients and bring to a boil over medium heat. Reduce heat and simmer glaze until a syrup-like consistency is reached.
Pour 1/3 cup of the glaze over the ribs, and place them back in the oven, uncovered, for 30 minutes.
Remove ribs from the oven and place onto a platter. Pour over any remaining glaze. Serve with steamed jasmine rice and crystal cucumber on the side.
Crystal Cucumber
Cut cucumber in quarters lengthways, and dice into 2-inch pieces.
Place the cucumber in a colander, add a pinch of salt and sugar and toss to coat. Then place the colander over a bowl and allow to drain in the refrigerator for 20–30 minutes.
Meanwhile, in a small bowl, add salt, sugar and rice wine vinegar and whisk to combine, until sugar and salt are dissolved. Add sesame oil and soy sauce and mix through to combine.
To serve, remove cucumbers from the refrigerator and transfer to a bowl. Drizzle with olive oil and toss to coat before adding garlic, dressing, chilli and mint. Mix together well, garnish with sesame seeds and serve immediately.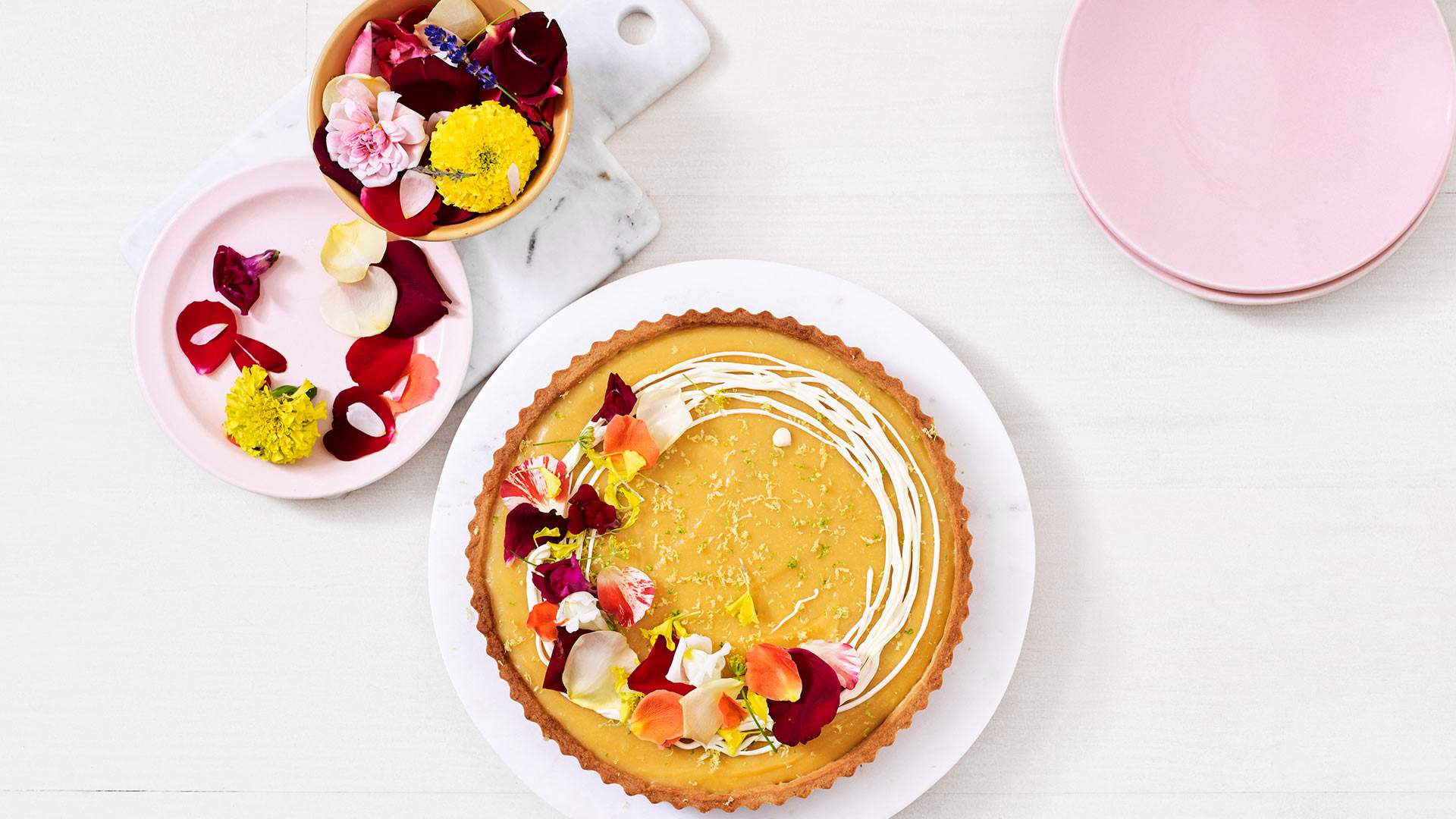 DESSERT: ANGOSTURA LEMON, LIME AND BITTERS TART
When it comes to bitters, it'd be remiss not to mention the sweet, refreshing flavour combination of a lemon, lime and bitters. So rather than break away completely from something that's already so damn good, Georgia Barnes opted to reinvent the iconic soft drink as an Angostura lemon, lime and bitters tart with a thick, buttery pastry base and sweet, creamy filling. Garnish the tart with edible flower petals and plate with precision, and you'll do a convincing job that you too could be a MasterChef contender.
Angostura Lemon, Lime and Bitters Tart with Brown Sugar Shortcrust Pastry
For the pastry
2 cups plain flour
4 tbsp brown sugar
1/2 tsp salt
150g unsalted butter, cold and chopped
3–4 tbsp ice cold water
For the tart filling
100ml lemon juice
100ml lime juice
1 cup caster sugar
2 tbsp corn flour
4 free-range eggs
4 free-range egg yolks
100g butter, chopped
2 tbsp Angostura aromatic bitters
To serve
100ml dollop cream
Lemon zest
Lime zest
Edible flower petals (optional)
Method
Grease and line a 23cm springform tart tin.
For the pastry, place flour, sugar, salt and butter into a food processor, and pulse until the mixture resembles fine breadcrumbs.
Slowly add the iced water until mixture forms a soft ball of dough.
Place a large piece of baking paper onto a clean, dry surface. Sprinkle baking paper with a little extra flour. Place dough onto baking paper and roll to 2–3mm thick using a floured rolling pin.
Carefully turn the sheet of pastry onto the tart tin, pastry side down. Peel away the baking paper. Gently press pastry into the sides of the tart tin. Place tart shell into the refrigerator to chill for 30 minutes.
Meanwhile, preheat oven to 160 degrees Celsius.
Remove tart shell from refrigerator. Using a sharp knife, trim excess pastry away from the edge of the tart tin.
Using baking paper and pie weights or uncooked grains, place tart shell in the oven to blind bake for 20 minutes.
Remove tart shell from oven. Carefully remove baking paper and weights and return to the oven for a further 5 minutes, or until the base of tart shell is golden brown. Remove from oven and allow to cool.
To make the filling, place lemon juice, lime juice, sugar, corn flour, eggs and egg yolks into a saucepan and whisk together well.
Place saucepan over medium heat and continue to whisk until the mixture reaches boiling point and has thickened.
Remove saucepan from heat. Strain hot filling through a fine sieve into a bowl to remove any lumps.
Add butter to filling, and continue to stir until butter has melted and the mixture is smooth. Add Angostura aromatic bitters and mix well.
To assemble the tart, pour lemon, lime and bitters filling into the cooled tart shell. Place tart in the refrigerator to chill for 1–2 hours or overnight.
To serve, carefully remove the tart from the springform tart tin and place onto a serving plate. Sprinkle tart with lemon and lime zest and drizzle with cream. Garnish with edible flower petals. Using a sharp knife, cut tart into even pieces. Best served chilled.

Now that you've got this secret ingredient on your radar, move your bottle of Angostura bitters from the drinks cupboard to the pantry, and try your hand at cooking some of these deliciously bittersweet recipes.
Published on July 30, 2018 by Alexandra Middleton