I Went to the Luxe 11-Course KFC Degustation Dinner — Here's What Happened
Eleven courses of KFC with a wine pairing to boot? Challenge accepted.
Socials have been abuzz for the past couple of weeks with the news that KFC, one of the most hallowed fast food institutions, is hosting an 11-course degustation dinner in collaboration with Surry Hills fine diner Nel.
In the two weeks after the news broke, more than 24,000 hungry and curious Sydneysiders added their name to a lottery, in the hopes of scoring an elusive seat at the three-night dinner series.
I was lucky enough to score an invite to the media preview for a first peek at the mad scientist-like creations of celebrated chef Nelly Robinson. Here's everything that happened.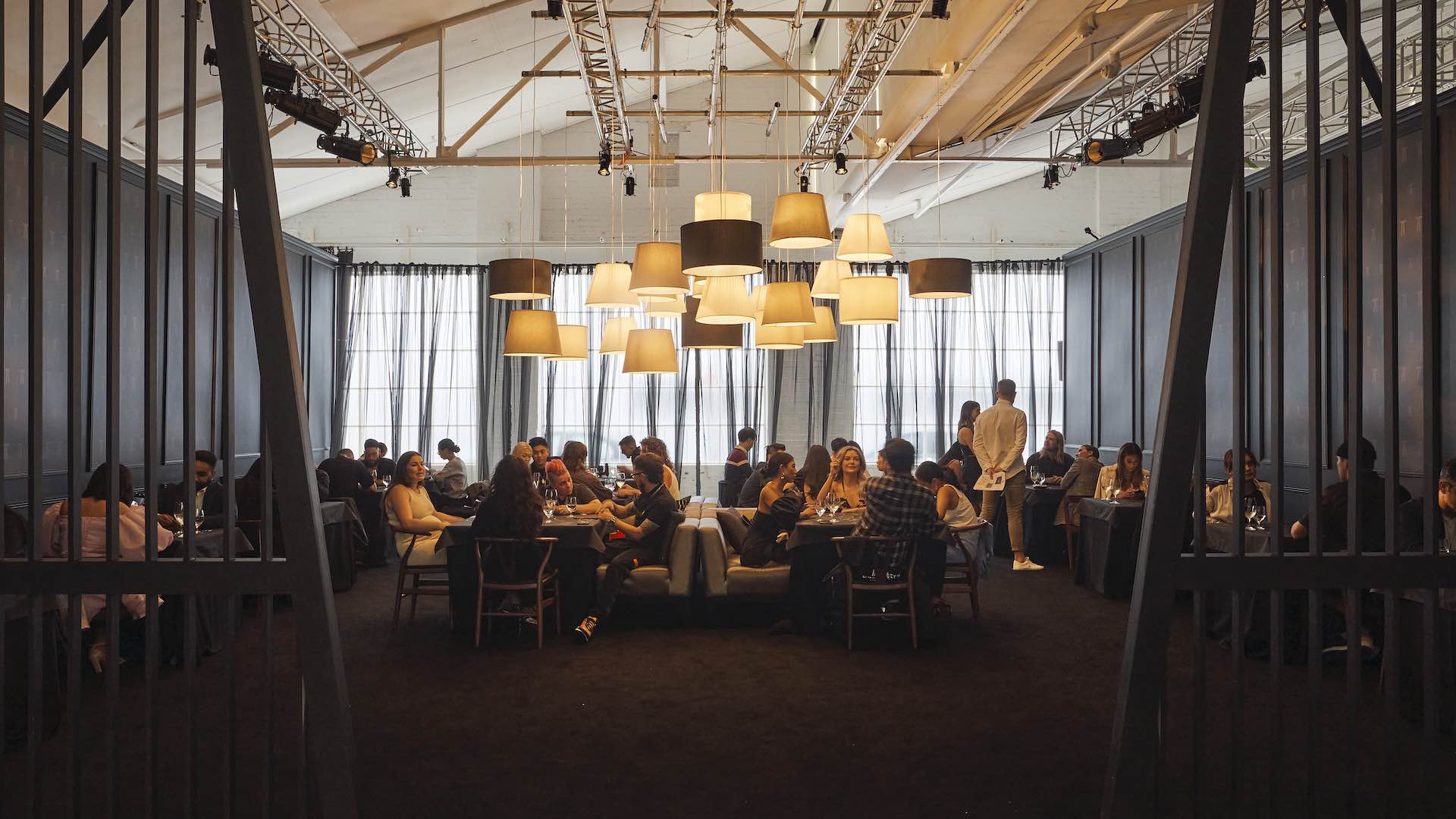 THE VIBE
The dinner takes place in an airy warehouse space at the end of an unmarked Alexandria alleyway, at the entrance to which lies the most unobtrusive of red carpets. Already this isn't feeling like a typical dinner.
Once inside, there's free-flowing pre-dinner sparkling in a staging area that is dominated by what your correspondent thought was a fluffy cloud hanging over the bar. Then it's pointed out to me that I'm looking at it from the wrong angle.
It turns out that the focal point of the room is, in fact, an illuminated cloud that takes the unmistakable form of a KFC drumstick, because of course it is.
We soon move into the spacious, elegant dining room, which is all dark tones and understated pendant lighting. Once seated, a candle is brought to the table, lit and glasses are topped up. It's showtime.
THE FOOD
Eleven courses of KFC with a wine pairing to boot? Challenge accepted.
Course One: You Call That a Burger?
This KFC burger-inspired take on Nel's signature savoury marshmallow is a mind-boggling delight. It's light, it's fluffy, it nearly falls apart in your fingers and immediately disintegrates on contact with your tongue — but it also hits the sweet, salty, umami notes of a burger.
Course Two: Zinger Katsu
Who would have ever thought that a micro Zinger could be so satisfying? But enough about my last Grindr date. Course two of this KFC feast is an immediate hit at the table, a two-bite appetiser featuring a finger-sized Zinger patty on a pillowy oblong of deep-fried potato finished in katsu jus, and then topped with a drizzle of curry mayo and a dusting of dill. I would very much like this in burger form.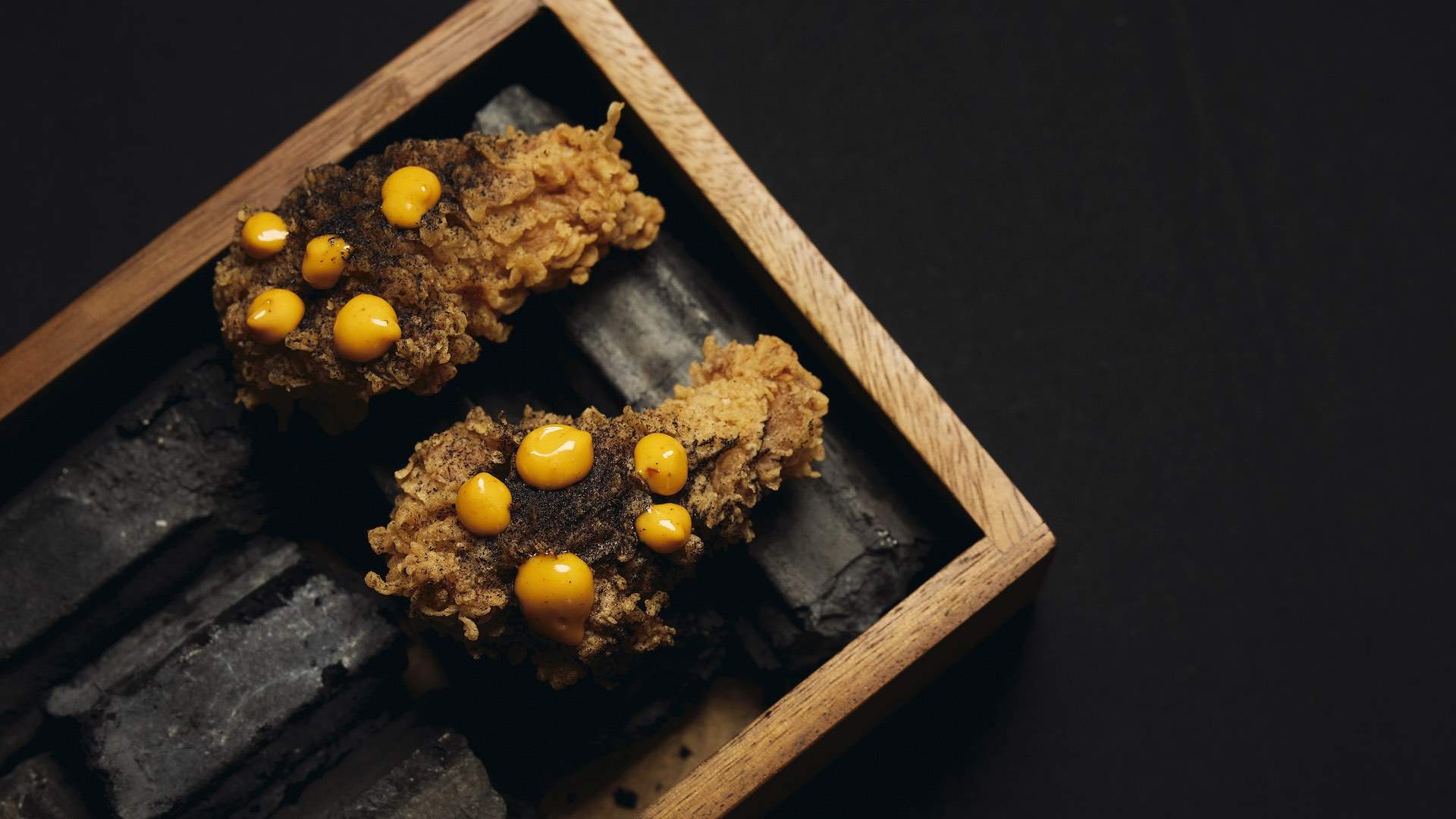 Course Three: Supercharged Wings
Wicked wings, but light them on fire. Perfectly crunchy and juicy wings are presented on a bed of charcoal sticks that are lit on fire at the table — because who doesn't love dinner and a show — which makes them about 15 percent better than a normal KFC wing.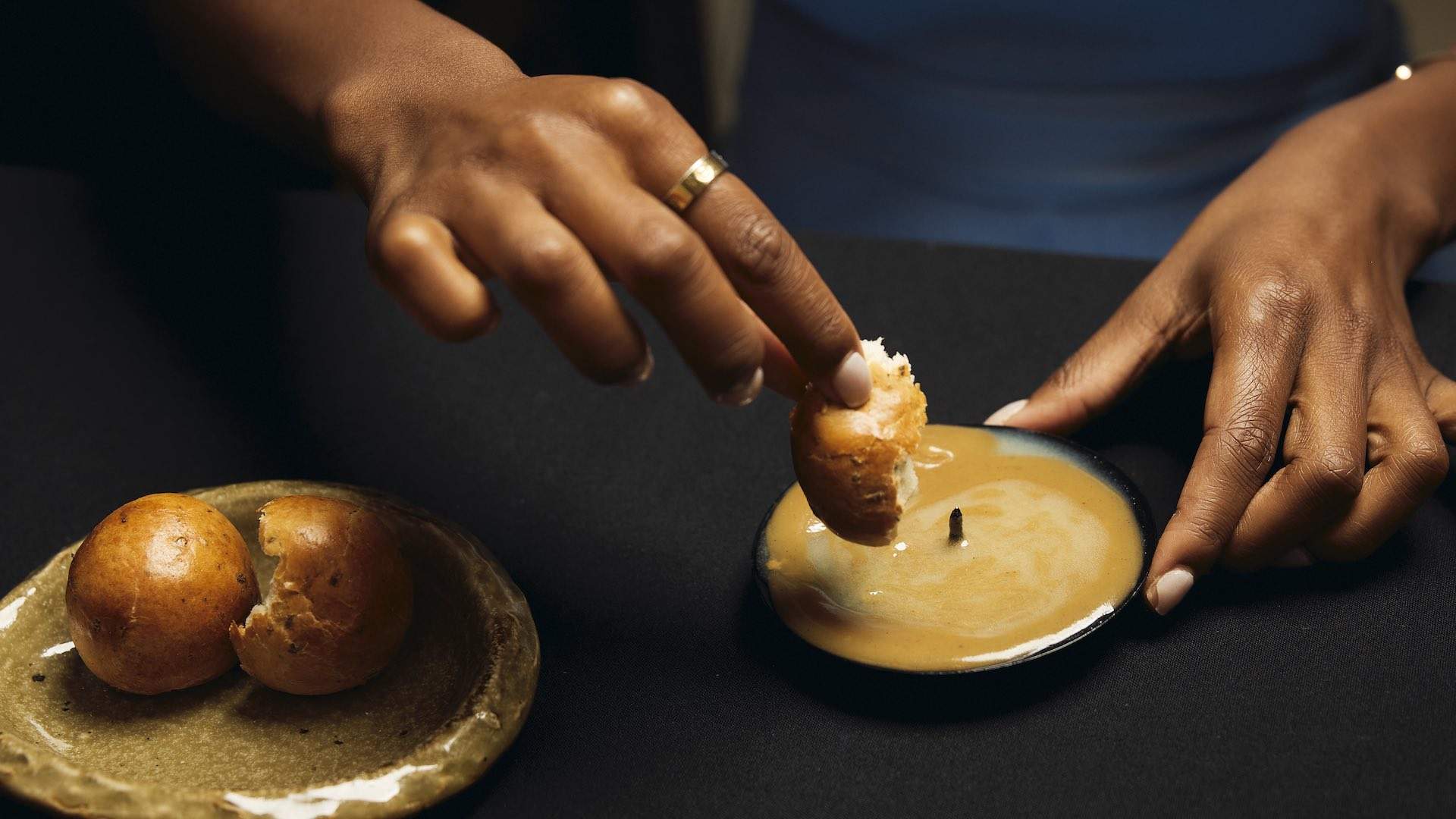 Course Four: Potato and Gravy
Remember that candle I mentioned earlier? By the time our beautifully brown, perfectly spherical potato buns are placed on the table after the amuses-bouche are cleared, the candle has melted. No, it's not a cheapo that couldn't even last until mains, but in fact made of KFC chicken fat (what else) which, now completely liquefied, is garnished at the table with a couple of rounds of gravy and into which the potato buns can be dipped. And they are. Liberally.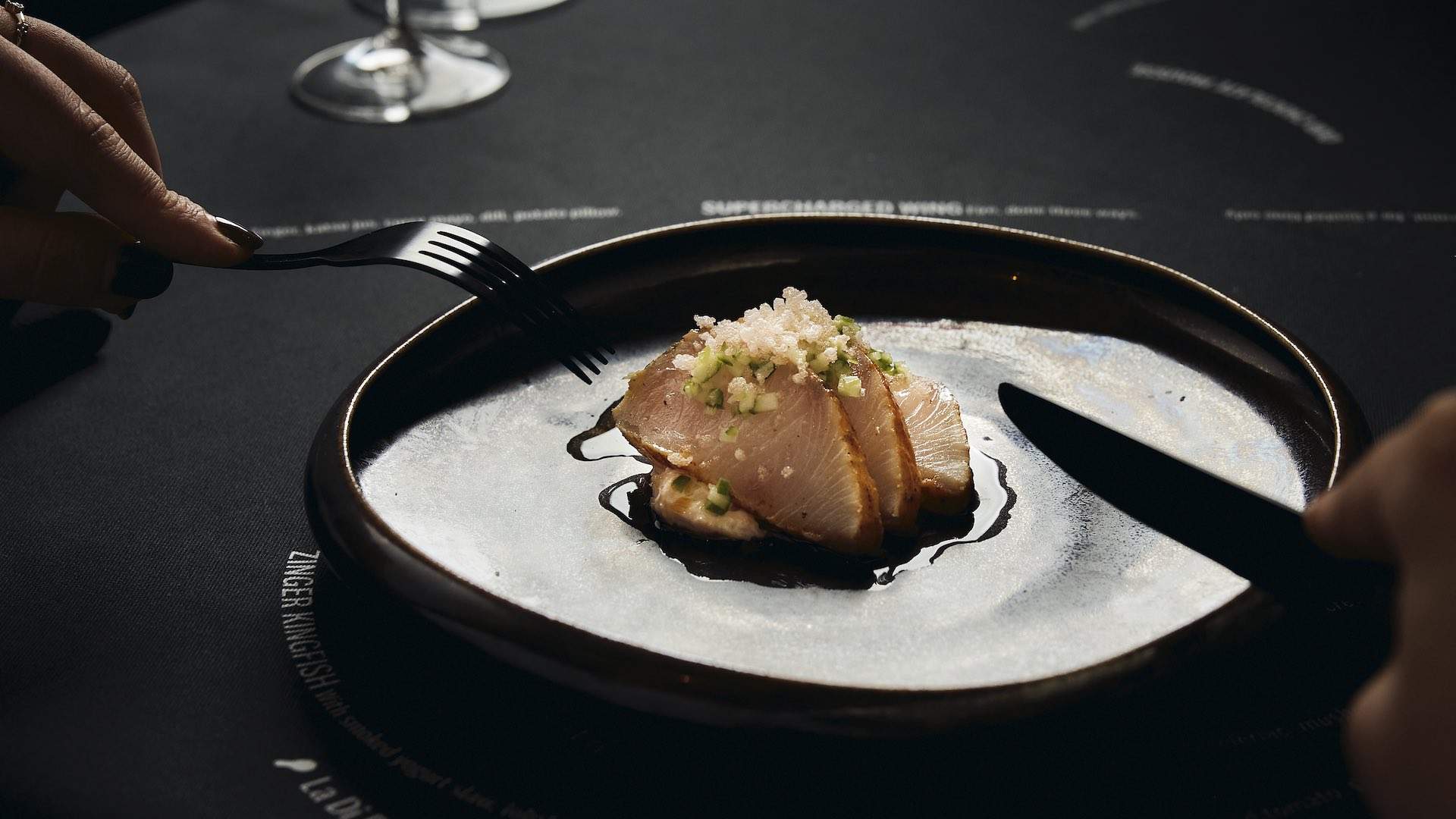 Course Five: Zinger Kingfish
The first of the mains is, in the very best way, an absolute mindfuck. Slightly torched kingfish is coated in a crumb of the eleven secret herbs and spices and served on a bed of ever-so-smoky yoghurt slaw — itself an elegant take on the classic KFC side.
Though it could have very well been actual KFC coleslaw. At this stage up was down and left was right.
In introducing the dish, Robinson told us that there was some resistance from team KFC around putting fish on the menu, but he stuck to his guns and the menu is all the better for him having done so.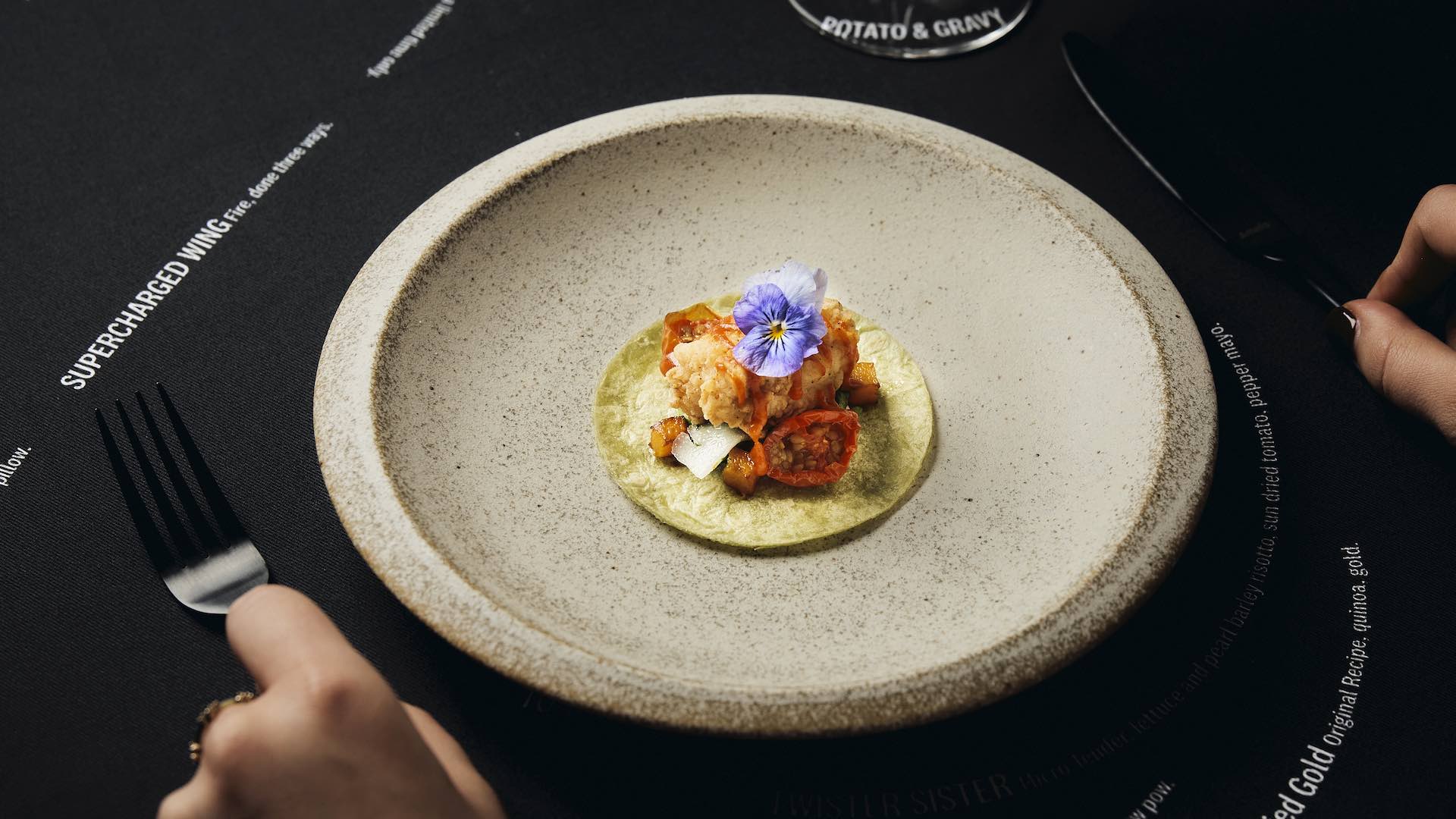 Course Six: Tongue Twister/Twister Sister
I still remember when the Twister was launched. Wraps were having a moment thanks to the Atkins diet and variations incarnations thereof (the 90s were truly wild) and it was like Christmas had come early for this chunky, primary school-aged kid who could not get enough fried chicken. Any excitement I might have had about lower-carb KFC was quickly dashed, however, when my first (and to-date only) Twister led to a bout of gastro...
So when I discover that the second main course of the evening was a two-part take on the KFC wrap, I'm a little sceptical. That is, until I see the Colonel's face on a plate — or at least a colourful interpretation of it made of emulsified fried chicken, lettuce, tomato and pepper mayo. Our task: pick up the plate and lick the Colonel right off it. Not in a million years did I ever think I'd be tonguing old mate Sanders, but now that I've had a chicken fat candle and KF-fish, I guess the rulebook is out the window.
To accompany this surprisingly sensuous dish comes a jazzed-up take on a Twister in the form of a fried chicken taco on a soft spinach tortilla and finished with lettuce, pearl barley risotto, sundried tomato, pepper mayo and an edible flower. It's very, very good.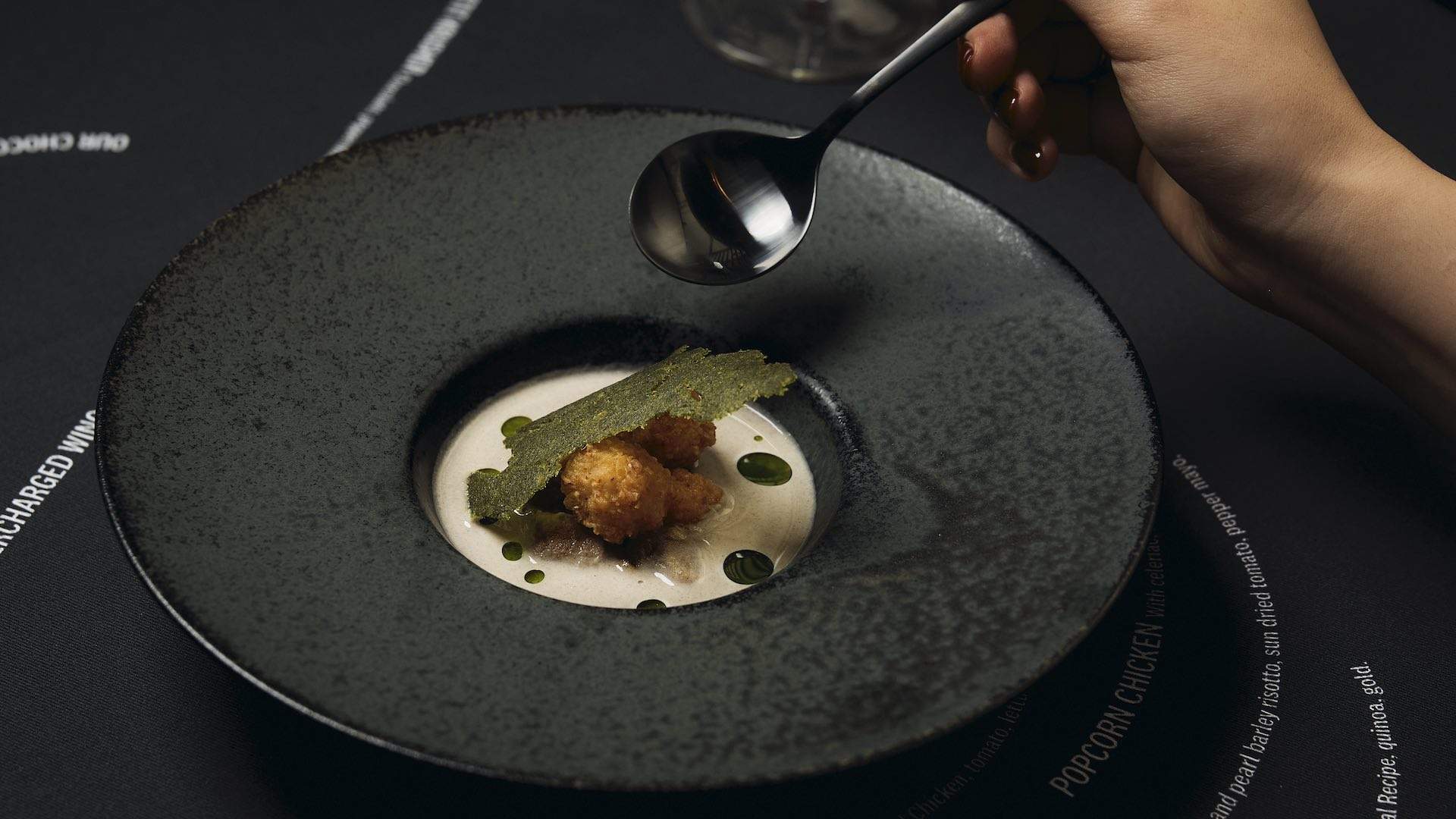 Course Seven: Popcorn Chicken
You know what's better than popcorn chicken? Popcorn chicken in a creamy celeriac and mushroom soup with fresh gnocchi and fragrant basil oil. Says my dining companion: "Next time I get popcorn chicken, I'm going to buy a tin of Campbell's cream of mushroom to go with it." Sure, it's a cheat version of this silky, umami-laden dish, but I suggest you consider doing the same.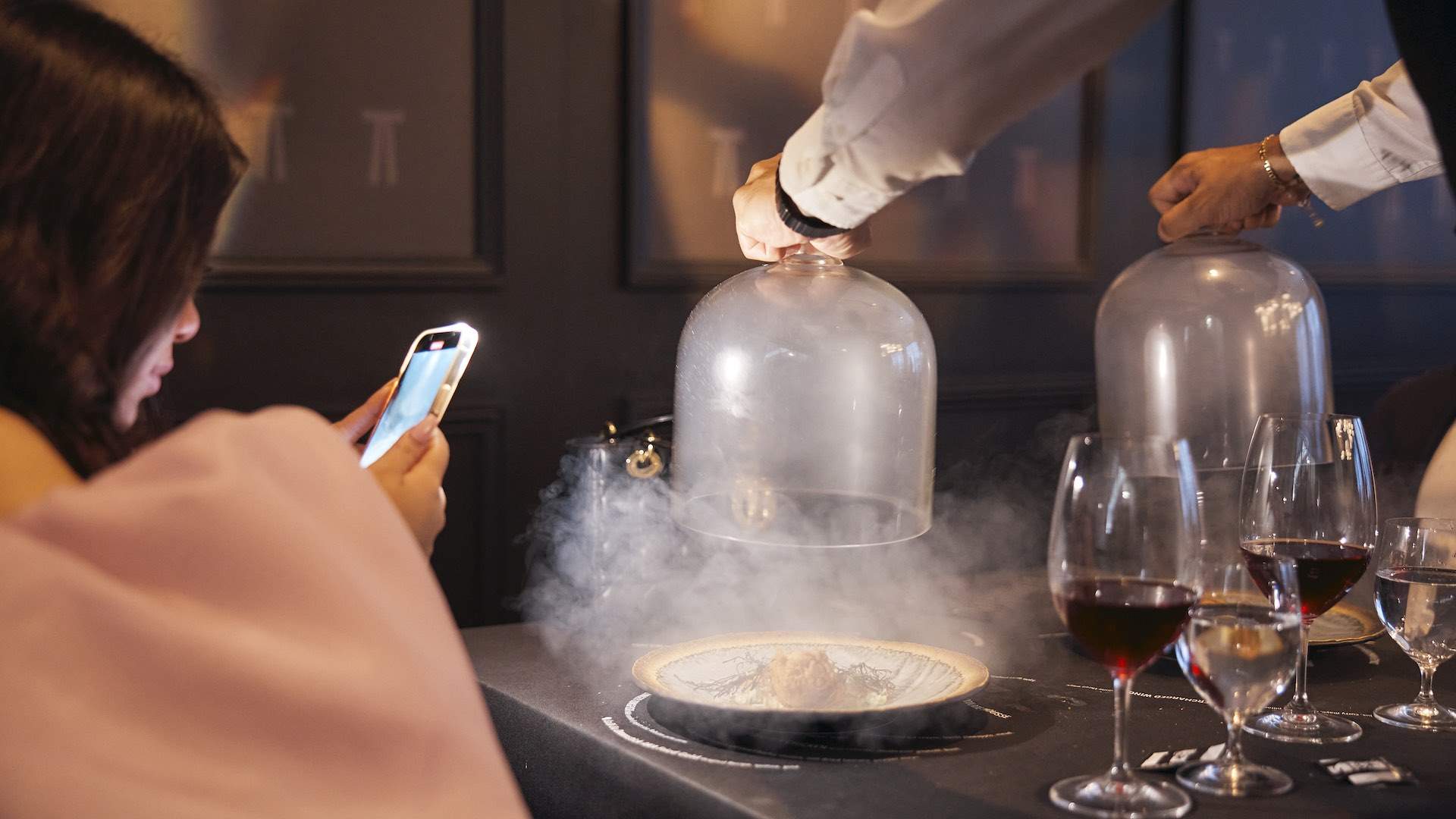 Course Eight: La Di Da Drumstick AKA Fried Gold
A dramatic hush suddenly descends upon the room. From the moment the first tall, glass, smoke-filled cloche enters the dining room for the final savoury course, the anticipation for what we know is coming is truly palpable. Underneath, revealed in a hypnotically synchronised flourish, lies a single KFC drumstick. But, reader, this is no ordinary drumstick. This is a gently smoke-infused piece of original recipe resting on a bed of black garlic and cauliflower purée, quinoa and edible gold, and looked like something out of a fairy tale. It tasted as good as it looked.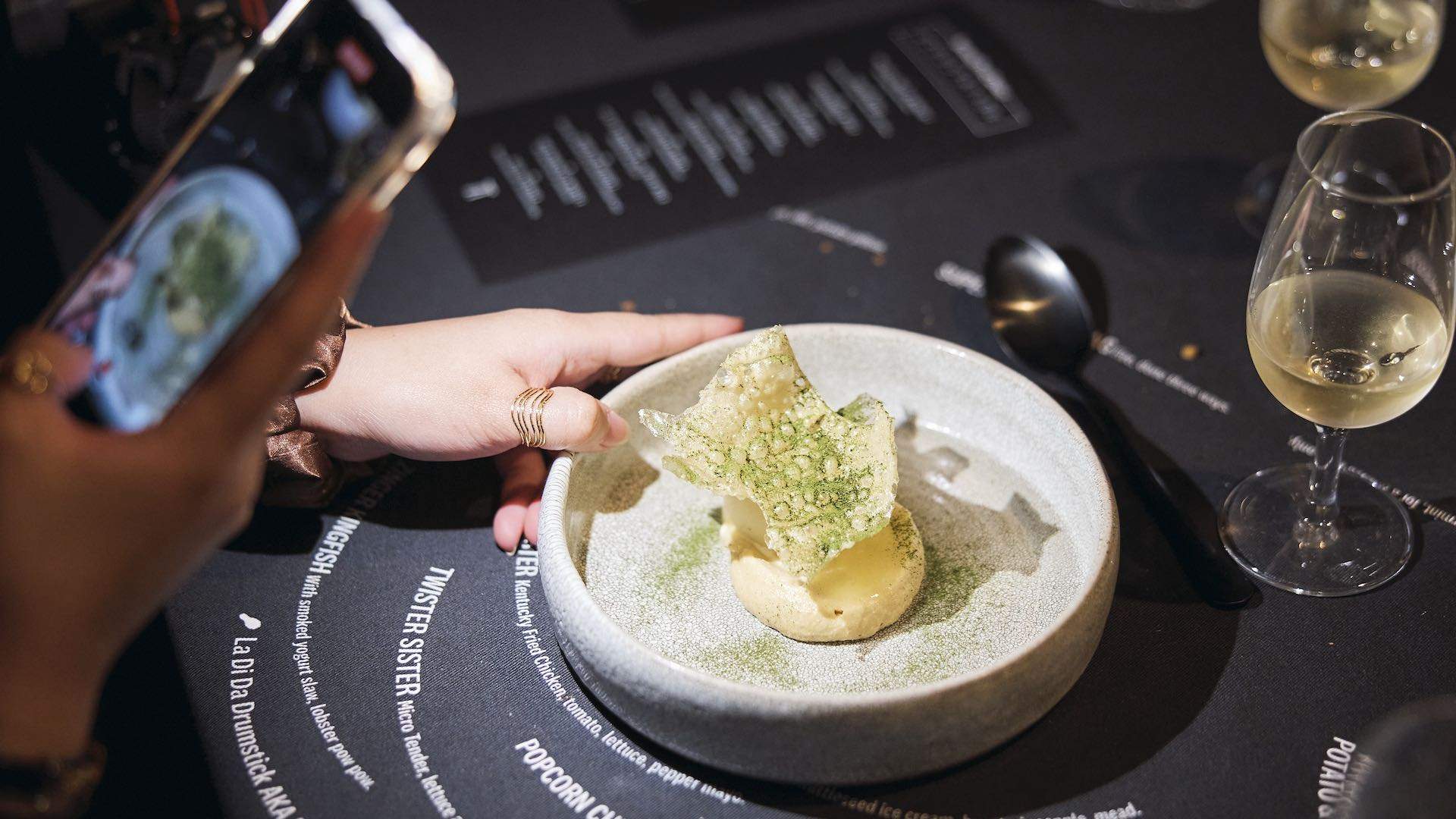 Course Nine: Chips for Dessert
Facts: fries dipped in ice cream is a god-tier pairing. For me, this is usually happening when coming out of a drive-through with one hand trying to get my soft serve-to-chip ratio just right, while the other hand is actually trying to drive. No such theatrics are needed for this first of three desserts, however, as I practically inhale this delightful dish of a single dehydrated, de-starched potato chip with wattleseed ice cream and burnt pineapple and mead purée.
Course Ten: Our Chocolate Mousse
Here, generous nugget-sized serves of light and airy chocolate mousse are dipped in liquid nitrogen and topped with popping candy. I've never eaten chocolate mousse — or any mousse, for that matter — with my hands, but this is so finger lickin' good (you know I had to) that all decorum flew the coop (I'll stop now).
Course Eleven: Petit Krusher
This is a creative take on an after-dinner mint inspired by the gone-but-not-forgotten KFC Krusher. I'd tell you what this tasted like but, despite being told to have this truffle ball-looking morsel in one bite, I somehow forgot how to eat and ended up inelegantly spraying most of this all over the table. But after all, what's KFC without a bit of mess?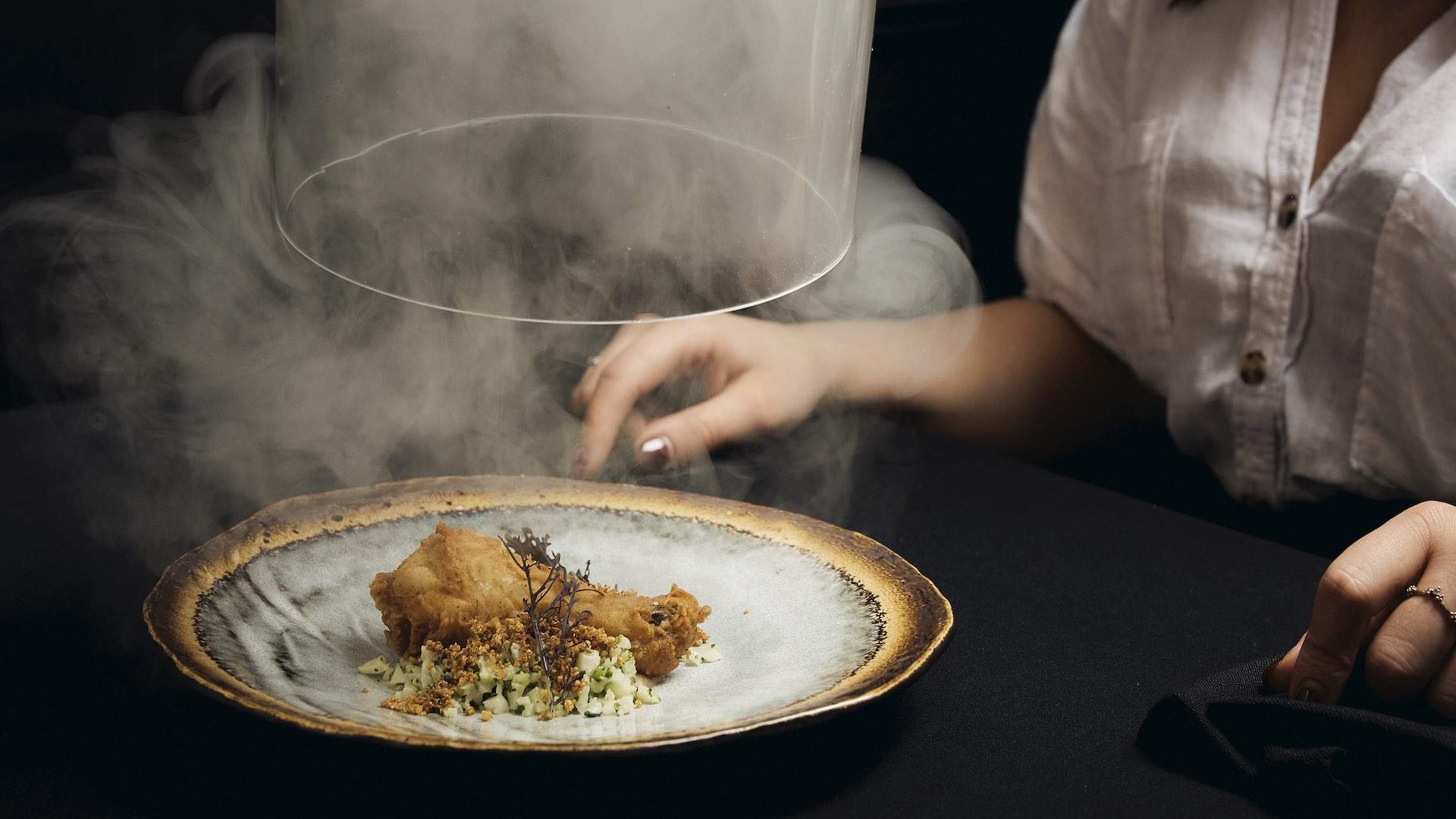 THE VERDICT
This dinner series might begin on April Fool's Day, but it's no joke. It's a clever, creative menu that serves as both a love letter to KFC and a truly fascinating exploration of the possibilities of fried chicken. A wanky take? Perhaps. But when I'm eating KFC with knives and forks and liquid nitrogen and, it must be said, an excellent wine pairing, the least I can do is get a bit extra with a review.
I was asked by a colleague if the meal is as good as big bucket of KFC, and the answer is both yes and no. This dinner doesn't hit the same spot that only a Family Feast can, but that's not the point. It's pure escapism — fun for the sake of fun, an opportunity to just enjoy what's in front of you. And these days, who can argue with that?
Concrete Playground Trips
Book unique getaways and adventures dreamed up by our editors