FOOD & DRINK
Eyes on the Pies: Where to Find Melbourne's Best Hot Pies
These bakeries and pie shops are serving up ripper editions of the classic Australian dish, including a lasagne pie and lobster delights.
When it comes to classic comfort food with a distinctly Aussie accent, the humble hot pie is at the head of the pack. With saucy filling wrapped in a neat package of flaky, buttery pastry — what's not to love? The pie is a versatile little beauty, just as happy being hoofed down alongside a lively footy match, as it is being scoffed barefoot after a session at the beach — a true-blue Aussie favourite.
Luckily, this city of ours is dishing up some beautiful renditions of the beloved flaky treat from award-winning chunky steak bakery pies, to less traditional creations boasting innovative, chef-inspired fillings. And we've rounded up some of the standouts. Stock up on napkins, lock in your sauce strategy and check out our pick of Melbourne's best pies.


THE PIE SHOP, BRUNSWICK EAST
The Brunswick East iteration of Pope Joan might be no longer, but sibling and former next-door neighbour The Pie Shop is very much alive and kicking. Another brainchild of renowned chef Matt Wilkinson (Crofter, Montalto), the store is slinging a tidy curation of crisp, golden goodies every Friday and Saturday, with both piping hot pies and heat-at-home varieties available. Signature small serves include The Brian — a blend of mushroom and gruyere, the Shazza — starring cauliflower, leek and cheddar, and a shepherd's pie dubbed The Steve. Or, challenge yourself by thinking a little bigger and grab one of the family-serve pies, filled with the likes of chunky beef and vegetable, or rich lamb casserole.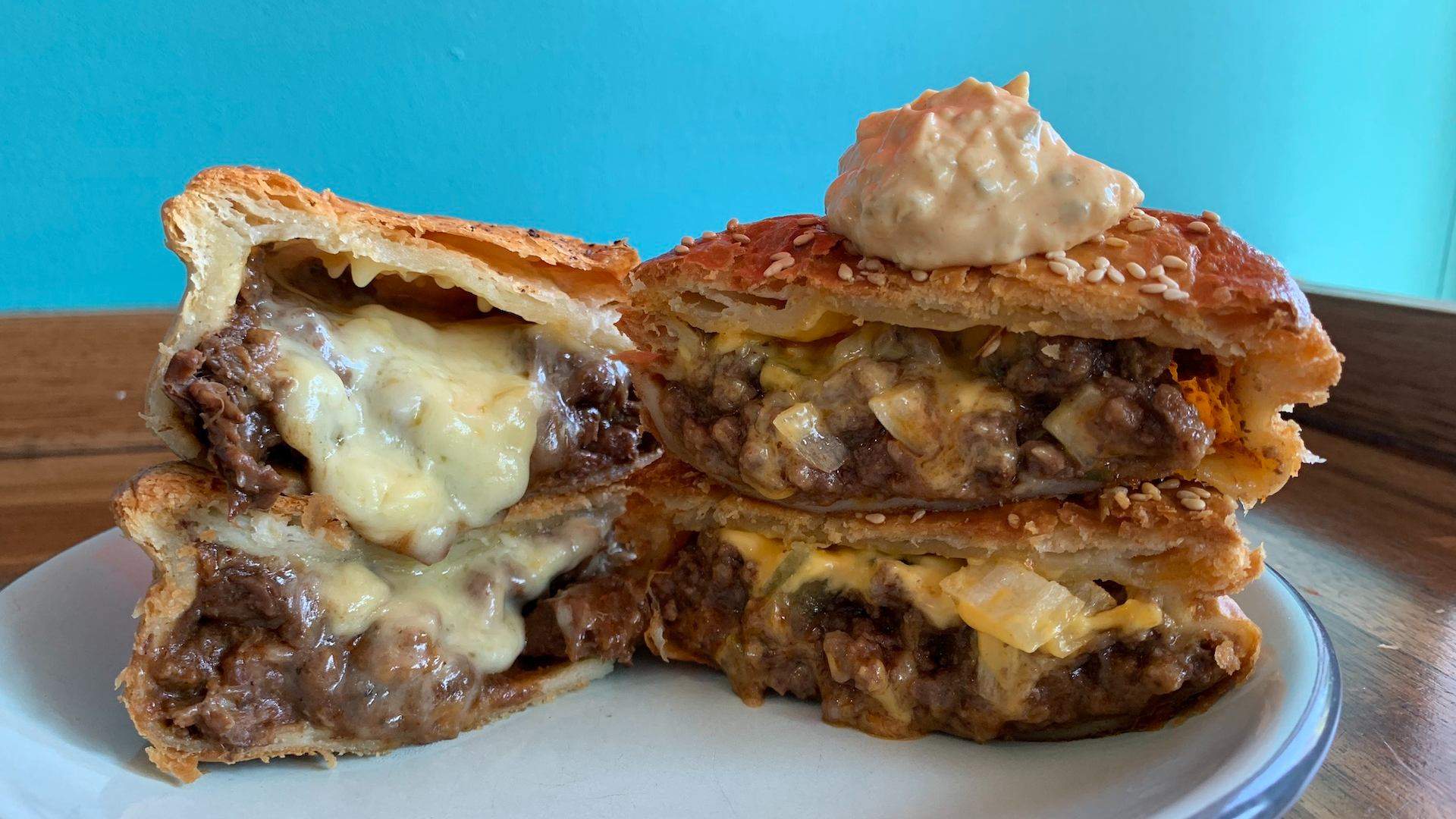 PIE THIEF, FOOTSCRAY
This unconventional pie shop is one of the darlings of Melbourne's west, loved for its friendly vibe, nostalgic touches and rotating menu chock full of innovative eats. Since launching in 2019, Pie Thief has been sating those pie cravings with restaurant-y signatures like the chunky steak (braised in a stout made by fellow Footscray locals Hop Nation), the Thai red chicken curry, and plant-based varieties such as a vegan spaghetti bolognese and the barbecue jackfruit with jalapeno. There's also a rotating Pie of The Week special to tempt you, though we trust you'll find it hard to leave without at least one serve of the legendary lasagne pie — a monster layered with bolognese, bechamel and pasta.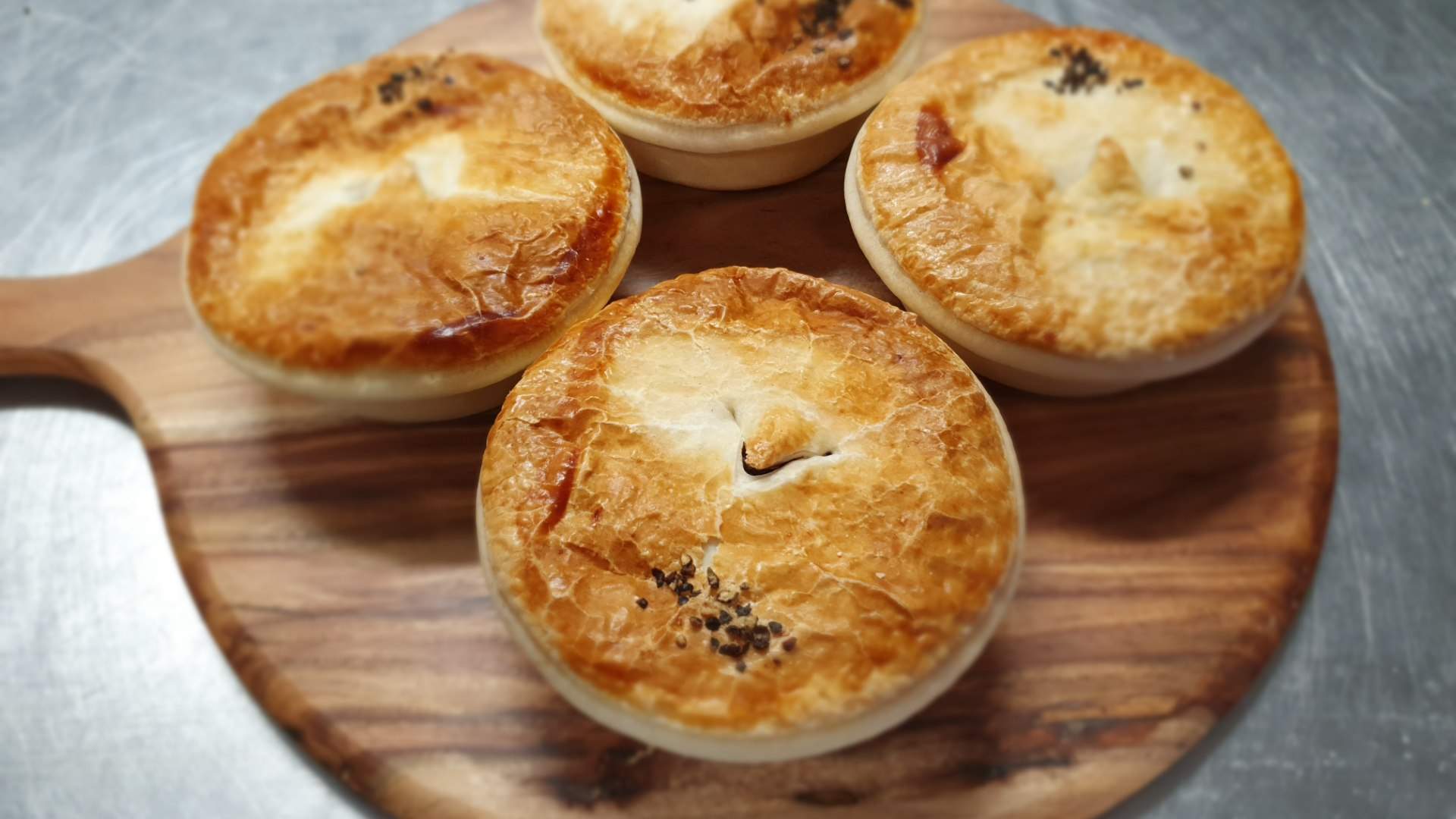 COUNTRY COB BAKERY, SPRINGVALE, BORONIA AND KYNETON
When a bakery consistently reigns supreme at the revered Australia's Best Pie Competition, earning multiple awards each year, you know it's got the goods. Now with three outposts, Country Cob Bakery is slinging a menu of famously good pies, ranging from traditional bakeshop favourites to inventive new-school creations. Prepare to be spoilt for choice, with numerous vegetarian options, an array of seafood-filled pastries — lobster pie, anyone? — and plenty of different chicken pie varieties. If you're after something meaty, keep things simple with the champion pepper beef pie, or go for a more gourmet combination, like caramelised pork and pepper, rich lamb ragu or chilli beef con carne. Tasting packs are also available if you simply can't decide.


A1 BAKERY, BRUNSWICK
Worlds apart from the traditional Aussie Four'N Twenty, A1 Bakery's beloved baked goods are a celebration of Lebanese flavours through and through. The family-run bakeshop and grocer is renowned for its authentic Middle Eastern eats, serving up pastry-induced happiness since 1992. Here on Sydney Road, the 'pie' takes many different forms, though crisp, golden pastry and generous, flavour-packed fillings are always a given. Try the boat-shaped pie creation loaded with shanklish cheese, tomato and herbs, a dense spinach triangle crammed with cheese or perhaps one of the plump crescent pies sporting a lush cheesy centre.

WONDER PIES, COLLINGWOOD AND BULLEEN
With legendary chef Raymond Capaldi at the helm, local pie business Wonder Pies certainly has some chops. Capaldi works to the motto, 'you should be able to eat a pie whilst riding a bike', so expect some very good house-made pastry engineered with great structural integrity. Current menu highlights include a chunky beef with cheese and pepper, the butter tandoori chicken pie, a dense lasagne hybrid and an indulgent mac 'n cheese variety. What's more, each pie is finished with a silky double French glaze for extra flavour points. The kitchen is whipping up both small pies and family-sized beauts, along with the quintessential three-bite party pie, and there are plenty of multi-packs on offer.


NORTHCOTE BAKESHOP, NORTHCOTE
Stunning sourdough loaves, traditional French croissants and some standout breakfast rolls have cemented Northcote Bakeshop's status as a leader of the Northside's baked goods game. But pie-lovers will also find themselves in excellent hands here, thanks to a short but stellar lineup of savoury pastry delights. Right now, you can sink your teeth into a tarragon chicken number, finished with confit garlic and leek. Or, go meat-free with the potato and leek pie starring spring vegetables and salsa verde. Both come in solo serves teamed with a thick house-made relish, plus there's a signature beef and lamb sausage roll if you're feeling especially peckish.


PURE PIE, DOCKLANDS
From individual pastries you can polish off in a few bites, through to hefty family-sized pies that'll feed four with leftovers, Pure Pie has pretty much all levels of pie craving covered. The Docklands-based bakery is whipping up a sizeable array of sweet and savoury baked goods for just about every palate, with both freezer packs and ready-to-eat varieties on offer. On the current menu, you'll find options like slow-braised beef with cheddar and Guinness, a mild butter chicken concoction, the chicken and mushroom blend finished with a hit of tarragon, and a breakfast-inspired chilli bean, spinach and feta pie. If you can't make it in-store, order online for home delivery or catch Pure Pie at your local weekend market.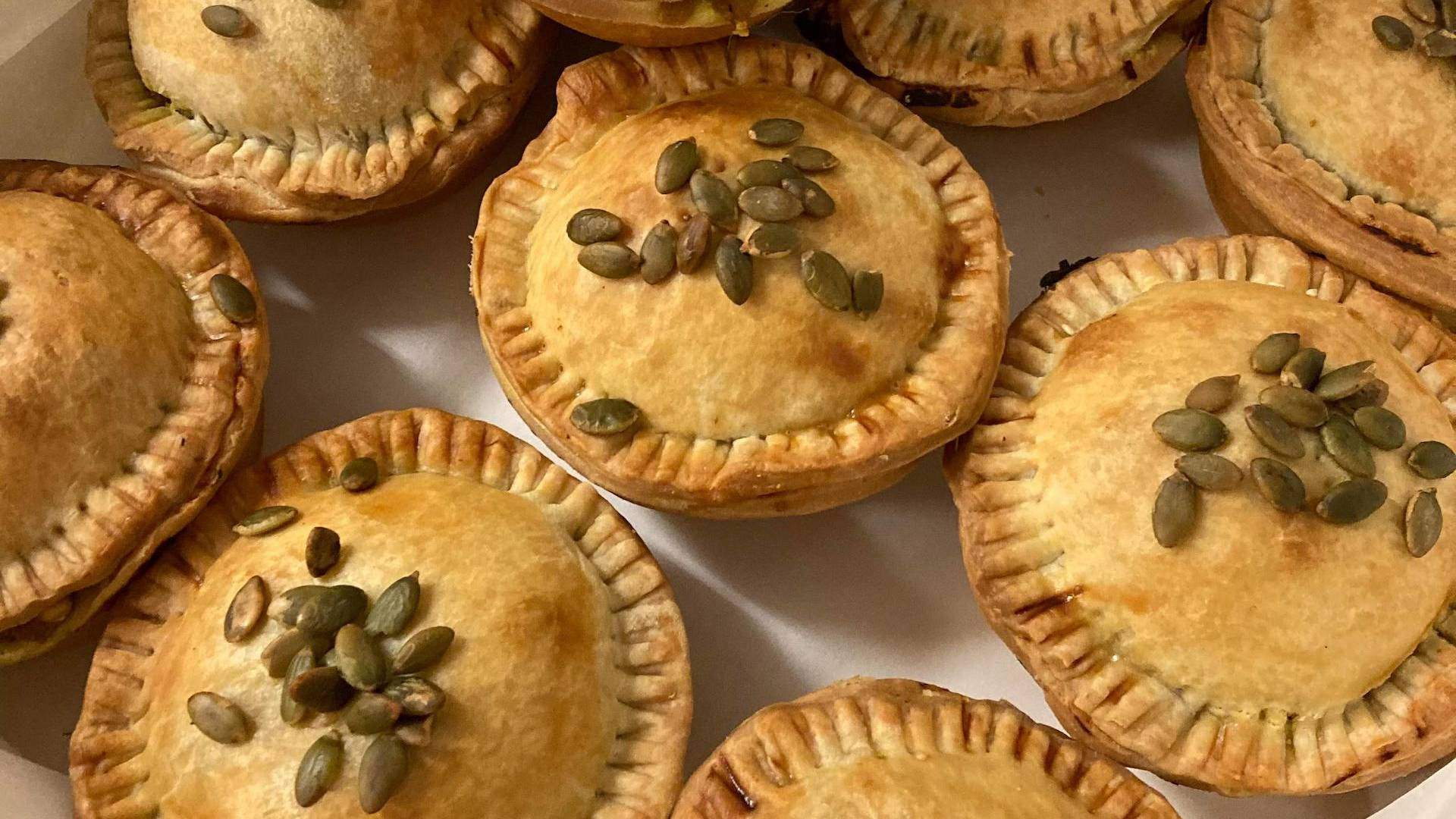 FATTO A MANO, FITZROY
It's only fair to warn you that a visit to this Fitzroy bakery will likely see you leaving with a bunch more goodies than you originally had on your shopping list. Fatto a Mano's counter is forever brimming with a tasty array of homemade treats from cakes, tarts and loaves, to freshly-baked muffins, and giant slices of the famed house pizza. Among them, you'll find a rotation of rustic solo-serve hot pies, with popular savoury fillings including the likes of an aromatic chicken curry, organic beef, and the mushroom with spinach and haloumi. Vegan options abound and there's even a range of gluten-free pies, topped with crispy shredded potato.

RICHMOND PIE SHOP, RICHMOND
It should come as no surprise that Richmond Pie Shop specialises in baked goods of the round, pastry-based variety. And they're premium specimens, too. Should you find yourself in Melbourne's inner-east and in search of a hot pie fix, consider yourself spoilt for choice with this bakery's extensive menu. Classic options include the likes of a cheesy beef and bacon, an Aussie-style beef and a potato-topped shepherd's pie. Or, you can step things up a notch with one of the gourmet creations — perhaps the lamb and rosemary, a Thai chicken number, or the veg-friendly cauliflower and leek pie. There's even a party pie for the snack fiends among you, priced at an easy $2 a pop.



HONOURABLE MENTIONS:
Fitzroy bakery Babka is serving up a tidy selection of simple, yet satisfying pies, with home-style fillings starring chicken, lamb and beef.
Handmade hot pies are a passion at Keith's Pies in Richmond, where you'll find fillings like chunky steak and pepper, creamy chicken and mushroom, and even a bacon-infused brekkie blend.
There's only one pie on Falco's standard menu, but it's an absolute ripper, featuring all the flavours of the famed Rockwell & Sons burger wrapped into house-made pastry.
Magnum Pi is doing handcrafted pies available for delivery across Melbourne, with crafty fillings like chicken moussaka and green mac 'n cheese.
Mornington Peninsula pie-slinger Johnny Ripe is best known for its sugar-dusted apple creations, but also makes a cracking savoury family pie.

Top Image: Pie Thief's legendary lasagne pie.
Published on September 08, 2021 by Libby Curran