FOOD & DRINK
Much-Loved Sydney Restaurant Nomad Is Set to Open Its First Melbourne Outpost Next Year
The Sydney favourite is joining the restaurant ranks in Flinders Lane.
Much-Loved Sydney Restaurant Nomad Is Set to Open Its First Melbourne Outpost Next Year
The Sydney favourite is joining the restaurant ranks in Flinders Lane.
It's already home to a large number of the city's best restaurants, but Flinders Lane is about to score another gem when Sydney's much-loved Nomad opens up a Melbourne outpost in June 2020.
While the name might not ring any bells for Melburnians, the popular casual fine diner is known in Sydney for its reliable and always delicious Mediterranean-Australian fare. That includes the likes of zucchini flowers with pecorino and truffle honey, ricotta dumplings and its must-order duck mortadella.
Nomad's current head chef Jacqui Challinor is coming down to Melbourne to craft the new menu, which will likely feature some of the stars from the Sydney list — fingers crossed for the above — along with plenty of new dishes to try. She plans to build a team of local Melbourne chefs and allow the venue to develop its own identity, rather than just being a carbon copy of the Sydney restaurant
Challinor plans to work closely with local producers. "Having strong relationships with local suppliers has always been a core part of what we do at Nomad," she says. "So my aim is to get down there and engage with all the Victorian producers to help inspire the Melbourne menu."
Diners can look forward to plenty of house-made bread, charcuterie and cheese, plus signature dishes fresh out of a wood-fired oven, served alongside an extensive list of wines from small growers and producers, particularly interesting tastes from international vineyards.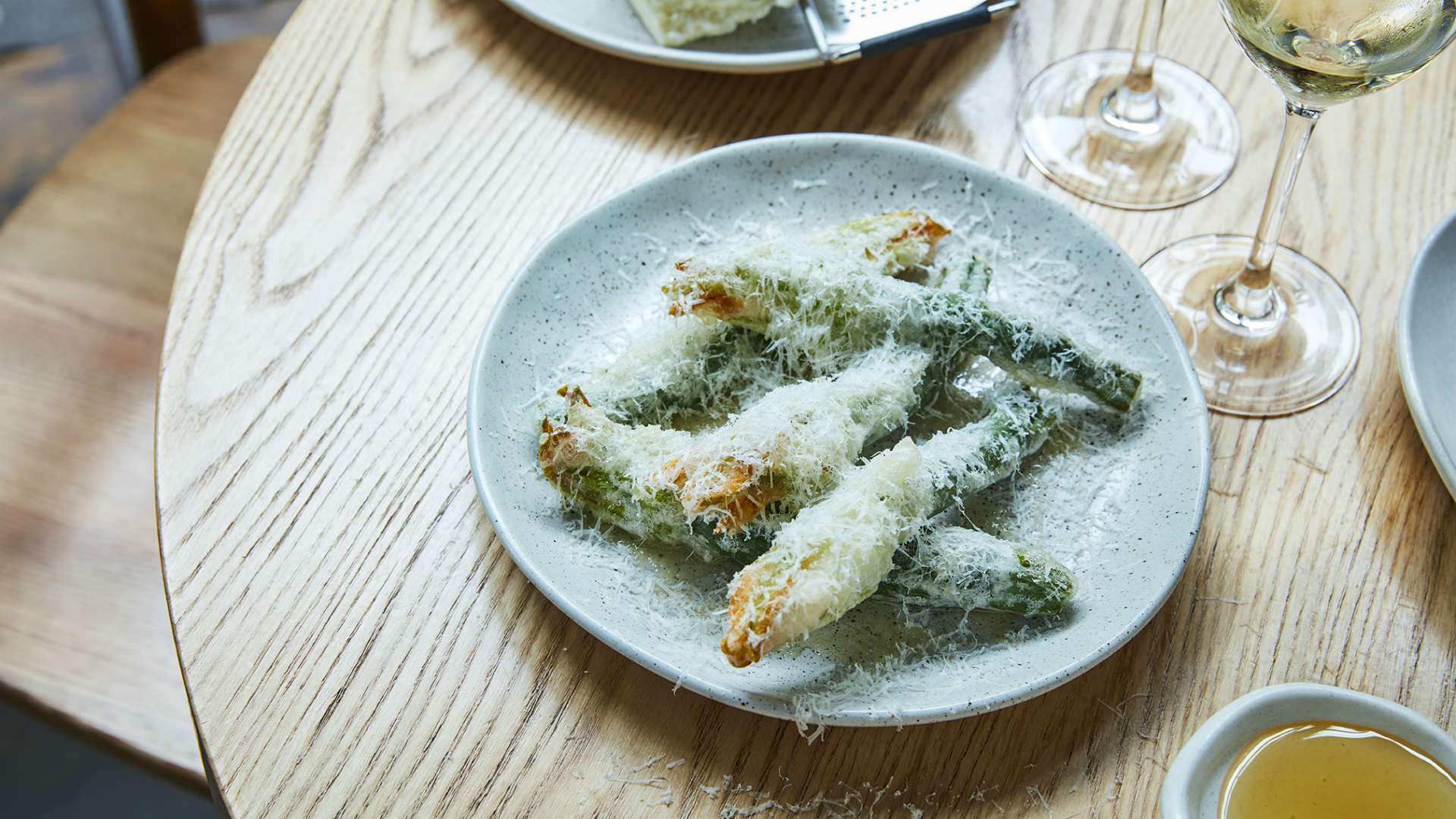 Nomad's zucchini flowers.Moving in alongside Supernormal, MoVida, Lucy Liu and Kisumé, Nomad Melbourne will have an interior to match its neighbours. It's being designed by local architect Clare Cousins, who is creating a moody 150-seat restaurant and bar with a hidden entrance — very fitting, given the locale.
It's been a hectic year for owners Al and Rebecca Yazbek, whose Surry Hills restaurant has been shut since September after an electrical fire caused extensive damage. But, now that the pair has got temporary venue Nomad Up The Road up and running, they can focus their attention on the move south.
Nomad Melbourne is set to open June 2020 at 189 Flinders Lane, Melbourne. We'll keep you updated as we find out more details.
Images: Petrina Tinslay. 
Published on December 03, 2019 by Leisha Kapor