FOOD & DRINK
Ten Unexpected Dishes to Hunt Down Across Melbourne
Sometimes it feels like you've tasted it all — well, until you try ant lamingtons and crab crumpets.
Ten Unexpected Dishes to Hunt Down Across Melbourne
Sometimes it feels like you've tasted it all — well, until you try ant lamingtons and crab crumpets.
---
in partnership with

How many of you can thank MasterChef Australia for your culinary awakening? Remember the first time you laid eyes on that glorious croquembouche and thought, "hot damn, I suddenly know what I want for my birthday and all birthdays evermore"?
Even after ten seasons, MasterChef Australia continues to surprise us with weird flavour combos (thank you, Mystery Box) and increasingly wacky contributions by competitive guest chefs. So, in honour of the series that launched a thousand wonky dessert towers, we've rounded up ten of Melbourne's most unexpected dishes for those times when you want a culinary experience but don't want to demolish the kitchen.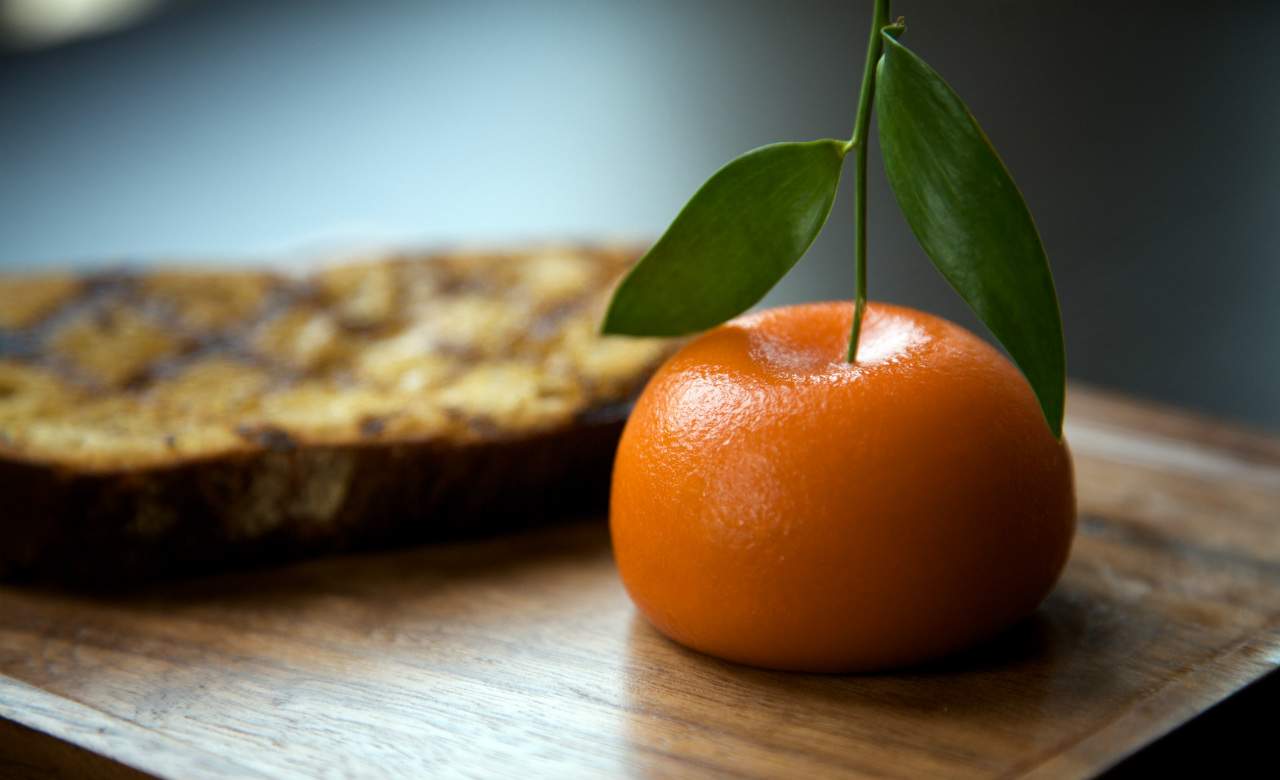 A list of unexpected dishes would not be complete without Heston Blumenthal, the world's kookiest cook. The meat fruit has been around since the 1500s. And Heston's modern Meat Fruit has been around for a while, too, persisting in spite of the vulgar images conjured by its name.
But, we digress. The Meat Fruit at Dinner by Heston is a wad of chicken live parfait and mandarin jelly, served with grilled bread ($38). Somehow, he makes it work — though how we could not say. And the thing is, the controversial Meat Fruit is only an appetiser, so that's really only the first surprise of many.

ANT LAMINGTON, ATTICA
Ben Shewry of Attica, one of MasterChef Australia's favourite guests, keeps you on your toes. Sure, it might look like he's just serving you up a lamington sprinkled with chocolate bits — but don't think you'll get off that easily. Those chocolate bits are actually spicy ants. Interesting? Yes. Delicious? You betcha. Likely to turn up anytime soon on your Krispy Kreme? Don't count on it.
To experience a mouthful of ants, you'll have to nab a sitting at Attica in Ripponlea, which isn't that easy. Bookings open at the start of every month, and if you manage to get in, it's handy to bear in mind that an ant lamington isn't even the weirdest (or tastiest) thing you'll experience at chef Shewry's hands.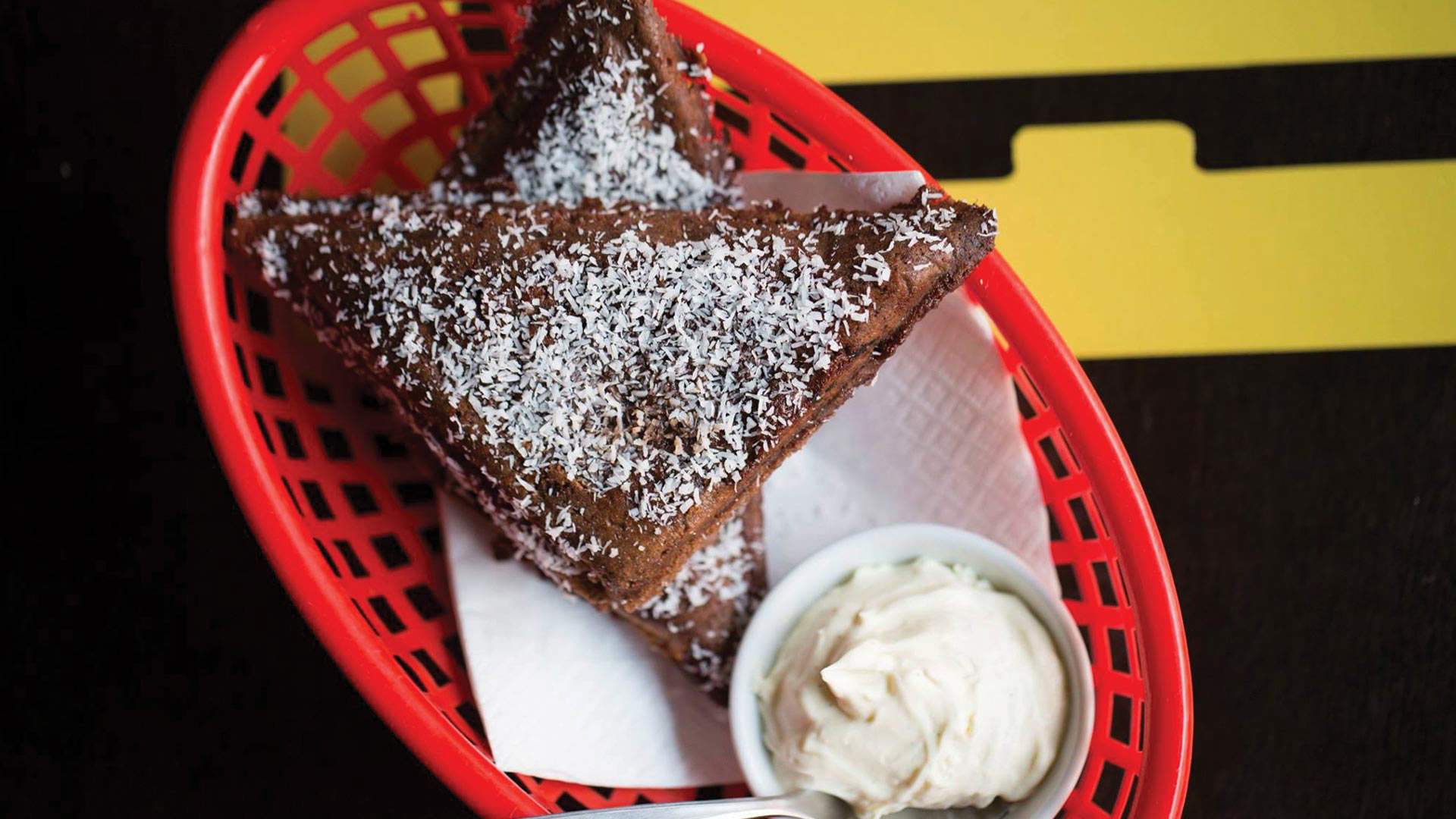 If you're after a spin on the lamington with fewer ants involved, turn to Bad Frankie in Collingwood. From its cute little bar just off Smith, it's serving up childhood favourites with a twist. The humble jaffle is transformed into a legitimate culinary delight and one of the most unexpected combos is the lamington dessert jaffle ($8). It has jam and cake filling, wrapped up in bread, fried, and coated in chocolate and coconut.
Special mention also goes to the butter chicken jaffle ($8) that comes minus the chicken, too. While it's not super crazy, the kitchen has done what all of us dream to do — getting rid of the solids and drinking the sauce.

Jethro Canteen famously made headlines last year for its alternative menu featuring cricket salad and camel's milk (among other things, of course). If you want something a bit different on your eggs benny, head over to Richmond and grab a side of crickets ($6) with your eggs. Or try the Vietnamese roasted cricket noodle salad as a main ($19), made with glass noodles, wombok, cucumber, crushed peanuts and tomatoes.
Insect eating, officially called entomophagy, will only get more mainstream, so get ahead of the trend and put all thoughts of A Bug's Life out of your head. And for the record, the crickets are crunchy and delicious.

Don't let the name trick you — Supernormal is anything but normal. But while the entire Japanese menu is outstanding, we'd like to draw your attention to its dessert offering for maximum gasp-factor. It's chock-full of odd combinations of flavours from both east and west. We recommend the Japanese shaved ice (called kakigori, $16), served with toffee apple and hibiscus — what does hibiscus taste like? You'll soon find out.
Alternatively, try the kakigori ($16) at sister restaurant Supernormal Canteen, here it comes with crème caramel, dulce de leche and popcorn. There are no rules for these desserts, so it's best to just sit back and trust. After all, Supernormal is home to one of our city's famous desserts – the peanut butter parfait.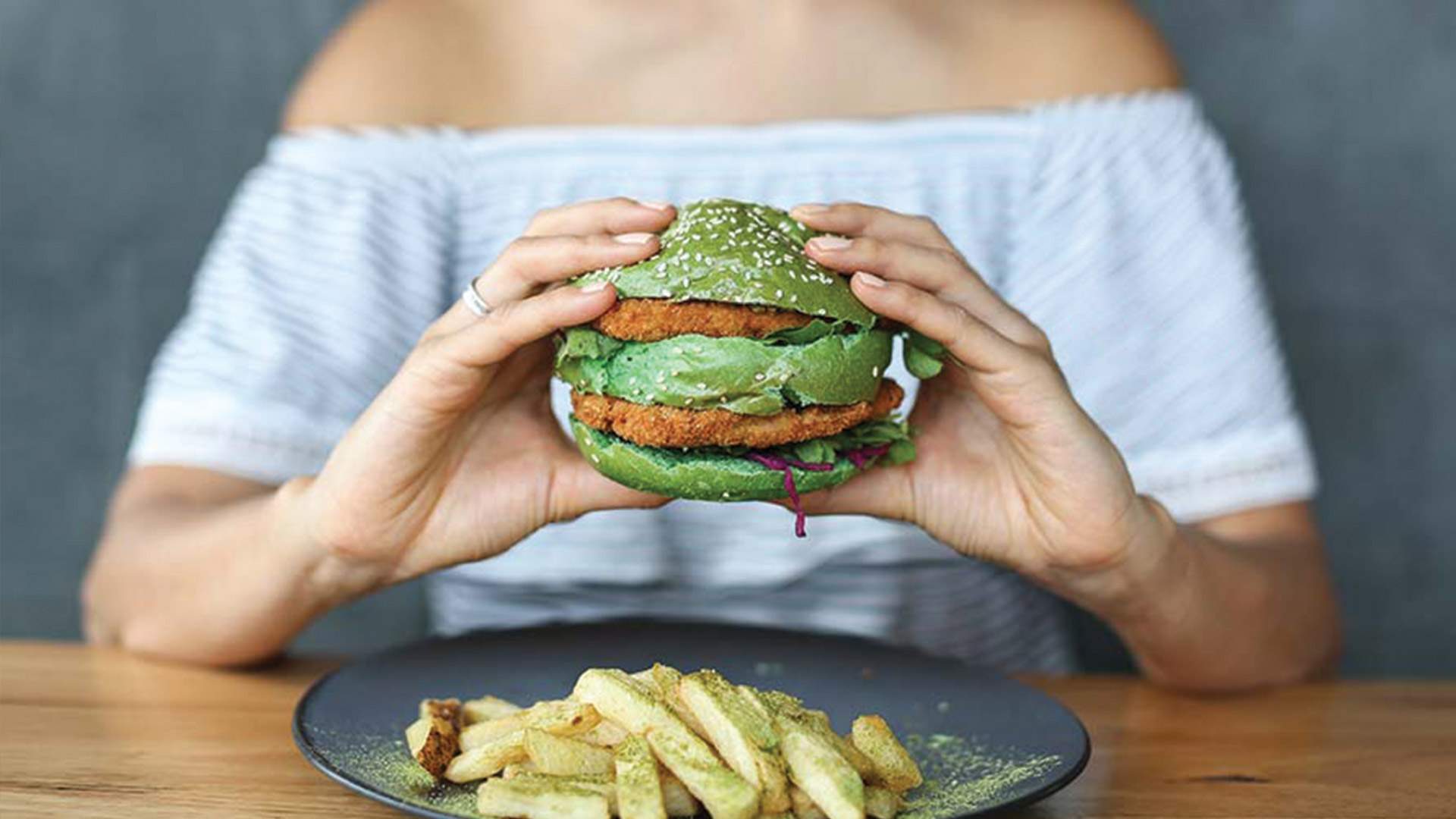 Matcha Mylkbar already has a reputation for its colourful menu and rainbow coffees. Blue algae, green matcha, pink beetroot, and yellow turmeric lattes aren't so unexpected on the outrageous Melbourne coffee scene. But, what's unexpected about Matcha Mylkbar's colourful creations are that they actually taste good.
It's not a novelty that'll fizzle out, but a genuinely delicious alternative drink for people who don't do caffeine (or dairy). The algae latte ($9) is our favourite but only if you like sweet drinks. And the Matcha burger ($22) is in a league of its own — the salty, crunchy protein patty is the perfect companion to the slightly sweet matcha bun and generous slices of avo.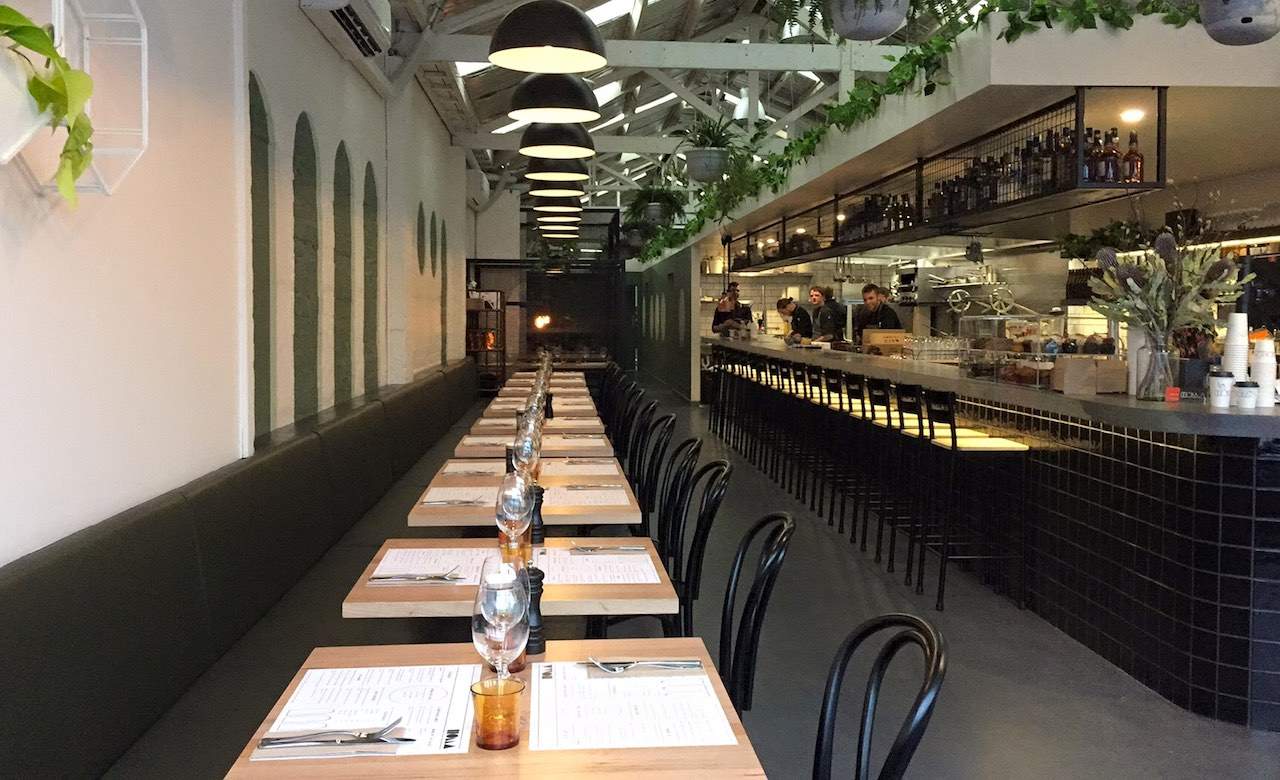 CRAB CRUMPETS, HOLLA
For most people, crustaceans and breakfast don't logically pair. Our sensitive western tastebuds and unsettled pre-coffee stomachs aren't ready for the the strong flavours of the sea. But hear us out on this: the crab crumpets at Holla are a stroke of genius. The crunch, the rich flavours, and the protein are a great way to start the day.
And Holla's crumpets are not your on-special supermarket Golden six-pack. The crispy morsels come with soft shell crab, two poached eggs, avo and bacon crumb ($24) — it isn't what you might expect on to turn up on your crumpets, but it's so tasty we can suspend our disbelief.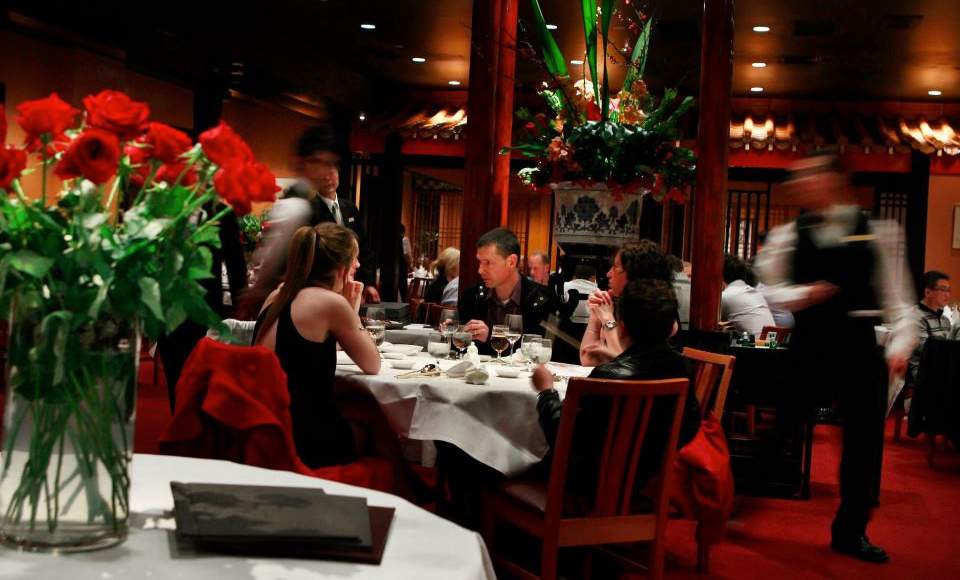 Flower Drum is one of Melbourne's fanciest Chinese restaurants, so make sure you dress for the occasion. The menu is packed with traditional meat and seafood dishes that will boggle your noggin with unfamiliar combinations.
But the pearl meat ($28 per person) appetiser is as unexpected as it is delicious. It's a simple dish of pearl meat sautéed with spring onions, garlic chives and asparagus. What makes it interesting is the texture of the pearl meat — it's like an oyster but with more substance. If you've never eaten it before, this is the place to do it.


OYSTER ICE CREAM, BRAE
Speaking of molluscs, Brae's oyster ice cream has rocketed to near-iconic status over the last few years — well, as iconic as an oyster can get. In an ever-changing environment that changes with seasonality, this item is always on the menu. Listed officially as the Iced Oyster, the dish comes immaculately presented and sprinkled in a rich green powder. The ice cream itself is sweet and salty and weird and will genuinely make your taste buds say, "wait, what?".
The oyster ice cream is one of the more unlikely combos in Dan Hunter's repertoire, but the rest of the menu has a few surprises, too — the biggest one being that you won't know what you're eating until you get there. After all, a magician never reveals his secrets (or his menu, apparently).

HOKKAIDO BAKED CHEESE TART, HBCT
This savoury-sweet dish is a three-cheese shortcrust-encased tart. The cheese, while made with local produce, is based on the distinct taste and texture of the dairy products of Hokkaido.  What cheese Hokkaido Baked Cheese Tarts uses exactly, is a trade secret. Whether you should eat this dish as an appetiser or for dessert, is also up for debate. But what's known for sure is these tart's popularity. Malaysia has gone nuts for it, and, since it launched its first store here in late 2016, Melbourne has been, too.


Catch the latest season of MasterChef Australia from Sunday to Thursday at 7.30pm on Channel Ten.
Published on June 19, 2018 by Imogen Baker