TRAVEL & LEISURE
Element Richmond Hotel Is Adding Free Karaoke, Igloos and a Pop-Up Cinema to Your Next Staycation
And retro arcade games, air hockey and foosball tables, and a whole room dedicated to 'Super Mario', too.
Element Richmond Hotel Is Adding Free Karaoke, Igloos and a Pop-Up Cinema to Your Next Staycation
And retro arcade games, air hockey and foosball tables, and a whole room dedicated to 'Super Mario', too.
Regional holidays aren't back on the cards in Victoria as yet, but if you're looking forward to leaving your house for an evening once that's permitted, you can still treat yourself to a fancy staycation. And, if you're in need of the kind of fun that only singing in public, mashing buttons, hanging out in an igloo and watching movies on a big screen can bring, Element Melbourne Richmond Hotel has just the prescription.
From Monday, November 2, the eco-conscious Westin brand hotel will be offering up a new 'ultimate sleepover' experience, which will be available to everyone staying onsite. You'll spend the night in one of the hotel's rooms and, because you probably feel like you've already done everything you can within any four specific walls, you'll be able to make the most of the site's new entertainment options — with everything from karaoke and playing PacMan to catching a flick included in your room rate.
Element Richmond isn't skimping on these extras, either. Available until early 2021, operating from 11am–10pm daily and able to be used as guests please — while adhering to social distancing requirements, of course — the roster of activities on offer is hefty. In fact, the entire top floor is set to be transformed, turning guest rooms and a meeting room into places for everyone to hang out. The hotel's public spaces will be taken over, too, including the lobby lounge, restaurant and outdoor laneway.
For those eager to belt out a tune, you can book a two-hour slot in a karaoke room. Two additional rooms will be packed with classic arcade games such as Space Invaders, Donkey Kong, Galaga and Star Wars. There's also a dedicated Super Mario room, which features a huge TV, Nintendo Switch, and all the relevant gaming accessories accessories so you can play Mario Tennis Aces, Mario Kart, Super Mario Party and more.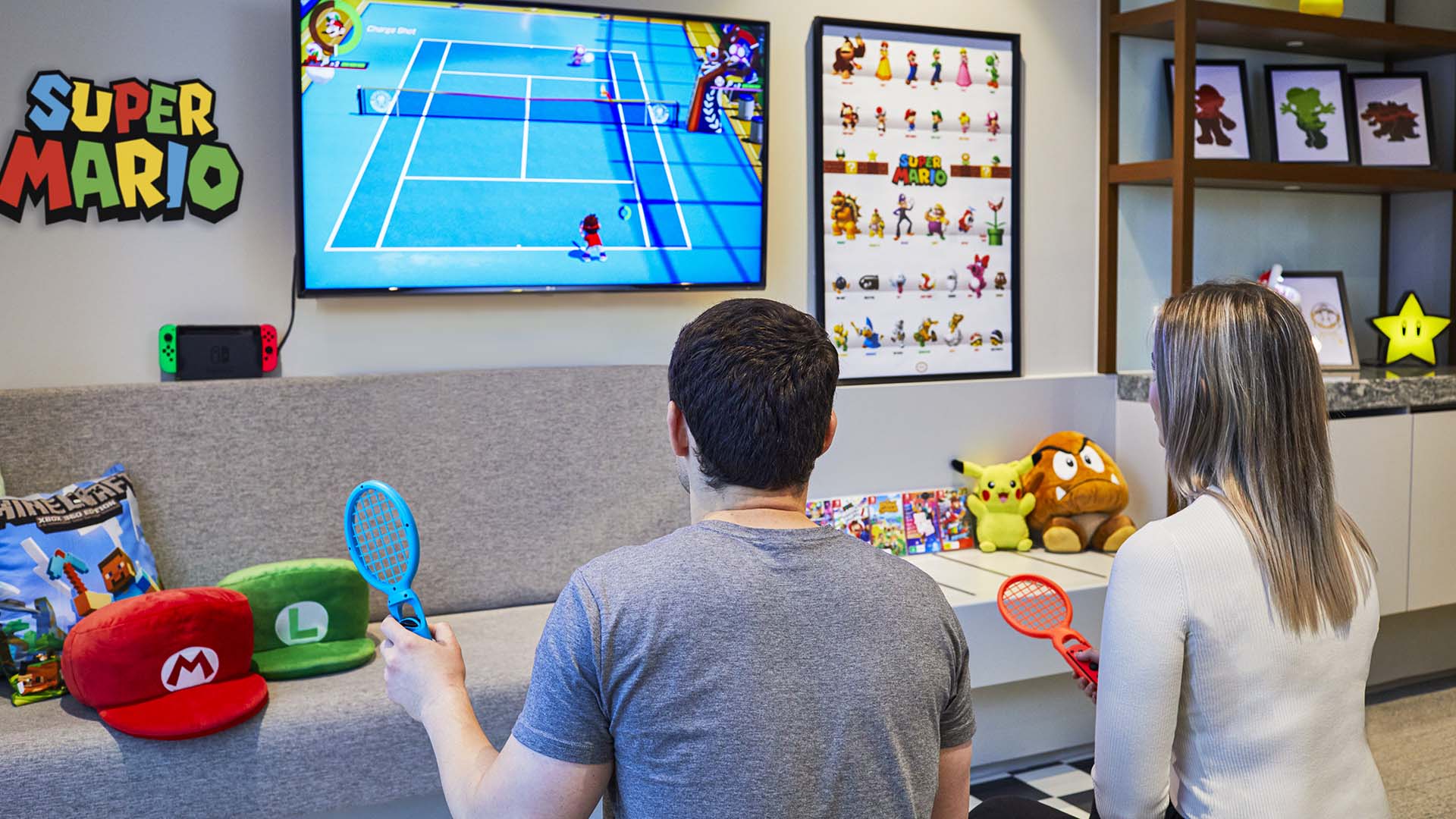 For those who'd prefer a bit of sport — but indoors — you can also head to the air hockey and foosball rooms, as decked out with the relevant tables. And, if you're visiting the hotel with little ones in tow, there's a kids' room as well.
Movie-wise, the pop-up cinema will screen classic flicks on rotation, in gold class-style digs, and serve up freshly made popcorn to go with it.
Elsewhere around the hotel, guests will find a 3D car-racing simulator, pool and table tennis tables, and igloos — although you will need to purchase anything you'd like to eat or drink in the latter separately. And wine tastings, cocktail masterclass and cooking demonstration with hotel chef Paulson Xavier are also on the agenda.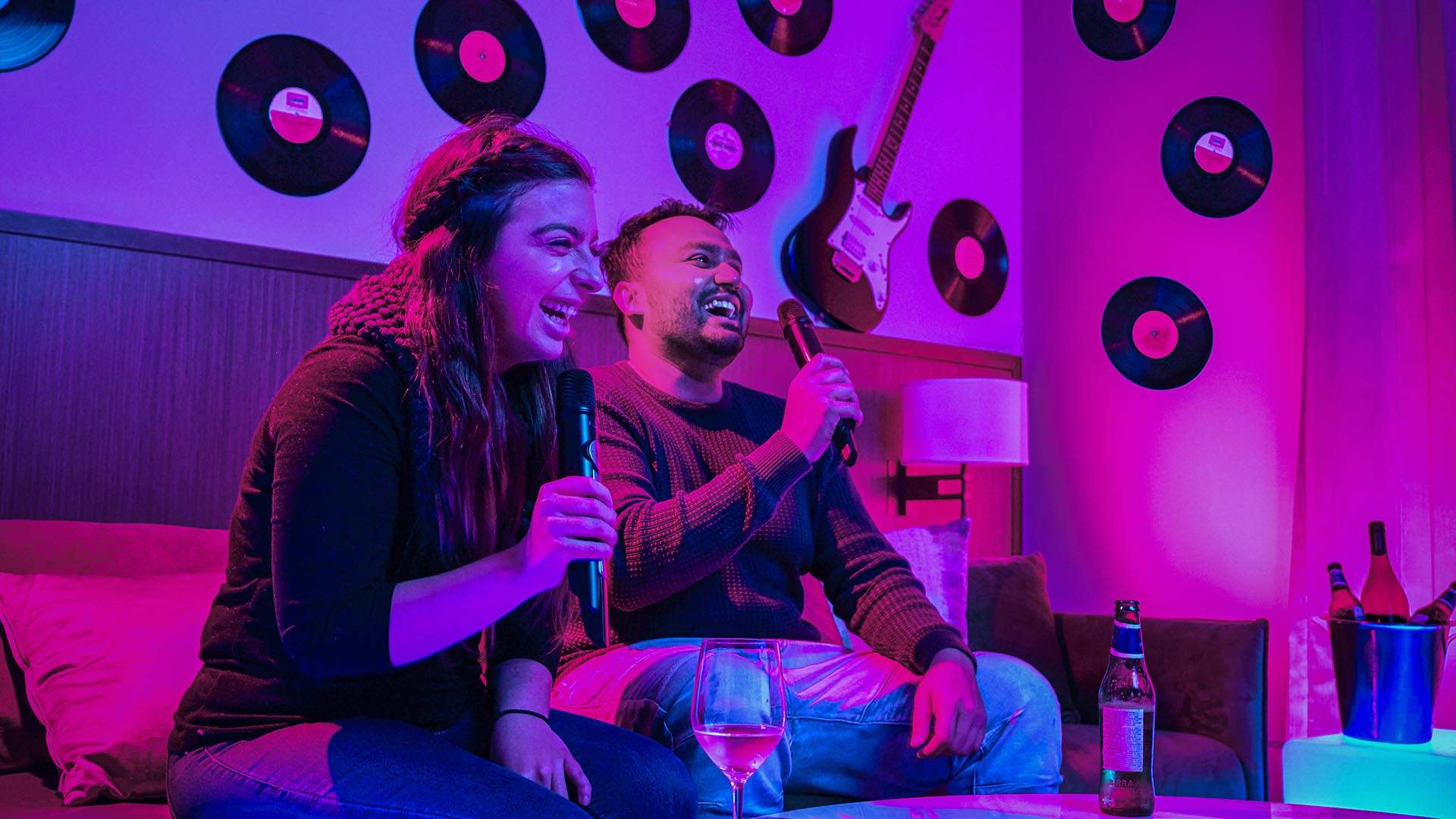 If you're wondering about that topic that's been at the top of everyone's mind for most of the year — cleaning and hygiene — all areas will be cleaned hourly. Guests will also be asked to sanitise all equipment before and after use with the wipes provided, and room capacity limits will apply. Element Richmond also has a hand sanitiser bar — with sannies from the likes of Mr Black, Archie Rose and Four Pillars — that you can peruse.
Currently, the 'ultimate sleepover' experience is timed to kick off when COVID-19 restrictions next ease in the metro Melbourne area, which is presently slated for 11.59pm on Sunday, November 1. That's when the four reasons for leaving home will be scrapped, and the new 25-kilometre rule as well — but if that date moves, so will the start date for Element Richmond's plans.
It's important to note that your four-legged friend can come along for this staycation, too, as Element is a pet-friendly hotel. Comfy dog beds are available for any four-legged guests, though there is a maximum of two dogs per room and they can't weigh more than 20 kilograms each — apologies to all those particularly leggy hounds and hefty pooches. If you are bringing along your canine mate, there's an $80 pet cleaning fee per room, per stay.
Element Melbourne Richmond Hotel's 'ultimate sleepover' experience will be available from Monday, November 2 until early 2021. To book a room, visit the hotel's website.
Published on October 21, 2020 by Sarah Ward