TRAVEL & LEISURE
Five Breathtaking Tasmanian Hikes to Discover This Winter
Conquer otherworldly walks, coastal journeys and treks to panoramic summits.
in partnership with

Summer might be over, but when winter adventures abound somewhere like Tasmania, there's no excuse for hiding indoors. Surrounded by views so awe-inspiring, you really won't care if you need to pack an extra jacket or two.
Tasmania may be Australia's smallest state, but it's got a massive reputation, especially among hikers and adventurers from all over the globe. From epic multi-day coastal walks and summit lookouts to remote islands that display the state's famously rugged landscape, Tasmania is a natural wonderland that'll satisfy your explorer spirit. To help you get prepped and planned, we've tracked down five breathtaking places to hike that perfectly express why folks just can't get enough of this beauty.


THREE CAPES TRACK
Considered one of Australia's most impressive bushwalks, the Three Capes Track combines soaring clifftops that offer incredible views of the Southern Ocean with a myriad of rugged windswept landscape and the possibility of peeping some glittering Aurora Australis. Over the course of 48 kilometres, this multi-day hike tours across the southeast's most famous capes: the trio of Cape Pillar, Cape Hauy and Cape Raoul.
Along the way, the natural landscape shifts from woodland to eucalypt forest — before you arrive at the coastline and get a spectacular view of the Blade, which juts out into the ocean. If you feel like making your visit extra-special, consider taking the Three Capes Lodge Walk, dotted with boutique overnight eco-stays and making your adventure a little cosier.

MARIA ISLAND
Just off Tassie's celebrated east coast, Maria Island boasts a seemingly endless variety of wildlife and plants. Whether you're keen on spotting wallabies, Tasmanian devils or wombats, you're bound to see at least one. Plus, in the winter, there are fewer crowds here so you'll get all of these sights practically to yourself. There's also an astounding range of natural landmarks, such as the island's famed marbled sandstone marvels, The Painted Cliffs and Haunted Bay, which showcases enormous granite cliffs overlooking the sea — a very dramatic site to see during Tasmania's rugged winters.
Accessible only by ferry, Maria Island is covered by dozens of spectacular walking tracks with lots of picturesque spots to pitch a tent. There are also firepits already stocked with wood for you to cosy up to at night. If you have less time on your hands, e-bike trips around this World Heritage Listed island are another great way to cover some ground. It'll be quite the active stay and a seriously scenic trip, too — with all those trails highlighting the very best of Tassie's coastline from an offshore vantage.

PANDANI GROVE
The drive to Mount Field National Park is almost as special as the destination, with the park located 80 kilometres west of Hobart through the Derwent Valley. Your trip isn't over yet; in fact, you'll have to trek deep into the state's oldest national park, which is often dusted with snow in winter.
On your hike, you'll pass rushing waterfalls before reaching the Pandani Grove. This otherworldly nature walk winds its way alongside Lake Dobson and features the rather odd looking pandani fern, which only grows in Tassie and is quite the marvel, especially when cloaked in snow. Even compared to Tasmania's wealth of natural landmarks, Pandani Grove stands out — it's the kind of place you won't find anywhere else in a hurry.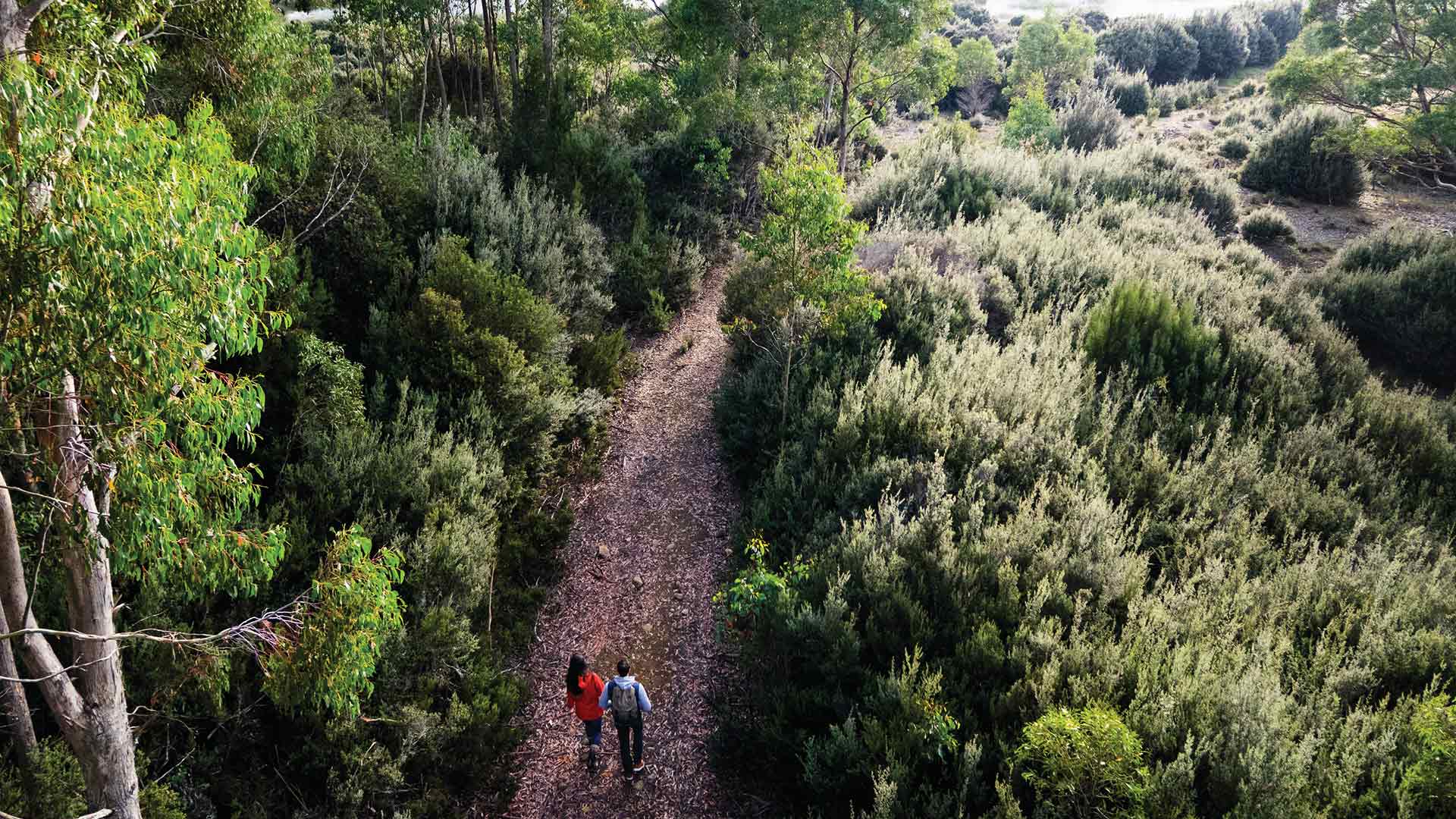 MOUNT RUFUS CIRCUIT
Starting from the Lake St Clair visitor centre, the Mount Rufus Circuit walk takes hikers on a journey through an incredible display of natural beauty. Take the Watersmeet Nature Trail through a peppermint gum forest and, eventually, you'll come to the Mount Rufus summit track junction. Make a turn upwards and trek seven-and-a-half kilometres to the peak where you'll be welcomed with panoramic vistas that are hard to beat.
As well as looking over Lake St Clair far below, you'll also score views of Mount Olympus, the immense Frenchmans Cap and the Franklin River that winds its way through the landscape. And the fact that all of these sights will be dusted with snow, will make your trek through this veritable winter wonderland all the more magical.

MARIONS LOOKOUT
Cradle Mountain is possibly Tasmania's most popular mountain, typifying the rugged terrain that the island is known for. The sprawling region is filled with highlights just about everywhere you look, but few can match the beauty of Marions Lookout — especially when it's covered in snow. To get there, you'll have to be willing to take on a rather strenuous three-hour return trek, but the gradual climb will take you through stunning scenery like snowy forests, white-frosted peaks and around some glacial lakes.
Of course, once you reach the summit, you'll almost certainly forget that your legs feel a bit like jelly — unsurprisingly, the 360-degree views of spectacular winter wonderland provide the perfect distraction. Roam the summit and admire the vantage over the rest of Cradle Mountain and the surrounding lakes. Yep, this is quite the hike.

Top image: The Candlestick at Cape Hauy by Jason Charles Hill.
Published on April 28, 2019 by Hudson Brown