Five Stellar Overnight Hikes to Trek Near Melbourne
Soak up some incredible Victorian views on these overnight treks.
Melbourne might be one of Australia's most exciting cities, but it's what lies outside of its limits that'll really knock your socks off. No more than a few hours drive from the hulking glass towers of the CBD, you'll find that the Garden State is home to an incredibly diverse landscape of pristine coastlines, rugged mountain ranges, sprawling hillsides and hidden valleys — all of which offer some truly fantastic hikes. If you feel like you've reached the point where you could walk through the alleyways of Melbourne blindfolded, it's time to look beyond the city limits.
Here are five stellar overnight hikes you can embark on near Melbourne — and where to camp along the way. Most are achievable with an average level of fitness, but be sure to review any trail thoroughly before heading off. You'll also want to stay tuned to any Parks Victoria updates regarding track closures. Once that's all done, dust off those hiking boots and head out of town for an energising nature getaway.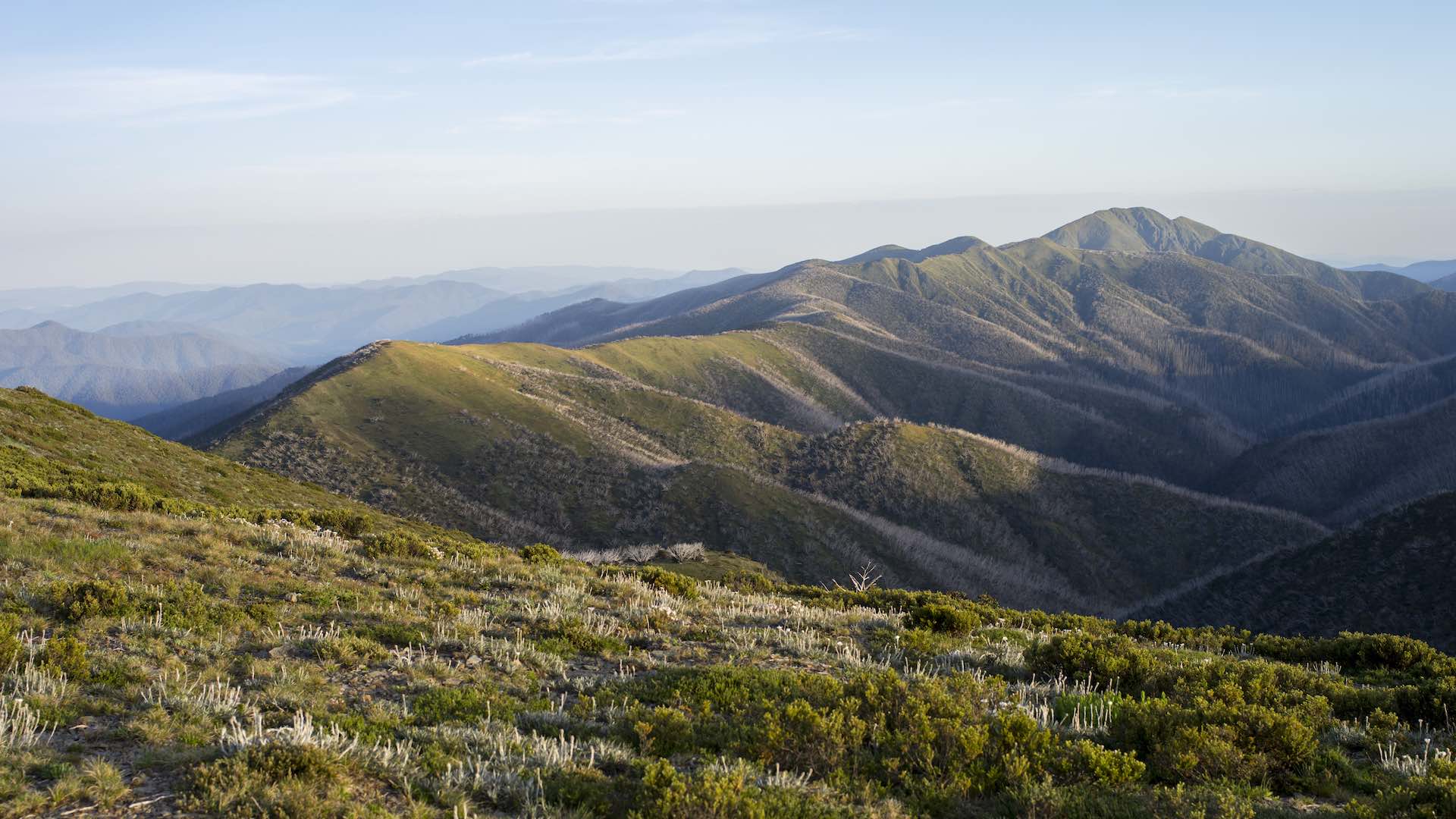 FALLS TO HOTHAM ALPINE CROSSING, ALPINE NATIONAL PARK
Set 2000 metres above sea level, this 37-kilometre hike provides every opportunity to completely unwind from the hustle and bustle of city life. From lush native wildlife to tranquil valleys and riverside wetlands, the high plains are a treasure trove of scenic beauty and crisp mountain air. While it's not the toughest walk in the state, you'll need a moderate level of fitness for some of the steeper parts; but fear not, there are also plenty of easy sections to balance it out. As a point-to-point track, it can be started from either end, though we recommend setting out from Falls Creek and towards Mount Hotham.
While the trek is doable with one overnight stay, more leisurely hikers might consider doing it in two and the track is well set up for this. From the trailhead, it's roughly 14 kilometres to the Cope Hut Campsite and then another 14 kilometres to the Dibbins Hut Campsite. Want to take things a little easier? Alpine Nature Experience offers a three-night curated hike of the crossing, including hot showers and G&Ts.

EASTERN CIRCUIT, WILSONS PROMONTORY NATIONAL PARK
Every person and their dog has heard of the Wilsons Promontory's eastern circuit, and that's because it's an absolute ripper of a walk. It forms part of the Southern Prom Circuit, beginning at the Telegraph Saddle car park; the 36.5-kilometre hike featuring a stunning and unmistakably Australian combination of rolling hills, curious wildlife and secluded beaches with clear turquoise waters.
You have two options for this hike; you can head from Telegraph Saddle to Sealers Cove or alternatively to Refuge Cove. From either cove, you'll then venture to Little Waterloo Bay, finishing with a trek back to Telegraph Saddle. Although the walk is often nominated as one of the state's best, it's still one of the quieter sections of the Prom, making it the perfect choice for a peaceful nature escape. Again, it's doable with one overnight stay, but will be easier with two.


LAKE TALI KARNG HIDDEN LAKE CIRCUIT, ALPINE NATIONAL PARK
Part of the Alpine National Park near Licola, the Lake Tali Karng Hidden Lake Circuit looks just like a landscape painting — only it's real life. Set in the Victorian Alps and fed by the snow-melt waters of the Wellington Plains, the lake is approximately 14 kilometres from your hike's starting point at McFarlane's Saddle on Moroka Road. Along the way, you'll enjoy an awe-inspiring combination of snow gum forests, towering trees and grassy plateaus. Don't forget that the land you're on is sacred to the Gunaikurnai people of Gippsland, so please be respectful of their rules and refrain from camping at the lake itself. Instead, you can stay overnight at the serene Nyimba Camp, situated two-thirds of the way along the trail and around four kilometres from the water.

THE BEERIPMO WALK, MOUNT COLE STATE FOREST
Offering mesmerising views from Mount Langi Ghiran all the way across to the Grampians and the Western Plains, the Beeripmo Walk is a winding 21-kilometre hike through impressively tall forests, trickling waterfalls and vibrant fern gullies. An hour from Ballarat and completed over two days, this trek is a perfect starting point for experienced bushwalkers looking to graduate to something a little more challenging. If you're really lucky, you might be treated to a few wildlife sightings of monarch butterflies, wallabies and even wild echidnas. For your overnight stay, choose between the ever popular Beeripmo Campground (around seven kilometres from your starting point), or venture a little further to the Mugwamp Campground. Either way, expect stunning views of the night sky, with some of the brightest stars you'll ever see.

THE BURCHELL TRAIL, BRISBANE RANGES NATIONAL PARK
Just over a one-hour drive from Melbourne, the Burchell Trail is a 40-kilometre hike that takes you from the north end to the south of the Brisbane Ranges National Park. The historic ghost town of Steiglitz (which, at its gold mining peak in the 1860s, was home to over 1500 people), and a vast array of native critters and flora are just a few of the sights you can expect as you traverse the rugged landscape. The trail is linear, so you'll either need to complete it as a circuit by doubling back the way you came, or arrange for alternative transport to ferry your tired legs back to your car. There are various campsites along the route, including Boar Gully in the north. Advance bookings are required.

Top Image: Wilsons Promontory National Park, Visit Victoria. Mt Hotham, North East Victoria Tourism.
Introducing Concrete Playground Trips
Book unique getaways and adventures dreamed up by our editors