TRAVEL & LEISURE
Five Parks Where You Can Enjoy an Impromptu Burger Picnic
No forward planning required.
in partnership with

Lockdown is done and dusted, the weather's getting balmier and picnics are having a serious renaissance. And this summer is set to give us all a new appreciation for the humble park hang, as well as for those eats and drinks best enjoyed on grassy turf. Of course, a juicy burger is right up there on the list of ideal park accompaniments, which is why we've teamed up with Betty's Burgers & Concrete Co. to pull together this list of top Melbourne parks for an impromptu burger picnic. These rolling lawns and sun-drenched gardens are all within easy strolling distance of one of its restaurants.

FLAGSTAFF GARDENS
In the heart of the CBD, Flagstaff Gardens is a winning option for that lunchtime picnic feed. It offers the chance to bask in some greenery without chewing up too many precious lunch break minutes. Here, in the city's oldest park — established way back in 1862, you'll find plenty of huge, shady Moreton Bay figs under which to park yourself, as well as neat, sun-drenched stretches of lawn framed by footpaths and fragrant rose gardens. What's more, it's located metres from Queen Victoria Markets, making it an ideal spot for catch-ups after the weekly grocery shop. It's also conveniently close to Elizabeth Street's Betty's Burgers, for when you crave a feast without having to prep anything yourself.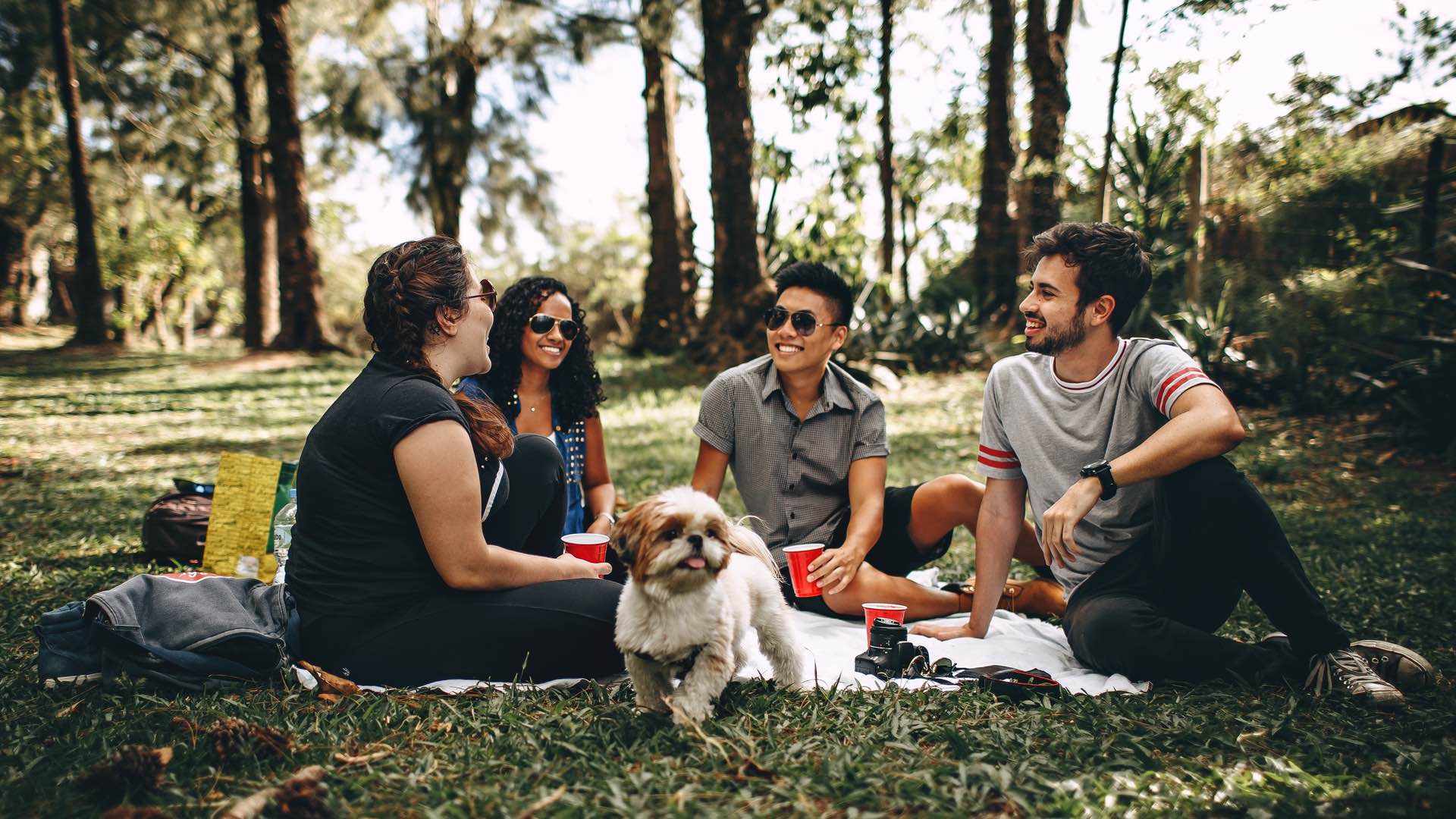 SCHRAMMS RESERVE
Verdant lawns, shady trees and newly revamped facilities — this popular neighbourhood park has it all. Located just a few streets east of Doncaster Westfield Shopping Centre, and Betty's Burgers found inside, the 8.5-hectare Schramms Reserve has grassy areas in abundance. You'll rarely have to battle it out for a patch of turf to call your own. Plus, it's home to a couple of sports fields if you fancy watching cricket or footy with your al fresco feast. You'll also find playgrounds to keep any littlies entertained, as well as off-leash areas for those four-legged guests.

VICTORIA GARDENS
The lush and leafy Victoria Gardens makes for an idyllic outdoor dining destination, offering a slice of tranquility just off Prahran's bustling High Street. Over 135 years old, this historic park was designed by the same landscaper behind the likes of Rippon Lea Estate and the Daylesford Botanic Gardens, so you know it's going to be pretty to look at. There are scores of shady spots to throw down your rug out of direct sunlight, too, and it has diverse tree varieties planted throughout. Pooches can roam free and happy in the designated off-leash area while you tuck into your park lunch, which you can pick up from Betty's in Windsor.

ROYAL BOTANIC GARDENS
The famed lawns of the Royal Botanic Gardens are brimming with primo picnicking spots. And, at 38 hectares, the park isn't short on space for everyone — consider yourself spoilt for choice, no matter what time or day you visit. Here, there are open stretches of green space, secluded nooks sheltered by trees and a couple of picturesque lakes for those keen to dine with water views. Plus, the grounds has kilometres of walking tracks, in case you find yourself in need of a post-feed digestive stroll.

JELLS PARK
With its sprawling parkland spaces, endless trails and scenic waterfront stretches, Jells Park offers a proper break from all that city hustle and bustle. Unfolding over 127 lush hectares in Melbourne's eastern suburbs, it has picnic spots for days, including some particularly idyllic areas overlooking Jells Lake. Throughout the precinct, you'll find scores of dedicated picnic facilities for those times you prefer a table over turf, while the kilometres of walking and cycling tracks come in handy when a leg stretch is on the cards. What's more, the park's booming bird population promises some top-notch wildlife-spotting opportunities, as well as a sweet soundtrack to any al fresco lunch, which you can pick up from Betty's at The Glen Shopping Centre.

Find your nearest Betty's Burgers & Concrete Co, here.
Published on December 18, 2020 by Libby Curran