TRAVEL & LEISURE
Five Ways to Enjoy the Colours of Autumn in the Murray Region
Boat, bike or horse ride your way through the falling leaves.
Five Ways to Enjoy the Colours of Autumn in the Murray Region
Boat, bike or horse ride your way through the falling leaves.
---
in partnership with

When March arrives, the Murray River transforms into a wonderland of reds, oranges and golds. It's the ideal season to visit. While outdoorsy types can walk, cycle and paddle, wine aficionados can linger over autumnal releases, with rolling vineyards and river sunsets as their backdrop.
Here are five dreamy ways to enjoy the Murray's changing colours, from drifting down the river on a houseboat to cycling along share paths scattered with sculptures and cantering on horseback through red river gum forests.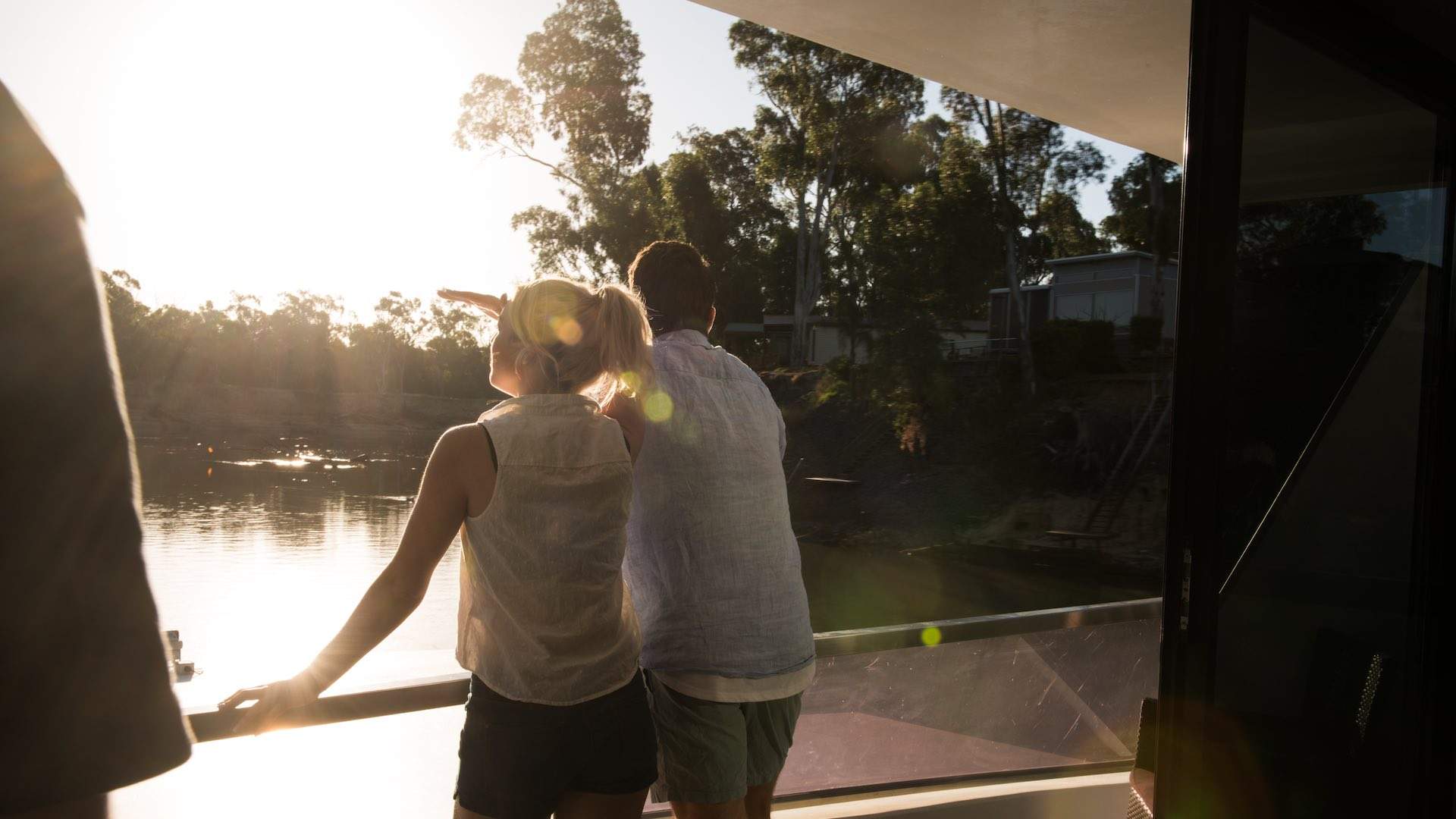 SLEEPOVER ON A HOUSEBOAT
To completely immerse yourself in the river – from dawn till dusk – stay on a houseboat. All you have to do is sit back, relax and watch the day roll by (unless, of course, you're captain). Or, you can get as adventurous as you like, mooring at riverside villages, stopping by wineries for tastings, embarking on kayaking escapades, jumping in the water for dips and trying your hand at fishing. Most vessels come with a variety of spaces, including sunny decks, glass-walled lounge rooms and outdoor spas. If you've cash to splash, go for a luxury model, such as Magic Murray Houseboats' Magic or Murray River Houseboats' Decadence, which each feature four queen or king bedrooms, luxurious linen, TVs galore, a spa and sun deck. Meanwhile, Mildura Houseboats' fleet ranges from back-to-basics to total extravagance, so there are options for any budget. Stacks more boats are listed on the Wander Victoria website.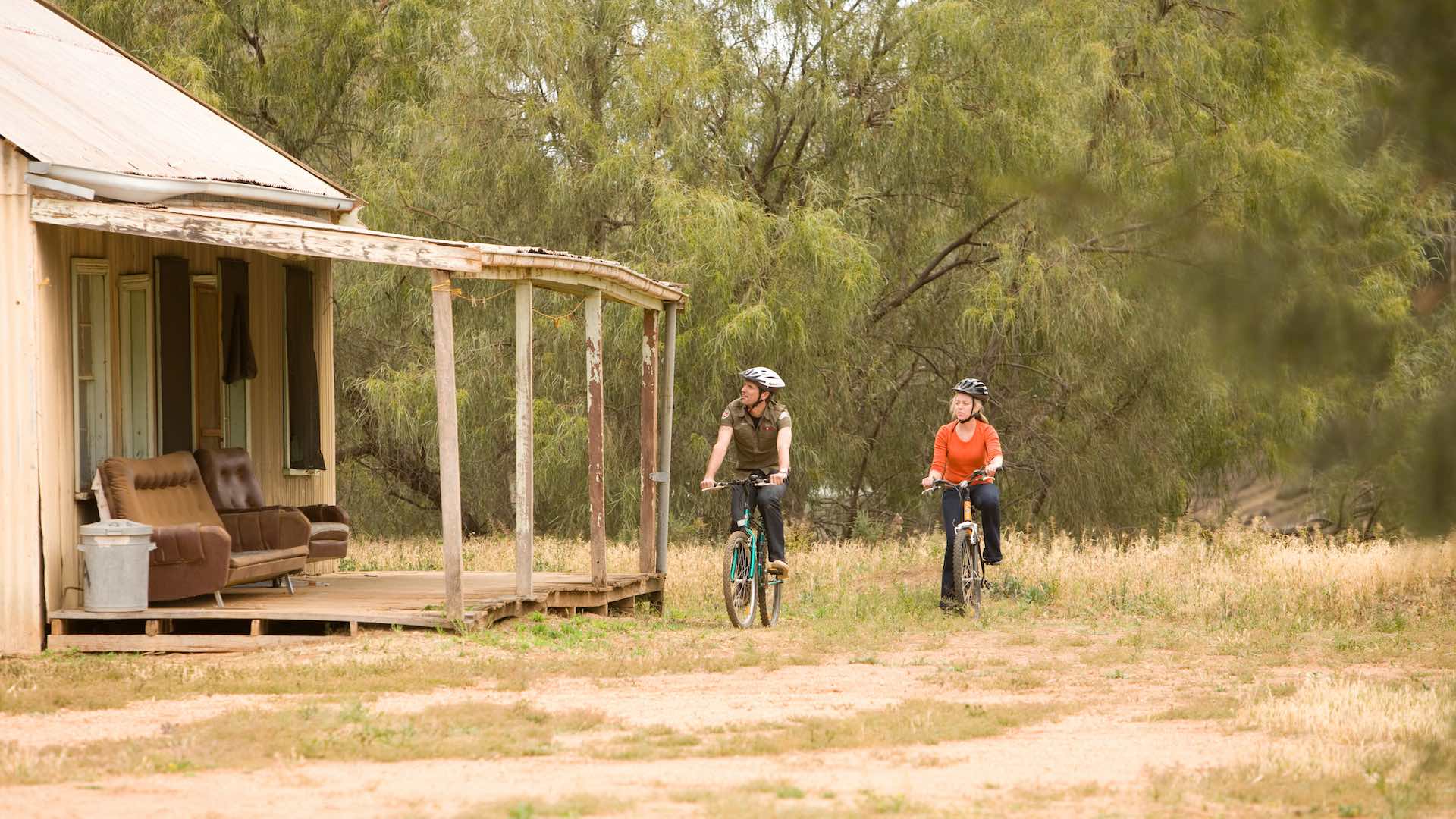 JUMP ON A BICYCLE
It's possible to ride the entire length of the Murray, from its source on the slopes of Mount Kosciuszko to its mouth in Coorong, about 75 kilometres southeast of Adelaide. However, if you don't have weeks to spare (and Amazonian legs), then there are plenty of shorter cycle paths to explore. In Echuca, the Food and Wine Trail takes in numerous cellar doors and local producers, including Morrisons Winery and Cape Horn Vineyard, which both afford expansive views of the river. If you're heading to Albury, conquer the Wagirra Trail, a six-kilometre roll dotted with river-inspired sculptures created by local Indigenous artists. And in Mildura, you'll find several options, including the 12.5-kilometre Riverfront Highlights route, which passes Mildura Arts Centre, Old Mildura Homestead and Ornamental Lakes.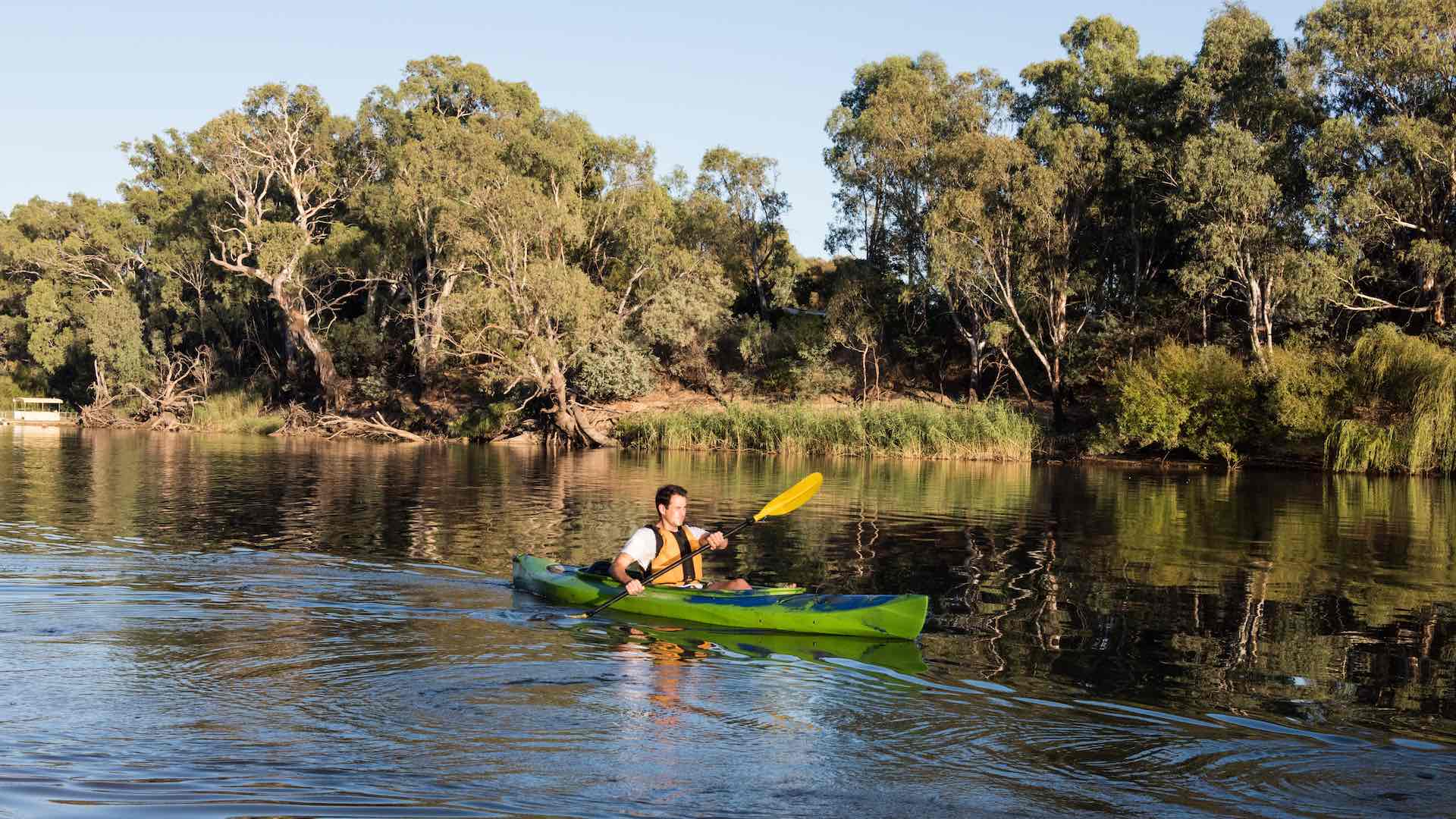 PADDLE A CANOE, KAYAK OR STAND-UP BOARD
Another way to see autumn from the water – apart from hiring a houseboat – is by canoe, kayak or stand-up paddleboard. For red river gums, koalas and cockatoos, make tracks to Barmah National Park, where there are four paddling trails, between 2.7 and 17.4 kilometres long. Nearby lies Murray Valley National Park, home to the Edward River, a tranquil tributary of the Murray sprinkled with picnic areas and swimming spots. You'll find hire facilities in many riverside towns, including Echuca (Echuca SUP and Echuca Boat and Canoe Hire), Cohuna (Murray River Adventours) and Albury-Wodonga (Canoe the Murray). If you're not confident paddling on your own or would like someone else to take care of the organising, book an adventure with Southern Side Eco Tourism, who'll take you to remote terrain and put you up in a bell tent, or River Country Adventours, whose canoe safaris run on the Goulburn River.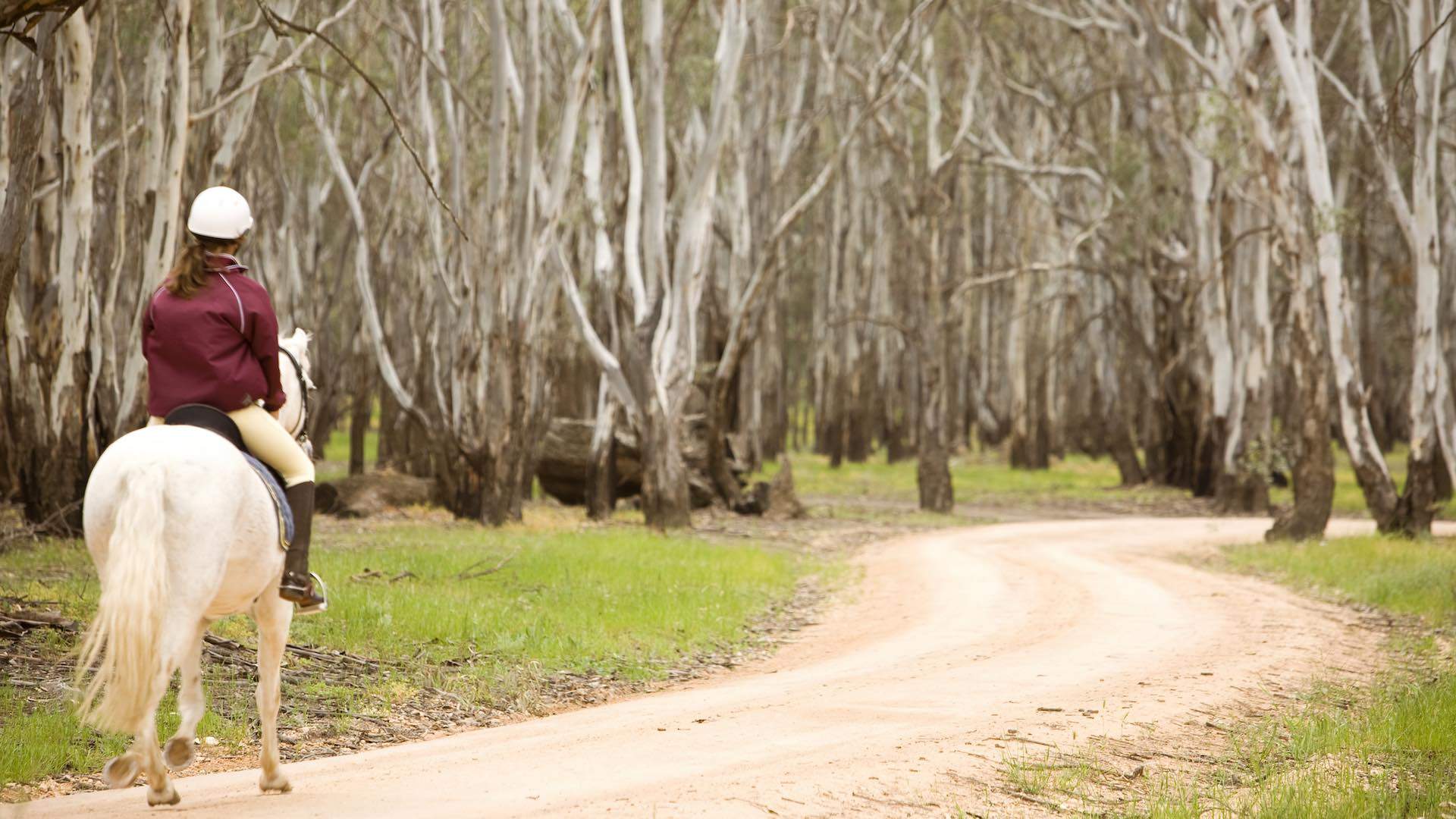 HORSE RIDING THROUGH RED RIVER GUM FOREST
If reading Black Beauty changed your life forever, then make your equine dreams come true at Billabong Ranch. This 390-acre property just ten minutes' drive from Echuca is an adventure park, where you can jump on a horse's back and canter alongside rivers and through red river gum forest. There are four journeys to choose from: a one-hour bush and creek ride, a two-hour journey beside Goulburn River, a three-hour escapade taking in the Goulburn and the Murray, and a winery ride, which carries you to a local cellar door. If you're feeling particularly adventurous, then the latter can be turned into an overnighter, with extra activities, such as a longer ride to a local pub, a mini cattle muster, a cruise on a paddle steamer and a tour of the Great Aussie Beer Shed.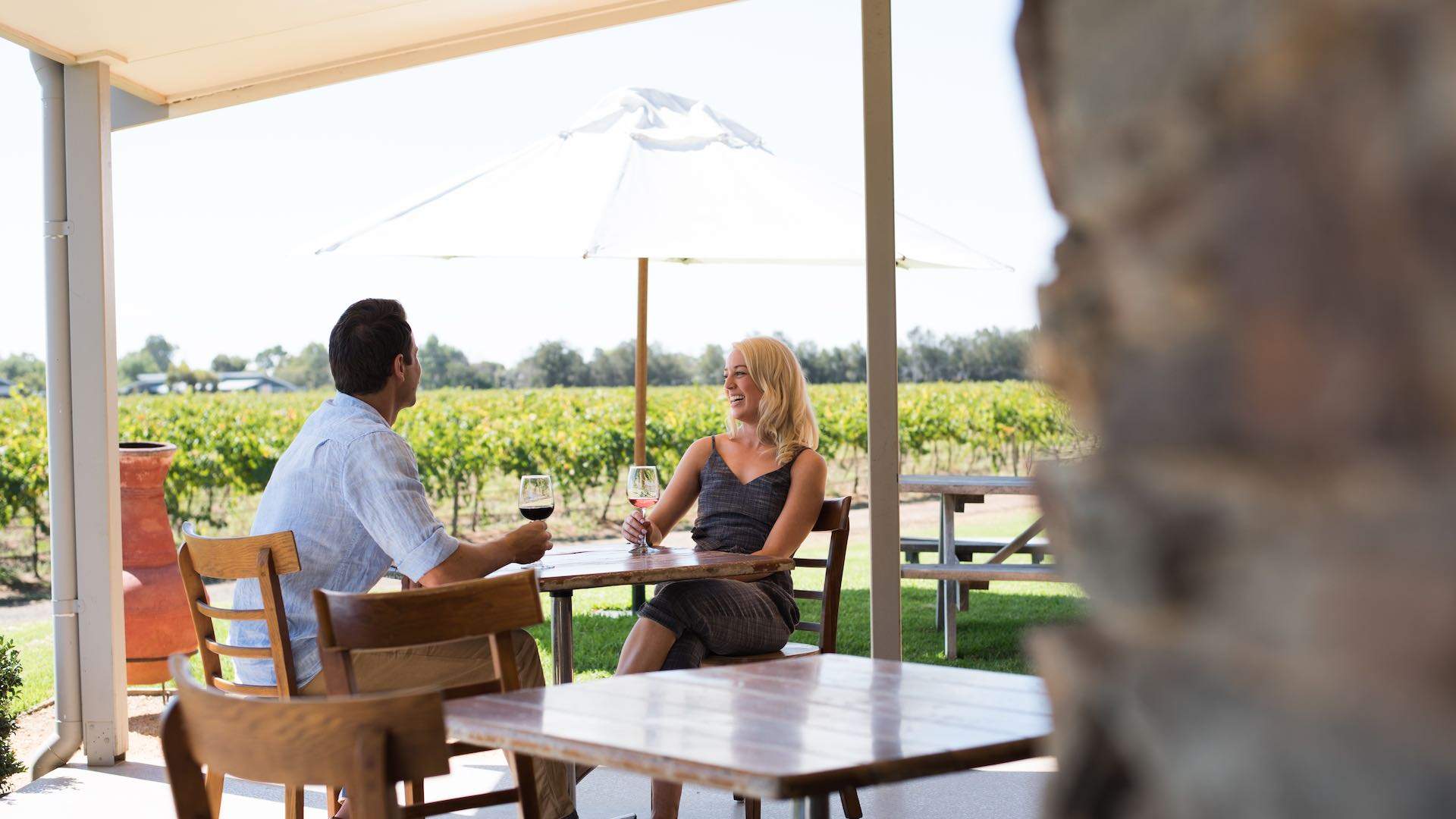 GO WINE TASTING
What better way to admire dazzling autumn leaves than with a glass of wine in hand? There are several places to sip and sample along the Murray. If you're Mildura-bound, then begin your explorations at the Sunraysia Cellar Door, where more than 250 wines await your review. Just 15 minutes' drive away in Trentham Cliffs is Trentham Estate, a family-owned winery and restaurant on the banks of the Murray. It's one of many waterfront wineries along the river. Drive southeast for two hours to reach Piangil, where you'll find Andrew Peace's cellar door, then another two-and-a-half to Echuca Moama, home to Cape Horn Vineyard and Morrisons Winery. While you're in the area, get off the beaten track with a trip along the Backroads Trail, stopping at The Old School to try some small-batch meads and Restdown for organic drops.

For more ideas on how to spend your autumn getaway in the Murray River region and across the state, check out the Wander Victoria website.
Published on March 29, 2018 by Jasmine Crittenden