Australia Will Soon Be Home to a Whale-Shaped Underwater Observatory Two Kilometres Off the Coast
The Australian Underwater Discovery Centre is set to open at the end of Busselton Jetty by December 2022.
Queensland has the Big Pineapple and Big Mango. New South Wales boasts the Big Prawn and the Big Merino, and you'll find the Big Lobster in South Australia. They're just some of Australia's 150-plus big things, because we sure do love giant versions of foods, animals and everyday items — and if you'd like to walk into a huge whale that's also an underwater observatory, that'll be on the cards from the end of 2022, too.
Australia already has a couple of big whales, but not like this one. The animal-shaped structure will house the Australian Underwater Discovery Centre, and it'll sit right at the end of the Busselton Jetty in Western Australia. That means that it'll be located two kilometres out to sea — and, when it launches in December next year, it'll become the largest natural marine observatory in the country.
The $30 million centre has been in the works since 2017, when Busselton Jetty started looking into ways to increase the capacity if its current underwater observatory — because it can only accommodate 44 people per hour. Now, however, the designs for the new site have been revealed. Marine contractor Subcon has appointed Baca Architects as the project's lead architects, and it's going with a cetacean design that resembles a whale. The design recreates the marine creature in an abstract but still noticeable manner, and will be made to look as if the concrete structure is raising its head over Geographe Bay.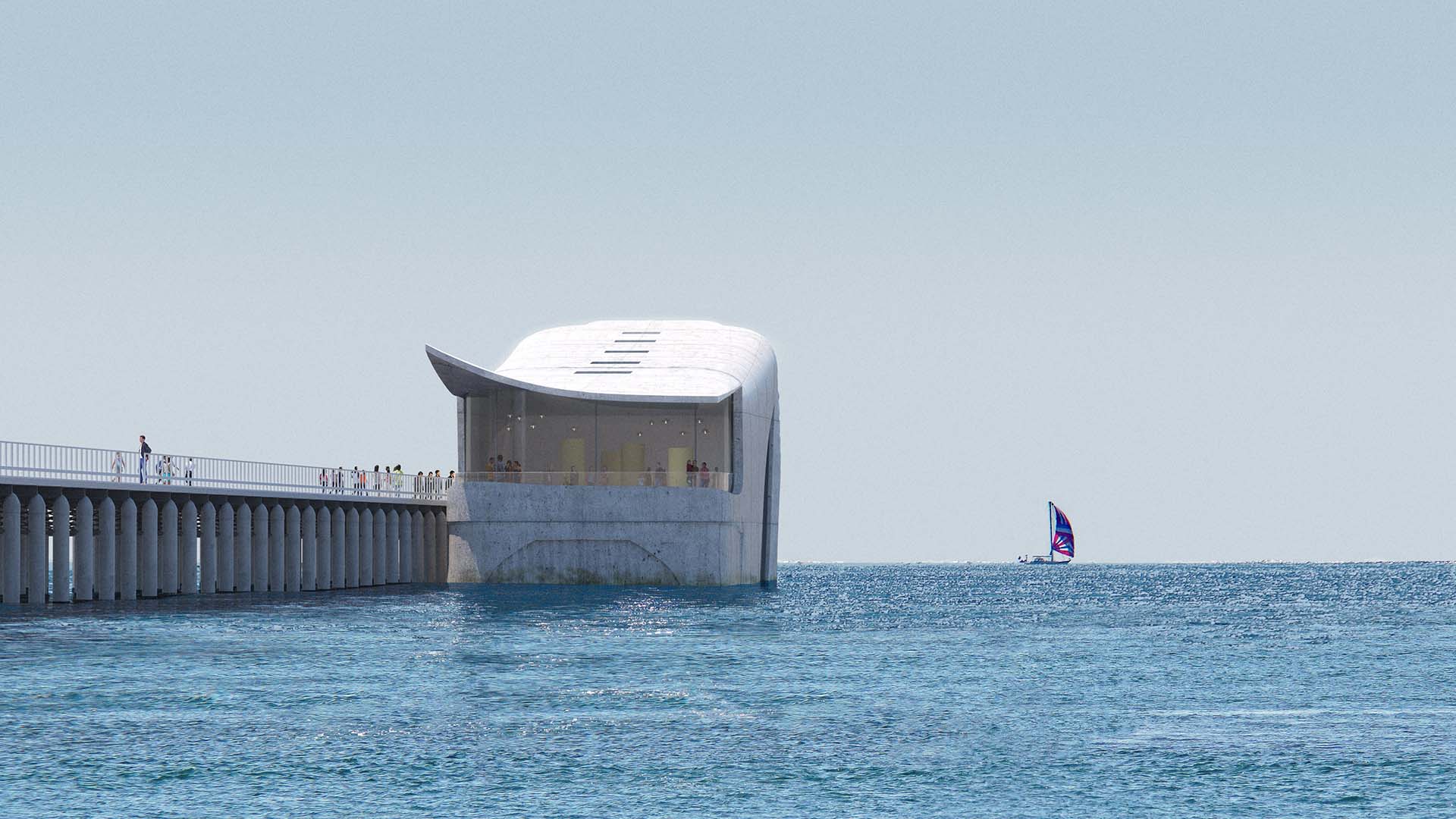 When the building comes to fruition, it'll span 900 square metres across multiple levels, and huge windows will be a big feature. Some will measure up to 5.5 metres tall and 12 metres long, letting visitors peer out at the area's marine life — including via a partially submerged window called the 'cetecean's eye'.
Attendees will enter from the pier, which is 5.5 metres above the average sea level, then descend down through an art gallery and accompanying exhibition spaces to the observatory on the ocean floor level. Those galleries will mainly focus on new habitats for fish and coral, but underwater sculptures and marine art will be part of the project, too. And, if you'd like to eat beneath the ocean's depths, an underwater dining experience is also set to be included.
Project engineers Core Marine have experience with restaurants under the sea, as the company also worked on Norway's Under.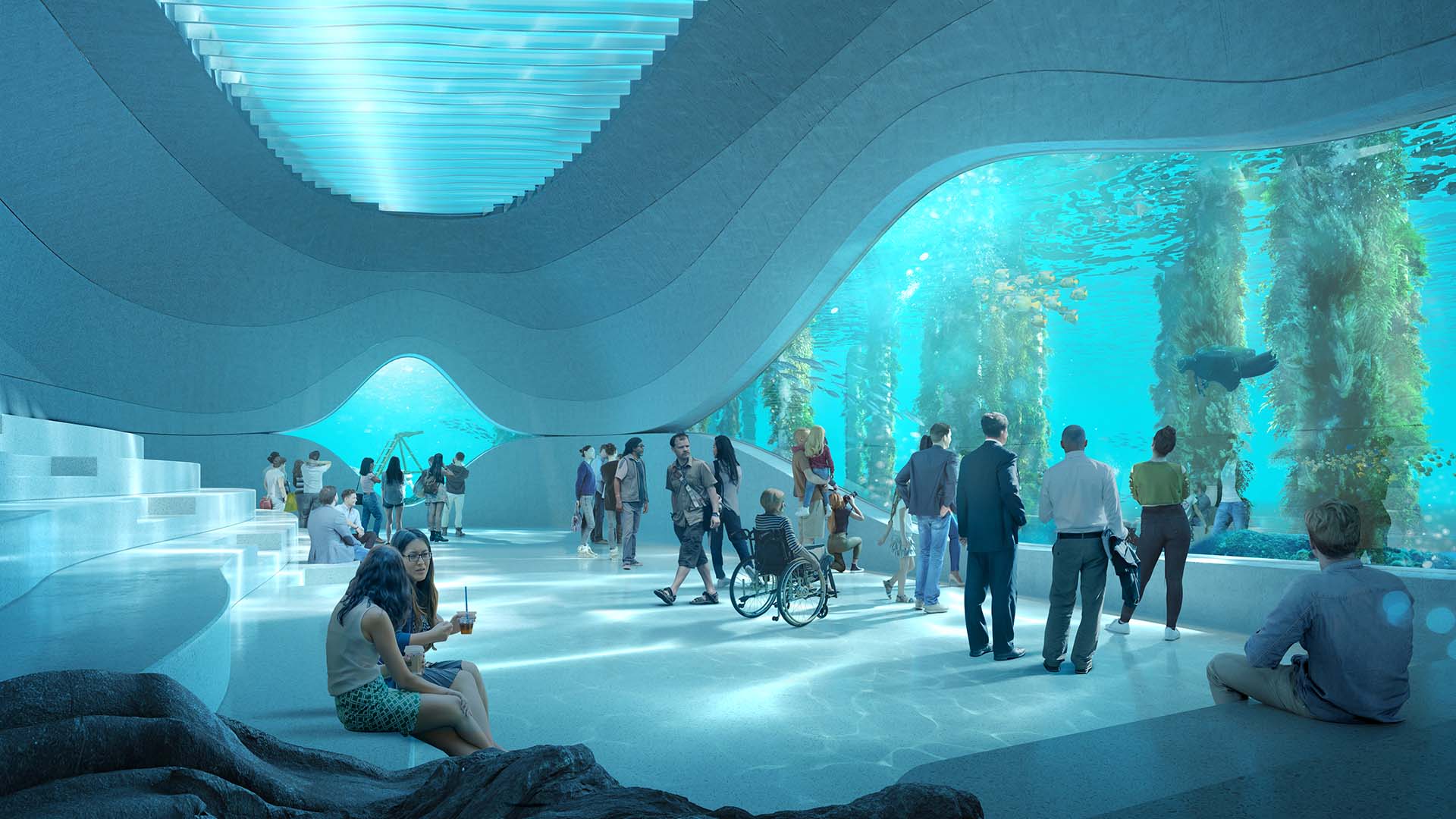 The Australian Underwater Discovery Centre will be designed to withstand cyclones and storm surges, including 6.5-metre-high waves, and will feature an outer surface that'll enable barnacles and algae to graft onto the outside, like they would with a real whale.
And, as it'll be fabricated onshore, the centre will then get towed out to its location — which is planned to occur in tandem with 2022's annual whale migration.
As for Busselton Jetty's current underwater observatory, it's set to become a marine research centre. It'll focus on promoting clean oceans and educating people about ocean climate change.
The Australian Underwater Discovery Centre is set to open at the end of Busselton Jetty by December 2022 — we'll update you with an exact launch date when it's announced.
Concrete Playground Trips
Book unique getaways and adventures dreamed up by our editors