TRAVEL & LEISURE
Melbourne's New Limited-Edition Lockdown Commemoration T-Shirt Features Artwork by Oslo Davis
Pay tribute to Melbourne's lengthy lockdown stint while raising funds for Beyond Blue.
At this point in the lockdown tally, it can be easy to lose sight of what a solid job Melburnians have done of holding it together through the last 18 months. But if you need one, there's a timely reminder coming at you courtesy of the new t-shirt design that's commemorating lockdown while raising much-needed funds for mental health support. And, it's rocking colourful artwork by famed Melbourne-based illustrator Oslo Davis.
The brainchild of local creative agency By All Means, the limited-edition Locktown t-shirts were designed as a positive tribute to the monumental effort by Melburnians throughout the pandemic. For those counting along at home, the city will today mark a cumulative 235 days under stay-at-home orders, a stint that's thought to be the longest endured by anyone in the world.
Davis, a world-renowned artist whose works have regularly graced the pages of The New York Times and The Age, was invited to design the t-shirt's prints. The shirt's front features a green, black and yellow sketch depicting the intersection in front of the iconic Flinders Street Station, emblazoned with the words 'Greetings From Locktown', while the back has a lockdown tally commemorating the dates of Melbourne's six stay-at-home stints so far. 'Melbourne, Australia. World's Most Resilient City!' is printed at the top.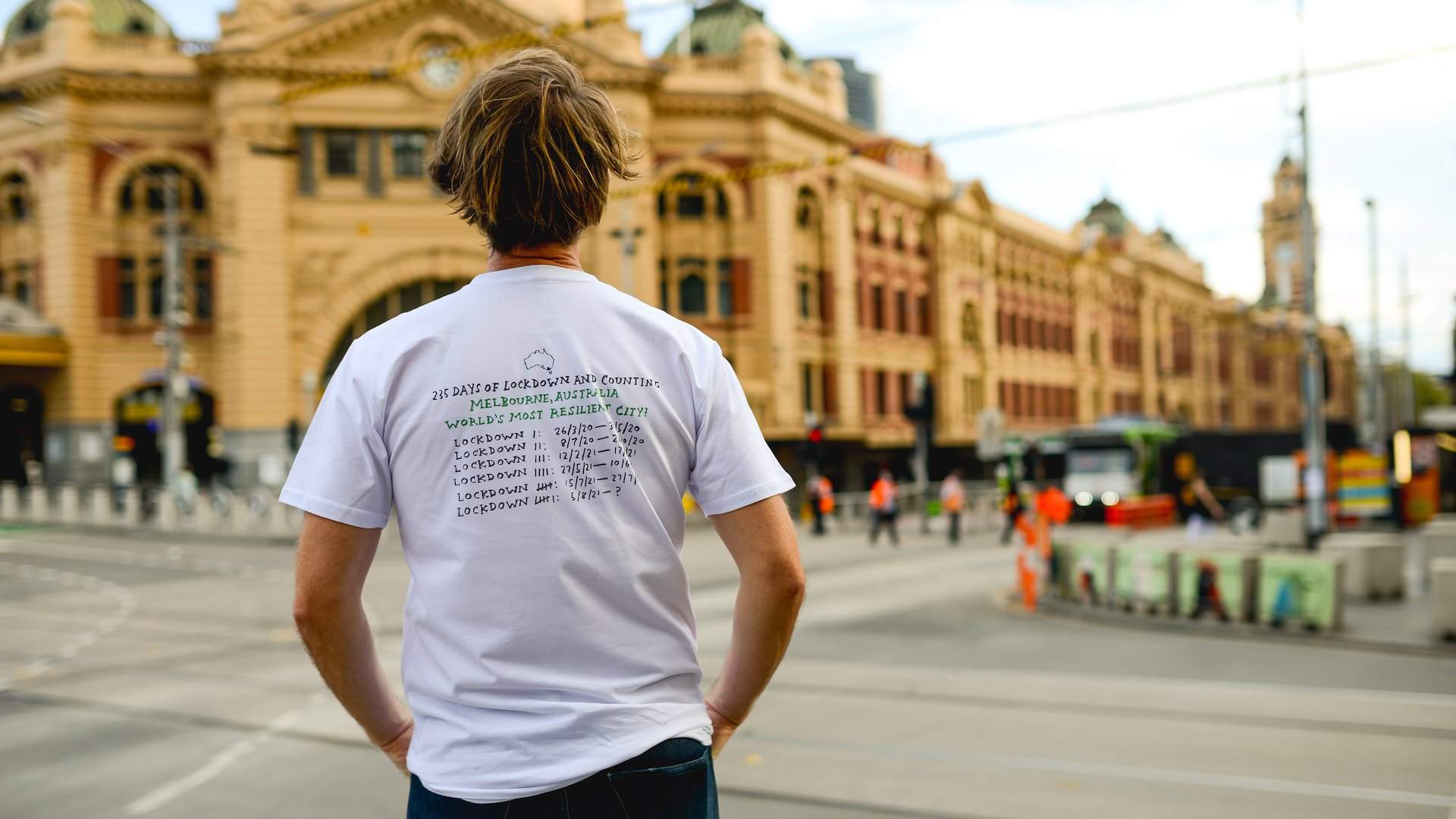 The newly-dropped designs are for a great cause, with sale profits to be donated to Beyond Blue in support of the organisation's work in mental health and wellbeing. Recent stats from the Australian Bureau of Statistics showed that in June 2021, a huge 27 percent of Victorians said they experienced high or very high levels of psychological distress — a figure well above the national average of 18 percent. Beyond Blue itself said demand for mental health support has increased by 20 to 30 percent compared to pre-pandemic figures.
Snap up a fresh tee for $50, support mental health and commemorate these crazy, crazy times we're living through.
To order a Locktown t-shirt or to find out more, jump over to the website. 
If you or someone you know is in need of support, Beyond Blue is available 24 hours, 7 days a week on 1300 224 636.
Published on September 23, 2021 by Libby Curran