Nine Cosy Villages to Visit on a Long Weekend in South Gippsland
Carve out a few days to road trip around this stunning Victorian region — or pick one spot and bunker down for the weekend.
in partnership with

Ask a bunch of Melburnians what they know about South Gippsland, and we bet the majority will mention Wilsons Promontory. While it's true that it's the gateway to the stunning national park on the southernmost tip of mainland Australia, there is much more to this area to be uncovered. And now is the best time to do so.
With fewer international travellers passing through to get to the beautiful beaches, secluded campsites and coastal hikes outside of summer, the 40 or so towns that make up South Gippsland are primed for a slow-paced getaway with your mates or special someone. Choose to carve out a few days to hop between the various villages — filling your itinerary with plenty of food, outdoor and cultural experiences along the way — or settle on one cosy hamlet to call home temporarily. Here are nine villages to get you started.
Some places mentioned may operating differently due to restrictions related to COVID-19, so check websites before making any plans. 

LOCH
One of the first towns you'll hit on your drive down the South Gippsland Highway is Loch, based about 100 kilometres from Melbourne CBD. Make your first stop brunch at a local favourite, Olive at Loch. Here, you can tuck into handmade pies, tarts and fruity scones, then browse through the eclectic yet chic homewares and gifts. Or head to Udder and Hoe, a beautiful cafe and pantry that celebrates local organic produce. This is one of two outposts for the business — you'll find the original in Kilcunda. Browse through the range of locally made goods, including fresh sourdough, preserves, oils, sauces and bulk grains, then sample some of the fresh produce at the cafe.
Afterwards, pop across the road to Loch Brewery and Distillery. Fuelled by a love of whisky, owners Craig Johnson and Mel Davies launched the business in 2014, brewing traditional British-style ales and stouts while the whisky maturation was underway. Nowadays, you can visit the cellar door to sample both its brews and whisky, plus a range of gins and vodka, too. If you're not keen to hit the road again after your brewery visit, plan to stay at Loch Paper Scissors. This sweet weatherboard cottage sleeps up to eight guests and has a kitchen garden (which you're welcome to utilise), plus a fireplace, clawfoot tub, outdoor woodfired oven and fire pit.

KORUMBURRA
Next up, let your stomach lead you to Korumburra. This historic coal mining town is now a prosperous agricultural hub with lush rolling hills providing the perfect setting for dairy farming. Reap the tasty rewards at Prom Country Cheese, a farm and cheesery overlooking Moyarra Valley, just outside of Korumburra. The farm is open on weekends from 10am–4pm for visitors to watch cheese being made with milk from the farm's own ewes and neighbouring dairy Wattlebank Park Farm's cows. Then, taste some of the creamy delights — the cheesemaker's choice plate is just a tenner. It's currently closed for renovations, so check the website before visiting.
Later, enjoy a brew at sustainable microbrewery Burra Brewing Co, or head to Djinta Djinta Winery to sample its cool climate wines. Spend the night at Citrus Grove, an eco-friendly, three-bedroom retreat set on a ten-acre property. The next morning, make tracks to The Borough Department Store. This beautiful space, with high ceilings and plenty of natural light, is a must-visit for hearty brunches, tasty cakes and pastries, fresh flowers and, at its weekly farmers market, fresh local produce.

LEONGATHA
Considered the commercial hub of South Gippsland, Leongatha offers more of a bustling country town vibe than some of the other sleepier villages. It also marks the start of the 72-kilometre Great Southern Rail Trail, which is a popular cycling track that passes through lowland forest, wetlands and other regional villages to end in Port Welshpool. If you plan on conquering some or all of it on two wheels (or two legs), have a hearty feed beforehand at The Rusty Windmill. Tuck into one of its handmade pies or savoury rolls, and grab a muffin for the road (well, the trail).
Reward your efforts in the afternoon with a visit to Lucinda Estate Winery. Sip on the winery's fruity pinot noir or Gippsland Cider Co cider (which is also made on-site) while grazing on local produce, including polish sausages, persian feta, Fish Creek olives and house-made baba ganoush. Spend the night at four-star boutique hotel Alkira, then hit up Forage and Grind before you leave town. This sweet little eatery serves hearty salads, smoothies and cakes, plus bunches of native blooms.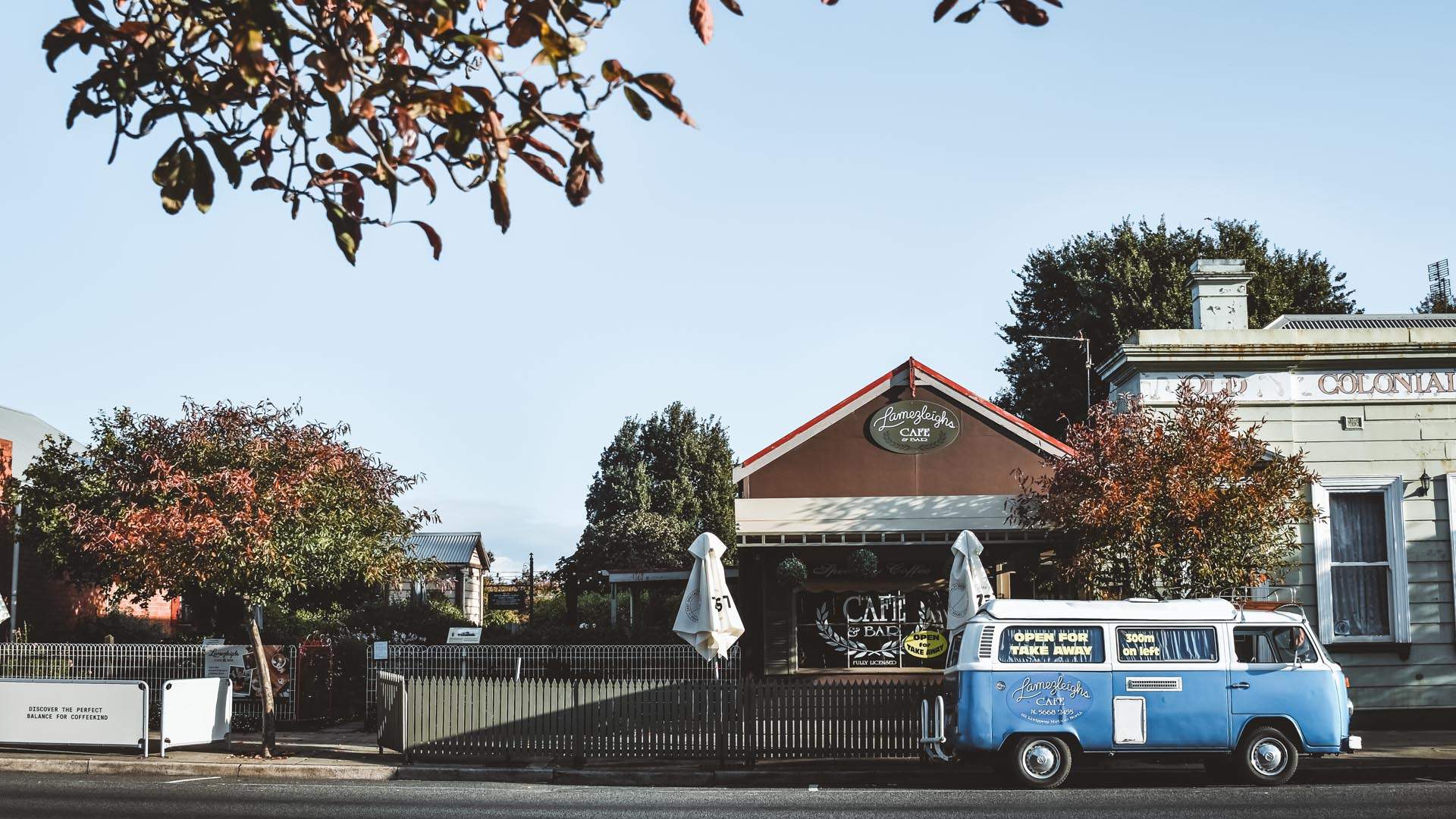 MIRBOO NORTH
Cycling and hiking enthusiasts are also encouraged to hit up Mirboo North, about 20 minutes northeast of Leongatha. Set within the Strzelecki Ranges, Mirboo North is the starting point of the 13-kilometre Grand Ridge Rail Trail. If you're short on time, opt for the Lyrebird Forest Walk instead for an easy 1.5-hour walk through native forest.
Rest your weary legs in front of the fireplace or on the balcony overlooking the rolling hills at Loves Lane Cottages. In the morning, hit up Lamezleighs for coffee by Melbourne roastery Zest, halloumi burgers, smoothie bowls and more. Mirboo North also marks the halfway point on the Grand Ridge Road, one of Victoria's most popular scenic drives.


KOONWARRA
Right in the heart of South Gippsland, you'll find Koonwarra, a tiny hamlet with a population of just 404 at the last census. Koonwarra's big claim to fame is its passion for sustainability — it claims to be the first 'Waste Wise' village in Australia, is plastic bag free and is home to the Koonwarra Sustainable Communities Centre, which develops resources for environmental education. You can see it in practice at Paddlewheel, a farmers market store specialising in certified organic, bio-dynamic produce. Then, pop into The Ethical Food Store next door for coffee and a locally baked treat or a leisurely long lunch.
Afterwards, pop into Valley Plains Pottery studio to pick up some of Zak Chalmers' beautiful ceramic wares at wholesale prices or chat to him about designing a custom piece. Or, keep an eye on the website for upcoming full-day ceramic workshops if you're keen to get your hands dirty.

MEENIYAN
Meeniyan is another picturesque village in South Gippsland with plenty to offer visitors — particularly if you're hungry. The Meeniyan Pantry and Cellar is, as the name suggests, the place to visit for artisanal pantry items, meats, fresh bread, marinades and local and imported beer and wine. Treat your sweet tooth to a visit to Blue Tree Honey Farm's farmgate store for locally made preserves and pure honey. For more Gippsland-made goods — including Loch Brewery beers, Prom Country Cheese, natural skincare and fresh produce — visit The Meeniyan Store.
Visiting Trulli for belly-warming feed is a must while in Meeniyan. If you're there for lunch, order a bunch of woodfired pizzas to share, but save room for dessert — it makes its gelato and sorbet in-house. Come dinnertime, the newly revamped restaurant offers a set menu of regional Italian dishes prepared with local produce. Spend the night just out of town at Ross Farm, a cosy and beautifully styled cabin boasting views over Tarwin Valley, a veggie garden and a Japanese-style wooden bath.

FOSTER
From Meeniyan, you have the choice to veer off onto Meeniyan-Promontory Road to Wilsons Prom, or continue along the South Gippsland Highway. Opt for the latter and, about 20 minutes later, you'll reach Foster. One of the biggest drawcards of this town is Gurneys. This family-run cidery and cellar door serves up a range of ciders from a classic dry style to more experimental drops — think rosemary and grapefruit sour wild cider. You can enjoy your chosen bev with one of the cellar door's cheese and meat platters, which utilise produce from within a 40-kilometre radius of the venue. Keen to spend the night? Nab a room at the Prom Country Lodge.

FISH CREEK
Food and drink experiences (and the occasional outdoor jaunt) have hogged the South Gippsland spotlight up until this point. But that changes once you reach Fish Creek. This small township is renowned for its high concentration of art galleries, so if you're after a dose of culture and creativity, this is where to head. Take yourself on a little DIY gallery hop, starting at Gecko Studio Gallery, which exhibits works by dozens of contemporary Aussie artists. Be sure to hit woodwork shop Ride the Wild Goat, renowned botanical artist Celia Rosser's gallery and children's authors and illustrators Roland Harvey and Alison Lester's spaces.
Back to eating and drinking (hey, you've gotta eat at some point), The Fish Creek Hotel is a popular destination for its art deco design and tasty pub grub. And Waratah Hills Vineyard's cellar door is a worthy lunch spot with share-style platters available to enjoy with a glass of single vineyard pinot noir or chardonnay. And if you're looking for a little indulgence, a stay at the stately Church House is a must. This boutique property, which was built with structural remains of the dismantled St George Anglican Church in Royal Park Melbourne, is quite the visual feast — from its vaulted ceilings and antique decor to the arched windows that overlook the rolling hills of the 20-acre property and beyond.

WALKERVILLE
You've finally reached the coast. The tiny seaside village of Walkerville offers stunning views of Wilsons Prom across Waratah Bay. It's pretty secluded, so if a respite from the city is what you're after, Walkerville will provide it. In the early 20th century, the town was mined heavily for lime, and you can see the remains of the old kilns, plus the historic cemetery, on the Limeburners Walk — it only takes about 20 minutes each way. Also reserve some time to visit the Cape Liptrap Lighthouse, which was built in 1951. If you're keen to hang around, book one of the villas or self-contained cottages at Prom Coast Holiday Lodge.

Find more spots to visit in Gippsland and start planning your trip here. FYI, this story includes some affiliate links. These don't influence any of our recommendations or content, but they may make us a small commission. For more info, see Concrete Playground's editorial policy.
Top image: Olive at Loch, Nicky Cawood
Published on December 01, 2020 by Melanie Colwell