TRAVEL & LEISURE
Seven Day Trips from Melbourne to Tick Off Your List This Winter
Historic oak forests, gardens atop extinct volcanoes and celebrated bakeries are all just a road trip away.
Seven Day Trips from Melbourne to Tick Off Your List This Winter
Historic oak forests, gardens atop extinct volcanoes and celebrated bakeries are all just a road trip away.
Is the open road calling your name? Are you itching to break out of your bubble and soak up the sounds and sights of somewhere else? Well, luckily for those itchy feet, Melbourne's got a whole swag of day-tripping options right on its doorstep, delivering quaint townships, stunning regional scenery and a healthy dose of Mother Nature, all within just a few hours drive of the CBD. Zero luggage to pack and no overnight stays required. Whether you're in the mood for a picnic in the mountains, or fancy trekking through some lush rainforest, there's never been a better time to get outta town and explore some of Victoria's finest locales. Fill up that petrol tank, jump in the car and check out these must-try day trips from Melbourne.
Under current COVID-19 restrictions, Victorians are free to travel anywhere within the state, as long as it fits within one of the five permitted reasons to leave home, which including outdoor recreational activities and visiting friends and family. From June 1, overnight stays are back on the cards, too, and campgrounds, Airbnbs and other accommodations are allowed to reopen. Some of the places mentioned below may still be closed due to COVID-19 restrictions. Please check websites before making any plans.

DANDENONG RANGES
For a nature-filled day trip merely 60 minutes out of the CBD, steer that car towards the Dandenong Ranges — an outdoor playground steeped in natural beauty and cloaked in majestic forest. You can indulge in some tree appreciation exploring the varied foliage of RJ Hamer Arboretum, before the adjoining Dandenong Ranges Botanic Garden wins you over with its coloured blooms and impressive views. Nearby, Kalorama Lookout offers primo panoramas across the Dandenong and Yarra Ranges, while the dense mountain ash of Sherbrooke Forest make for a stunning bushwalking backdrop. Here, you're never too far from a picture-perfect picnic spot, nor a local venue slinging top-notch supplies to match — like the celebrated Burnham Bakery with its natural sourdough loaves and buttery pastries.
How far? One-hour drive.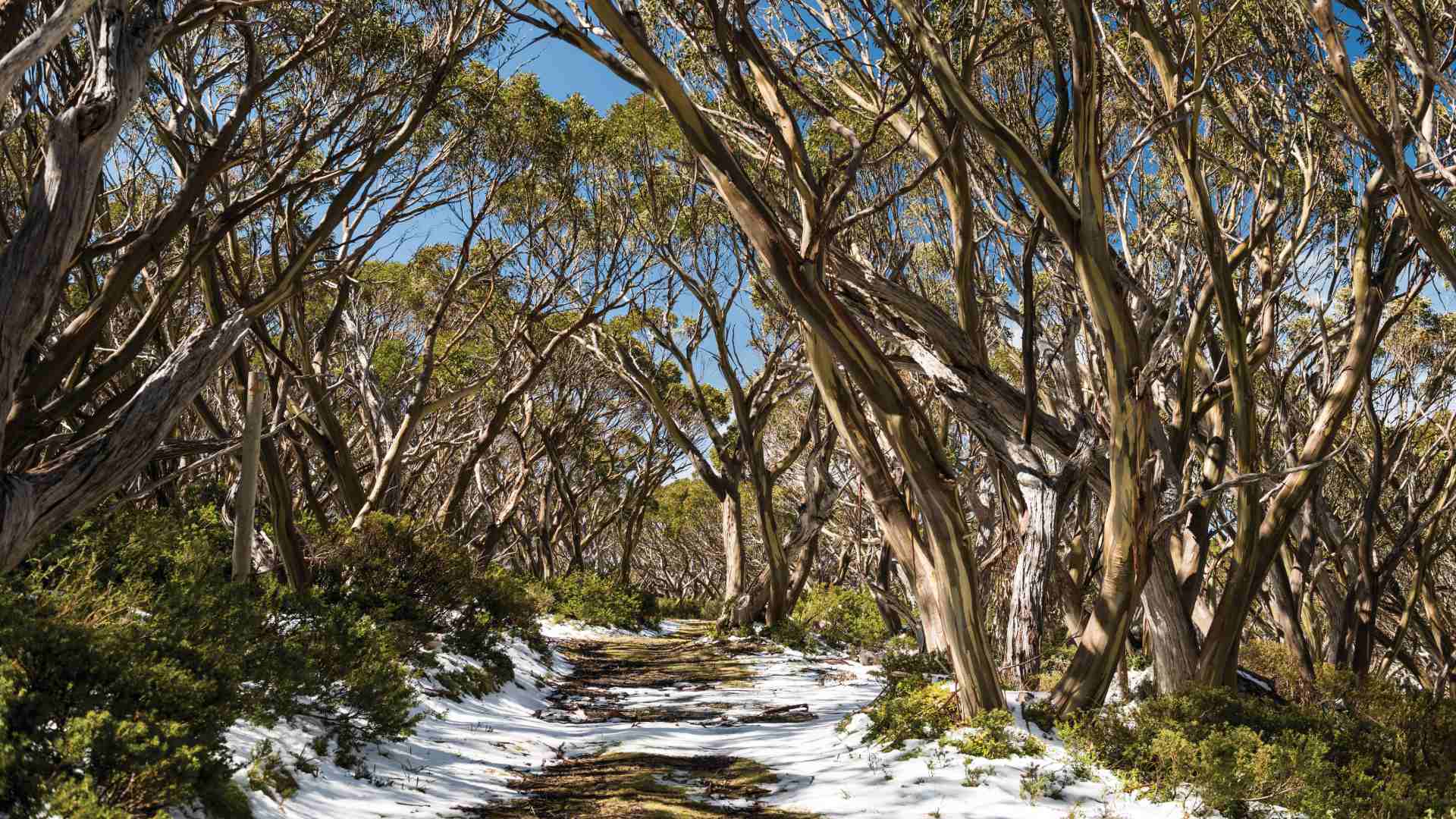 MT BAW BAW
It's known for its namesake ski resort — the closest downhill resort to Melbourne — but the Mt Baw Baw region has plenty to whet your appetite for adventure all year round. The Alpine Village itself offers the full swag of snow-based fun during winter, while for those warmer months it boasts its own huge network of walking trails, plus access to the many bush hikes of Baw Baw National Park and surrounds. Popular day tripping options include the 1.5-hour amble to the mountain's peak, known as the Summit Lookout Trail. Venturing back home towards Melbourne, nearby Noojee boasts even more lush forest to meander through, along with scenic pit-stops like the historic Noojee Trestle Bridge.
How far? 2.5-hour drive.

BRIGHT
As the gateway to some of the state's most popular ski resorts, the picturesque hub of Bright is a familiar stopover for many. But, surrounded by waterfalls, rivers and bushland trails aplenty, there's no doubt it's also a worthy day-trip adventure in itself. Test out your kayaking skills on the Ovens River running through nearby Porepunkah, or experience a local stretch of the scenic Murray to Mountains Rail Trail, either on foot or two wheels. You'll also find a stack of other walking tracks weaving through Bright and surrounds, ranging from easy 45-minute meanders through to the 11-kilometre Wandi Walk. Be sure to keep an eye out for furry residents along the way, too. And of course, no day of High Country appreciation is complete without a visit to the famed Bright Brewery, to sample some award-winning craft beers.
How far? 3.5-hour drive.

WILSONS PROMONTORY
Home to stretches of rugged coastline, idyllic walking trails and remote bushland, Wilsons Promontory offers up 50,000 hectares of day tripping goodness. It's a dream destination for any nature-lover, with a range of itineraries and day walks to suit all fitness levels. Favourites include the 3.8-kilometre trek between Darby River and Tongue Point, and the 7.4-kilometre Mount Bishop walk, which'll have you climbing to a rocky summit for memorable views across the Prom's west coast. Or, give those quads a bit more of a workout, tackling the two-hour return climb up Mount Oberon to see Tidal River from high above.
Wilsons Prom is currently open to day visitors only from 8am to 5pm, with the last cars allowed in at 3pm. Overnight stays remain off-limits, and both the Tidal River store and Visitor Centre are closed.
How far? Three-hour drive.

DAYLESFORD
A 90-minute drive from Melbourne, Daylesford scores plenty of attention for its mineral springs and spa resorts. But you'll find countless other reasons to spend a day exploring this charming town and its surrounds. There's no shortage of natural beauty to soak up out here, from the romantic Wombat Hill Botanical Gardens — built atop an extinct volcano — to the Lerderderg State Park with its famous gorge and abundance of rugged hiking trails. Wombat State Forest is brimming with opportunities for cycling, walking and koala spotting, or you can unwind with paddleboats and picnicking at the stunning Lake Daylesford. And come lunchtime, Wombat Hill House (casual sibling to the legendary Lake House) is your go-to for fat toasties, pastries and sourdough pizzas.
How far? 90-minute drive.

CASTLEMAINE
Packing rich history, stunning scenery, a thriving arts scene and access to a whole smorgasbord of outdoor adventures, the Goldfields town of Castlemaine is a day tripper's delight. The La Larr Ba Gauwa Mountain Bike Park boasts 34 kilometres of world-class cross-country biking, as well as a historic oak forest peppered with walking tracks and picnicking spots. Otherwise, you can break a sweat by tackling the scenic Goldfields Track on foot or bike, as it ambles through Castlemaine and on towards Bendigo. And, when that appetite's sufficiently piqued, experience some top local produce with a visit to food, art and retail precinct The Mill. You'll find everything from Shedshaker's renowned craft brews to sourdough loaves and fresh pasta courtesy of Sprout Bakery.
How far? 1.5-hour drive.

FRENCH ISLAND
For something a little different, bypass the familiar terrain of mainland Mornington Peninsula and treat yourself to a day trip across to French Island. Set in Western Port Bay, a 15-minute ferry ride from Stony Point, this 170-square-kilometre natural beauty is home to striking coastline, untouched bushland and the rugged wildlife haven of French Island National Park. You'll find a range of walking and cycling tracks kicking off from the Tankerton Foreshore Reserve, offering the chance to spot scores of sea birds and other critters in their natural habitat. In fact, the island boasts the most significant koala population in the entire state. Hot tip? You can amp up the homeward journey by swinging past Peninsula wineries like Quealy and Yabby Lake on the way through.
How far? One-hour drive + 15-minute ferry ride.

Dandenong Ranges via Nathan Larkin for Flickr. 
Published on May 26, 2020 by Libby Curran