TRAVEL & LEISURE
Seven Lesser-Known Stops to Make on a Road Trip Down the Great Ocean Road
Grab your mates, pile into the car and get cruising.
in partnership with

The Great Ocean Road is arguably Australia's most famous drive — and for good reason. The entire 243 kilometres has earned its reputation thanks to a seemingly endless reserve of lush national parks, pristine coastline and inviting food and drink experiences. Here, we've taken a closer look at a lesser-known drive between Wye River and Port Campbell. This part of the trip offers towering waterfalls, hidden beachfronts and acclaimed regional restaurants — everything you need for an unforgettable road trip.
From pristine beaches and bountiful wine regions to alpine hideaways and bustling country towns, Australia has a wealth of places to explore at any time of year. We've partnered with Tourism Australia to help you plan your road trips, weekend detours and summer getaways so that when you're ready to hit the road you can Holiday Here This Year.
Some of the places mentioned below may be operating differently due to COVID-19 restrictions. Please check the relevant websites before making any plans.
Some of the beaches on this list are not patrolled by lifeguards. To ensure you stay safe, head over to Tourism Australia for its latest tips on water safety.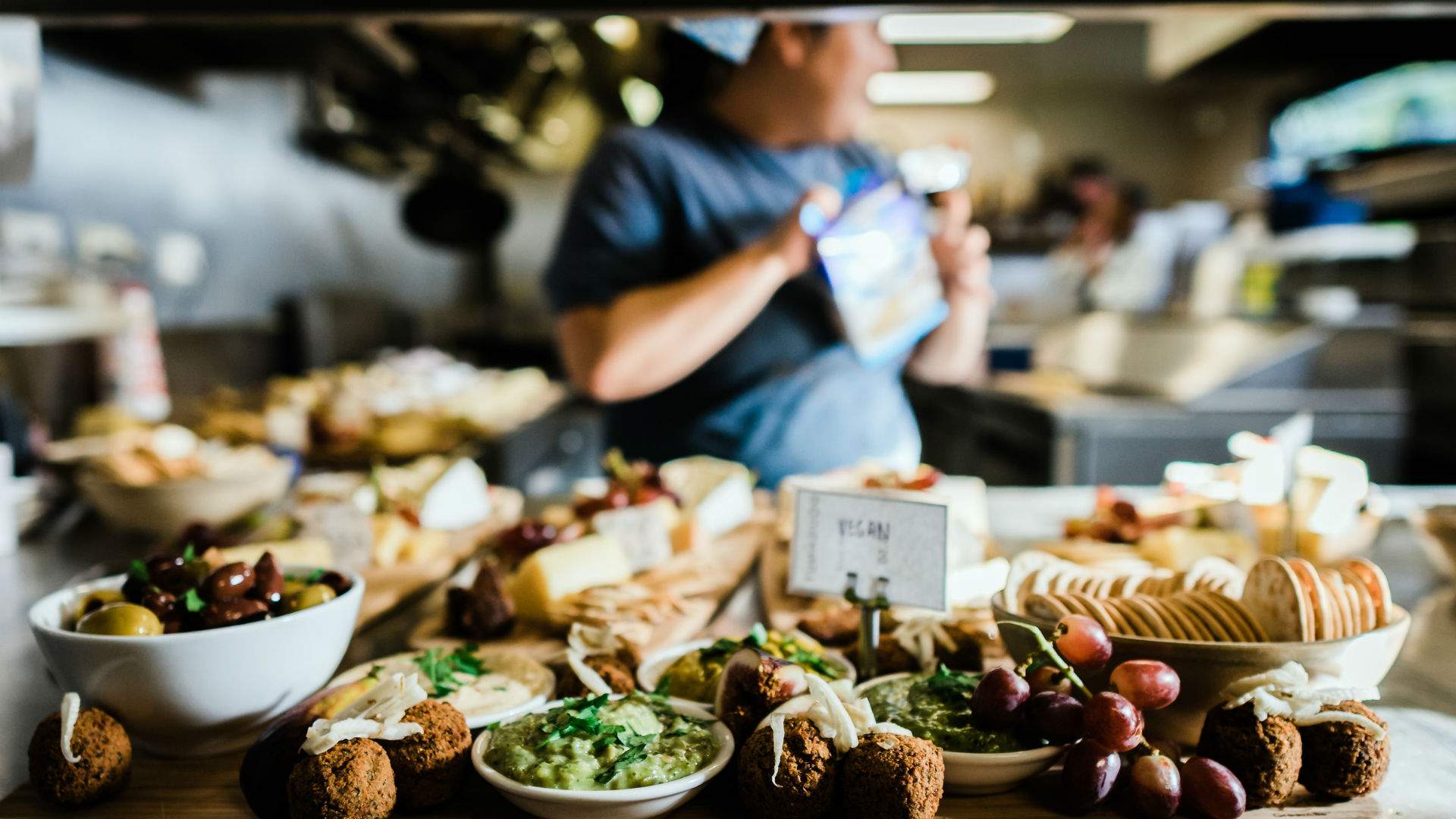 WYE GENERAL STORE
As you cruise through Anglesea and Lorne on your way down to the Otways, make sure you hold off on that morning coffee — trust us, the wait is worth it. You'll soon find yourself at Wye River and the Wye General Store, which has one of the best cafes found anywhere along this piece of shore-front. The all-day brunch menu offers everything from buttery pastries and freshly baked sourdough to poached eggs and beef burgers. The outside deck is great for soaking up the sounds of the nearby waves, and, for those chillier days, the wood combustion heater keeps the inside toasty.
35 Great Ocean Road, Wye River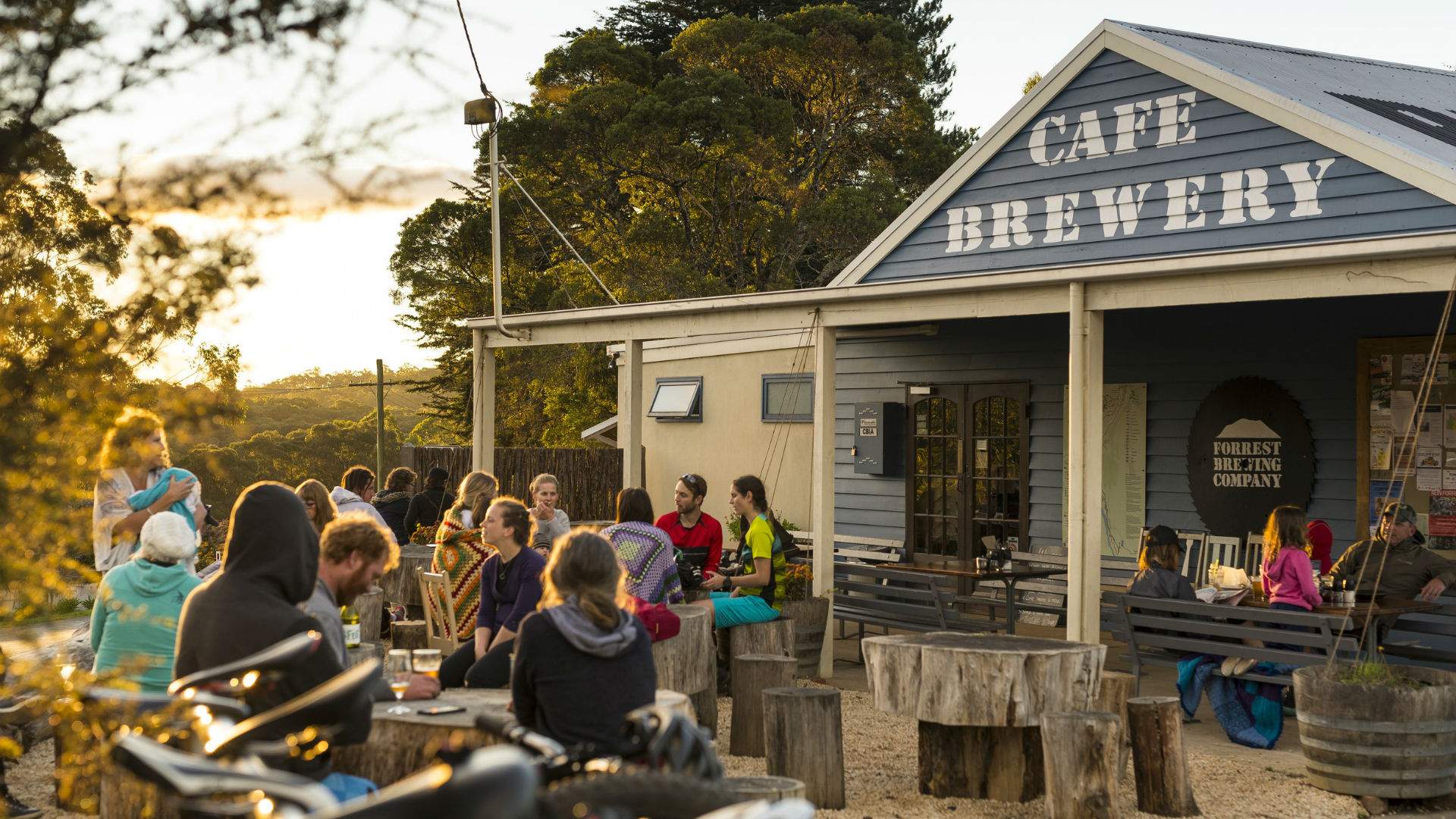 FORREST BREWING COMPANY
Enter the Great Otway National Park and wind your way up into its lush landscape before arriving at the tiny community of Forrest. Home to about 230 permanent residents, the town is a popular base for serious mountain bikers, who can be seen hurtling through the surrounding hills most days. But another main draw is the hilltop Forrest Brewing Company, which has helped breathe new life to the town. Beer is, of course, the main attraction here, with the 600-litre brew house offering four permanent frothies — a stout, irish red, pale ale and lager. For those feeling a little adventurous, there's always a selection of seasonal craft beers that'll satisfy any serious beer drinker. The laidback onsite restaurant also serves breakfast, lunch and dinner, with many options designed to pair with a bev or two.
26 Grant Street, Forrest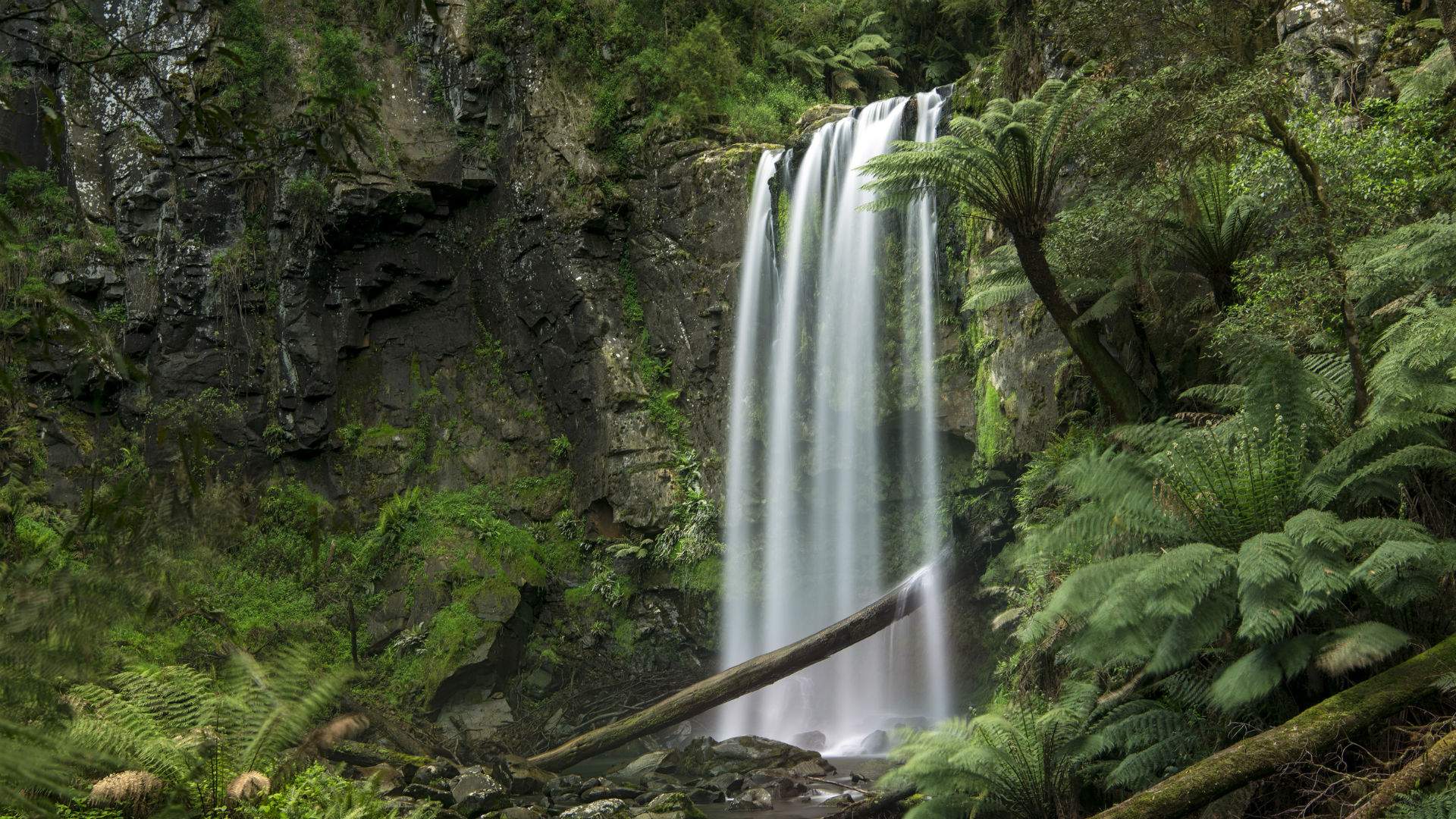 HOPETOUN FALLS
No road trip along the Great Ocean Road can be considered complete without at least one visit to the many waterfalls found in The Great Otway National Park. This time, forgo the Otway's famous Erskine Falls and head to the lesser-known Hopetoun Falls. It offers some of the most alluring views anywhere in this hinterland. The upper platform gets you up close to the 30-metre-high waterfall, while brave trekkers can then take the slightly precarious stairs, winding through lush ferns, down to the falls' base. While you're here, don't miss the nearby Californian Redwood Forest — it was planted in 1939 and is set to hold some of the tallest trees in the world by the end of the century.
Aire Valley Road, Beech Forest

LOCH ARD GORGE
Having witnessed what the Great Ocean Road offers from the hills, it's time to get coastal. That means paying a visit to some of Australia's most stunning rock formations, coastal shrubbery and ocean views at Loch Ard Gorge. Situated close to the community of Port Campbell, this place offers a famous combination of crystal clear waters, sharp golden cliffs and a soft sandy beach. Just a few minutes' drive from the Twelve Apostles, Loch Ard Gorge is a great opportunity to break out the bathers and take a refreshing dip in the ocean. Nearby, you'll find several limestone caves to explore, too, along with a host of coastal walks ideal for stretching your legs.
Great Ocean Road, Port Campbell

FORAGE ON THE FORESHORE
Once you've finished admiring the Apostles and Loch Ard Gorge, drive just a little bit further and you'll arrive in Port Campbell. You won't regret making this place your next stop, as the modest town is home to one of the region's best restaurants, Forage on the Foreshore. Set opposite the beach, the restaurant serves truly seasonal fare — everything here is either grown in the restaurant's veggie patch, locally produced or foraged. The dining room offers views of the Southern Ocean, while the chic refurbished furniture makes it a trendy, comfortable spot to take some time out.
32 Cairns Street, Port Campbell


12 APOSTLES GOURMET TRAIL
The region's numerous culinary options are simplified thanks to the 12 Apostles Gourmet Trail. It's a handy, 700-kilometre loop that makes it easy to discover many of the Great Ocean Road's most delicious producers and growers. One that you shouldn't breeze past is the Timboon Distillery. Single malt fans take note — this is some of Australia's finest, and you can sample the lot through a variety of free tastings. For something sweeter, drop in next door at Timboon Fine Ice Cream, which is offering up scoops produced from local dairy cow milk. And, since you can't have a road trip without at least one supremely tasty block of cheese, head nearby to the paddock-to-plate cheese specialists, Apostle Whey Cheese.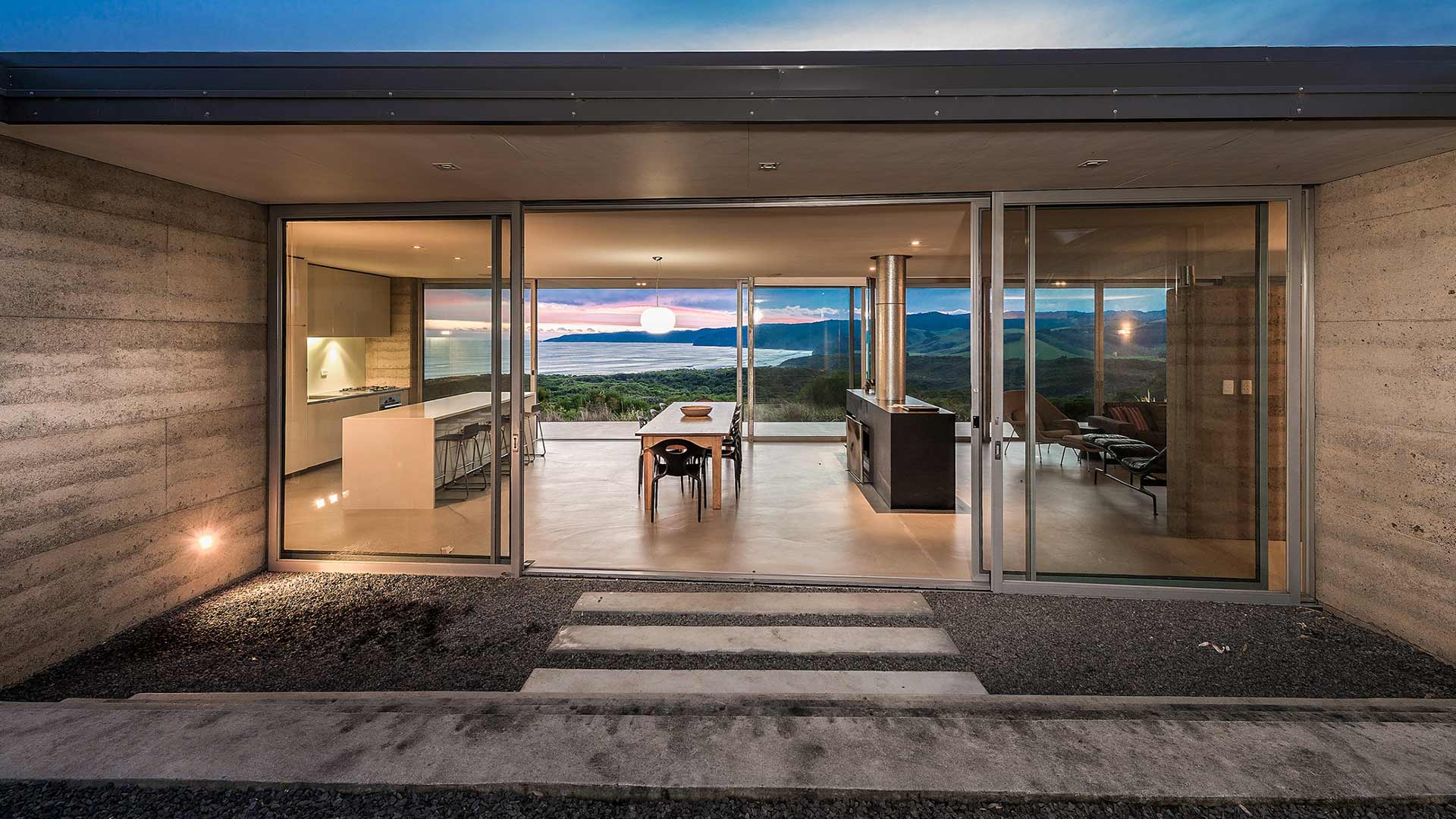 ROTTEN POINT HOUSE
Don't let the name confuse you, Rotten Point House is anything but unpleasant. Eco-friendly and beautifully designed, this stunning hilltop home rests amid 100 acres of private native bushland, offering spectacular views of the Southern Ocean. Just an eight-minute drive from Johanna Beach and 30 minutes from the shops of Apollo Bay, this secluded location is where you can spoil yourselves after a long drive. Offering four cosy double bedrooms, a free-standing double-sided fireplace and underfloor heating, this designer abode has chilly nights covered, ensuring everyone stays snug.
Evans Track, Johanna

Whether you're planning to travel for a couple of nights or a couple of weeks, Holiday Here This Year and you'll be supporting Australian businesses while you explore the best of our country's diverse landscapes and attractions.
Top image: Loch Ard Gorge via Visit Victoria
Published on May 29, 2020 by Hudson Brown