TRAVEL & LEISURE
Six Essential Arts and Culture Stops to Add to Your High Country Itinerary
Whether you like to see art hanging on walls or painted on grain silos, you'll find it in northeastern Victoria.
in partnership with

There's no denying the appeal of Victoria's High Country for foodies and outdoorsy types, but what about history and culture buffs? As it turns out, the northeastern region is an all-rounder destination — and, yes, that covers art, too.
There are museums, studios and cultural landmarks dotted across these mountainous plains, showcasing the rich heritage and creative outlook of the region. Here, you'll find everything from bushranger folklore and Olympic alpine history to galleries with an emphasis on Indigenous artworks and art displayed on grain silos. Don't know where to start? With the help from the folks at Victoria's High Country, we've it narrowed down to six top-notch arty spots, so you can get straight to it.

BENALLA ART GALLERY
For your first art-fuelled adventure, head west of Wangaratta to the small rural town of Benalla on the edge of the Broken River. Situated among lush botanical gardens, the Benalla Art Gallery is one of the best regional art spaces in Victoria. Its collection covers Australian art dating back to the early 19th century with an emphasis on traditional and contemporary Indigenous art, including works by Albert Namatjira, Destiny Deacon, Gordon Bennett and Emily Kame Kngwarreye. On display, expect to see paintings — on bark and on canvas — as well as weaving, textiles, printmaking, sculpture and photomedia.
Once you're done admiring the exhibitions, take some time to enjoy coffee and cake in the cafe overlooking Lake Benalla. Time your visit right and you might be able to attend one of the gallery's workshops or talks, too.

ST JAMES SILO ART
Part of Australia's largest outdoor gallery, the northeastern section of The Silo Art Trail stretches from Benalla to the Winton Wetlands. There are several noteworthy murals that have been created through the project but, if you can only visit one, we'd suggest the silo in St James. Built in the mid-1900s, the silos in St James were constructed for the bulk bushels of wheat originally delivered to the site via horse and cart.
Artist Tim Bowtell has skillfully depicted this motif on the silos' exteriors, along with a painting of local Sir George Coles, founder of the Coles supermarkets. Stop to marvel at the sheer scale of the artwork, while also appreciating the agricultural history of the area.

CRAIG'S HUT
If you like to combine your cultural appreciation with the great outdoors then Craig's Hut, located on Mount Stirling, is the perfect landmark for you. Built for the set of The Man From Snowy River back in the 80s and then reconstructed in 2008 after bushfires destroyed it two years prior, the log cabin serves as both a piece of Australian film history and a way station for hikers and cross-country skiers.
To reach it, you can either tackle the 19-kilometre track from Telephone Box Junction Car Park or drive up to Circuit Road Picnic Area and walk a shorter (but still very steep) 1.6 kilometres to the cattleman's hut. If you have a car suitable for off-roading, you can head on the 4WD track. No matter how you get there, you'll find the breathtaking view is more than worth the effort.

NED KELLY GUIDED WALKING TOUR
As one of the preserved 19th-century gold mining towns, Beechworth has a history worth knowing. For example, did you know Ned Kelly — one of the country's most well-known outlaws — won a bare-knuckle boxing match in Beechworth that lasted 20 rounds? Well, now you do — and you can learn much more about the infamous bushranger and his connection to the town on a Ned Kelly Guided Walking Tour.
Starting from the visitor centre at 1.15pm every day, the tour will talk you through many of the trials, tales and tribulations of Ned Kelly, his gang and what they got up to in town, including at the old courthouse and the site where the aforementioned boxing match took place. Afterward, if you're still keen on learning more about some of the area's colourful past, pay a visit to the Beechworth Historic and Cultural Precinct and the Old Beechworth Gaol.

THE NATIONAL ALPINE MUSEUM OF AUSTRALIA
Mount Buller's National Alpine Museum of Australia (NAMA) was established to preserve and display the rich cultural and environmental heritage of the country's alpine regions.
Starting out with just 60 donated items, its collection now houses over 15,000 objects and materials that reveal the region's cattle, mining and timber history. It also looks into the fast-paced action of snow sports in Australia that goes beyond Olympic glossings. With objects from the late-19th century through to the present, NAMA's collection also tells many of the unsung stories and achievements of alpine personalities.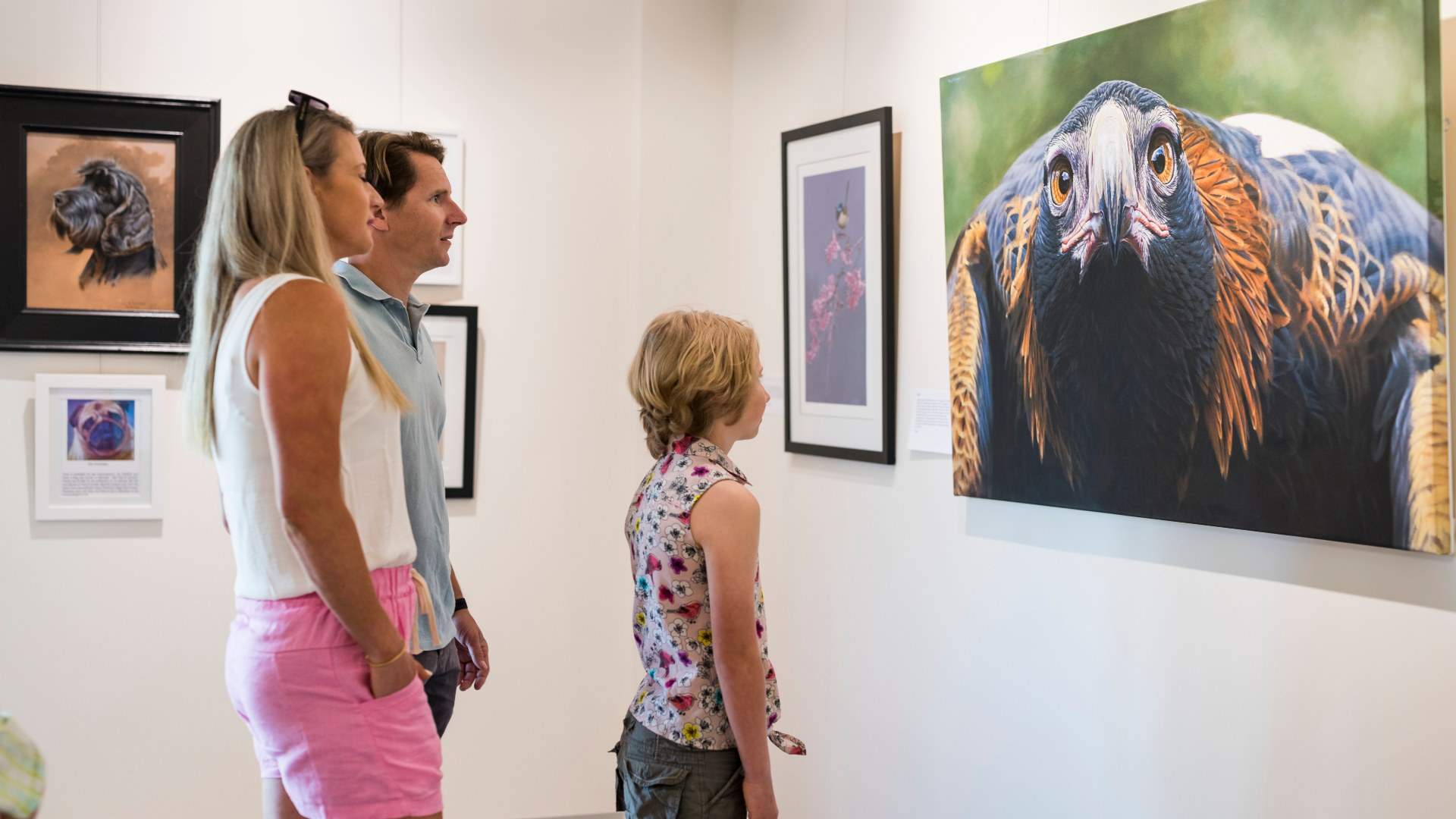 TONY PRIDHAM FINE ART GALLERY
If you have any interest in ornithology then you may already know of Tony Pridham. But for those left wondering, he's Australia's leading bird artist — and lauded Aussie artist Sidney Nolan's grand-nephew — so, a trip to his gallery is worth the 15-minute drive from Mansfield.
Pridham's work hangs in galleries all over the world and his realist and hyperrealist artworks come from careful observation of wildlife in Australia, Africa, Europe and the USA. The Tony Pridham Fine Art Gallery exhibits limited-edition prints, sketches and original oil paintings and you might even catch the artist there while sitting behind his easel amid the gallery's gardens.

Discover more and plan your next arty adventure at Victoria's High Country.
Top image: Benalla Art Gallery, Visit Victoria / Robert Blackburn
Published on April 19, 2021 by Eleanor Scott