TRAVEL & LEISURE
This Melbourne Hotel Has Added a Hot Tub and Outdoor Cinema in a Private Courtyard to Your Next Staycation
Pick a movie to watch under the stars while you have a soak — over some wine, too.
Summer is outdoor cinema season, as Melburnians well and truly know. But sometimes, as much as you'd like to catch a film under the stars, you'd also like to do so in a more intimate situation. That's not a pandemic-related reaction, but just recognition that big openair cinemas have their moments, and plenty of them — however, so do quieter and cosier movie-watching environments.
You could take your own TV outside into your backyard, of course. You could rig up a sheet and buy a projector, too. Or, if you're still keen on treating yo'self and your favourite person to a night out of the house (and not just outside your own house), you can book a room at the Melbourne Marriott Hotel that comes with a private courtyard — which is then decked out with a hot tub and an outdoor cinema setup.
Launched to entice Melburnians to enjoy a staycation over summer, the Marriott's new deal includes a five-star room, your own courtyard and place to soak outdoors, and your own big screen as well. You choose the movie, which you can then sit back and watch from the tub or from reclining camp deck chairs. And, to say cheers to all that, you'll also receive a two-pack of wine.
You can order gourmet hampers to your room, too, and check out the mini bar — but that'll cost you extra.
Room rates start from $399 per night and, if all that hot tubbing and movie-watching leaves you in need of a sleep in, you won't have to check out until 1pm the next day.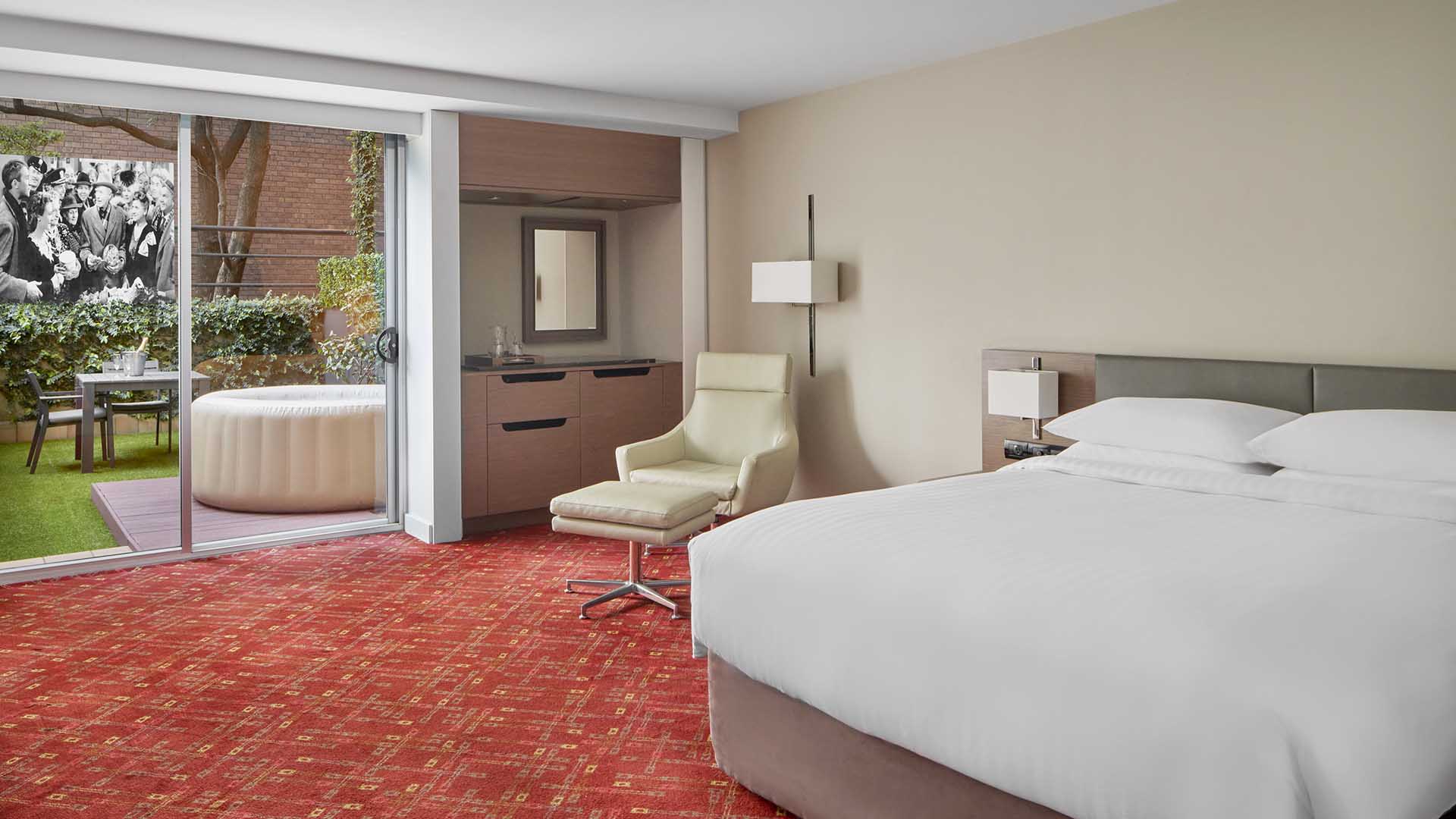 Find the Melbourne Marriott Hotel on the corner of Lonsdale and Exhibition streets, Melbourne — with stays in a room with a private courtyard, outside hot tub and outdoor cinema screen starting at $399.
Published on December 08, 2020 by Sarah Ward