TRAVEL & LEISURE
Two Shipping Container Hotels Are Popping Up on Victorian Wineries This Autumn
The Wine Down Pop-Up Hotel eco pods will make appearances in the Mornington Peninsula and Rutherglen.
In just a couple of months, the days will be getting chillier and you'll be, once again, unpacking beanies and mitts — and cosy weekend getaways are likely already on your mind. Happily, this year sees the return of a popular pop-up accommodation option to regional Victorian, with the Wine Down Pop-Up Hotel heading back to two wineries this autumn.
The two beautifully upcycled shipping container hotels are the work of Contained — known for crafting bars, restaurants, offices and hotels out of shipping containers — and are all at once comfy, luxuriously appointed and sustainably crafted. And they'll soon be well-travelled, moving across two of the state's best-loved wine regions between March and June.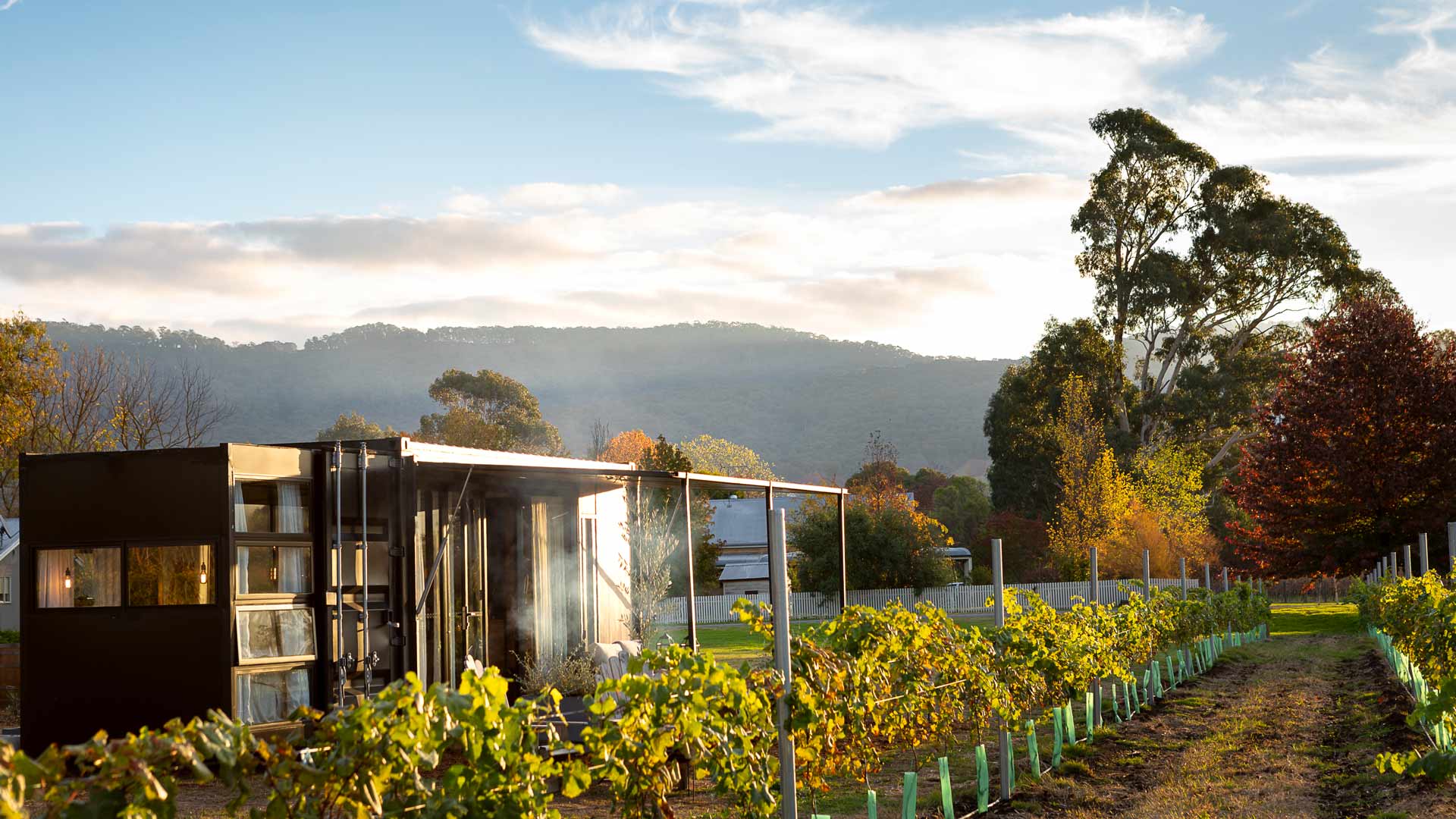 Designed to inspire some weekend adventures in your own backyard, the pop-up eco hotels will be making their home at Montalto and sister estate Tucks in the Mornington Peninsula (Monday, March 29–Monday, April 26), which has restaurants and even its own sculpture trail. Then, they'll be heading to the historic Rutherglen's All Saints Estate (Wednesday, May 5–Wednesday, June 2).
Nestled among the vines, the self-contained Wine Down retreats come kitted out with a swag of high-end trimmings, boasting a plush queen-size bed with primo Cultiver linen, bathroom stocked with Australian-made toiletries, a minibar with a bottle of the property's finest vino, a breakfast hamper of local produce and floor-to-ceiling windows leading onto a deck. You'll also have access to your own private pizza oven, so you can cook up some fancy pies after a hard day of wine drinking.
The Wine Down Pop-Up Hotel is heading to Mornington Peninsula from Monday, March 29–Monday, April 26, and Rutherglen from Wednesday, May 5–Wednesday, June 2. Prices start at $275 per night from Sundays through Thursdays and $375 per night on weekends.
Published on March 15, 2021 by Libby Curran