Why This Lesser-Known Victorian Wine Region Should Be Your Next Weekend Getaway
Sip the nectar of the gods, dine in an old farmhouse and sleep in a castle.
in partnership with

There's a lot to love about regional Victoria. It has hidden gems in every corner of the state, from rugged coastlines to small towns with charming pubs serving up some good ol' grub and everything in between. Up in Victoria's High Country, known for its mountains, rich gold-mining history and ski resorts, is one lesser-known spot that's well worthy of a weekend trip — the historic wine region of Rutherglen.
With over 20 wineries (many of them award-winning), plenty of restaurants and cafes, incredible produce and endless countryside, there's no better place for your next getaway. And, thanks to some up-and-coming new-generation makers and producers, there's some innovative stuff happening here that you won't find elsewhere. It may be a small community — the town has a population of around 2100 — but there's no shortage of activities to do, food to eat and, of course, wine to drink.
From pristine beaches and bountiful wine regions to alpine hideaways and bustling country towns, Australia has a wealth of places to explore at any time of year. We've partnered with Tourism Australia to help you plan your road trips, weekend detours and summer getaways so that when you're ready to hit the road you can Holiday Here This Year.
Some of the places mentioned below may be operating differently due to COVID-19 restrictions. Please check the relevant websites before making any plans.
A FINE (WINE) LEGACY
The Rutherglen region is steeped in winemaking glory, dating back to the 19th century when Queen Victoria was in charge and the country was swept up in a gold rush. You can see its tannin-soaked heritage at some of Victoria's oldest vineyards and taste it in the quality of the area's crisp, cool-climate whites, robust reds and world-famous fortified wines.
Head to Campbells of Rutherglen, which was established in 1870, for a spot of riesling or a limited-release fiano, then to All Saints Estate Winery (established in 1864) for an aromatic shiraz. Meanwhile, you can indulge in some rustic French fare alongside your tipple at Jones Winery, which dates back to 1860 — or enjoy a nip of muscat at one of the oldest vineyards on the block, Morris Wines, which was founded in 1859. Oh, and don't forget to take a snap at the town's locally adored Big Wine Bottle — it's actually the local water tower and holds up to 72,000 gallons. Ah, if only you could turn water into wine.
NEW AND INNOVATIVE WINEMAKERS CHANGING THE GAME
Along with the heirloom winemakers in the region, there are plenty of newer vineyards making their mark, too. Head to the newest member to the region, Valhalla Wines. It's an environmentally sustainable vineyard, so you can feel good about sampling a glass (or two) of its chardonnay or tempranillo.
Also, pop over to Scion for a handcrafted, small-batch drop of durif (a rare red French grape variety). Or, you can head back to Morris Wines — while the vineyard may be the region's oldest, it is also one of the more innovative and is known for its contemporary styles of topaque (the lighter, finer cousin of muscat) and apera, which is a sherry-style aperitif.
TOP-NOTCH RESTAURANTS AND BARS
Not only will Rutherglen quench your thirst for high-quality vino but it'll line your stomach for it, too. A bunch of the region's restaurants and bars serve dishes that'll rival anything you'd find in the city — using locally sourced and seasonal produce, of course. In an old farmhouse overlooking a century-old vineyard is Ripe at Buller Wines. Here, you'll find dishes inspired by Buller's world-famous fortified wines — and prepared with produce from the vineyard's market garden. For a feed on the fancy side, head to the hatted fine diner overlooking the vines of All Saints Estate, Terrace Restaurant. The restaurant, led by Simon Arkless, is a prime example of farm-to-table eating — everything from the meat, eggs and vegetables are grown on the estate, and all organic waste is fed back to the animals or used as compost on the vines.
If you're after more low-key vibes, stop in at the slickest spot in town, Thousand Pound wine bar. This cosy spot wouldn't look out of place in a hip Melbourne suburb (that is, apart from the much more affordable prices). The bar enlisted Simon Arkless for this menu, too, which is served alongside a solid wine list celebrating family-owned estates. Meanwhile, The Pickled Sisters Cafe, which you can find at Cofield Wines cellar door, is a must-visit for brunch or lunch. Or, you can turn your meal into a roaming feast with The Pickled Sister's Seasonal Food Foray. For $85 per person, you'll get a luxe picnic hamper filled with four dishes. Each meal is designed to be paired with a glass of wine from one of the participating wineries on your wine hop — Cofield Wines, Pfeiffer Wines, Stanton & Killeen and Andrew Buller Wines. Plus, it wouldn't be a trip out of the big smoke without a country-made pie from Parker Pies.
WHEN YOU NEED A BREAK FROM WINE TASTING
If you think you'll need to break up the wine tastings, turn your cellar door tour into a cycling expedition with Pedal to Produce. The self-guided route is just 12.5 kilometres in total and will take you to some of the region's best cellar doors — with some pretty picturesque sights and pit stops along the way. Another way to take a breather is by gazing at some art — the Aboriginal Exhibitions Gallery, based at De Bortoli Rutherglen Estate, is a good place to start.
But, when you simply can't sip another drop of wine (if that's possible), Rutherglen has plenty to whet your cultural appetite. You can head to the Murray River for a spot of fishing or visit an olive estate while you're here: you have Gooramadda Olives and Wicked Virgin to choose between. Plus, if you're lucky to be in the area on the second Sunday of the month, enjoy the Rutherglen Farmers Market and pick up some local produce to take back with you.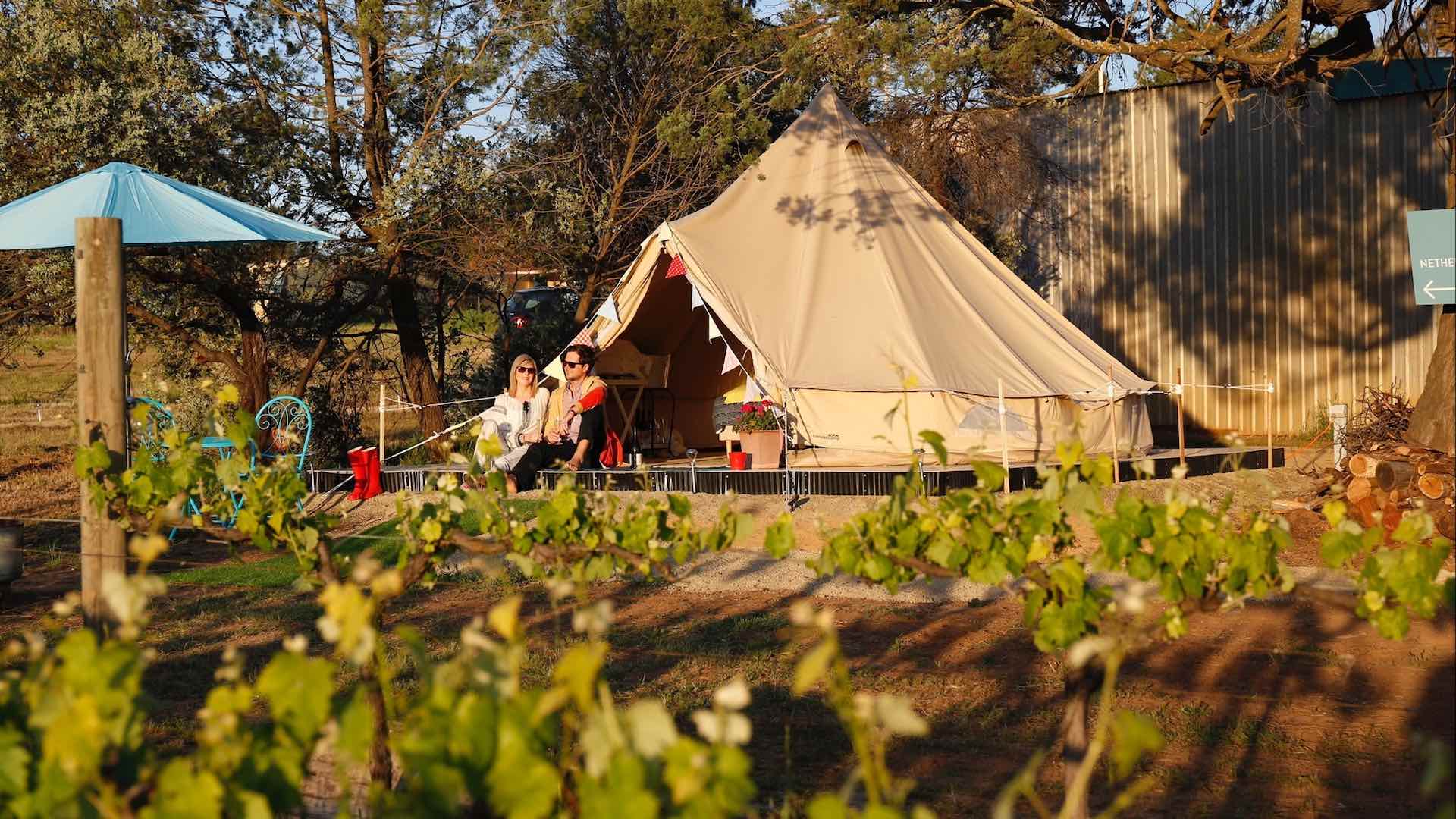 COOL SPOTS TO BUNKER DOWN FOR THE NIGHT
After a long day of enjoying the treasures of the region and with your bellies full of wine, you'll need a cosy place to rest. Luckily, Rutherglen's got plenty of unique places for you to lay your happy head on a comfy pillow. You can sleep among the vines at Grapevine Glamping and enjoy camping without all the fuss at Cofield Wines. If medieval feels are more your vibe, you can sleep in an actual castle (yep) at Mount Ophir Estate with seriously luxe furnishings, or hit the hay in a rustic-chic cabin on a lake at Moodemere Lake House. Alternatively, book a room at the boutique art deco hotel and day spa, Circa 1936, and treat yourself to a pampering after a long day of wine tasting.

Whether you're planning to travel for a couple of nights or a couple of weeks, Holiday Here This Year and you'll be supporting Australian businesses while you explore the best of our country's diverse landscapes and attractions.
Top image: All Saints Estate.
Concrete Playground Trips
Book unique getaways and adventures dreamed up by our editors