ARTS & ENTERTAINMENT
19th Biennale of Sydney Set to Stir Imagination
The 19th Biennale of Sydney has just announced its 2014 lineup and it's shaping up to be a cracker.
19th Biennale of Sydney Set to Stir Imagination
The 19th Biennale of Sydney has just announced its 2014 lineup and it's shaping up to be a cracker.
Hold onto your hats, kids. The 19th Biennale of Sydney has just announced its 2014 lineup and it's shaping up to be a cracker. Along with the usual slew of international art superstars — Tacita Dean OBE, Roni Horn and Ugo Rondinone — artistic director Juliana Engberg has focused on lesser-known, younger artists and special, one-of-a-kind works commissioned for the event.
The list of artists slated to show works is impressive. Martin Boyce, the Scottish artist who made a big splash at the 2009 Venice Biennale is one to look out for, as is Australia's TV Moore and Susan Norrie.
The Biennale will be staged in various venues across the city, and each locale will offer a different experience. Cockatoo Island will once again be overcome by larger, site-specific works, many of which will be targeted at families and children. The Art Gallery of NSW will host, among other pieces, a performative installation by Yingmei Duan, who will live, for the duration of the Biennale, in a 'forest' built inside the gallery. As part of Happy Yingmei, the artist will interact with visitors, before retreating back into the forest to retrieve little notes dispensing advice and observations to them, in what Engberg described as a nexus between the practices of Yoko Ono and Marina Abramovic.
Another key venue, the Museum of Contemporary Art Australia, will feature works responding to its surroundings of 'air and water', and what those elements represent in the human psyche. Look out for the large-scale multimedia installation Phantom (2011), by Scottish artist Douglas Gordon (the first video artist to win the Turner Prize) and featuring the heartbreaking vocals of Rufus Wainwright.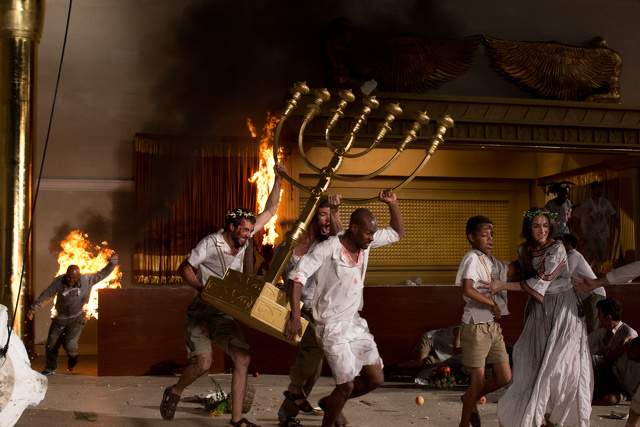 Meanwhile, Artspace in Woolloomooloo will display 'flights of fancy', presenting works from several artists including Maxime Rossi and Henna-Riikka Halonen. The recently renovated space at Carriageworks will also house works, including a large-scale installation Dutch artist Gabriel Lester, who will offer a piece which responds to the architecture of the building. This fascinating work will explore the idea of cinematic and multimedia art as the 'new readymade'.
Engberg is a sensational choice to man the helm of the Biennale, which is celebrating its 40th anniversary this year. Her excitement is palpable as she reveals details of a "happy anarchy" to be released upon unsuspecting Sydneysiders on March 21, 2014.
The Sydney Biennale is one of the world's oldest and longest running biennial art fairs. It's also one of the few biennales offering free entry to visitors. Every edition of the event brings together some of the world's most exciting contemporary artists in a vibrant celebration of Australian and international visual art. Each year, the works are curated around a specific theme. In 2014, that will be 'You Imagine What You Desire'. This "optimistic" Biennale takes its cue from a George Bernard Shaw quote: "Imagination is the beginning of creation. You imagine what you desire, you will what you imagine and at last you create what you will."
Images: Henna-Riikka Halonen, Moderate Manipulations, 2012 (video still) and Yael Bartana, Inferno, 2013 (production still).
Published on October 30, 2013 by Rebecca Speer