ARTS & ENTERTAINMENT
Artist Spencer Tunick Has Revealed the Images from His Mass Nude Photo Shoot in the Whitsundays
Almost 100 Aussies stripped off for the acclaimed New York artist's latest large-scale nude photographs.
Artist Spencer Tunick Has Revealed the Images from His Mass Nude Photo Shoot in the Whitsundays
Almost 100 Aussies stripped off for the acclaimed New York artist's latest large-scale nude photographs.
It's been 18 years since Australia's first taste of acclaimed New York artist Spencer Tunick's work, when 4500 naked volunteers posed for a snap near Federation Square as part of the 2001 Fringe Festival. He then photographed around 5000 nude people in front of the Sydney Opera House during the 2010 Mardi Gras, and came back to Australia just last year to shoot over 800 Melburnians in the rooftop carpark of a Prahran Woolworths.
This month, Tunick made the trip to the shores again — and this time, he went tropical. On Saturday, November 23, a whole heap of Aussies stripped off on a beach in the Whitsundays, with the internationally famed artist returning to Australia to stage the newest of his famed mass nude photographs.
In Tunick's latest visit to Australia, his sights were set on the white sands and sparkling blue waters of Haslewood Island — near Whitehaven Beach, aka the second best beach in the world. That's where Tunick assembled another contingent of naked folk for a work titled Sea Earth Change. Interestingly, the shoot was part of The Iconic's (yes, that online clothing store) summer campaign We Are Human.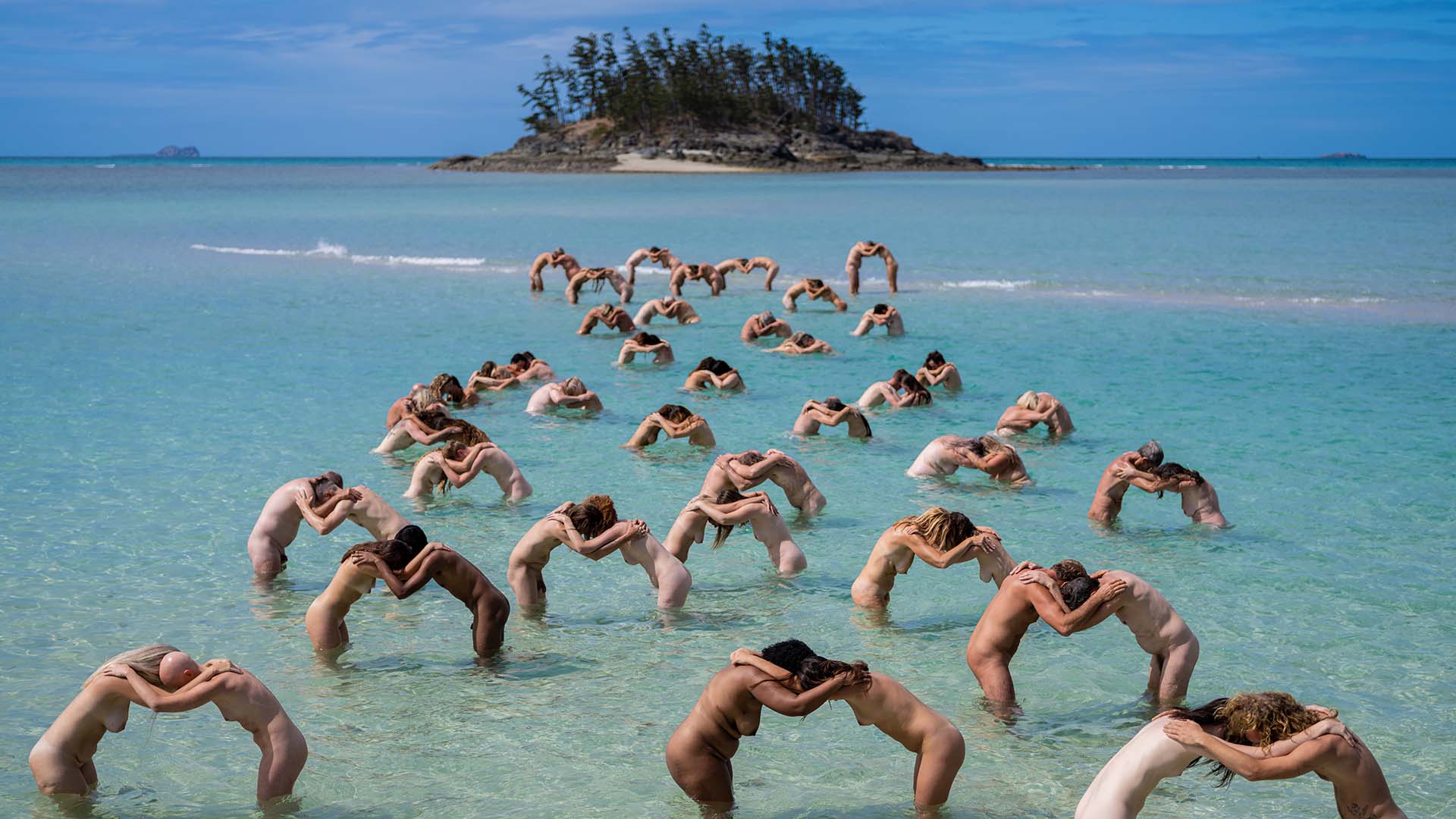 Naturally, the resulting images feature the sky, the ocean and the sand — and the nearly 100 nude participants — with Tunick making an artistic statement on the fragility of both the natural environment and humanity. "Using a pristine location like Haslewood Island in the Whitsundays to highlight the need for us to protect these areas, while exploring the vulnerability of the human form and importance of community is something I hope I've communicated with these images," he explained.
Tunick captured a diverse mix of bodies in the shoot, with participants each receiving a print of the photograph and, we're sure, a big boost of body confidence. The artwork was unveiled at The Calile Hotel in Brisbane on Wednesday, November 27, marking the latest striking images in the artist's career. Elsewhere, he's photographed the public painted red and gold outside Munich's Bavarian State Opera, covered in veils in the Nevada desert and covered in blue in Hull in the UK.
Images: Spencer Tunick's Sea Earth Change installation artworks. 
Published on November 30, 2019 by Libby Curran