ARTS & ENTERTAINMENT
Drive-In Concerts Are Coming to Melbourne and Sydney This Winter
Watching concerts from our cars could be the new (temporary) norm, with plans for eight new drive-in venues.
Last week, Australia had its first ever drive-in concert. It took place in Sydney's Robyn Webster Sports Centre in Tempe on Thursday, May 21, with Australian Idol winner Casey Donovan as the headline act. It was free and — despite the midday time slot and the slightly off-kilter artist choice — it garnered a crowd.
Drive-In Entertainment Australia's first concert was an example of how it plans to run its (many) future events. From July, the company hopes to host live music concerts for up to 600 people, in 300 cars, with plans to launch eight drive-in venues across NSW and Victoria. Depending on how successful the events are, more states may follow.
So, how does it work? Much like a scene out of hit 70s film Grease — or any drive-in cinema, really — you drive in, park up and watch from your car. The sound will be broadcast by an FM radio to your car, with the option for the spectacle to be live streamed via Zoom, too. You won't be able to get out of your vehicle though, unless going to the bathroom. All ticketing will be contactless, as will any snack purchases, which will be delivered to your car from onsite food trucks.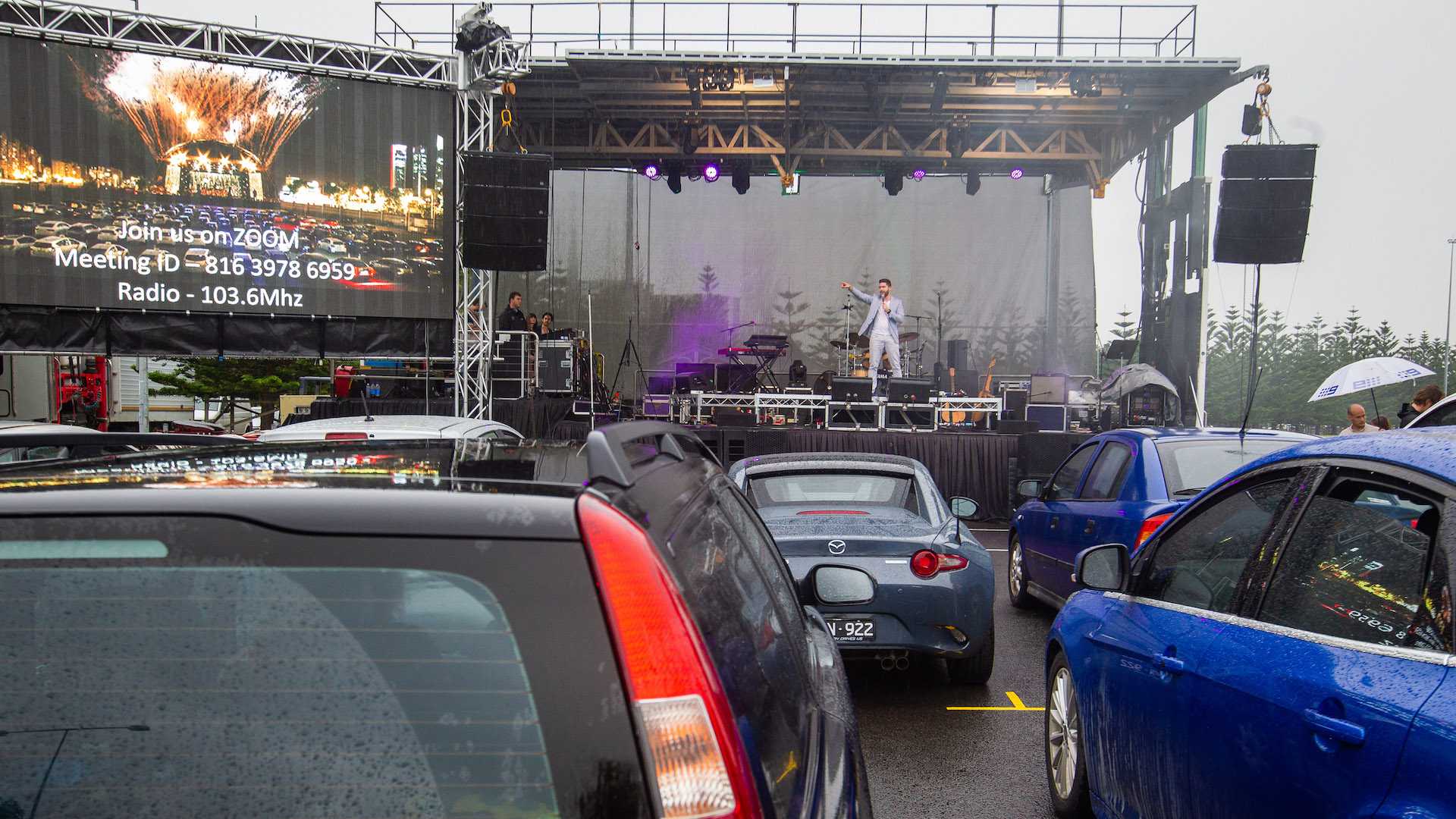 It's no secret Australia's music industry has been hit hard during the pandemic, with website I Lost My Gig reporting about $340 million in lost income since COVID-19 saw the cancellation and postponement of festivals and gigs nationwide. With Australia's proposed roadmap out of COVID-19 lockdown, mass gatherings of up to 100 will be permissible from July, which isn't a sustainable outlook for all facets of the industry. Despite Falls Festival 2020 announcing its plans to go ahead, a public health expert predicts music festivals may not be able to restart until September 2021. At least with drive-in concerts, larger live music events will be able to have a small revival — even if it means you must cut shapes in your car.
Australia is not the first country to trial drive-in gigs, with one of the first happening in an LA carpark back in March and another in Aarhus, Denmark last month, which sold out in minutes according to Forbes.
Drive-In Entertainment Australia plans to launch eight venues across NSW and Victoria, with other states to potentially follow. Entertainers, producers, agents and managers can register for a gig from Saturday, July 18 onwards. More information and contact details can be found on the website.

Published on May 25, 2020 by Cordelia Williamson