Always Loving Dolly Parton and Enlisting Rose Byrne As Elvis: Krew Boylan Chats Aussie Comedy 'Seriously Red'
What's it like to turn your affection for Dolly Parton into a SXSW-premiering film about being a Dolly Parton impersonator? Australian actor and screenwriter Krew Boylan explains all.
Sometimes they're sung. Sometimes they're splashed across the screen. Quite frequently, they adorn Dolly Parton-themed paraphernalia. That'd be the iconic Tennessee-born icon's words, which feature heavily in affectionate, entertaining and enthusiastically camp Australian comedy Seriously Red. Viewers should expect nothing less of a film about a Dolly Parton-adoring real-estate valuer who decides to pour her cup of ambition into being a Dolly Parton impersonator, obviously.
There's an exact turn of Parton-penned phrase to sum up Raylene 'Red' Delaney's new gig, too: what a way to make a living. Of course, as Seriously Red's star and screenwriter, that sentiment applies to Australian actor Krew Boylan as well. For two decades now, particularly across shorts and television — a resume filled with everything from McLeod's Daughters and Wild Boys to A Place to Call Home and TV movie Schapelle — she's been chasing the performing dream. Her best part yet, though, is the one she wrote herself, and a role that harks back to watching 1989's Steel Magnolias as a child with her mum.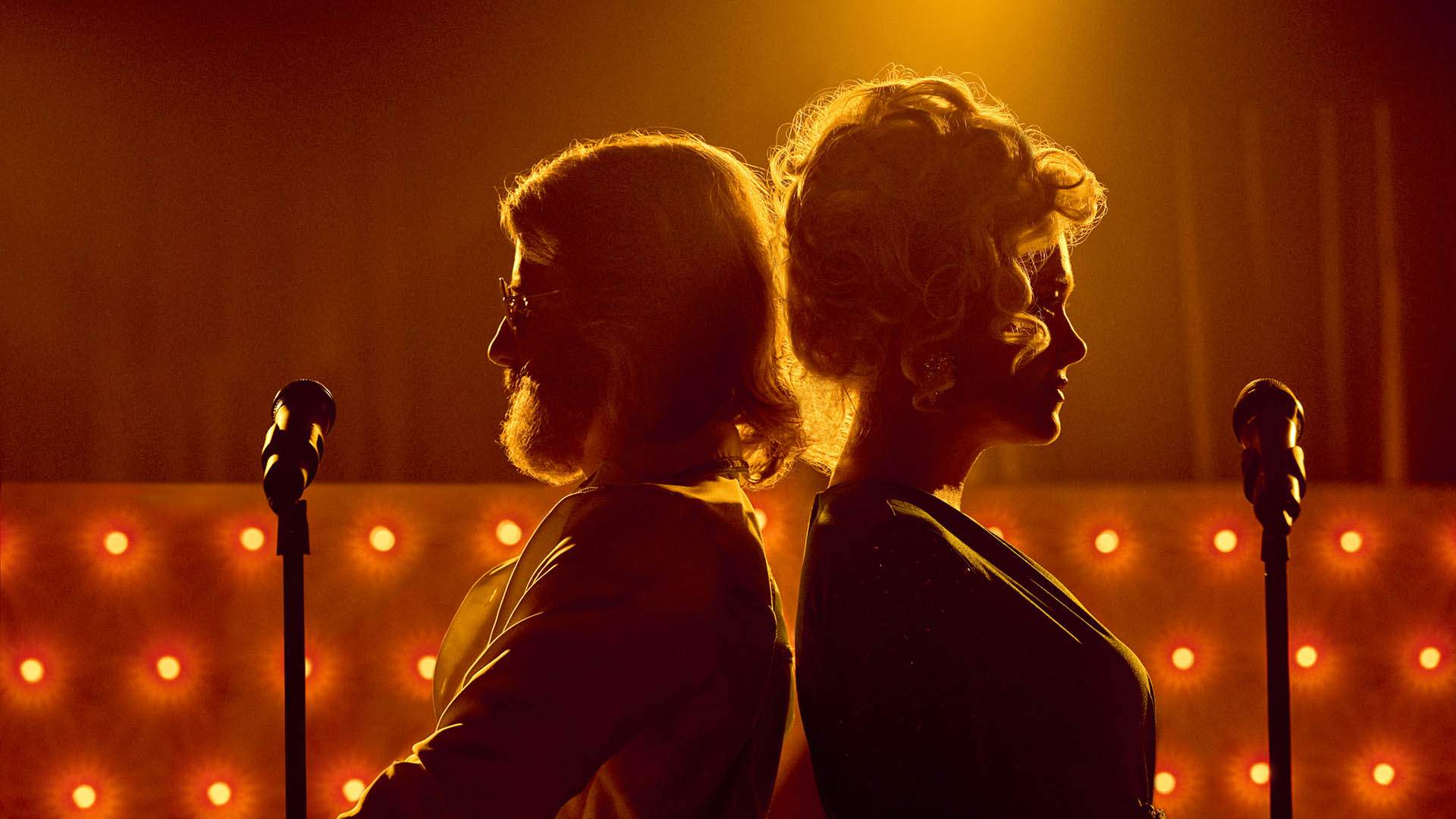 From being wowed by a Parton-starring film to making her own Parton-obsessed on-screen ode, Boylan's fondness for the 'Joelene' and '9 to 5' singer has endured; persistence is a very Dolly trait, after all. Indeed, it was thinking about why Parton represented the pinnacle of success for her that sparked Boylan to start scripting Seriously Red in the first place in 2009. The years since have seen other projects come her way, but after getting Dolly's pivotal tick of approval — thanks to friend, executive producer and on-screen Elvis doppelgänger Rose Byrne — the movie started becoming a reality. In fact, it's the first feature by Australian independent production company Dollhouse Pictures, which Boylan and Byrne created with Seriously Red's director Gracie Otto (The Last Impresario, Under the Volcano) and producer Jessica Carrera, plus Babyteeth filmmaker Shannon Murphy.
If imitation is the sincerest form of flattery, then Parton should be clearly be honoured. As well as playing a Dolly impersonator, Boylan couldn't be more effusive with praise about the entertainment legend. "She's great artist, and she's funny, and she's irreverent. She decides how to she wants to look, and she keeps it positive even when people try to bring her down about it. And  she's quick-witted, and then she's also got this business side. I guess I gravitated to that whole package."
It's one thing to make a movie that drips its "love, sweat and joy" for the country star through every frame, as Boylan puts it. It's another to also ponder identity, creativity, self-esteem and finding the courage to be yourself. As it follows its titular character's chaotic pursuit of all things Dolly, including exploring the celebrity impersonator scene, Seriously Red is that feature. It's no wonder that Parton read the script twice within days of receiving it, and jumped up and down exclaiming "you played me, you played me!" when Boylan met her.
With Seriously Red now in cinemas Down Under, following a whirlwind year that's spanned premiering at SXSW, an Aussie debut at the Sydney Film Festival and opening the Brisbane International Film Festival, we chatted to Boylan about having a Dolly great time loving Dolly, meeting the woman herself, exploring the impersonator industry and getting Byrne to play Elvis.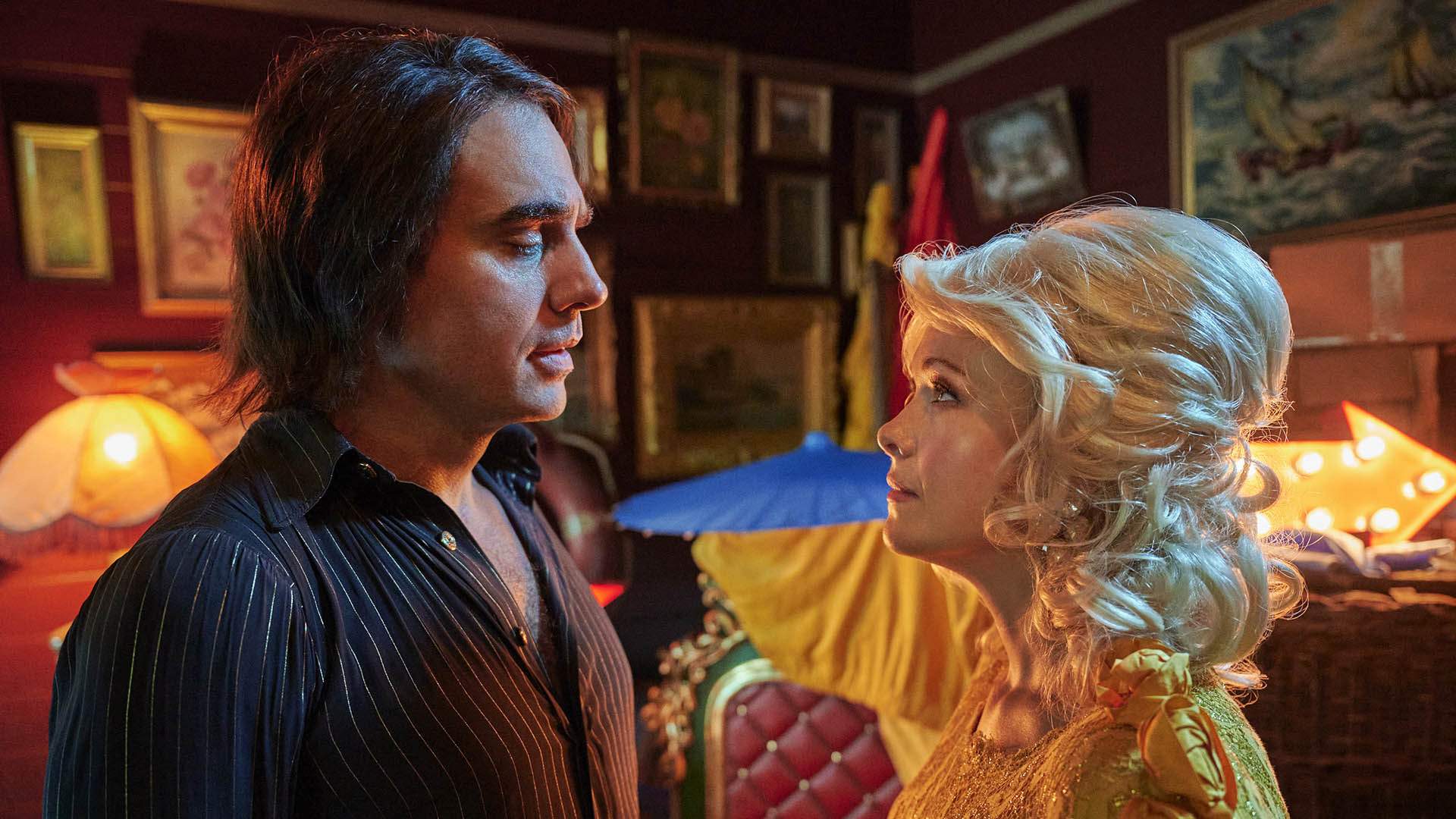 ON ALWAYS LOVING DOLLY
"I always loved Dolly Parton. I became fixated on her really through the movie Steel Magnolias, that my mum must've showed me — I can't remember how, like at what age I saw it, but I remember sitting there with my mum and my sister and watching this movie and crying and laughing, and just falling in love with all those characters. 
So I did start to fixate on Dolly — not as much as Red does, but I started to gather stories about her, and where she came from and why she looks the way she looks, and watching interviews on how she handles herself with some pretty sexist interviewees back in the 70s and 80s. I just loved the way she handled herself. I loved that she was a businesswoman, and the joke was always with her and she always kept it positive. Yeah, I did become quite fixated on her.
My dad was always very adamant — he's got daughters — that 'girls, you can be successful, you've got to have drive, you go for what you want'. And I started to kind of go 'yeah, I've got drive, but I'm not really getting the success that I want — and what is that anyway?'.
That's when I started to write to figure that out, and the answer was pretty quickly that Dolly Parton's the top of the chain for success for me. So what is it going to look like for me, and how is that going to feel? Hence why I started to write about Dolly Parton."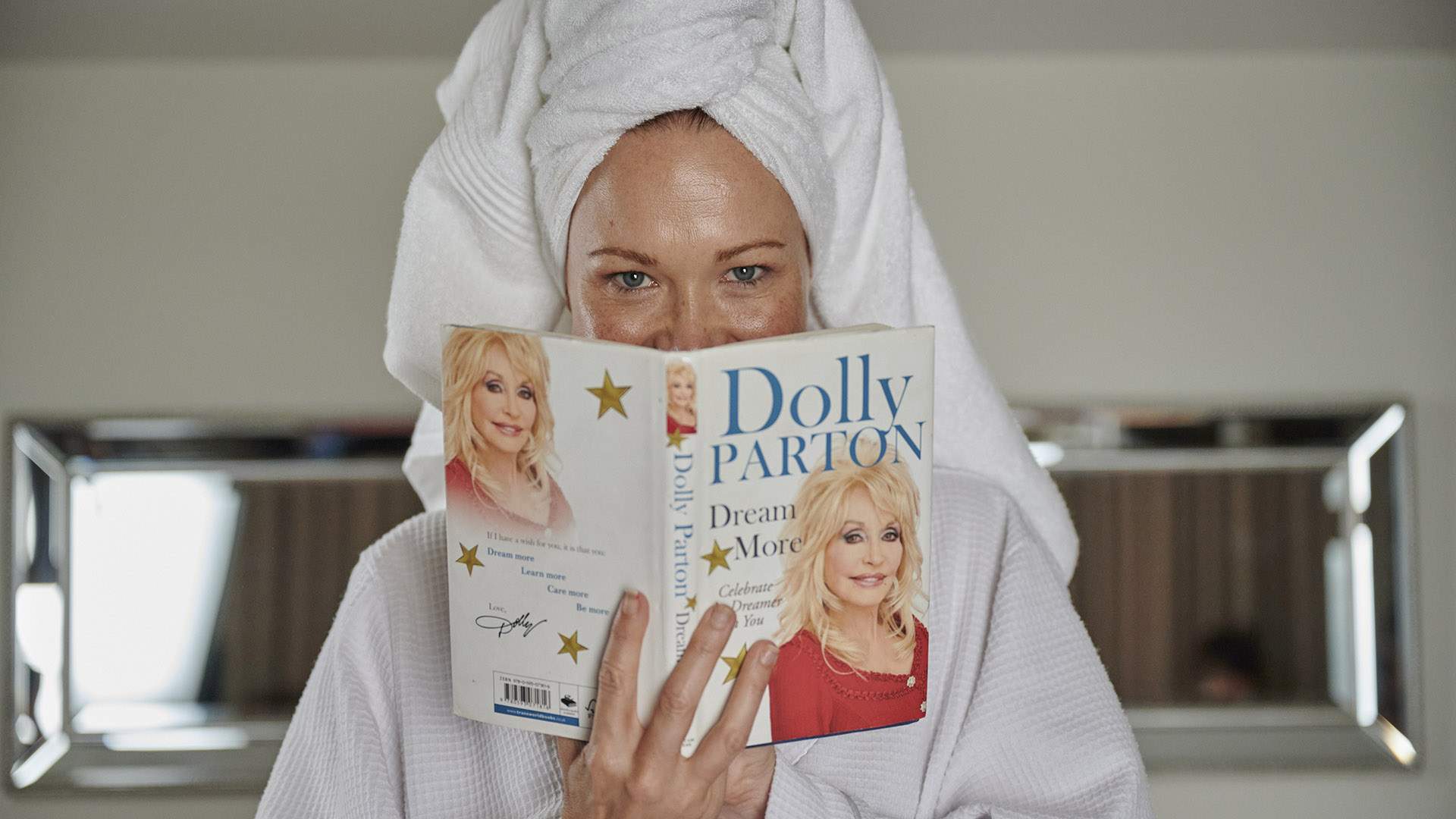 ON GETTING DOLLY'S SIGN-OFF
"You know, Dolly was almost one of the first people to get onboard, and then it took us the rest of the time to convince everyone else… It's a complete love story to Dolly Parton, and the music is the heartbeat of the film, so it was really important to get her.
"That entailed Rose Byrne taking the script, hard copy, in her car driving partway across a couple of states to get to Nashville to meet with her manager Danny Nozell, who's an executive producer on the film. And to hand it to him, and say 'this is the project, this is what we're passionate about, this is what we want to make — can you have a read?'.
It was only a few days later that we got an email back saying 'Dolly loves it. She's read it twice. What should we do? How can we help?'. 
It was life-changing, but you couldn't quite really feel it until I met her.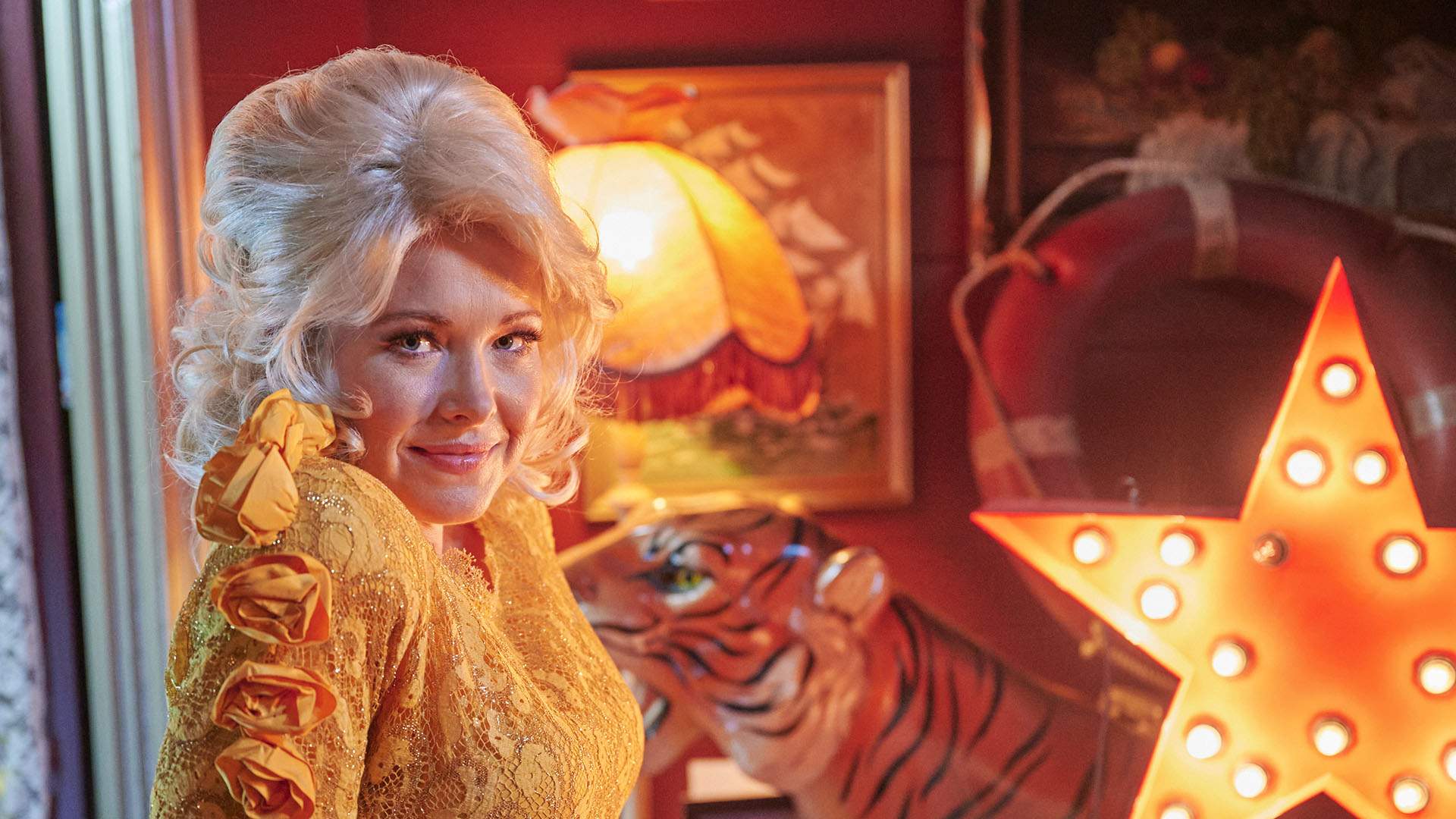 ON MEETING DOLLY ONCE THE FILM WAS FINISHED
The first time I got to meet her was just in March in Austin, Texas at SXSW. What was weird about it, I found, was that it was so normal. I was so in my boots and so relaxed, as she was — and that's a testament to her, she really just knows how to make you feel comfortable.
We had this gorgeous connection, this great little hangout, and I think I was so surprised that it was organic and normal and calm, and she was just so beautiful and giving. 
She launched at me, and she hugged me, and she jumped up and down holding my hand saying 'you played me, you played me!'. And I started to cry, saying 'thank you for letting me tell my story through your stories'. And she was like 'you cryin' angel? Are you cryin?' — and she started wiping away my tears.
In that moment, I was like 'is this really happening? Is Dolly Parton wiping away my tears?' But she was, and she was just beautiful. I think she definitely connected with the story. She felt vulnerable reading the script, knowing that I am playing her and I disrobe — she felt a little bit vulnerable about that. I thought it's amazing — she's personified me as much as I personified her."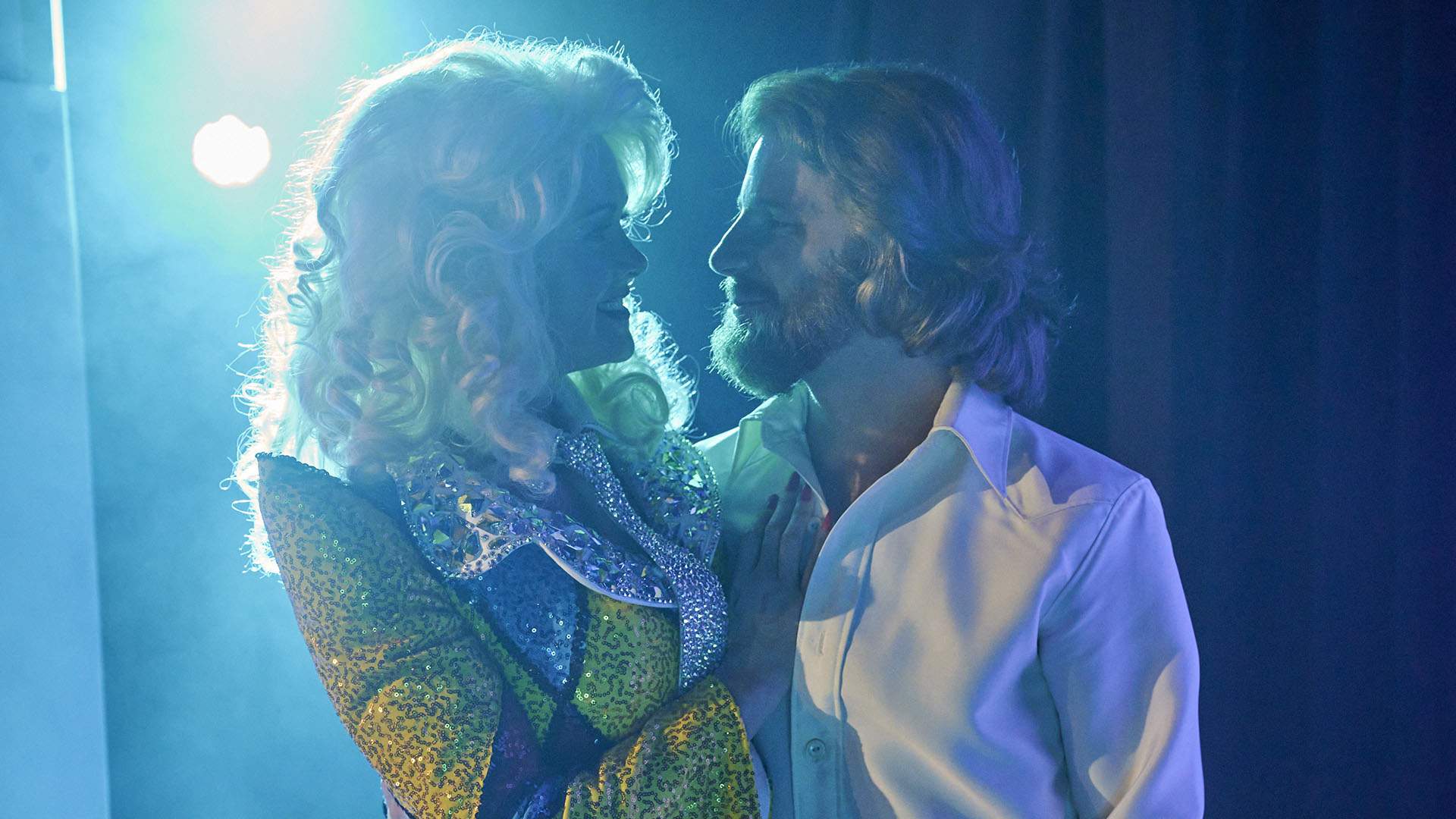 ON EXPLORING THE IMPERSONATOR INDUSTRY
"I like seeing worlds that you don't always get to experience in real life. I like seeing that in plays or in TV or in theatre. So of course I went to Vegas to meet with impersonators, watch a whole of bunch of shows and really dig into it. 
I've got so much respect for that industry, because you really can't be halfway in if you want to be  great impersonator. You've really got to go for it. Whether or not you want to live as that person can be a fine line or a tricky balancing act, and I certainly met people who were more or less living as that person, and then other people who were like 'no, this is just strictly business'. 
Then there were other people who are just like 'look at me!' — and I was like 'yeah, you look exactly like Steve Tyler. No wonder.' That was sort of the end of the conversation with this one impersonator because he did, he looked exactly like him. 
It was really interesting and, of course, I love the duality of it. We're all often wearing masks, especially now in a social media and zoom world, where you can kind of choose who you're going to be, or how you want to be filtered, or how you want to put your life out there as it being one thing. And is it truly? This movie might just help everyone just remember who you really are, and that your identity is also constantly changing — so allow for that.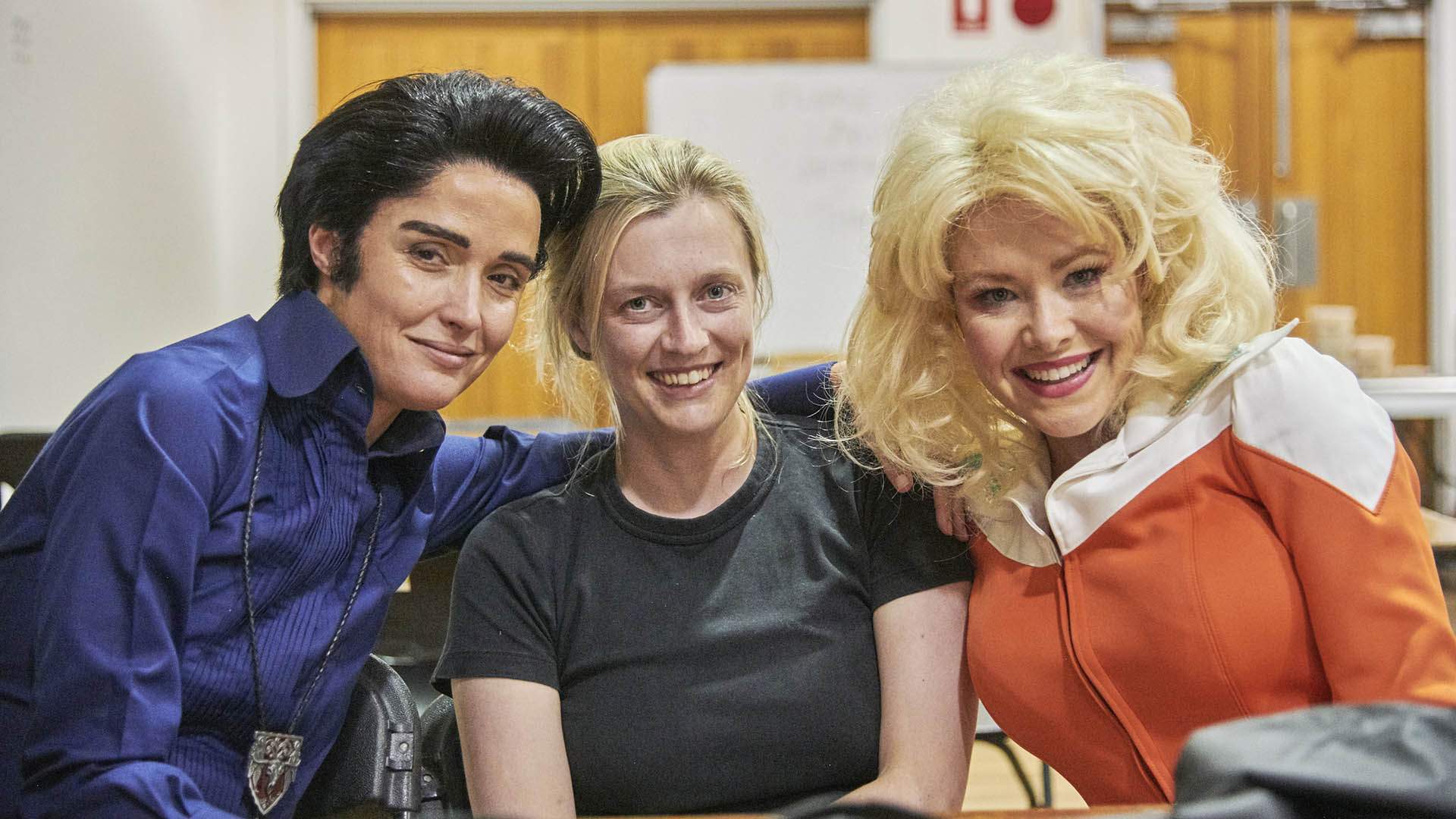 ON ROSE BYRNE PLAYING ELVIS
We were both living in New York City, and I remember waking up that morning thinking about how I want to play a man — just because you're an actress, you want to try to play everything. I did method at Lee Strasberg Theatre & Film Institute, so I'm into all of those different processes. 
And I was thinking about how I would love to play a man, and it just clicked, and I thought 'Rose should play Elvis!'. Like, if I want to play a man, she's going to want to play a man for sure. And she was picking me up in an hour or something, so when I got in the car I was like, 'would you be my Elvis?'. And she was like, 'yes, YES'. 
She looks kind of like Elvis. Elvis was pretty beautiful, Rose is really one of the most beautiful people I've ever seen and it just made sense. And she is a tour de force, and such a great actress. It's one of those performances where the more I watch it, the more hilarious it becomes. I just can't stop, every time she comes on screen now I just chuckle. 
But I think it's one of those movies that sometimes just gets funnier and funnier — a bit like Bridesmaids.
Seriously Red opened in cinemas Down Under on November 24. Read our full review.
Introducing Concrete Playground Trips
Book unique getaways and adventures dreamed up by our editors