A Giant Sculpture of the Moon Has Popped Up in Melbourne to Celebrate Marvel's 'Moon Knight'
The floating replica measures seven metres in diameter and features renderings of the celestial body's surface based on NASA imagery.
Prepare to stare at the moon in all of its glory — up close, without a telescope and without zooming into space. Prepare to get excited about Marvel's latest Disney+ series, too, all at the same place.
When you're releasing a streaming show called Moon Knight, bringing the moon to Australia — to Melbourne's Federation Square, to be specific — is one huge, eye-catching and attention-grabbing way to promote it. So, that's just what the Mouse House has done. Luke Jerram's Museum of the Moon isn't new to our shores, having popped up on the Gold Coast, in Sydney and in Melbourne before; however, this time it's here in the name of superhero worship.
If you're new to the Museum of the Moon, UK-based artist Jerram's creation is a detailed installation that's suspended to look like it's floating — in this case, beneath Fed Square's Atrium. It measures seven metres in diameter and features renderings of the celestial body's surface based on NASA imagery, so it's as intimate and intricate a look as you're going to get without rocketing off to take one small step and giant leap across the real thing.
The massive sculpture has been touring the world since 2016, displaying in New York, Hong Kong, Mumbai and plenty of spots around Europe. Adding its latest Melbourne stint to its orbit, it'll be on display from Tuesday, March 29–Friday, April 15.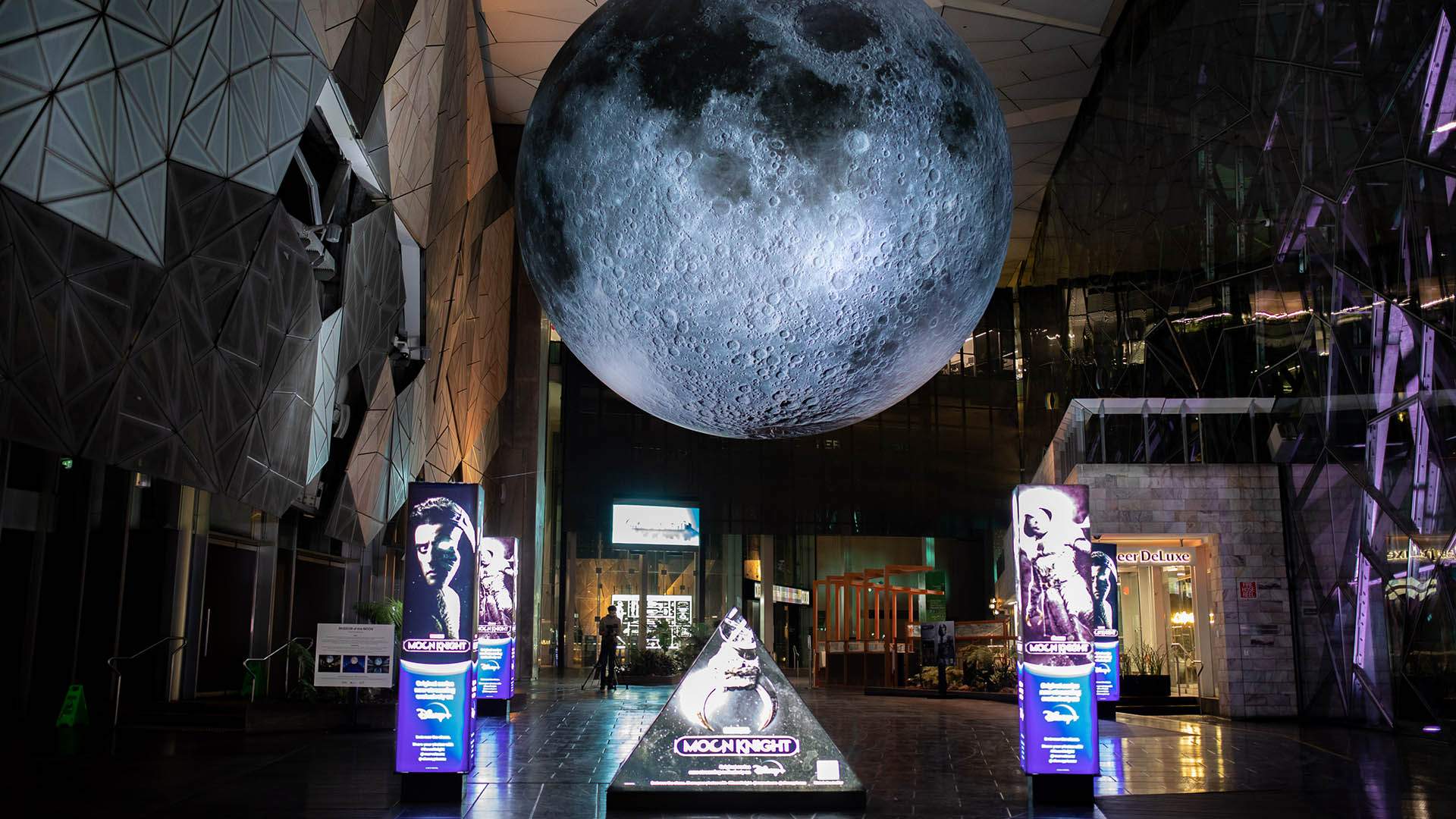 The looming artwork recreates the moon at a scale of approximately 1:500,000, with each centimetre equating to five kilometres of the lunar surface. And if you're wondering just how elaborate the 120dpi imagery is, the high-resolution NASA photograph that it uses is 21 metres wide, and was taken by by a satellite carrying the Lunar Reconnaissance Orbiter Camera.
The spherical sculpture is lit from within, too, so it'll be adding a glow to Fed Square across its three-week stopover. It also combines its imagery and light with a surround sound piece created by composer and sound designer Dan Jones, and just how each venue displays it is up to them. Basically, it's never the exact same installation twice — so even if you've seen it before, it's worth a repeat visit.
Sadly, you won't find Oscar Isaac at the Museum of the Moon — but Moon Knight, the Isaac-led show that's inspired this lunar delight's latest Aussie installation, does hit Disney+ on Wednesday, March 30. The Dune, Scenes From a Marriage and The Card Counter star plays Steven Grant/Marc Spector, who has a dissociative identity disorder as well as a sleeping disorder, and also becomes the conduit for the Egyptian moon god Khonshu.
Already dealing with multiple distinctive identities and not being able to tell the difference between being awake and asleep, his role as the moon god's offsider doesn't go down smoothly, unsurprisingly — especially when there's a sinister-looking figure played by Ethan Hawke (The Good Lord Bird) to deal with.
Arriving more than a year into Marvel's new spate of Disney+ series, Moon Knight is the first one that doesn't overtly tie in with characters we've already seen in plenty of its past flicks. So, if it all sounds unfamiliar after the last 12 months or so served up WandaVision, The Falcon and the Winter Soldier, Loki and Hawkeye, there's a very good reason for that.
Museum of the Moon is on display in Federation Square's Atrium, between ACMI and The Ian Potter Centre, 111 Flinders Street, Melbourne from Tuesday, March 29–Friday, April 15.
Concrete Playground Trips
Book unique getaways and adventures dreamed up by our editors