Rose Byrne Turns in One of Her Best Performances Yet in the Final Season of Aerobics Comedy 'Physical'
The 80s-set Apple TV+ series is coming to an end with its third season — and with Zooey Deschanel joining the cast.
Before Damages, Bridesmaids, Bad Neighbours, Bad Neighbours 2 and Platonic, Rose Byrne made her acting debut in the 90s, with Echo Point, Wildside, the OG Heartbreak High and Two Hands among her earliest credits. Physical sends the Australian star a decade further back, and the results have kept proving an insightful and astute gem across three seasons. On paper, the concept was always ace: Byrne, the 80s, aerobics, consumerism, capitalism, body image, mental health, women striving to break through in male-dominated times, and unpacking agency and control. On-screen, Physical instantly strutted into must-watch territory, staying there in 2022's second season and, as streaming since Wednesday, August 2 via Apple TV+, now in 2023's third and final batch of episodes.
Created by Annie Weisman after the writer and producer previously pondered domesticity in Desperate Housewives and Suburgatory, Physical bends and flexes with Byrne (Teenage Mutant Ninja Turtles: Mutant Mayhem) as Sheila Rubin. The series' protagonist was a stay-at-home San Diego mother when the first episode dropped in 2021. Not long afterwards, Sheila became an aerobics entrepreneur. Physical's voyage from premiere to swansong has focused on the how, why, costs and consequences of that path — with clear eyes as much as flung-around limbs. Like On Becoming a God in Central Florida and GLOW before it, it isn't an exercise in nostalgia. Although this show looks the part, and gloriously, all thanks to meticulous production design, costume design and cinematography, it also peers backwards unflinchingly.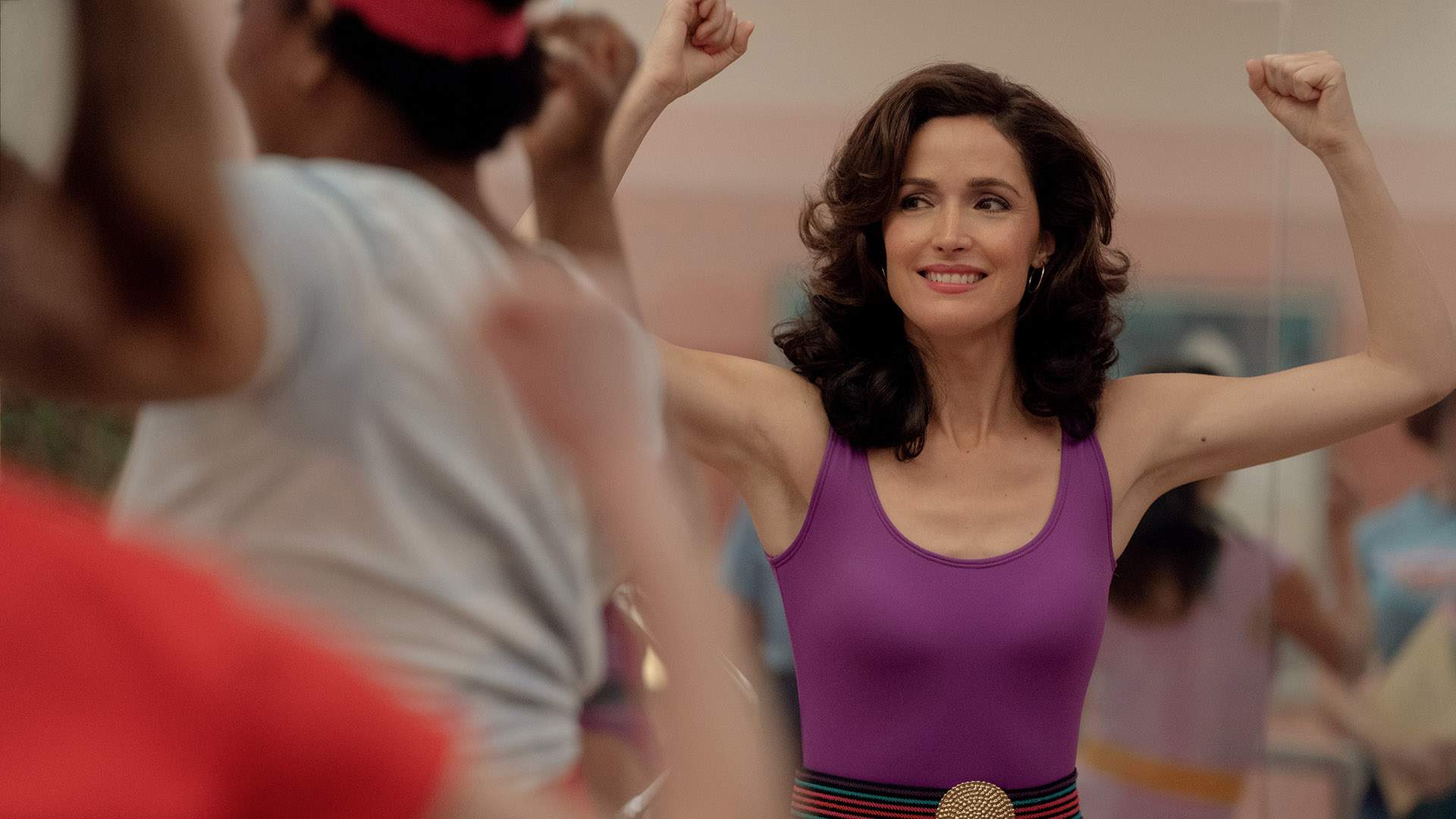 Slipping into a leotard, then getting the blood pumping, isn't merely a quest for fitness for the show's central figure. The late, great Olivia Newton-John mightn't have sung "let's work through our troubles while working up a sweat" (unsurprisingly; it isn't catchy at all), but that's always been the thrust in a series that revels in dark comedy yet shimmers with empathy. Among those tussles: Sheila's opinion of herself, including of her body; her complicated relationship with food; and the self-critical voice in her head, which Physical literalises. Her marriage to Danny (Rory Scovel, Babylon), who talks the progressive talk yet is still happy with her largely on housewife duties, has also had a significant impact on her self-esteem.
That's Sheila's status quo at the outset. From there, Physical has kept striding through her ups and downs with humour as well as ambition — covering the self-loathing, the lack of fulfilment, the catharsis that aerobics brings and the professional route that it sets her on. In the show's ten-episode third and final season, its central figure is doing well but wants more, such as national exposure and fame. Sheila has also learned to be kinder to herself, at least as herself, even while juggling being newly single, Danny grappling with their split, sharing custody of their daughter Maya (Grace Kelly Quigley, Killing Time), making the leap to TV and going all-in on the burgeoning wellness industry. But when Hollywood actor Kelly Kilmartin (Zooey Deschanel, Dreamin' Wild) encroaches into her territory, the new scolding tone in Sheila's brain has her voice.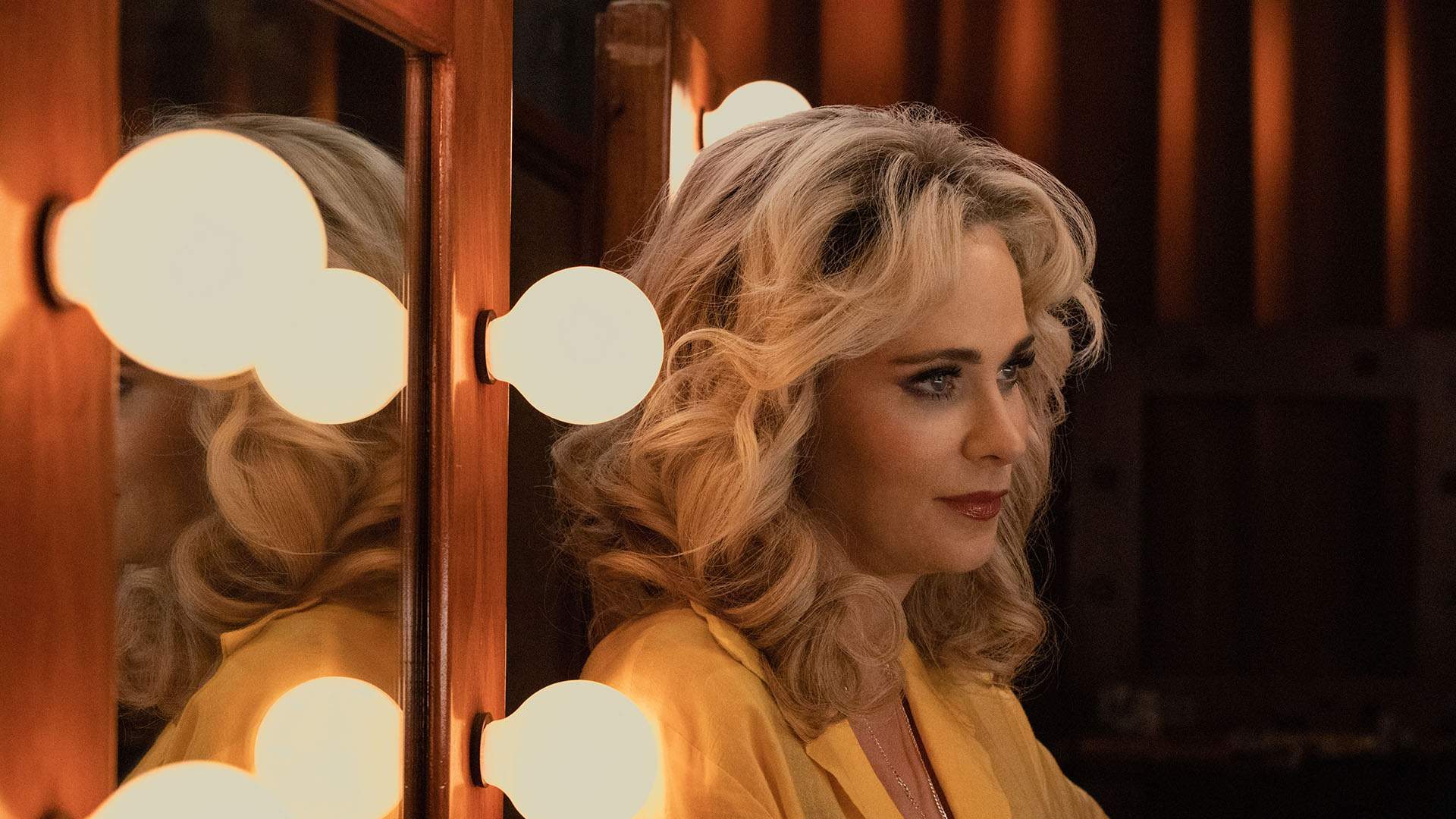 Never afraid of complex moves, Physical makes a bold choice in getting Kelly talking inside Sheila's mind. Seasons one and two devoted much of their story to the show's protagonist attempting to conquer her inner reprimands — but season three isn't backpedalling. Rather, it demonstrates that battling with your sense of self is a constant and evolving mission. It shows how easy it is to fall back into old ways of thinking, too, particularly when you're making big and stressful leaps. The fact that change is hard work has long been among Physical's recurring themes, applying whether Sheila is endeavouring to accept herself or reaching towards external goals. Kelly taking up residence in her head also continues the series' exploration of perception, helping to note that how we see the world and the objective reality are rarely the same thing.
Physical has always boasted a stellar cast that can flip between laughs and drama as swiftly as the show does, which is often, with Deschanel no exception as a newcomer in this last run. As Kelly, she does triple duty — there's Kelly the person that Sheila somewhat befriends, Kelly in TV personality mode, and Kelly as the manifestation of Sheila's worries and doubts — and welcomely breaks out of her usual quirky, cutesy comfort zone. Five years after New Girl ended, this is Deschanel's best role since. Of course, while Dierdre Friel (Second Act) is a scene-stealer as Sheila's friend and business partner Greta, too, Byrne is never less than a dream.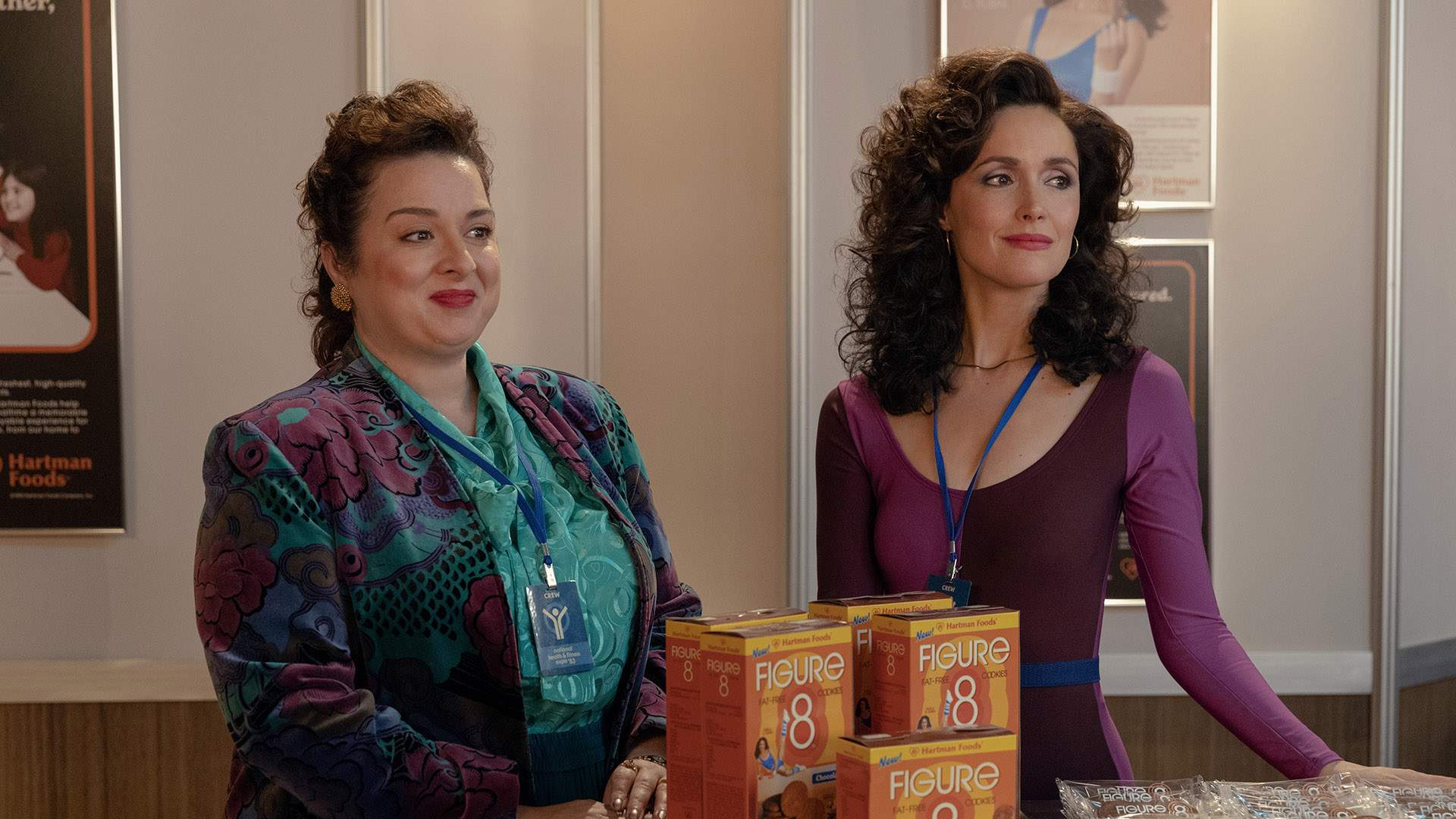 Getting an excellent performance out of Physical's lead is hardly new, as her resume from the 90s onwards attests. Across its 30 episodes — including in season three — the series has earned one Byrne's best portrayals yet, showing off both her comic and dramatic chops, because it keeps stretching and testing its characters. There's nothing routine about anyone in the show's frames, or what comes their way, be it Sheila, Greta, Kelly, Danny, mall owner John Breem (Paul Sparks, The Accidental Wolf), season two's rival instructor Vinnie Green (Murray Bartlett, The Last of Us), or Bunny (Della Saba, Bosch) and Tyler (Lou Taylor Pucci, American Horror Story), aka the reasons that Sheila discovered her exercising calling to begin with. Physical might beam with 80s lighting, colours and outfits, but it refuses to patch over its on-screen figures' flaws, giving its actors — Byrne especially — both meaty and weighty arcs to work through.
Embracing imperfect journeys and life's imperfections in general, Physical packs an emotional punch. Its final season faces its own struggle as well, however: the rush to wrap up its tale. That this is the show's last go-around was announced before season three started arriving. Still, the hurried storytelling pace is inescapable; several new plot strands could've filled out whole seasons alone, rather than been crammed into one. That said, like an aerobics convert filling their schedule with class after class, wanting to continue returning to Physical's world has long come easily — this streaming highlight burns with that much energy and potency.
Check out the trailer for Physical season three below:
Physical is available to stream via Apple TV+.
Concrete Playground Trips
Book unique getaways and adventures dreamed up by our editors