Seven Cultural Events to Hit Up in Darwin This Winter That Are Well Worth the Trip
The Top End is celebrating First Nations culture and creativity this August with exhibitions, runway shows, art fairs and a one-night celebration of an Aussie music icon under the stars.
in partnership with

While most Australian states and territories shiver their way through winter, the Top End becomes an ideal vacay destination thanks to its balmy dry season (which runs from May–October). And, if you needed even more reason to escape the winter chill, the region is turning up the heat this season with a stack of arts and cultural events.
Sure, Australian cities are in no short supply of creative endeavours. But Darwin is different. Billing itself as the beating heart of First Nations culture and creativity, the Northern Territory's capital has long-recognised the traditional custodians of the land, specifically the Larrakia people. Fittingly, this August, it's got an epic month-long lineup of First Nations-focused exhibitions, runway shows, art fairs and a one-night music celebration.
In partnership with Darwin Festival and its Beating Heart of First Nations Culture events series, we've rounded up seven must-see gigs that are not only worth the plane trip, but also represent Australia's past, present and future. So go on — book that flight.

DARWIN FESTIVAL
August 5–22
Darwin's annual winter party is not shy of events this year, with music, dance, theatre, cabaret and comedy performances popping up across a whole host of Top End locations. Naturally, the three-week fest is championing First Nations performers. You can catch openair concert Buŋgul on opening night (more about this later) and the world-premiere of intercultural dance troupe Marrugeku's provocative new production Jurrungu Ngan-ga (Straight Talk) (August 13–14). The stirring show combines dance and theatre, and is inspired by both Yawuru leader Patrick Dodson and Kurdish-Iranian writer Behrouz Boochani's perspectives on incarceration. Ilbijerri Theatre Company's Heart is a Wasteland (August 11–15) — a play and (whisky-fuelled) live music show of First Nations storytelling — is one you won't want to miss. Also on the bill is singer-songwriter Sycco, of Torres Strait Islander heritage, who's playing alongside Confidence Man and Flight Facilities (August 13). To check out the full program, head to the festival's website.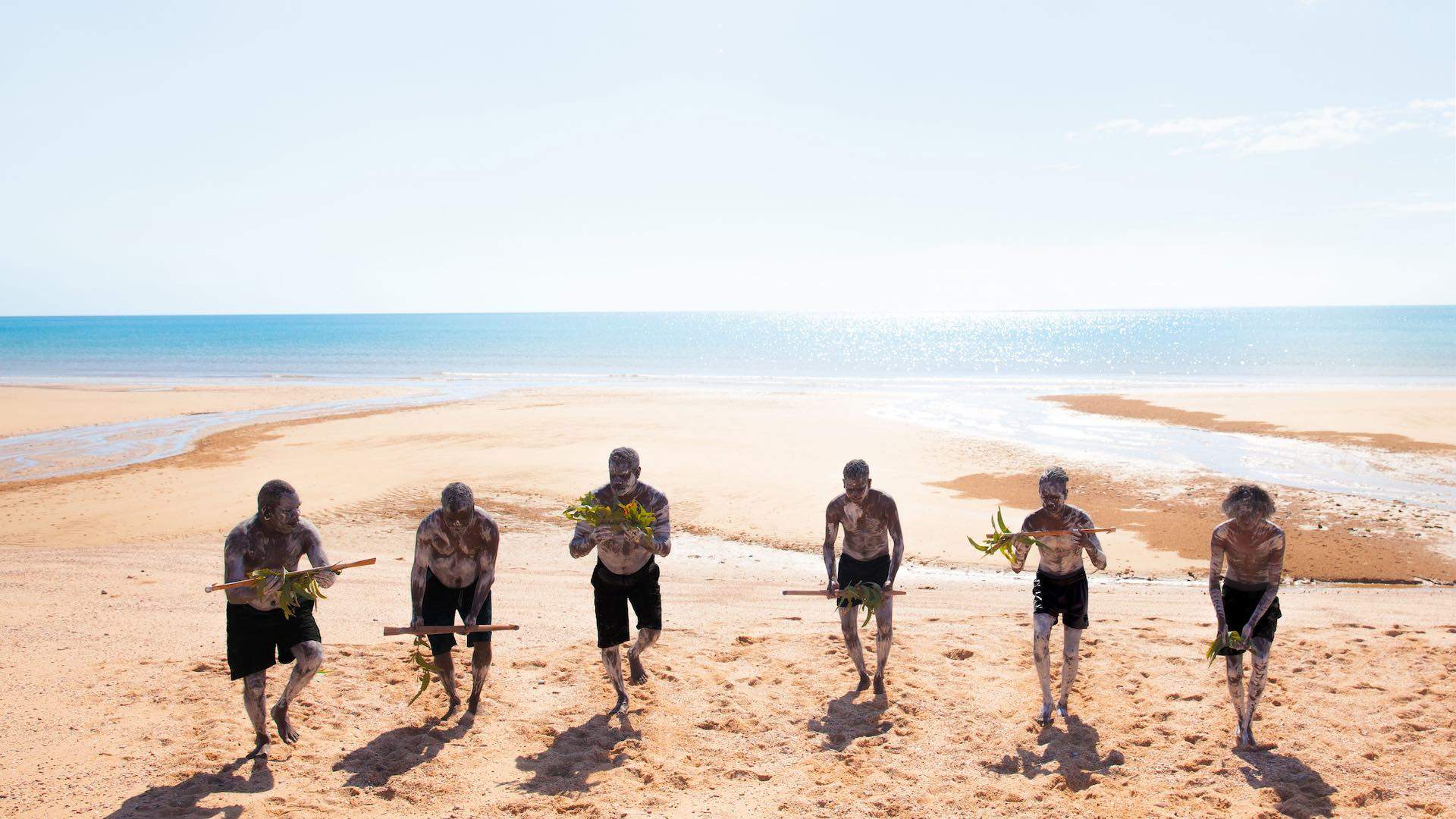 BUŊGUL
August 5
We promised you we'd talk more about this one. Kicking off Darwin Festival is this free, openair concert celebrating the music of Gurrumul and the people of North East Arnhem Land. Born blind, proud Galiwin'ku man and award-winning musician Gurrumul (AKA Geoffrey Gurrumul Yunupiŋu) was a member of Yothu Yindi and Saltwater Band, and had a successful solo career. Dubbed 'Australia's most important voice' by Rolling Stone Australia, he remains one of the most celebrated — and commercially successful — First Nations musicians. His impact is still deeply felt and Buŋgul is set to shine a light on his genius. Featuring Yolŋu dancers, songmen and the Darwin Symphony Orchestra, the opening night event will be held at Darwin Amphitheatre at George Brown Darwin Botanic Gardens — we recommend getting in early for this one, as spaces are limited. While the concert is free, registration is required.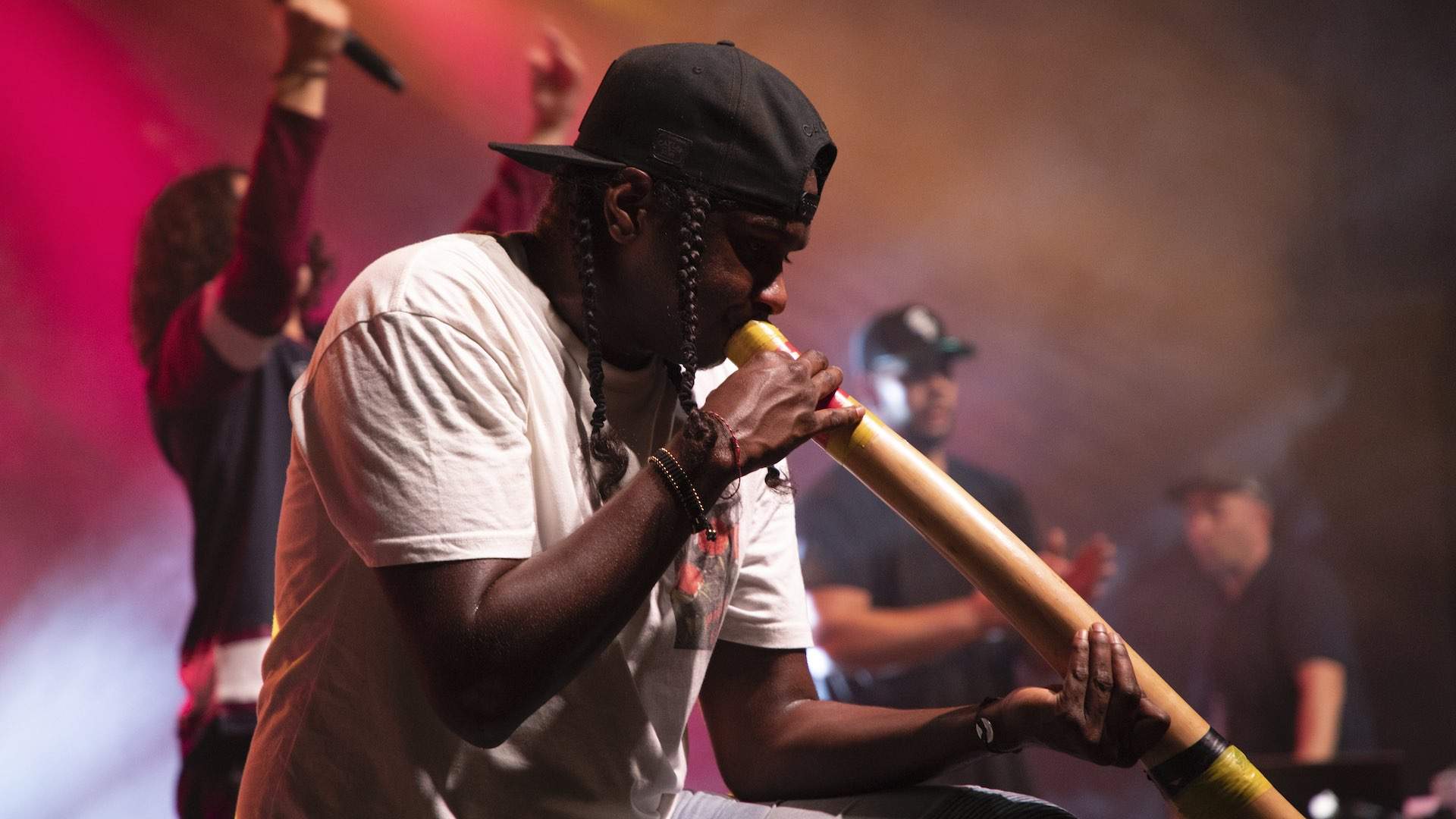 NATIONAL INDIGENOUS MUSIC AWARDS
August 7
The music at the Botanic Gardens continues on August 7 with the National Indigenous Music Awards (NIMA). The event has been celebrating Aussie music for 16 years, and every year it recognises the stellar tunes coming from First Nations musicians from every corner of the country. From emerging artists to those of international acclaim, past awards have been picked up by the likes of Archie Roach, Baker Boy, Emma Donovan, Dan Sultan, Gurrumul and JK-47. Get in on all the action and head to Darwin Amphitheatre to see who will add their names to the honour roll and catch a heap of live acts including Baker Boy, Miiesha, Electric Fields, King Stingray, Alice Skye, and Dallas Woods and Kee'ahn.

DARWIN ABORIGINAL ART FAIR
August 6–8
On the visual arts front, the first weekend of August will see the return of the Darwin Aboriginal Art Fair (DAAF). Showcasing more than 70 Indigenous-owned galleries under one roof, the fair is a unique opportunity for you to purchase artworks directly from the source. Misrepresentation of First Nations artists is not uncommon, so if you want to pick up authentic Indigenous artworks in an ethical fashion, DAAF is a surefire bet — 100 percent of sales to date go back into First Nations creative communities. The fair always has an exciting entertainment program, with this year promising dance performances, workshops, material demonstrations and artist talks, as well as food, film and fashion. You can check out the full program on the DAAF website.

TELSTRA NATIONAL ABORIGINAL & TORRES STRAIT ISLANDER AWARDS
August 2021–February 2022
The Telstra National Aboriginal & Torres Strait Islander Art Awards (NATSIAA), presented by the Museum and Art Gallery of the Northern Territory in Darwin, is the longest-running and most prestigious art awards program for First Nations artists. For 37 years, it has celebrated contemporary artworks from around the nation across a broad range of disciplines — from paintings to photography and textile works. What makes the awards so special is the diversity in storytelling; here, you can explore perspectives from coastal regions, desert towns, cities and everywhere between. Can't make it to the Top End this season? The exhibition is running right through to next year. Otherwise, you catch it from your couch thanks to the virtual gallery.

COUNTRY TO COUTURE
August 4
Missed seeing Australian Fashion Week make history with its all-Indigenous fashion showcase this year? No worries — you can still get your fashion fix in the NT this August. Falling under the umbrella of DAAF, the National Indigenous Fashion Awards (NIFA) are set to return on August 3. Launched only last year, the awards are a celebration of the innovative, diverse and ethical practices of Aboriginal and Torres Strait Islander artists and fashion designers. DAAF even has its own runway show, dubbed Country to Couture, set to take over Darwin Convention Centre on August 4. The stylish show has run alongside the annual DAAF since 2016 and champions First Nations contemporary fine art, textiles and high-end fashion. For tickets, head to the event website.

SALON DES REFUSÉS
August 5–September 25
Rounding out the stacked events calendar is Salon des Refusés, presented by Salon Art Projects. This year, the organisation is presenting seven Indigenous art exhibitions across five local galleries from July to September. But it's the much-anticipated aforementioned show, running from August 5 to September 25, that you'll most want to check out. Held in Charles Darwin University Art Gallery, the exhibition showcases works submitted but not accepted into NATSIAA. The high quality of works on display showcase First Nations artists from around Australia, while shining a light on the current state of Indigenous art and what its future might look like. Now in its ninth year, the event is also hosting an opening night shindig on Wednesday, August 4.

Time to start planning that trip north? Darwin Festival — and its Beating Heart events — runs from Thursday, August 5–Sunday, August 22. For the full program of events, head to the website.
Top image: Elise Derwin
Published on July 02, 2021 by Cordelia Williamson