This Is What Australia's Autumn Weather Has in Store After Our Wettest Summer for Four Years
For parts of the country, it'll be warmer than usual — and in some areas, it'll be wetter, too.
By now, the fact that any new season will likely be hotter than average in Australia should hardly come as a surprise. It's a recurrent trend, especially in autumn and winter, when things are supposed to cool down. And, now that summer is behind us for 2021, this year is staying true to form. According to the Bureau of Meteorology's climate outlook for the March to May period, much of the country is in for both warm weather and wet conditions over the coming months.
If you live in Australia's north, Tasmania, southern Victoria or along the west coast of Western Australia, expect toastier autumn days this year, with a more than 60-percent chance that'll be the case. Nights are also expected to be warmer over the same period, hitting an 80-percent likelihood in the northern tropics, eastern Queensland, southern Victoria and Tasmania.
For folks in New South Wales, you could buck the trend. BOM is currently forecasting cooler than average autumn days for parts of the state, with a 60-percent probability. But, overall, even when Australia gets down to its minimum temperatures between March and May, they're expected to be higher than average across most of the country (other that parts of southern WA and western and central South Australia).
To give an idea of exactly what that all means, the average daily maximum temperature for March sits at around 23.9 degrees in Melbourne, 24.8 in Sydney and 28 in Brisbane. In May, it's around 16.7 degrees for Melbourne, with 19.5 for Sydney and 23.2 for Brisbane. BOM is forecasting that in all three cities we'll see warmer temperatures than that across the three months — and in Perth, Adelaide, Hobart, Canberra and Darwin as well — although some rises might be minimal.
In good news for farmers, much of the nation's east looks set for more rain, too. That's predicted to be the case in most of NSW, southern and eastern Queensland, Arnhem Land in the NT, eastern SA and eastern Tasmania — although, the higher probability of that happening (over 70 percent) is largely concentrated to small parts of southern Queensland and northeast NSW). In WA, the rest of the NT, Victoria, and the western parts of Queensland, SA and Tasmania, there's no indication that it'll be much wetter or drier than normal.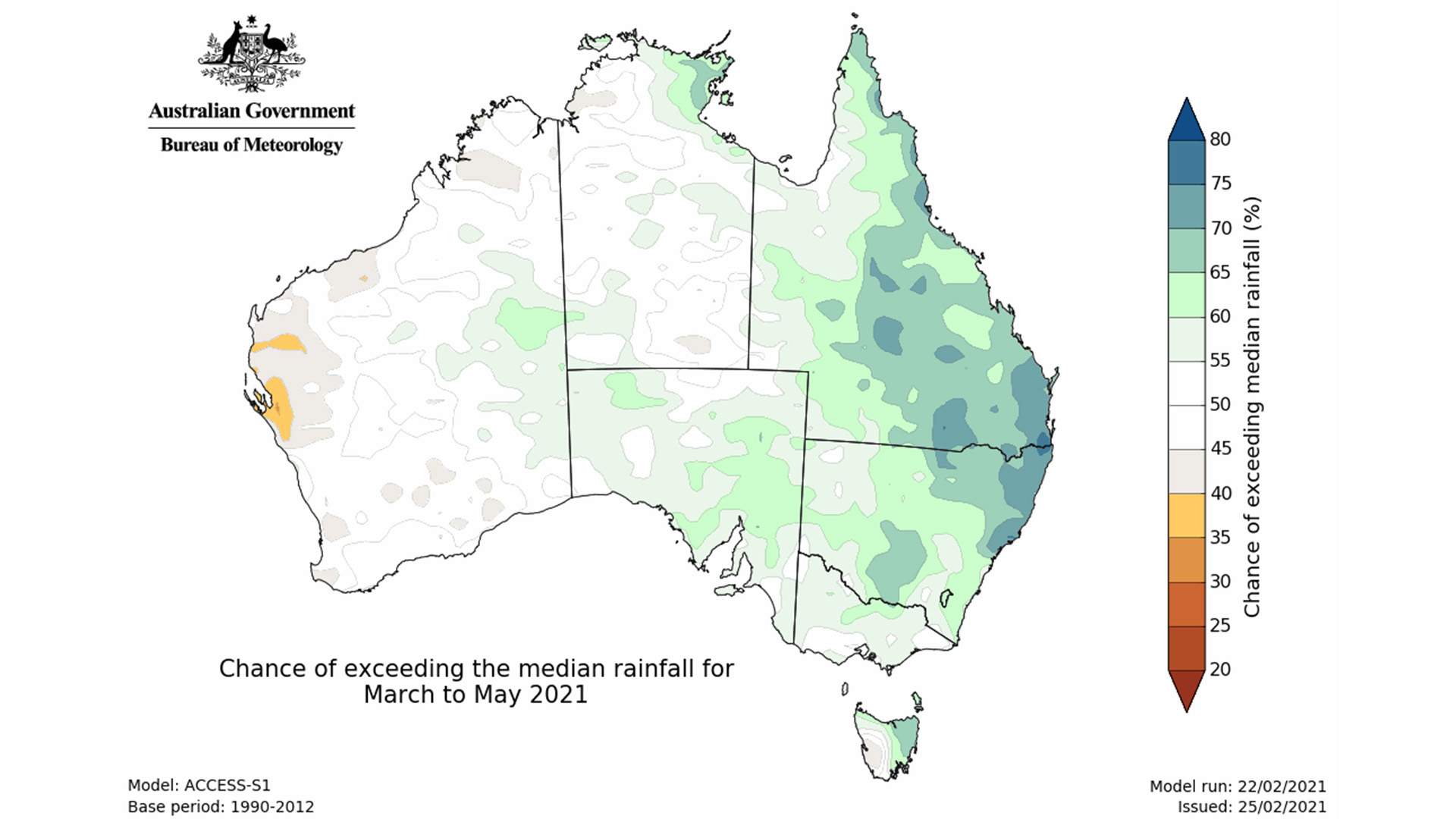 Autumn's predicted wetter and warmer conditions across parts of the country follow Australia's rainiest summer for four years, BOM announced, topping figures since 2016–17 everywhere except greater southeastern Queensland (from the NSW border up to the Capricornia region). To finish off 2020, the country actually experienced its third wettest December since national records began in 1900; however, the nation's summer temperatures also look set to be our lowest since 2011–2012, only reaching above average in parts of Queensland and WA's west coast.
If you're wondering why rain has been such a feature lately, BOM attributes it to La Niña, but notes that it is starting to subside. Bureau climatologist Dr Naomi Benger says that "the tropical Pacific Ocean is forecast to return to neutral conditions (neither El Niño nor La Niña) during autumn, consistent with the typical lifecycle of La Niña events. However, it is not uncommon for the effects of La Niña to still be felt as the event declines. That means an increased chance of above average rainfall, particularly for eastern regions".
For more information about forecast weather conditions between March–May 2021, head to the Bureau of Meteorology's climate outlook.