Australia's First Non-Alcoholic and Hangover-Free Bar Has Opened in Melbourne
The new project from booze-free gin producer Brunswick Aces also features the country's first physical non-alcoholic bottle shop.
More and more Australians are reassessing their drinking choices, and choosing to ditch or simply limit the booze. In response, clever bartenders, winemakers and beer brands across the globe have been busy dreaming up new and creative alcohol-free beverages to make that no-booze night out a satisfying option. And, there's now one Melbourne haunt that'll leave teetotallers more spoilt for choice than ever before — with the Brunswick Aces Bar, the city's first dedicated non-alcoholic cocktail lounge, now open.
From Saturday, May 1, local distillery and booze-free gin producer Brunswick Aces is welcoming patrons into its much-anticipated Brunswick East watering hole, which also marks the first of its kind in the country. The 150-person Weston Street space is not only a temptation-free drinking destination for the teetotaller or sober curious, but also just a neat spot to hang and imbibe when alcohol's simply not on your night's agenda. The bar's rocking a look best described as industrial baroque, with lots of plush furniture covered with velvety textiles, walls filled with gilded frames and moody floral arrangements trailing from the ceiling.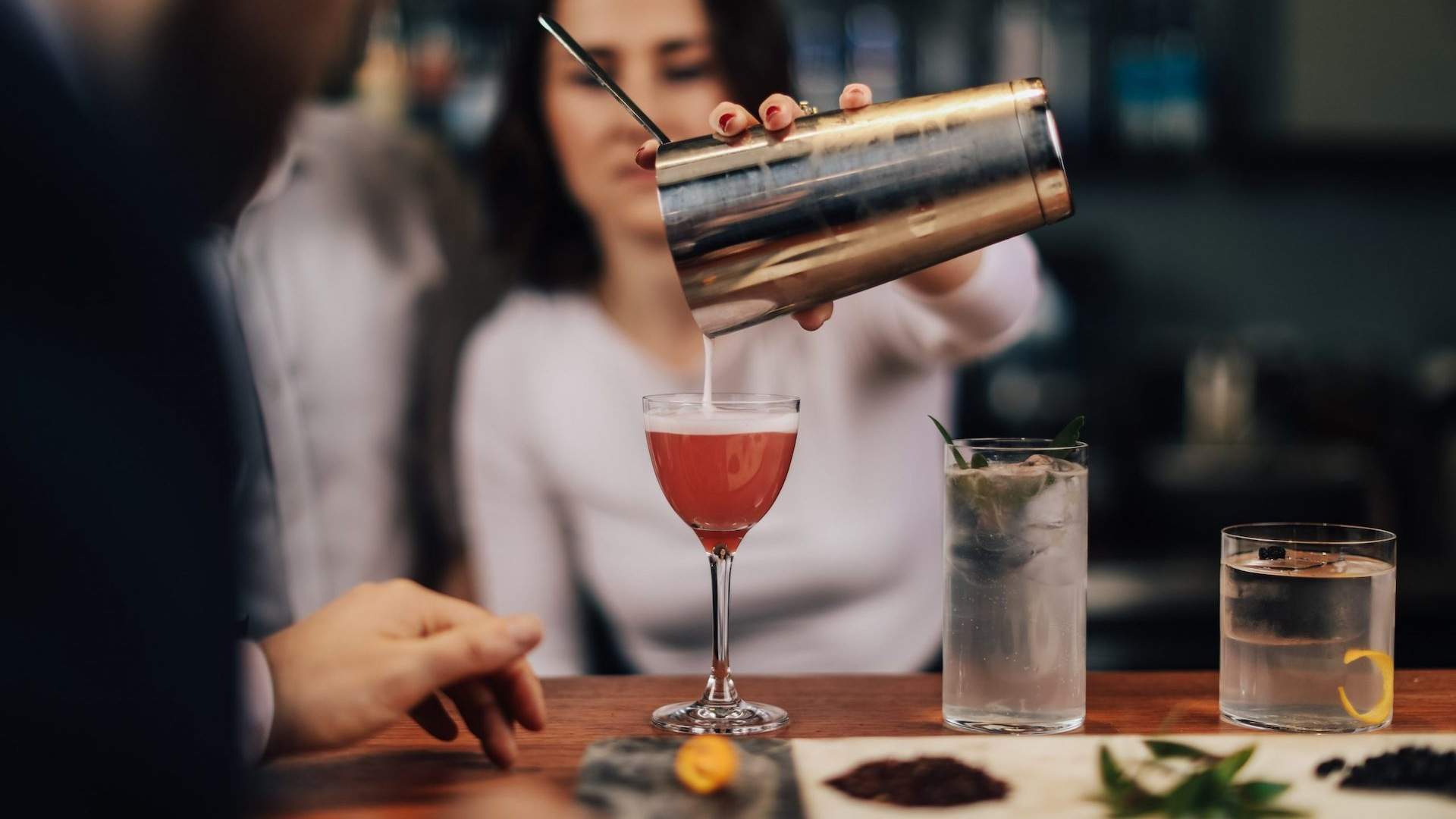 While Brunswick Aces does make regular gin, it's perhaps best known for its range of sapiir — a non-alcoholic distilled drink crafted on botanicals. The brand uses aromatic ingredients like lemon myrtle, pepperberry, wattleseed and that all-important juniper to create a concoction that's akin to a gin, sans booze. And in this new bar, you've got a front-row seat to the sapiir distilling operations, while you sip the spoils just metres from where they're made.
The menu might be short on alcohol, but it's sure not wanting for choice. In fact, there's more than 100 booze-free options available. You can expect to find an ever-evolving range of crafty cocktails, led by boozeless takes on the classics such as a negroni and an espresso martini. There's be a focus on local ingredients, too, with appearances from some premium international labels and regular product features. And, alongside the cocktails sits an impressive lineup of non-alcoholic beers and wines sourced from all over the world, as well as mixed drinks made on booze-free spirits and sapiirs.
While you're there, you can browse and buy some hangover-free tipples in the country's first physical non-alcoholic bottle shop. This retail section will be slinging local brands including Heaps Normal, Ovant and Songbird Wine, as well as international offerings like the Netherlands' Vandestreek Playground IPA.
If you're hanging for the real deal, that's okay, too. In the spirit of inclusivity — and celebrating Brunswick Aces' other pursuits — the bar will be serving a single alcoholic option: a gin and tonic, made on the brand's own Spades and Hearts gin blends.
Find The Brunswick Aces Bar at 124 Weston Street, Brunswick East, from Saturday, May 1. It's open Thursday–Saturday 3–11pm, with the bottle shop open Monday–Saturday 11am–5pm.
Top images: Griffin Simm
Published on May 01, 2021 by Libby Curran