FOOD & DRINK
Top-Notch Local Tipples in Trying Times: Three SA Companies Making Must-Sip Drinks in 2020
Meet the standout local drinks brands that were voted the state's favourites as part of the BWS Local Luvvas initiative.
in partnership with

Passion is a pivotal part of every cocktail enjoyed at the end of a long week, every glass of wine sipped with dinner and every cold brew cracked open just because. If you've made the choice to drink a particular tipple, you should be passionate about it. Life's just too short to waste it on average drops.
Unsurprisingly, passion is also one of the driving forces behind every spirit, vino and beer before it even reaches your lips. No one dedicates their life to making standout beverages if they're not devoted to the field. And that passion has been particularly important in 2020, with drinks brands everywhere forced to adapt to quite the challenging year — as South Australia's Never Never Distilling Co, Paracombe Wines and Little Bang Brewing Company can attest.
For the past few months, BWS has tapped into both of the aforementioned sources of passion — into the enthusiasm of Aussie drinkers, and into the excitement of those responsible for the country's favourite bevvies. Via its Local Luvvas initiative, the bottle shop retailer asked the nation to pick its top local drinks, with the three chosen companies receiving an extra helping hand with getting their products stocked in more BWS stores. That means you now have more excuses to pick up Never Never, Paracombe and Little Bang's wares. To celebrate the news, and the passion behind it, we've chatted to the committed folks behind the scenes at each.

A PASSION FOR COMPLEXITY
When you're pouring yourself some gin, then adding tonic and whichever garnishes you prefer, it all seems so simple and straightforward. But the juniper-based spirit delivers a complicated array of flavours — and it's that complexity, as well as a "huge passion for South Australia's incredible food and beverage industry", that actually sparked Never Never Distilling Co co-founder and managing director George Georgiadis to start the business in the first place.
His fellow co-founders Tim Boast and Sean Baxter share that passion, obviously. Boast, who is also Never Never's head distiller, is a staunch believer in tipples made with purpose, too. "Assuming you can get the fundamentals right and build from a strong foundation, a spirit crafted with a purpose in mind for the end product will ultimately deliver a better liquid," he explains. If you need an example, he suggests Never Never's Triple Juniper Gin, which was specifically designed to be the best gin possible for classic cocktails and G&Ts.
A drink made with passion — and complexity and purpose — inspires the same in return. Awards bodies have shown that by showering the McLaren Vale-based distillery with accolades, including in this difficult year. In March, Never Never picked up the Best Regular Gin prize at the San Francisco World Spirit Awards, in fact. But it's the passion of the brand's local supporters that has helped immensely in a period where the company has been forced to "quickly take stock of our focuses, and be brave in what our strategies needed to be," says Baxter. "South Australians are probably some of the most discerning drinkers — you look at the history of wine in SA and the producers who put Australian wine on the map. We're seeing it now in SA gin, where local punters have access to so many incredible smaller producers that they'll actively seek out what's new and what's the best".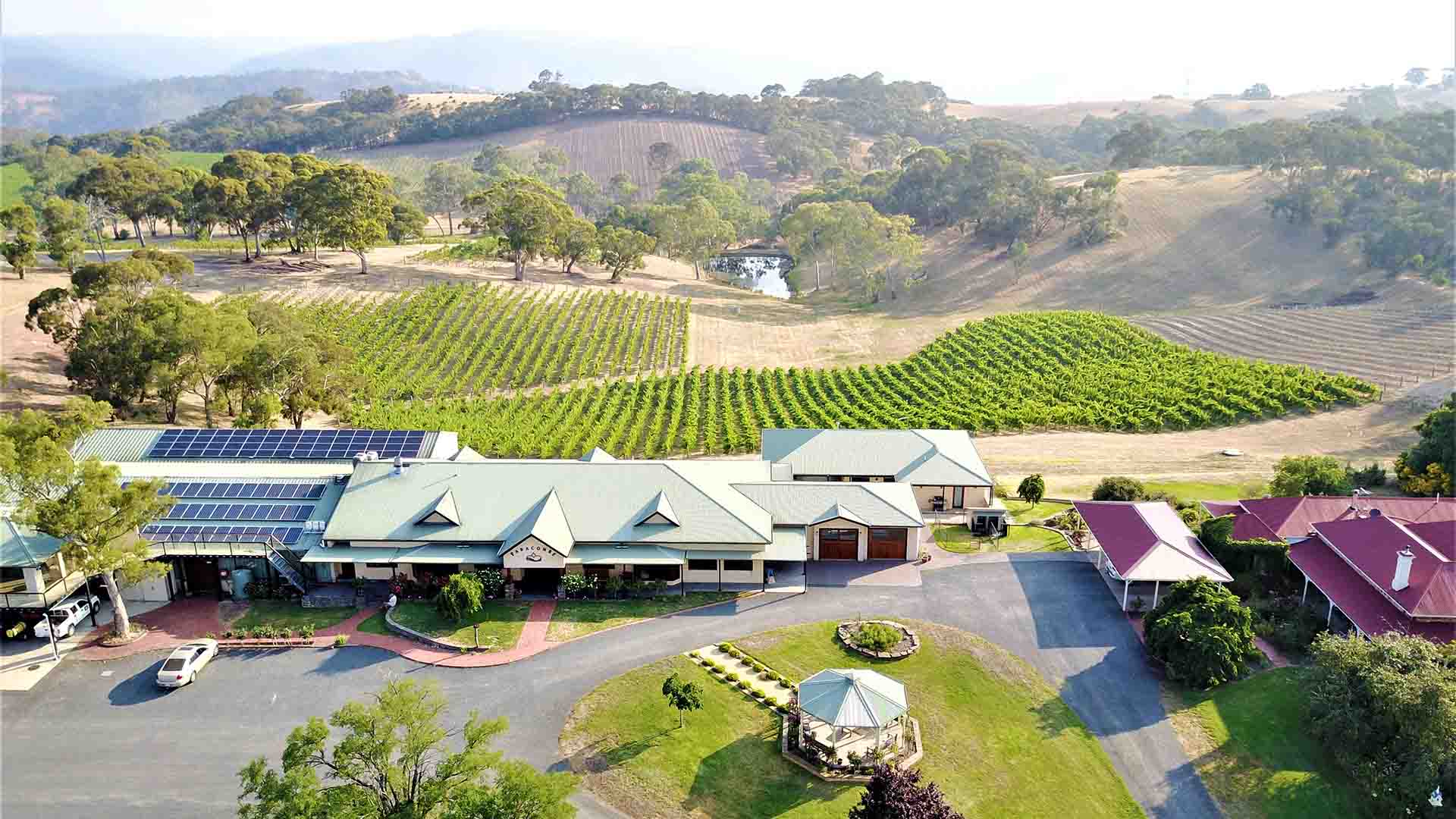 A PASSION FOR HISTORY
When Kathy and Paul Drogemuller bought an old dairy farm in the Adelaide Hills more than three decades ago, they were clearly fond of a good drop. Neither had a background in growing grapes or making wine, but they decided to plant a vineyard at their property at Paracombe, which had been burnt out by the Ash Wednesday bushfires in 1983. They still kept full-time jobs outside of the farm; however, when they did some research on the area, they found a significant source of inspiration for their hobby. "We discovered that Paracombe had a history of wine going back to the mid-1800s," says Kathy. "There was a vineyard and operational winery exporting wine to England, and the first vintages of Penfolds Grange came from Paracombe. All this valuable history had died out, so we made it our mission to revive the district, raise it back from the ashes and put Paracombe back on the map."
From there, the Drogemullers infused their passion into making the very best wine — and making the very best of their location in the process. "Great wine happens in the vineyard and should reflect a sense of place," notes Kathy, explaining how Paracombe Wines capitalises upon the area's ironstone, buckshot gravel and quartz-layered soils, as well as its cooler climate.
The result, all these years later, is a range of wines across both whites and reds that locals love. "To start something from nothing, be involved in every process — growing, making, bottling, storing and distributing — all from our property and vineyard, and to produce a product that connects and brings people together around a table with food and family: that is a joy," says Kathy. And if anything was going to help Paracombe Wines "rise above adversity", as Kathy describes the company's journey in 2020, it's that local love. "We have seen that in these difficult times, people seek out to support local more than ever," she says.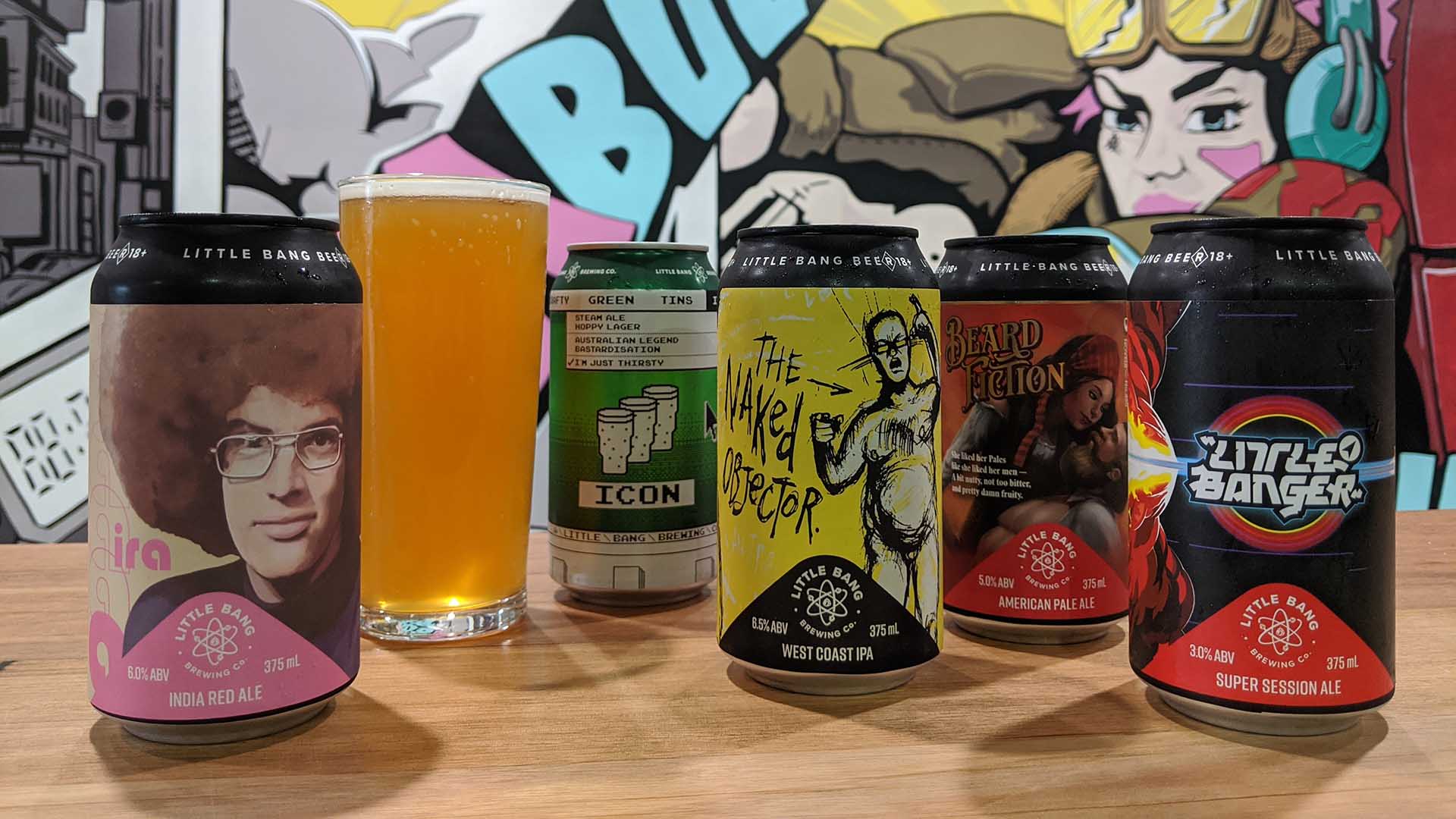 A PASSION FOR DELICIOUS AND CREATIVE BEER
Asked how Little Bang Brewing Company came about, cofounder Ryan Davidson gives the most honest answer there is: "making things is fun, beer is delicious, beer costs money and we were unemployed," he says. But that was just the beginning of his beer-making journey with co-founder and head brewer Fil Kemp, with whom he worked in the games industry prior to starting their Adelaide brewery. "It was once we started brewing together that the fervour really kicked in. We're both rather obsessive when it comes to learning something new, and we encouraged each other a lot in those early days, seeking out every little bit of knowledge, history and expertise we could lay our hands on."
That passion for learning has played a big part in Little Bang's 2020 journey, too, and in the kind of year that Davidson could never have imagined back when the company launched in 2014. "We've pivoted so much, we're getting dizzy. It's been a lesson in agility, that's for sure — keeping a constant eye on the news and being ready to redefine what we do, in almost every way, and at a moment's notice," he says. To the surprise of no one, Ryan notes that it has been exhausting. Still, he also says 2020 has been "extremely informative". He continues: "we've learned a lot about our customers, our business and ourselves that we wouldn't have had the chance to know otherwise".
All those lessons — the early learnings when the brewery was starting out, and the new gleanings over the past ten months — help shape Little Bang's beverages. Davidson is passionate about something else, though. Naturally, he's still keen on free beer, but he's also enthusiastic about the local community that has blossomed around the company's brews. "We don't see Little Bang as just our business," he says. "It's just as much a creation of the day-to-day attitudes and ideas of all the staff here, and the huge variety of people who spend time at the taproom. We're just lucky enough to work here."

To find these or other South Australian drinks as part of the BWS Local Luvva's initiative, head to your nearest BWS store.
Published on November 20, 2020 by Sarah Ward