FOOD & DRINK
Where to Eat If You're in Melbourne for the Australian Open
Whether you're looking for snack before the coin toss or a meal after the game, you'll likely be hot and hungry — so here's where you can get some nosh in and around Rod Laver Arena.
Where to Eat If You're in Melbourne for the Australian Open
Whether you're looking for snack before the coin toss or a meal after the game, you'll likely be hot and hungry — so here's where you can get some nosh in and around Rod Laver Arena.
---
It's not only the playing of tennis that works up a healthy appetite — it's also the watching of it. But, when you're at the Australian Open, surrounded by fellow ravenous spectators in 40-degree heat, working out where to get a decent bite can be a challenge. So, we thought we'd save you some trouble by tracking down the best places to eat in and around Rod Laver Arena this year. Whether you want to stick to the village or roam over to the CBD or Richmond, here are some spots to try. And if you're visiting from out of town, you'll also get to tick a few of Melbourne's best places to eat off your list.

GRAND SLAM OVAL, AUSTRALIAN OPEN VILLAGE
Grand Slam Oval – located within the Australian Open village – is a gathering place for pop-ups, food trucks and bars. You'll find OTT kebabs by Biggie Smalls, Mexican street food by Collins Street's Mamasita, burgers by Neil Perry's Burger Project, some of the world's best slices from 400 Gradi, and, from Beijing Betty, Chinese fusion snacks created exclusively for the event. There are also bars for drinkers of all kinds, including one dedicated to champagne, one to beer and another to Aperol Spritz. Ideal if you don't have much time before the coin toss or can't be bothered to leave the village between matches.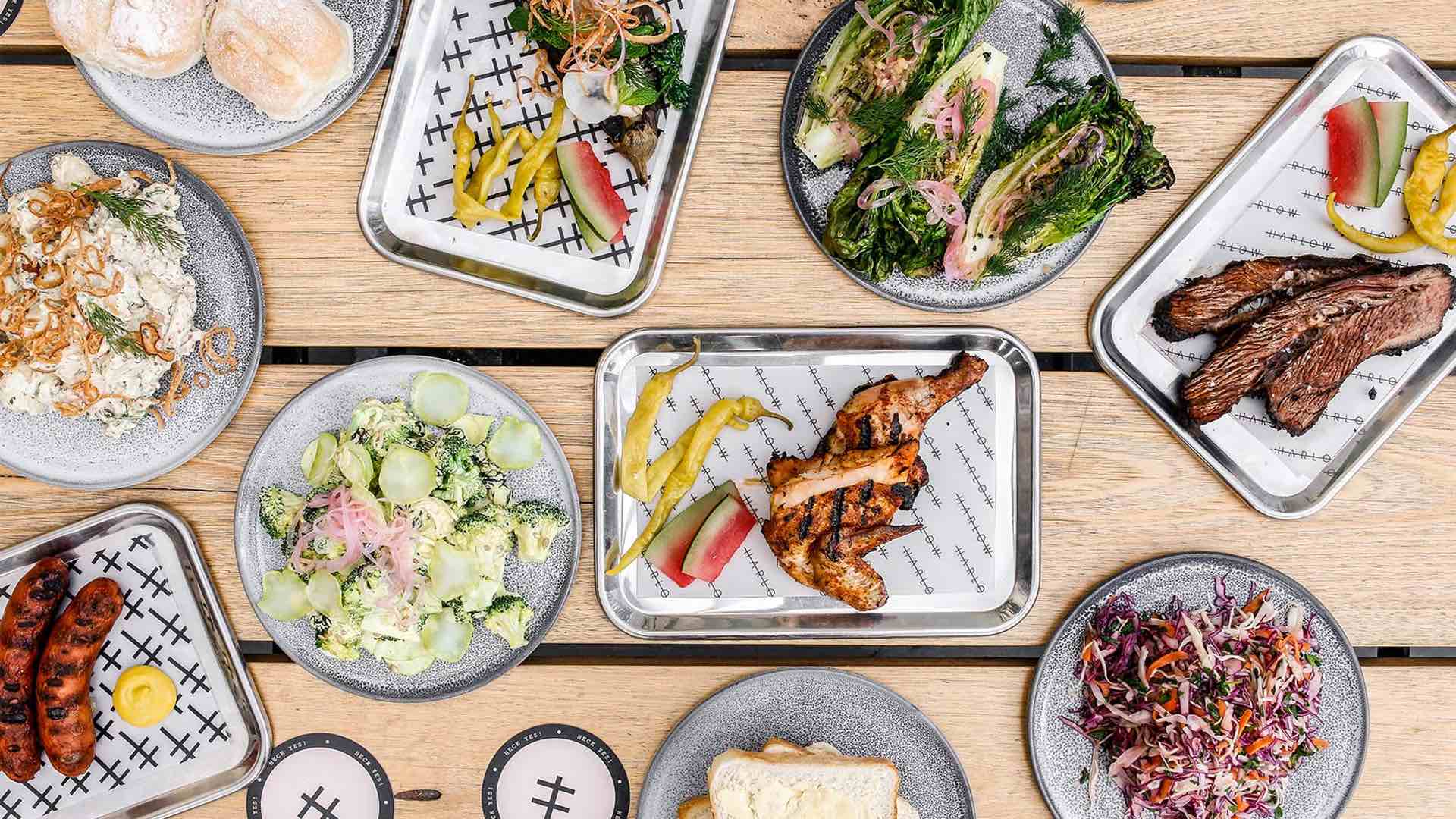 If you're looking for a new adventure, settle in at Harlow, a pub that, in December, took over the space then belonging to the Great Britain. It's on Church Street, Richmond. Whether you hang out in the dining room or head into the beer garden, you'll be starting with creative bites, like mini crab doughnuts and duck and bacon sausage rolls. The mains list is more about decadent takes on classics: there's a steak sandwich loaded with maple bacon and Swiss cheese, a smoked beer hot dog and a behemoth vegan burger. It's open from midday right through until late.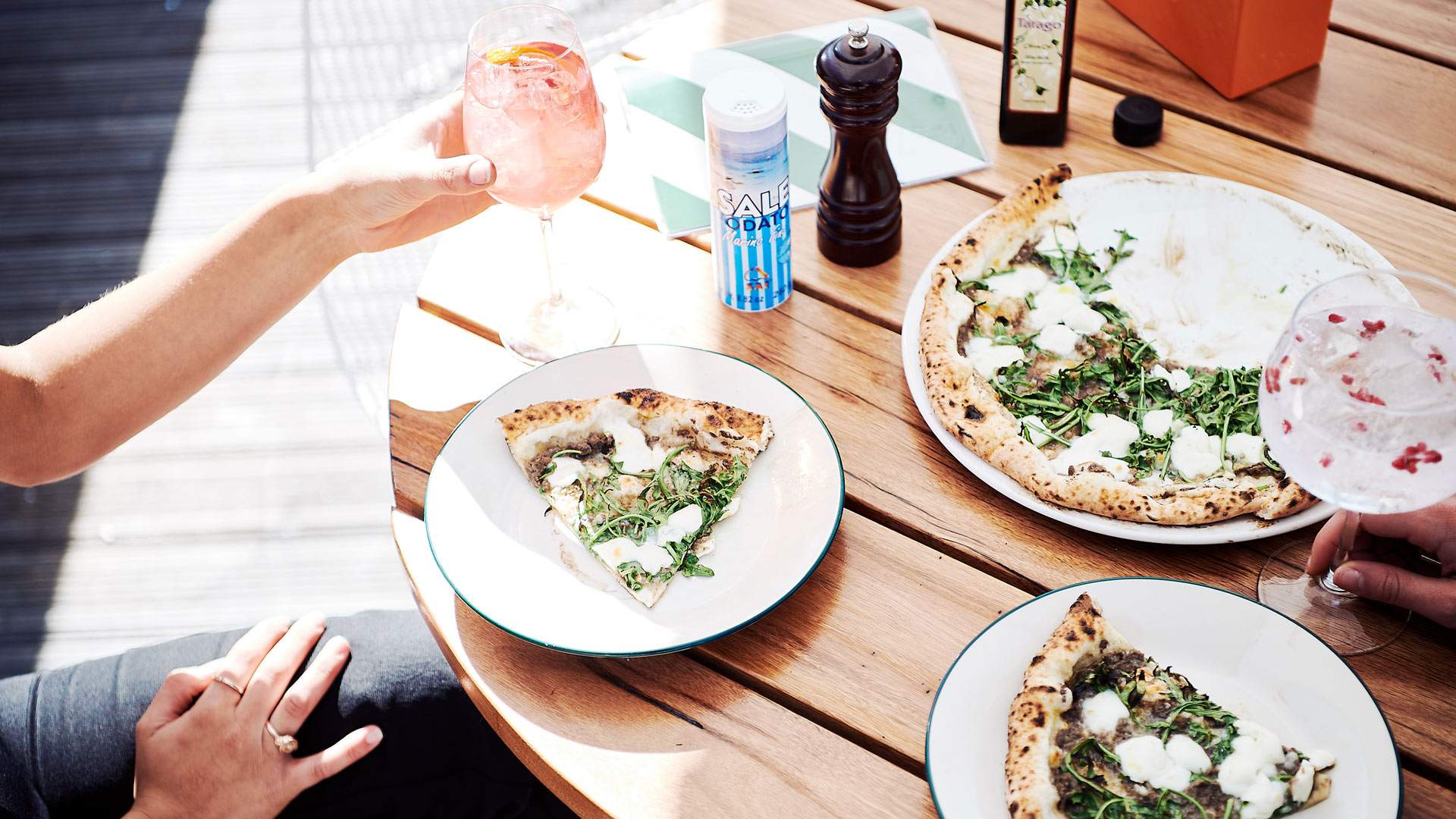 Cool off by the Yarra at Arbory Afloat, at 69-metre-long floating bar that, since 2015, has set up on the river every spring, ready to get you through long hot days and balmy evenings. Downstairs is a citrus-and-fig grove, inspired by the Cinque Terre, while upstairs is dotted with day beds. Wherever you are, you'll be sipping on blood orange Aperol spritzes, watermelon sangria and piña coladas, and tucking into Neapolitan-style wood-fired pizzas, seafood platters and salads. Arbory Afloat is at 2 Flinders Walk – just a 15-minute walk down the Yarra from the Australian Open.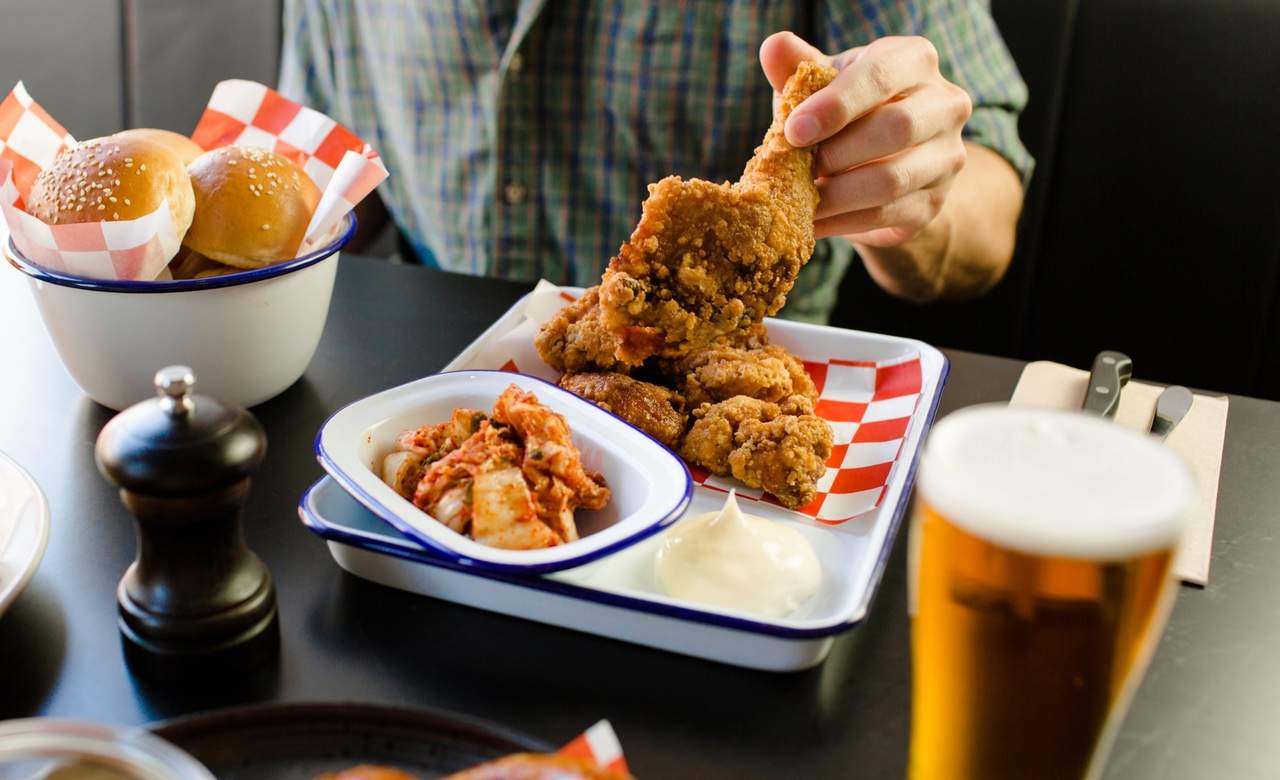 THE CORNER HOTEL, RICHMOND
Two years ago, this Melbourne live music stalwart scored a rooftop refurbishment and a tasty new menu. Thankfully, it hasn't lost any of its down-to-earth good vibes. If you haven't caught enough sun at the Open, go straight upstairs to relax in the fresh air; otherwise, stay downstairs where many a band has played into the wee hours. Either way, the food offerings include fried chicken, roast chicken roulade, the Corner parma and the Patti Smith beef burger. Craft beers a-plenty are on-tap. The Corner is a 15-minute walk from the Open.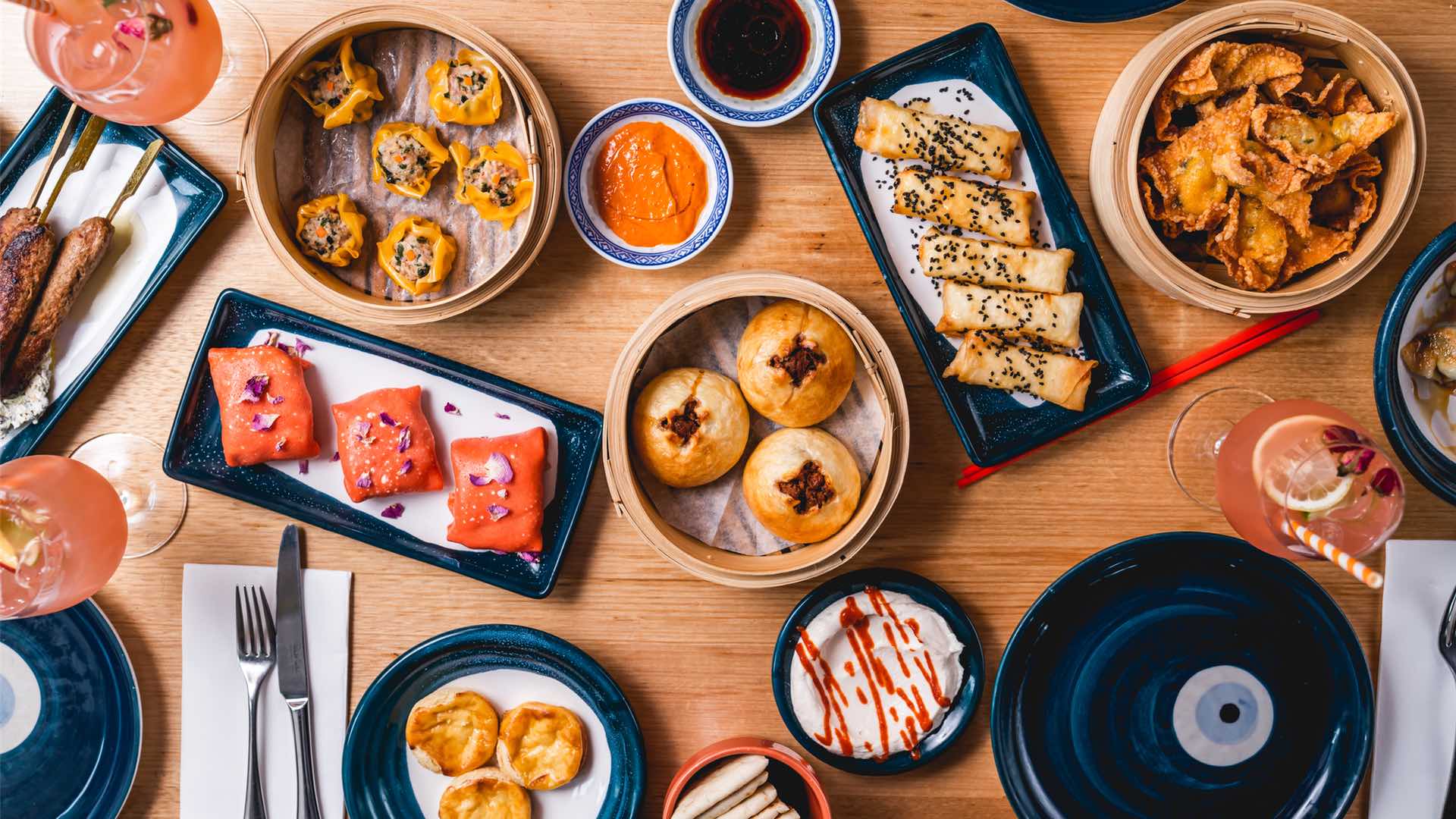 Weekend attendees can factor in a little trip to the Greek Islands at Gazi. This Hellenic eatery is hosting yum cha every Sunday, from midday till 3pm. The dishes have their roots in Mediterranean cuisine, but pay homage to Chinese, too. Among them are spanakopita gyoza, feta honey sesame spring rolls and sweet bread filled with lamb. A reasonable $49 buys a ten-course banquet and, for $35, you can add bottomless cocktails. Gazi is at 2 Exhibition Street in the CBD – 15 minutes from the action.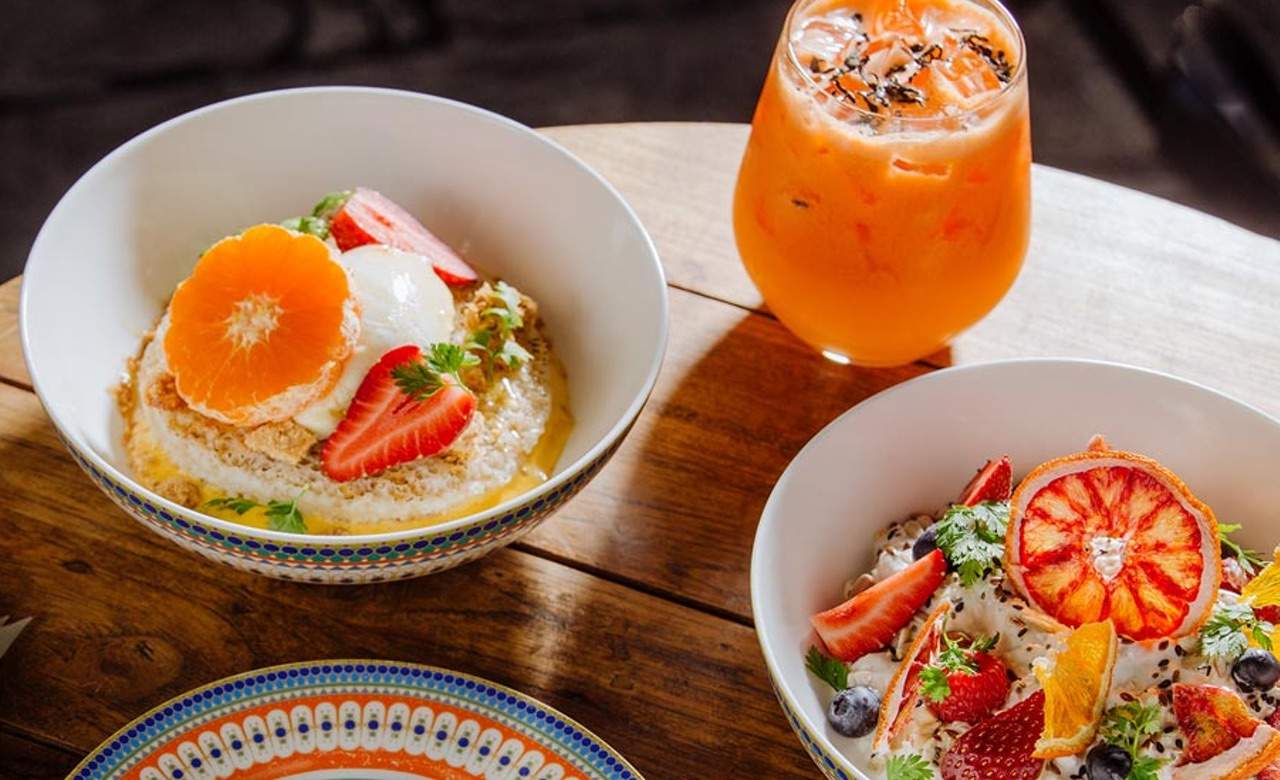 Fuel up before you hit the court at Feast of Merit, on Swan Street, around a 20-minute walk from the Rod Laver Arena. Among street art, vintage furniture and hanging greenery, you'll be feasting on hearty, Middle Eastern-influenced brekkies, such as börek, a vegetarian dish of corn fritters, poached egg, garlic yoghurt, feta and dukkah, or smoked ocean trout with asparagus, potato rosti and sour cream. For hardcore ticket holders, it's hard to knock back the büyük kahvalti, a big breakfast piled with eggs, sucuk sausage, haloumi, spinach, heirloom cherry tomatoes and flatbread. It's also open for dinner if you're looking for something post-match.

Take a rest from the heat, grit and grunts in a low-lit corner at Cumulus Inc., a dreamy escape designed to soothe your every sense. Owned and run by chef Andrew McConnell (Builders Arms Hotel, Cutler & Co. and Supernormal), this all-day eatery celebrated its tenth anniversary last year and has been stocking up on Good Food hats since 2010. Begin with beef tartare, tarragon and anchovy toast, then move onto snapper with mussels, fennel pollen and dill oil. There's also a tasting menu, which changes daily. Cumulus Inc. is at 45 Flinders Lane – 15 minutes' walk from the tennis.

Top image: Visit Victoria. 
Published on January 11, 2019 by Jasmine Crittenden